Plenty Gorge Fire Recovery
A fire started in Plenty Gorge Park on 30 December 2019, starting at the Tanunda Wetlands area of the park. Approximately 65 hectares was burnt. The fire was attended by the CFA, MFB and staff from Forest Fire Management Victoria, including Parks Victoria. The area of park affected by the fire remains closed. Rehabilitation works are required to be carried out before the area can be reopened.
Recovery works update January 2021:
Works to rehabilitate more than 6 kilometres of containment line created during the bushfire will commence from 11th January 2021. These works will take up to 2 weeks to complete and will involve heavy machinery operating in the area.
While machinery is in operation, public access around the closed area will be temporarily restricted for visitor safety. Signage will be on site clearly showing areas the public must remain out of.
Once the works are complete, the entire fire affected area will be reopened to visitors, and Goldsworthy Lane will be reopened to vehicles.
What is closed due to the bushfire?
A section of the park south of Memorial Drive remains closed due to the fire event.
Trails in the north and east sections of Yellow Gum Picnic Area are now open, as are the shared concrete user trail to the south of the fire affected area and the area of the park north of Memorial Drive.
The area surrounding Goldsworthy Lane is open to the public, although the main gate remains closed to vehicle access. Please keep this in mind if visiting the park by car.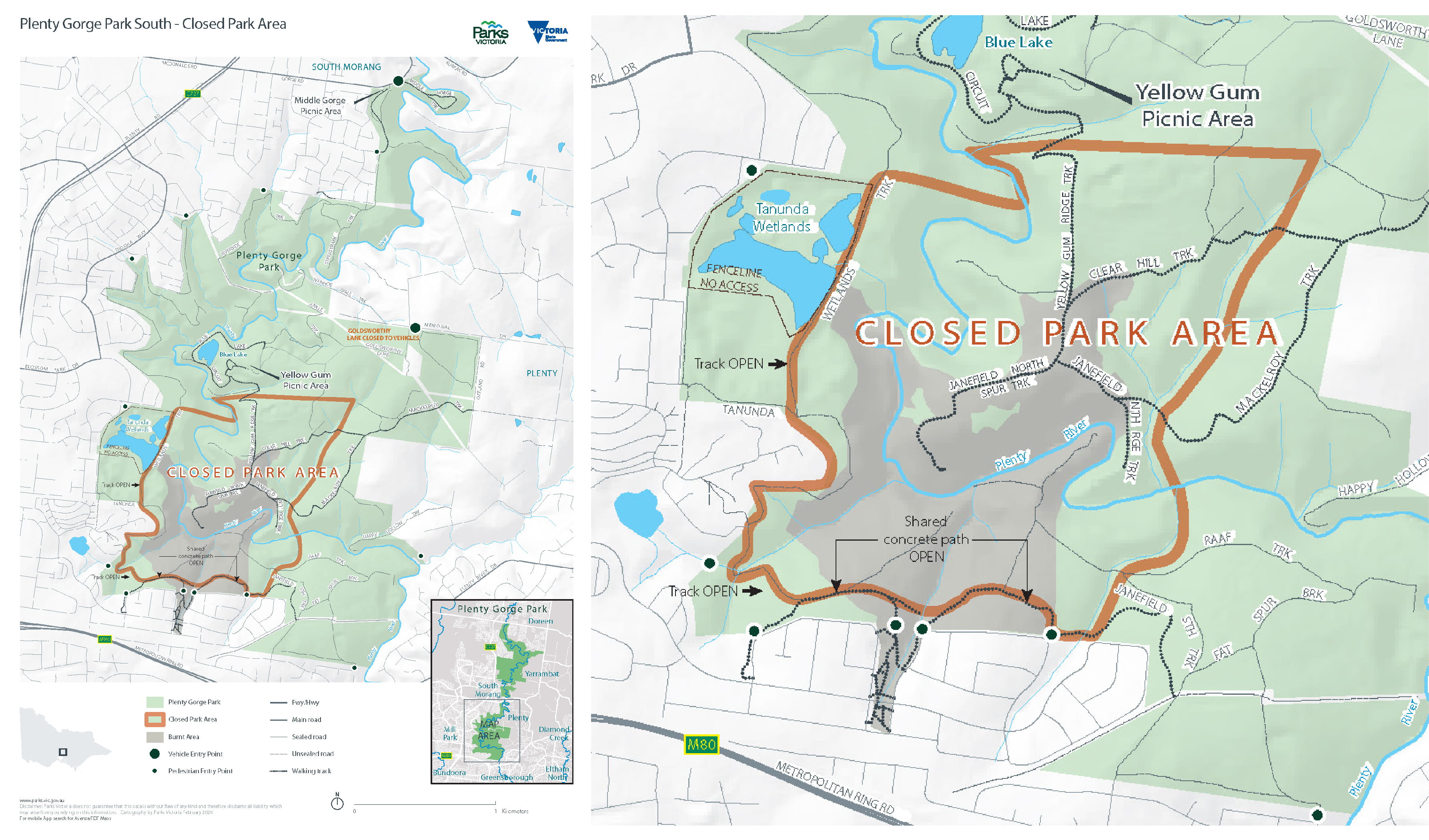 Fire Recovery Work
So far, most of the dangerous trees close to containment lines, vehicle tracks, mountain bike trails and walking tracks have been made safe. However, six kilometres of containment line needs to be rehabilitated before the area can be reopened. A cultural heritage permit is required to make sure that machinery is used in the most sensitive way, protecting aboriginal culture within the park. Once the permit is agreed upon on ground works will commence. While machinery is in operation, public access to a larger area will be temporarily restricted for visitor safety.
Keeping the area closed also gives the environment the best chance to recover, reducing local erosion and protecting important park values in these areas.
Environmental Recovery
There are some pockets of bush in yellowgum that have responded really positively to the bushfire, some areas have experienced mass germination of indigenous flora such as acacia's, eucalyptus, and burgen. These species have evolved with fire, and will grow rapidly, hopefully out-competing some the woody weeds in the area. Also, a number of orchid species have utilised the newly opened space made available by the fire and have popped up, including special species that are listed as threatened or endangered.
Parks Victoria is closely monitoring the weeds that have come up in the fire-affected area and working hard to prioritise and treat them. Rapid weed growth is an expected response to fire in bushland. Some weeds that have appeared since the fire, will naturally drop out of the system as the bush regenerates and the tree canopy repairs and shades them out (eg. Capeweed, whose bright yellow flowers can be seen everywhere in the fire-affected area at the moment). Other weeds will require targeted and sustained efforts to be treated (eg. boneseed and broom).
Vandalism
Unfortunately, recent ongoing vandalism of exclusion fences and orchid cages has had a significant impact on work that Parks Victoria is undertaking to protect threatened flora species in the area. Some of these flora species are extremely rare, and they are a very special community asset. If the vandalism continues, they may be lost forever. Parks Victoria is taking great care to make sure that these exclusion fences and cages are placed in areas that won't interfere with major mountain bike trails, or with peoples enjoyment of the park. If anyone sees any perpetrators of vandalism, or signs of vandalism, please take note of the time and location, and report it immediately to Parks Victoria at 131963.
Protecting Aboriginal Cultural Heritage
Wurundjeri people have, on a seasonal basis, visited the area now known as Plenty Gorge Park for tens of thousands of years. The fire and its suppression work have exposed important, and previously unregistered cultural material that is associated with this occupation.
Parks Victoria has engaged a Cultural Heritage Advisor with assistance from Wurundjeri to survey the affected area. Unregistered cultural material located during the survey has now been formally registered, preserving local aboriginal history for future generations.
Mountain Bikes in the Fire Impacted Area
Mountain bikes can cause erosion in areas where the ground is already unstable. Preventing mountain bikes from entering this area not only protects riders from unknown hazards, but also protects the ground from further erosion.
With the assistance and ongoing support of the Plenty Gorge Mountain Bike Club some trails in the north and east areas of Yellow Gum Picnic Area were reopened earlier in the year. Trails that remain closed for now are clearly signed on site. Please respect these closures.
Once bulldozer-built containment line has been rehabilitated, the project funded by the Victorian Government's Pick My Project program to formalise up to 20 kilometres of mountain bike trails in the park can recommence.
https://pickmyproject.vic.gov.au/rounds/pick-my-project/ideas/plenty-gorge-park-mountain-bike-trail-program
Volunteering
Volunteer and community groups have continued to express interest in helping with the recovery effort in
the park. Opportunities to help with recovery works will be communicated once fire affected areas are open
again, and COVID 19 restrictions are lifted.
Further information
For more information on Parks Victoria's Melbourne bushfire preparedness, please visit www.parks.vic.gov.au/projects/melbourne-bushfire-preparedness
Or for information on past and future planned burns and the location of our annual slashing program in Plenty Gorge visit the interactive map at www.ffm.vic.gov.au/jfmp (turn on 'fire history' and 'mechanical works' layers).
Visit the Plenty Gorge Park page for information about things to do in the park or call 13 1963.
Regular Community Updates are posted on the Parks Victoria website https://www.parks.vic.gov.au/places-to-see/parks/plenty-gorge-parklands and can be found below.
Melbourne - Plenty Gorge - fire community update 1 - 4 Jan 2020
Melbourne - Plenty Gorge - fire community update 2 - 14 Jan 2020
Melbourne - Plenty Gorge - fire community update 3 - 10 February 2020
Melbourne - Plenty Gorge - fire community update 4 - 3 March 2020
Melbourne - Plenty Gorge - fire community update 5 15 April 2020
Melbourne - Plenty Gorge - fire community update 6 - 26 June 2020