Top five places to see wattle on National Wattle Day
Friday 26 August, 2022
In honour of National Wattle Day on September 1st, we have picked 5 places across the state you can visit to see wattle.
With over 160 different species of wattle found in Victoria, and 14 of those found nowhere else in the world, you're almost guaranteed to see their fluffy yellow blossoms if you get outdoors during winter and spring.
September also marks National Biodiversity Month, a time to promote the importance of protecting, conserving and improving biodiversity across the world.
As the organisation responsible for managing 18 per cent of Victoria's landmass, 75 per cent of Victoria's wetlands and 70 per cent of Victoria's coast, Parks Victoria is one of the most important contributors to biodiversity protection in the state, and looks after these areas so that people can connect with nature and enjoy our unique biodiversity.
Wattle located at Wattle Park. Credit: Parks Victoria
Wattle you know?
The Golden Wattle (Acacia pycnantha) is Australia's national floral emblem and is common in Victoria.
There are over 1,000 known species of wattle.
Wattles provide great habitat and food for birds, insects and some small marsupials.
Wattles take nitrogen from air and turn it into nitrogen in the soil, which acts as a fertiliser.
The seeds of many wattle species are edible and can be ground into a flour to make bread.
Aboriginal people have used wood from wattles for thousands of years to produce tools, weapons, food and medicine.
Some wattles are environmental weeds which crowd out other native species. Sallow wattle and Cootamundra wattle fall into this category.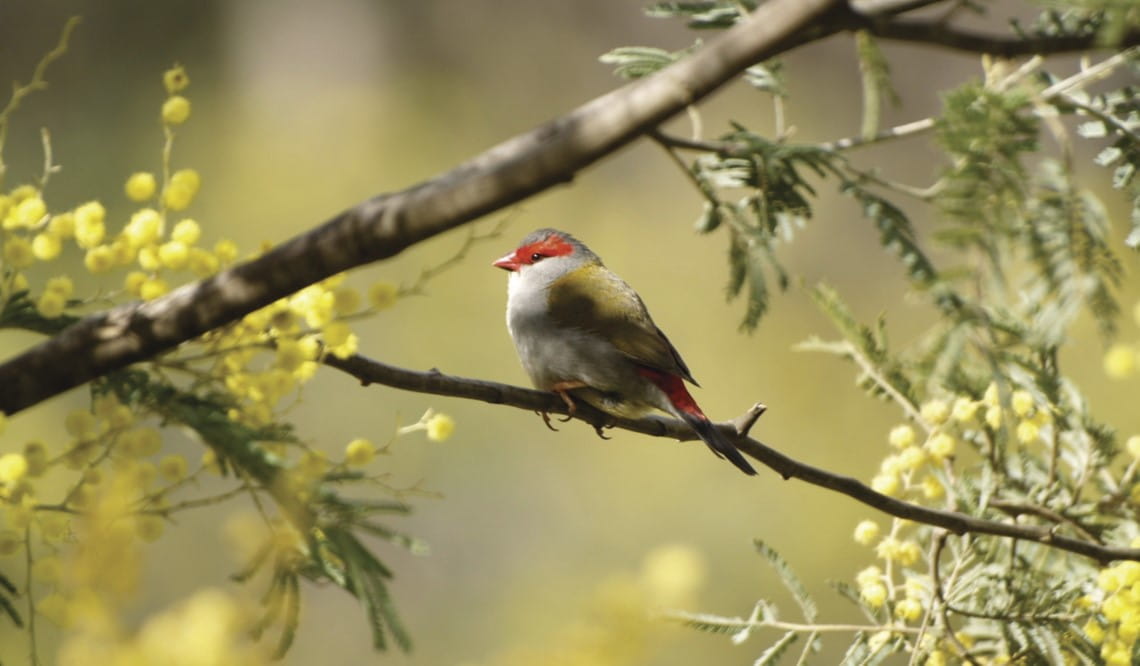 Red-browed Finch sitting on a wattle branch. Credit: Parks Victoria
Where to see wattle
Warrandyte State Park – Pound Bend Reserve
At the closest state park to Melbourne you can enjoy walking or picnicking amongst numerous brilliant wattle species native to the area. People have been travelling here to see wattles in bloom for generations!
Cape Conran Coastal Park – Yeerung River
Out to the east of the state you'll find several species of wattle alongside some gnarly serrated banksias, pretty melaleucas and paperbarks. Walk along the Estuary View Trail to experience a mix of different ecosystems, native plants and animals.
Greater Bendigo National Park – One Tree Hill
The regional city of Bendigo is surrounded by forest that comes alive with wattle and other flowers from August onwards. If you haven't had your fill of wattle after visiting One Tree Hill, head closer to town and check out Solomon Gully Nature Conservation Reserve.
Lerderderg State Park - Lerderderg campground area
Just over an hour north west of the Melbourne CBD is this remote park, which turns on a surprising display of colour. Check out wattles, peas, heath and orchids.
Visitors can enjoy a blend of historic buildings, picnic grounds, walking tracks and natural bush spread over 55 hectares. Towering gums, beautiful wattles and native grasses make it an easy metropolitan escape.
Want to visit more picturesque sites? Visit our Wildflowers page to find the best spots to see flowers in bloom throughout Spring.