Explore
Warrandyte State Park
Warrandyte State Park is part of an Aboriginal cultural landscape in the traditional Country of the Wurundjeri Peoples. Parks Victoria respects the deep and continuing connection that Wurundjeri Traditional Owners have to these lands and waters, and we recognise their ongoing role in caring for Country.
The closest state park to Melbourne, Warrandyte State Park is a fantastic location for bushwalkers, canoeists, birdwatchers, families out for a picnic and those who are in search of some bush peace and solitude not far from the city.
Visitors to the popular Pound Bend section of the park will find a delightful picnic area set amongst the manna gums that line the Yarra River. Bring your own picnic blanket or use one of the tables provided. Other facilities include toilets, a canoe launching ramp and access to easy walking trails for visitors with limited mobility. Starting from the northern end of the picnic area, The Pound Bend River Walk (2.4km, 1 hour return) is a gentle and easy walk that takes you upstream along the Yarra River. Listen to the calls of the many birds as you walk through riparian forest dominated by towering manna gums. At the turnaround point, the walk will open to a grassland area where Eastern Grey Kangaroos can be frequently sighted. Return to the picnic area via the same trail.
Jumping Creek also provides picnicking opportunities close to the Yarra River. This site features tables, a shelter and toilets. For those more adventurous, launch a canoe or enjoy the river views from the walking trails. The moderately challenging Jumping Creek Nature Trail (3.5km, 2 hours return) offers a chance for solitude as you weave your way along the Yarra River corridor. This walk takes in a variety of landscapes from dry rocky cliffs to river level riparian forest. At the halfway point you will find Blue Tongue Bend, a wide-sweeping section of the Yarra River.
Fourth Hill is known for its colourful spring flower wildflower display. On The Fourth Hill Gold Heritage Circuit Walk (1.5km, 1.5 hour circuit) explore landmarks and remnants of yesteryear when those down on their luck sought riches from the gold-laden hills of Warrandyte.
If you're up for a challenge, then the Mount Lofty Circuit Walk (4.7km, 2.5 hours circuit) is for you. Located in Wonga Park, the Mount Lofty circuit walk begins at Wittons Reserve. The walk takes you upstream along the Yarra River corridor before ascending steeply to the highest point in Warrandyte State Park (Mount Lofty). Featuring spectacular views of the river, the Yarra Valley and the Dandenong-Yarra Ranges, this walk will take your breath away in more ways than one.
Things To Do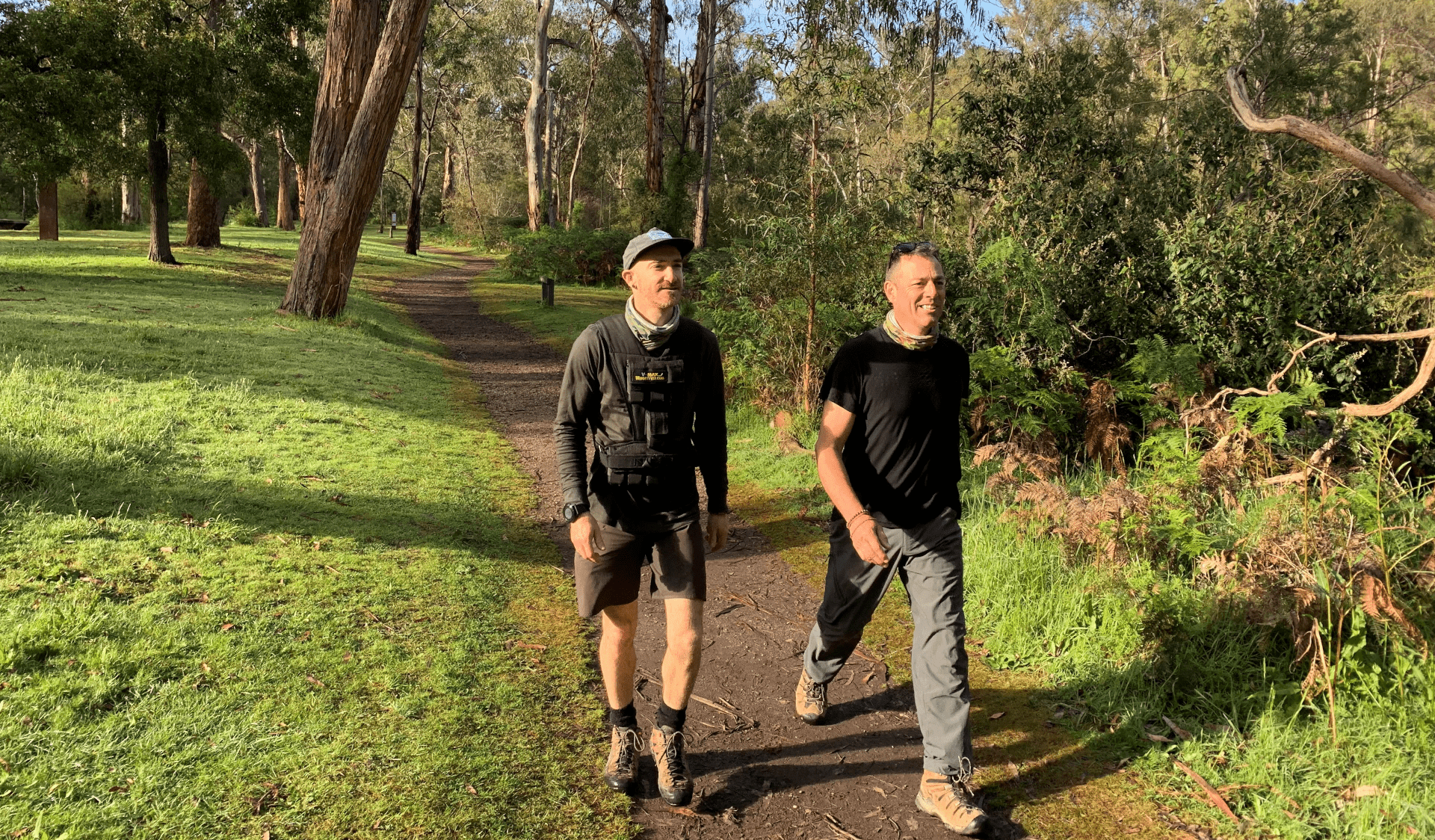 Walking
Enjoy the many walking trails throughout the park. Opportunities range from a leisurely stroll along the Yarra River to more adventurous and challenging bushwalks.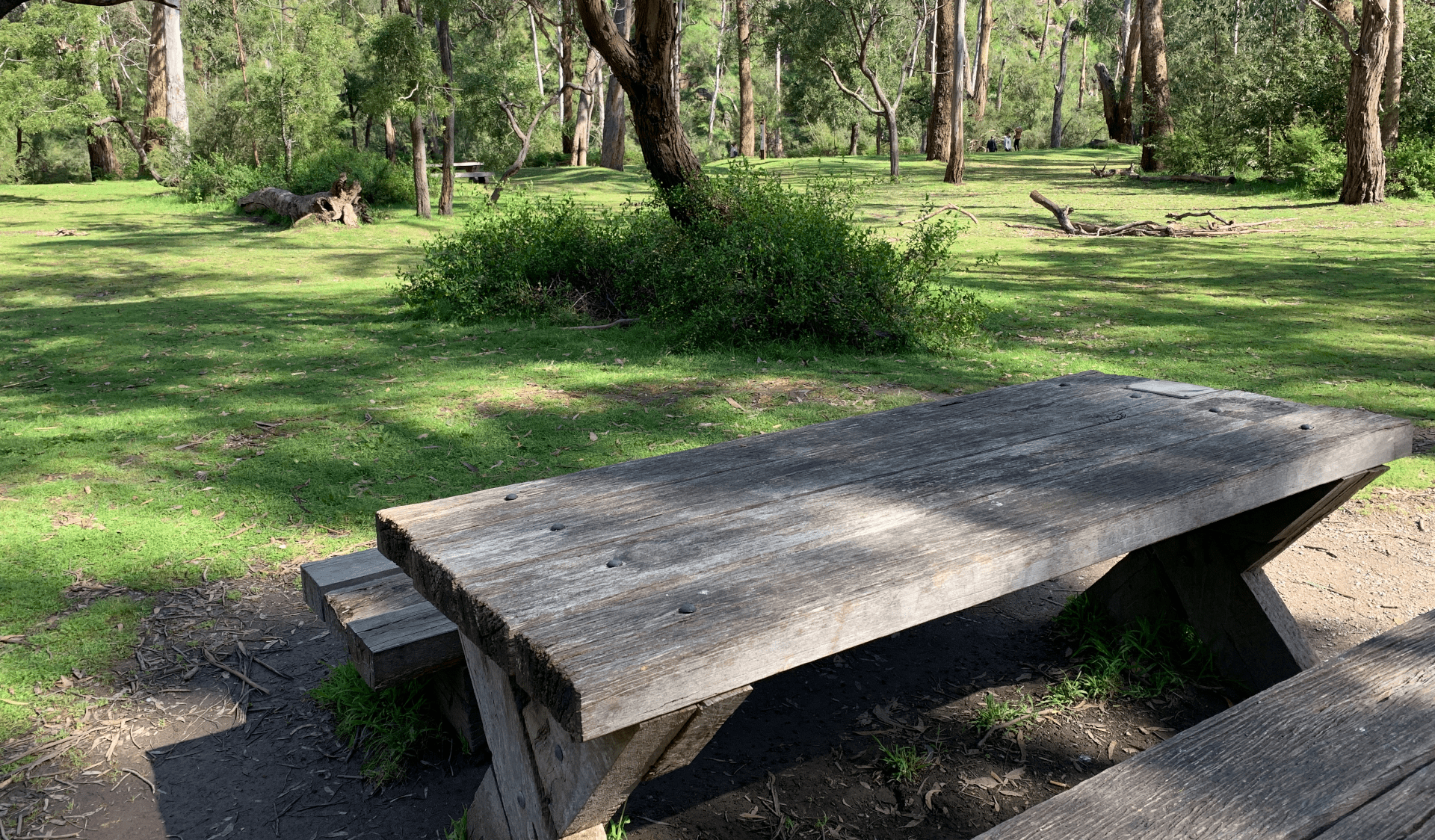 Picnicking
Pound Bend and Jumping Creek offer delightful opportunities to picnic in a bush setting close to the Yarra River. Facilities include toilets, picnic tables and a shelter at Jumping Creek.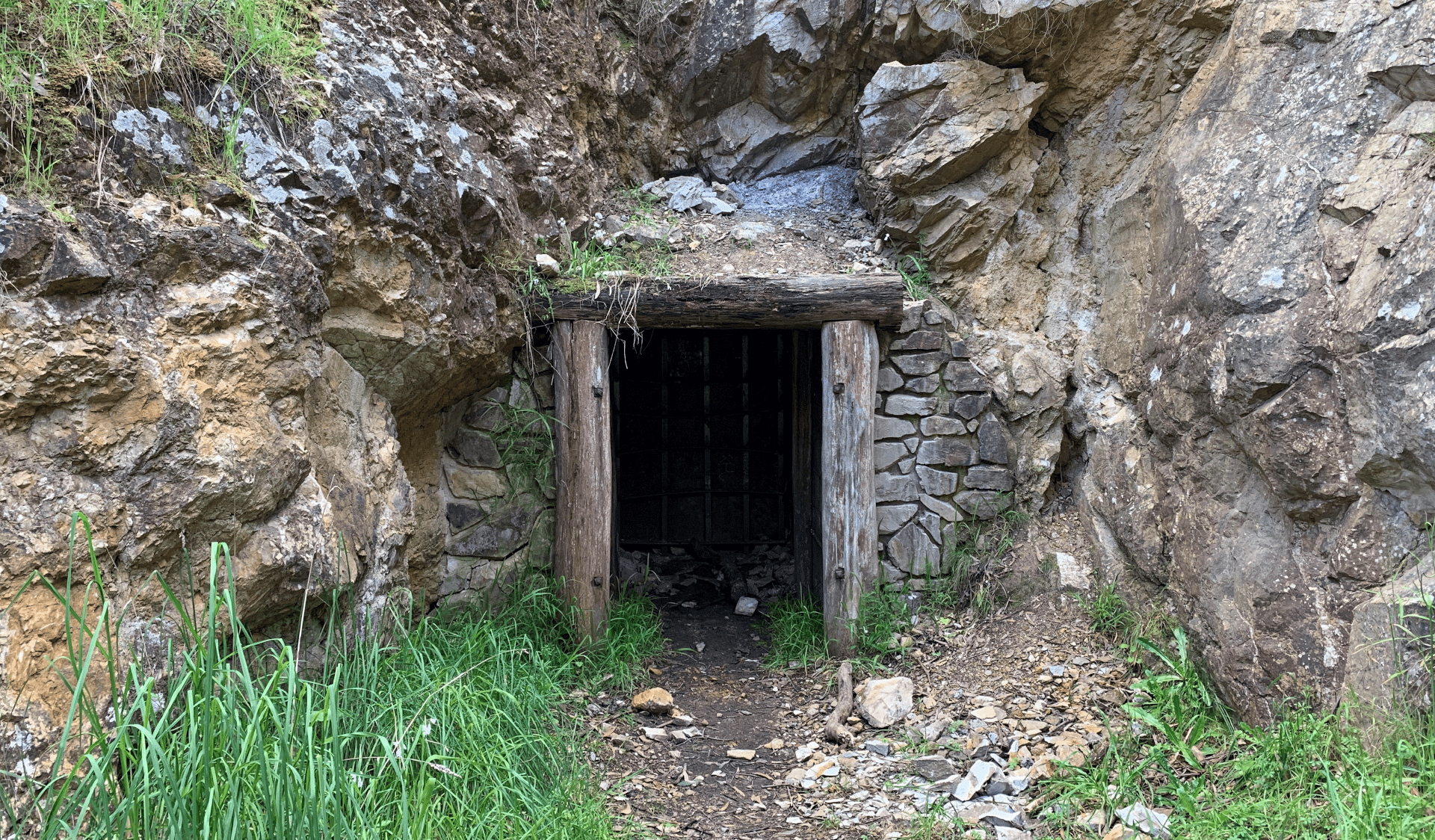 Gold discovery
Relics of the gold mining era can be found at Pound Bend, Fourth Hill and Black Flat. Some of the more prominent features include Geraghty's mine, Victory mine and the Evelyn Tunnel. Prospecting within the Warrandyte State Park is only permitted in the beds of the Andersons, Stoney and Jumping Creeks (upstream of Jumping Creek Road bridge). A Miner's Right is required and the use of mechanical tools is prohibited.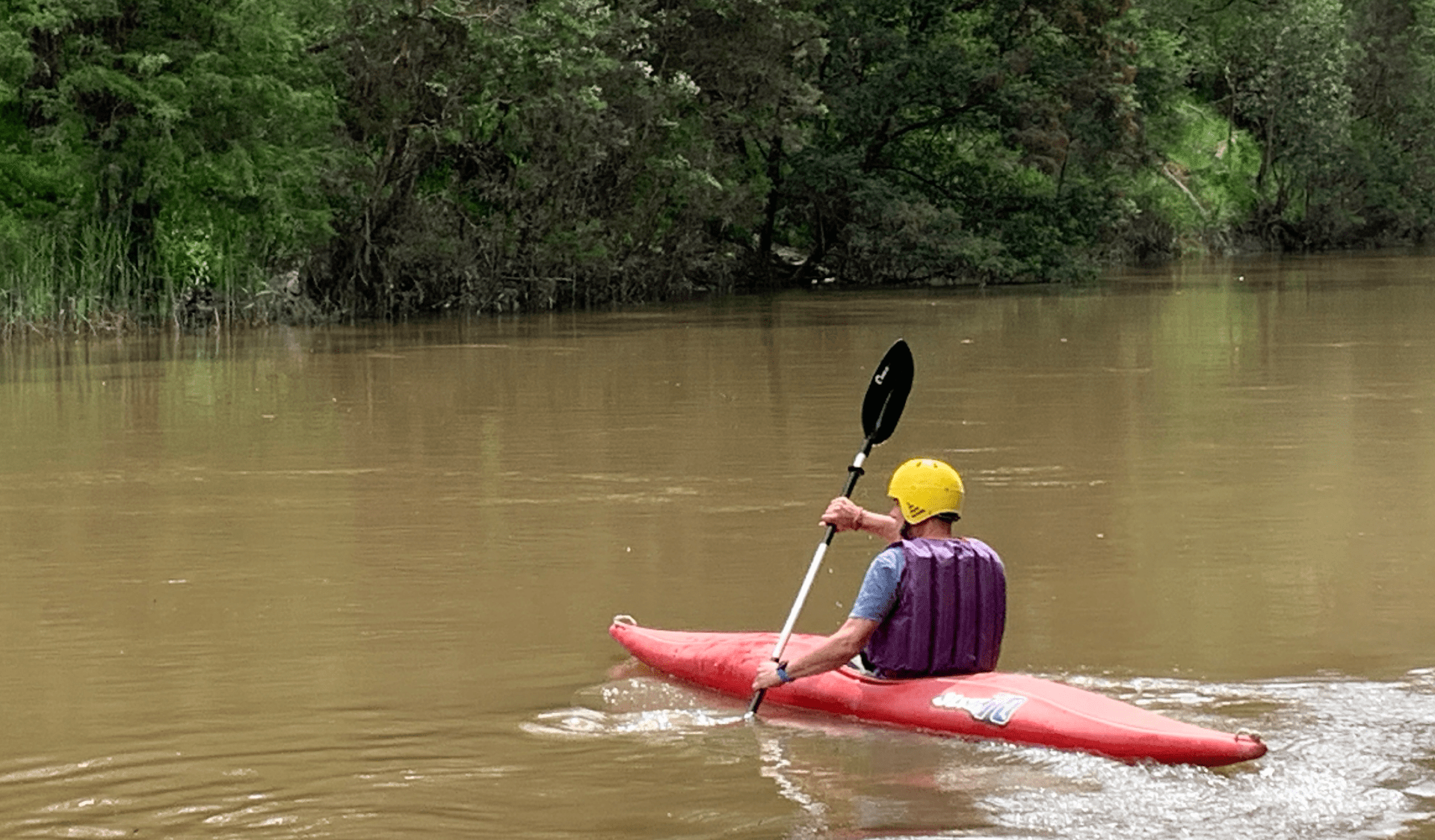 Canoeing and Kayaking
Experience the beautiful bushland of Warrandyte Gorge via the water. Grade I to III rapids can be experienced depending on the river section and water levels. River access for launching is located at Mt Lofty, Jumping Creek, Pound Bend and Norman Reserve.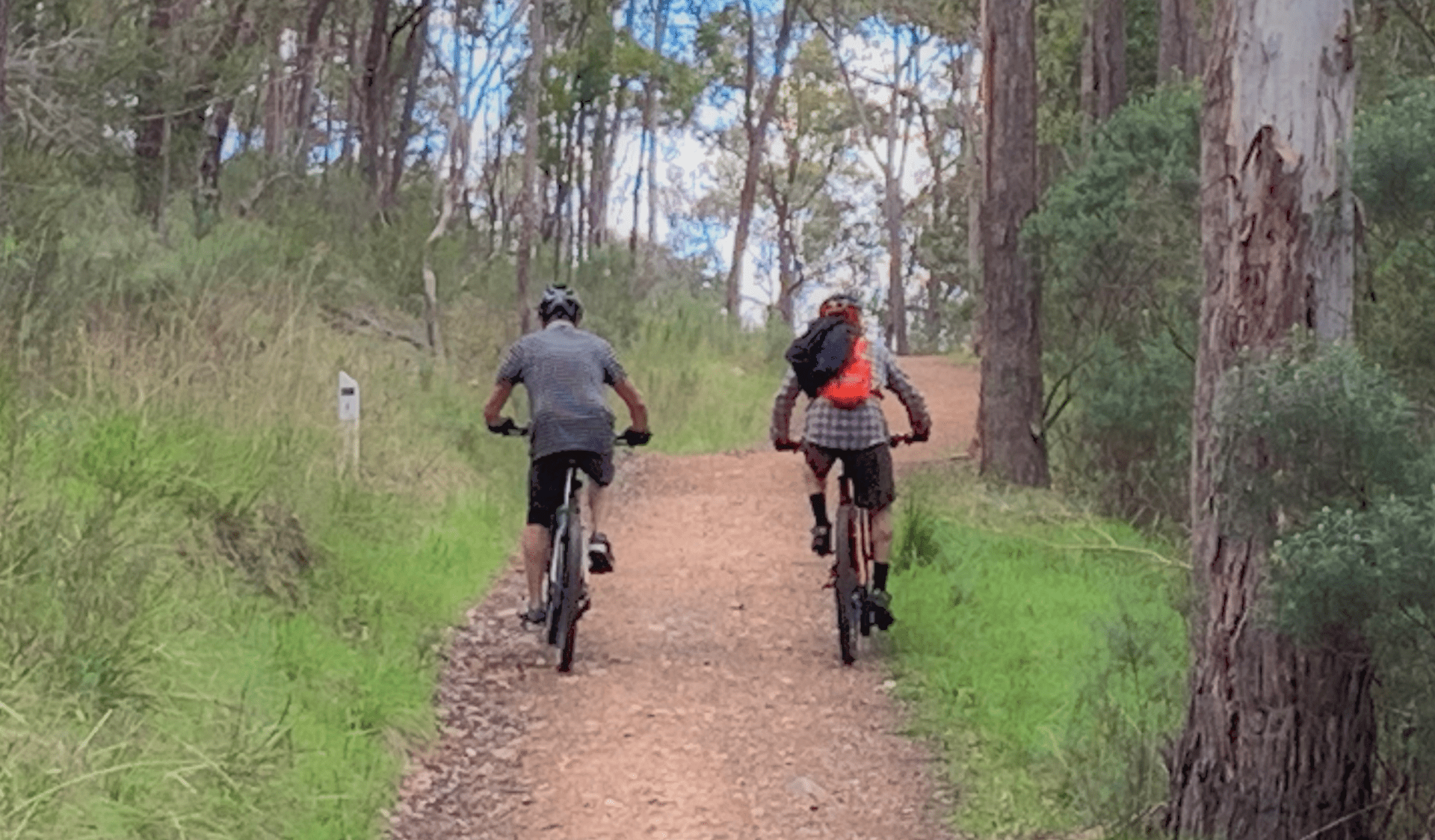 Bike riding
The extensive Management Vehicle Only tracks scattered throughout the park provide great mountain biking opportunities. Please note, riding on walking trails and informal tracks is prohibited due to the significance and sensitivity of the environment.
Warrandyte State Park
The park is home to a range of species including Eastern Grey Kangaroos, Swamp Wallabies, Short-beaked Echidnas, Common Wombats, Brushtail and Ringtail Possums, Sugar Gliders and Platypus. More than 120 bird species have been recorded, including the rare Powerful Owl, Kingfishers, Robins, Honeyeaters and various birds of prey. There are snakes in the park; if you do see one, don't panic but keep your distance. Remember that all plants and animals, including snakes, are protected.
Tours and adventure experiences in parks
One of the best ways you can get into nature is with a Licensed Tour Operator.

There are more than 400 Licensed Tour Operators across Victoria who are ready and waiting to help you experience and connect with Victoria's spectacular parks and waterways.

Discover more than 60 different types of nature-based experiences including hiking, mountain biking, boating, four-wheel driving, indigenous culture tours, birdwatching, surfing, diving and so much more.

Licensed Tour Operators know all the best places to go and will plan and prepare your visit to ensure you are safe and can enjoy your nature-based adventure to the fullest.
Find a Licensed Tour Operator
How to get there
Warrandyte State Park
Warrandyte State Park is 24km north-east of Melbourne. Access is mainly via three roads including Heidelberg-Warrandyte Road, Research-Warrandyte Road and Ringwood-Warrandyte Road.
When you're there
Download the Warrandyte State Park Visitor Guide for more information about the park and a map.
Need to know
Warrandyte State Park
Accessibility
Visiting a park can be more of a challenge for people with disabilities, however in Victoria there are a wide range of facilities to help people of all abilities enjoy our wonderful parks around the state.
Pound Bend Reserve, Fourth Hill, Whipstick Gully and Jumping Creek at Warrandyte State Park were assessed for accessibility in July 2021, providing information about the accessibility of these areas and photos.
Assistance dogs are welcome in Parks Victoria parks and reserves. Entry requirements apply for parks and reserves where dogs are normally prohibited, such as national parks.
Safety
Thinking of visiting Pound Bend this summer? This is a small site with limited parking and high fire risk. Here's what to consider before you leave home:
The carpark may be full when you arrive. Always have a backup plan.
If the car park is full, then the park is too.
Don't park illegally and block emergency access.
The park is closed on Extreme and Catastrophic fire risk days. Check the Fire Danger Rating and for days of Total Fire Ban at www.emergency.vic.gov.au, on the VicEmergency smartphone app or call the VicEmergency Hotline on 1800 226 226.
How we keep it special
We aim to ensure that our valued parks, and the natural assets and cultural heritage they hold, can be enjoyed now and by future generations.
Help us look after your park by following these guidelines:
Dogs are not permitted except on lead only at Norman, Taroona and Koornong Reserves.
All other pets are not permitted in the park.
Please take your rubbish home.
All plants, animals, natural features and cultural sites are protected and must not be disturbed or removed.
Feeding wildlife is prohibited.
It is an offence to feed or leave food for wildlife.
Penalties apply.
Solid fuel BBQ's (charcoal/wood/briquettes etc) are not permitted in the park.
Parks Victoria is proud to be a key partner in the implementation of the Yarra Strategic Plan, Burndap Birrarung burndap umarkoo. Delivering the plan is a Victorian Government commitment to protect our treasured Yarra River, Birrarung, and its parklands for future generations.