People of all abilities are exploring Kinglake National Park
Wednesday 2 December, 2020
People of all abilities are enjoying the beautiful sights and sounds of Kinglake National Park like never before, with the help of an all-terrain wheelchair - the TrailRider.

From fern gullies along walking tracks, to the cascading Masons Falls, the TrailRider offers opportunities for everyone.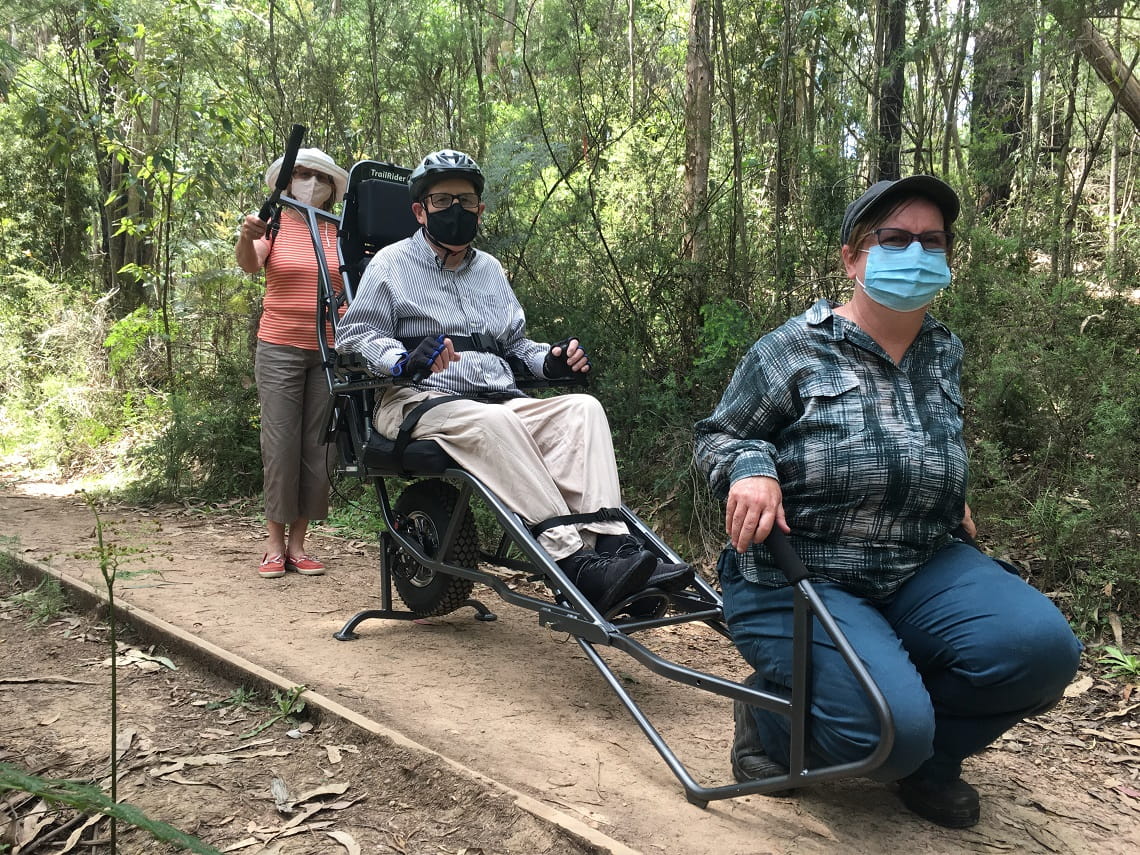 Philip Buggy in the TrailRider all-terrain wheelchair, exploring Kinglake National Park, on the lands of the Taungurung People and Wurundjeri People.
Generously donated by the Rotary Club of Kinglake Ranges, the TrailRider allows visitors to access rugged walking trails not otherwise accessible with conventional wheelchairs.

"The TrailRider all-terrain wheelchair means everyone can enjoy and experience the important physical and mental health benefits of being in nature, alongside their family and friends," said Ranger Team Leader Trevor.

"My top tip for a great walk is Lyrebird Circuit at Masons Falls, and the track down to the Falls. At under two kilometres return, this walk takes in beautiful tall forests and a sweeping view of the falls and valley below. If you're lucky, you might even see a lyrebird along the quiet narrow walking track."


What you need to know
A minimum of two people are required to push and pull the chair.




The TrailRider is available at the Parks Victoria Kinglake office. Bookings are required to ensure availability, contact the office during business hours on 03 8427 2066.

An induction and training session for all users is provided by Parks Victoria upon pick up. Expert local advice on the best tracks is also available.




The TrailRider (and helmet, if users can't provide their own) is sanitised thoroughly after each use.

TrailRider all-terrain wheelchairs are free to use and available in a number of Victoria's parks, for more information, visit the all-terrain wheelchairs webpage.


Parks Victoria is an award-winning leader in accessible nature-based tourism, and is committed to enabling visitors of all abilities to access nature and its health benefits. To learn more about inclusive facilities and experiences in our parks, visit the all abilities access webpage.