Winter adventures by the sea
Tuesday 15 June, 2021
There's something spectacular about being close to the sea in winter. The fresh, salty air, the open, desolate shorelines, the marvelling views – these, and more are on offer if we step outside our cosy dwellings and visit Victoria's rugged coast.
If you're wondering what to do to be close to the sea, read on for our round up of fantastic activity ideas and coastal locations waiting for your visit.
Make lighthouses your next landmark
Time and tides have not diminished Victoria's outstanding lighthouses. Some offer accommodation, all have spectacular views and each one tells a surprising tale from the history book.
Make a lighthouse a landmark for your next day trip or weekend away, and plan a hike, picnic, whale watching and accommodation in and around the lighthouse precinct.
In Mornington Peninsula National Park, perched atop dramatic sandstone cliffs, the Cape Schanck Lighthouse has ensured the safe passage of ships since 1859. Join a tour and hear the fascinating stories of the light keepers, or climb the sandstone steps to the lamp room for spectacular views over the southern peninsula and Bass Strait.
Stay in the historic Assistant Lightkeepers Cottage at Gabo Island Lighthouse Reserve which features the only operating island lighthouse in Victoria, constructed using the distinctive pink granite found on the island. From here you are bound to spot seabirds, whales, dolphins, seals and penguins.
Experience ocean and marine wildlife adventures
Licensed Tour Operators in Victorian coastal parks offer some of the best opportunities to experience boating, diving, site-seeing, marine wildlife and to learn more about Marine National Parks and Sanctuaries.
The most close-up views you'll get of marine mammals such as whales, dolphins, seals and penguins in their natural habitat is on one of these operators' many cruises.
Watch Southern Right Whales in the winter months metres away from your boat, as well as Humpback Whales between April and October each year as they make the long journey from their summer Antarctic feeding grounds to their winter breeding grounds in warmer waters.
Bottlenose Dolphins can be seen in groups or pods, along the whole of the Victorian coastline, including within Port Phillip Bay, Western Port and Gippsland Lakes. See playful Australian Fur Seals on boat tours in Apollo Bay, Mornington Peninsula and Phillip Island.
Find an ocean-based adventure this winter on our Licensed Tour Operator page.
Surf the best waves of the year
For the keen surfers out there, the cold weather shouldn't deter you from the thrill of riding the ocean's waves. In Victoria, winter brings the best waves and empty line-ups.
Get your wetsuit on and head to spots such as Gunnamatta Beach in Mornington Peninsula National Park, which is best surfed from March to May, or Squeaky Beach at Wilsons Promontory National Park.
There are great surfing spots along the Great Ocean Road in Great Otway National Park including Johanna Beach and the famous Bells Beach, as well as in East Gippsland's Cape Conran Coastal Park which has options for surfers of all abilities.
If you want to learn how to surf, don't have all the gear or want to experience a new surfing spot a Licensed Tour Operator can help progress your surfing and make sure you get the most from your session. (Filter by 'Surf / Surf Education' in the directory).
For more surfing spot ideas in Victoria, visit our surfing page.
Whale watch at crowd-free iconic coastal sites
Bypass the busy summer season when tourists abound and hit the road to experience whale watching at iconic coastal sites in winter solitude.
Haven't yet seen the famous Twelve Apostles against a backdrop of crashing waves? Travel to Port Campbell National Park to view them and keep an eye out for whales migrating to warmer waters from June to October. You may be lucky enough to see Southern Right Whales from the jetty as they pass Port Campbell.
The lesser known Bay of Island Coastal Park, also along the Great Ocean Road, offers an equally spectacular experience with even fewer crowds where there's also the chance of catching a glimpse of a passing whale.
You may have the beach all to yourself at the usually buzzing Belfast Coastal Reserve, where a trip to the Basin in Killarney may reward you with a glimpse of a Southern Right Whale breaching or nursing a calf.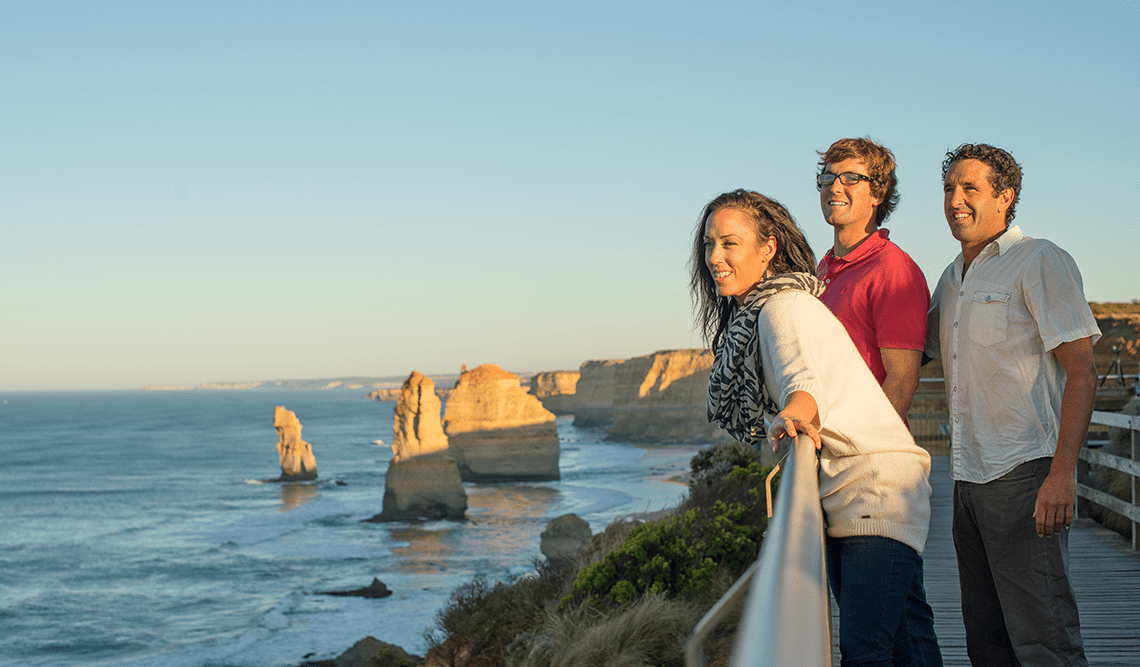 So, when you've had enough of heated hibernation and are ready to get into nature, consider Victoria's breathtaking seascape – along the shores or right in the midst of it – for a truly memorable winter experience.
Did you know that Parks Victoria manages 30 marine protected areas? Read about 7 unexpected things you'll find in our parks and our unique marine life or discover marine parks and sanctuaries for yourself.