Stay cool, stay safe
Monday 20 December, 2021
Whether you're a white-water adventure-seeker, casual canoe day-tripper or you want a family-friendly swimming hole, Victoria's parks are the perfect place to make a splash this summer.
Take a kayak journey along winding rivers or sail out onto placid lakes. Explore shipwrecks and unique marine life along Victoria's beautiful coast. Cool off in the waters near glistening waterfalls and relax and rejuvenate.
However you're cooling off this summer, make sure you're ready for nature by planning ahead whether it's for a day trip or a longer stay. Water comes with different risks, so always keep water safety in mind.
Our rangers and Licensed Tour Operators have kindly shared their tips to help you stay safe while staying cool this summer.
Stay cool by… canoeing and kayaking
Encounter nature at your own pace as you travel the waters of Victoria's parks by canoe or kayak.
The serene escape of Gippsland Lakes Coastal Park offers a vast network of waterways to explore, including Ninety Mile Beach.
The Glenelg River Canoe Trail stretches 75km from Dartmoor to Nelson, with campsites along its scenic route that make it perfect for a multi-day canoeing adventure.
Watch for native wildlife as you canoe and camp by the secluded Lake Eildon, beside the Victorian Alps.
The adventurous can try white water rafting in the rapids of Victoria's highest mountain ranges at Alpine National Park.
Snowy River National Park offers rafting for all experience levels, following the gorges and flats of this famous river.
Travel the entire 240km of the Yarra River or simply experience nature in the heart of Melbourne by taking a leisurely kayak through parklands and along riverside walks.
Shannon O'Brien from Murray River Adventures by Sydney Harbour Kayaks is keen for you to make sure you're prepared if you're heading out kayaking. "In the wetlands, swamps and inland waterways of Victoria, it is important to Be Paddle Smart" she says, "be aware of your surroundings, (it's easy to get lost), never paddle alone, take a tracking device, take extra food and water, take a dry bag with warm clothing, take a first aid kit, tell someone where you're going and when you're expected to be back."
More tips for staying safe while canoeing and kayaking: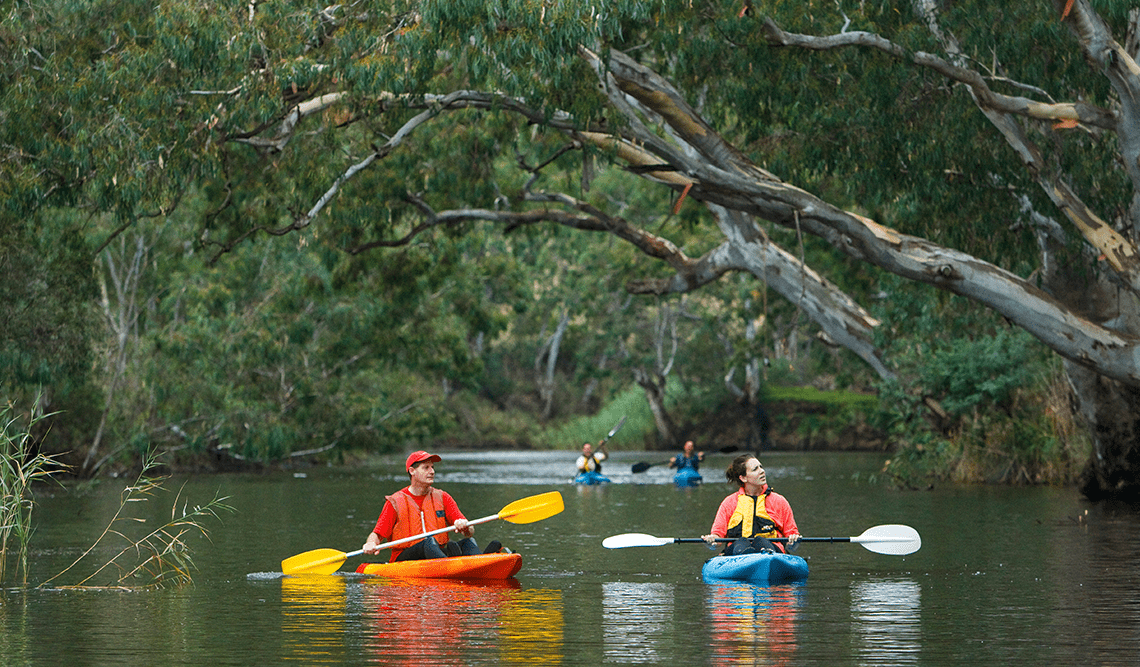 Stay cool by… going for a dip
There's no better way to cool off and rejuvenate than by getting into the water for a splash. Remember, our waterways can be especially busy over the warmer months, so always have a backup plan if your swimming spot of choice is busy.
Head up to Mount Buffalo National Park and enjoy the clear waters near Ladies Bath Falls or take a dip in the man-made Lake Catani.
Expedition Pass Reservoir and Vaughan Springs at Castlemaine Diggings National Heritage Park offer a historic setting and placid waters for a day of swimming and picnicking.
Enjoy the family friendly swimming spot and tree-lined shallows of Mackenzies Flat, Lerderderg State Park.
A former mining dam, St George's Lake is now a retreat for swimming, barbecue picnics and wildlife watching in the serenity of Creswick Regional Park.
Ricketts Point is a fantastic place close to Melbourne for a refreshing dip with the family. The crystal clear waters are less than 5 metres deep in most areas and the beach is patrolled by Beaumaris Life Saving Club over summer, making it a safe place for kids to swim.
If swimming in the waves is more your style, look no further than Sorrento Ocean Beach. This popular beach is patrolled on summer weekends and holidays. There's also rockpools to explore that are large enough to swim in!
Tim, a ranger from South Gippsland warns that "If you are not a strong swimmer, the surf is not the place to be. Can you identify a rip, and would you know what to do if you are caught in a rip?"
"Nothing beats a refreshing swim on a hot summers day." agrees Lucy, a ranger at Wilsons Promontory National Park, "but even the calmest looking water can hide dangerous currents and undertows, so swim where it's safe by sticking between the flags."
More tips for staying safe while swimming: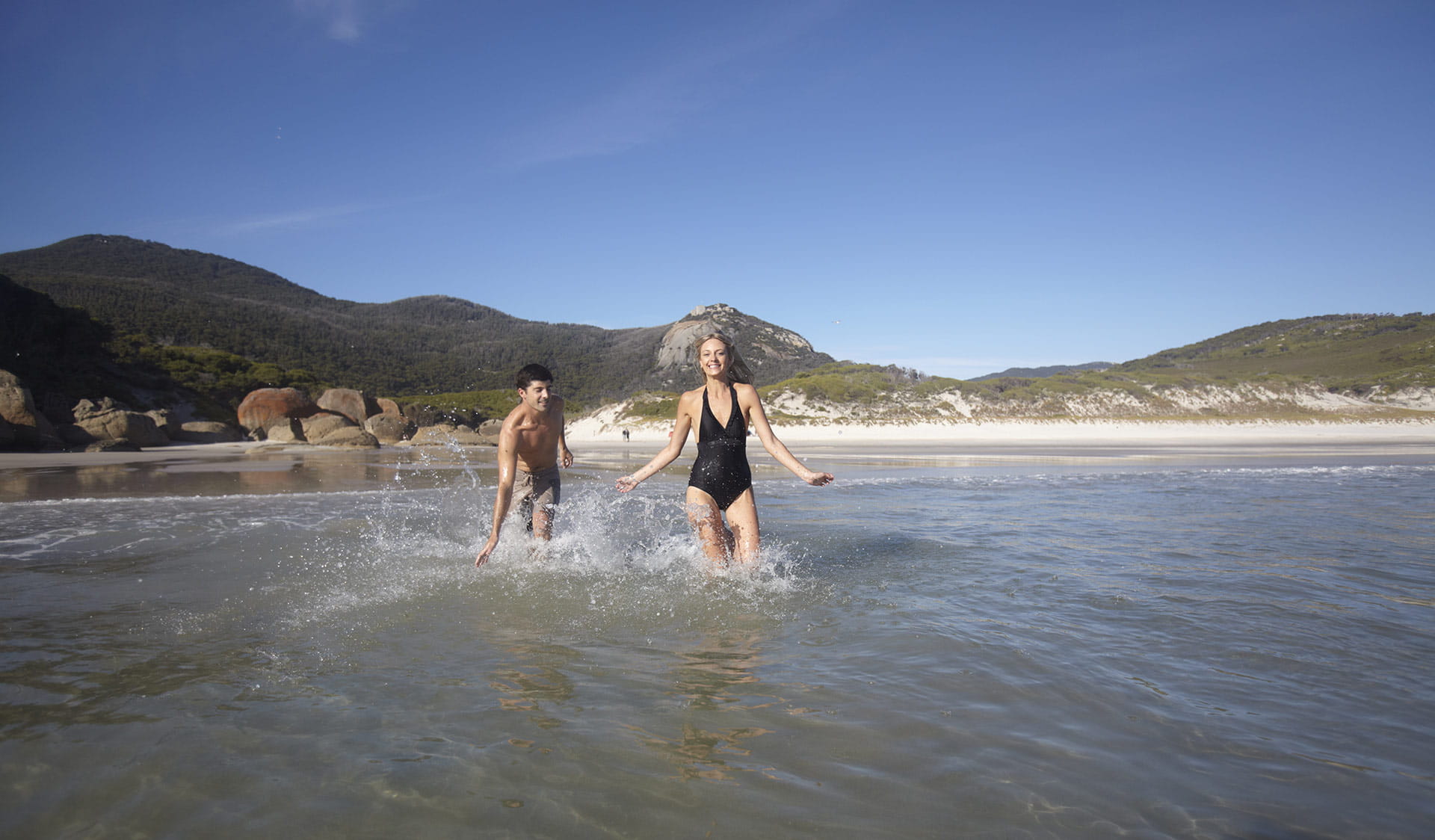 Stay cool by… boating and sailing
Set sail for the lakes and rivers of Victoria's spectacular parks.
Gippsland Lakes Coastal Park is a great getaway for nature-lovers and boating enthusiasts.
Sail in a picturesque bushland setting at Lake Eildon, or head to Patterson River at the entrance to Port Phillip Bay, a favourite spot for sailing, fishing or taking a boat tour with a licensed operator.
You don't need to leave the city to get out on the water. Take a rowboat down the Yarra River, or head over to Albert Park where you can have sailing lessons, hire a boat for the day, or even join the sailing club and take part in races.
Jodie Ashworth from H2O Tours and Adventures loves taking visitors on boat cruises to explore the Gippsland Lakes. Her advice is "be sun smart and always carry enough water to stay hydrated while out on the water".
More tips for staying safe while boating and sailing: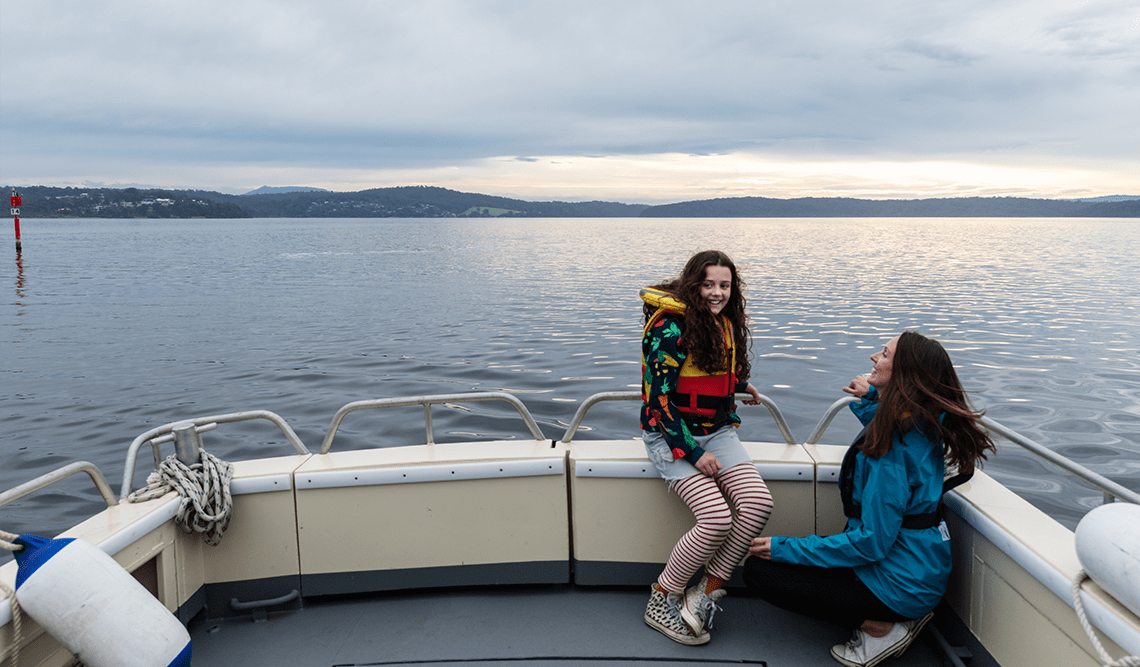 Stay cool by… snorkelling or diving
See Victoria's coast differently as you explore an underwater world.
Ricketts Point Marine Sanctuary is an accessible snorkelling and diving spot teeming with marine life. Explore shipwrecks at Point Cooke Marine Sanctuary, snorkel through seagrasses and kelp forest at Jawbone Marine Sanctuary, or see unique sea life at the piers and jetties along Port Phillip Bay, such as Rye Pier and Flinders Jetty.
Wilsons Promontory Marine National Park is one of the world's great diving destinations, where you can spot fur seals and other marine life. The Arches Marine Sanctuary offers spectacular underwater rock formations for the adventurous diver, while various diving spots within the Port Phillip Heads Marine National Park are home to many colourful invertebrates and fish. For a bit of everything, make the trip to Beware Reef Marine Sanctuary in East Gippsland and see shipwrecks, kelp forests, reefs and marine life.
"While there are a lot of great places to see, always plan your marine park exploration with safety in mind." says Monique, a marine ranger for Port Phillip Bay. "Many of Victoria's marine protected areas are in exposed locations where local weather and sea conditions need to be carefully considered before getting in the water. Always dive or snorkel with a buddy and stay within your skill limits. Respect the flora and fauna in the marine protected area and take your rubbish home."
More tips for staying safe while snorkelling or diving: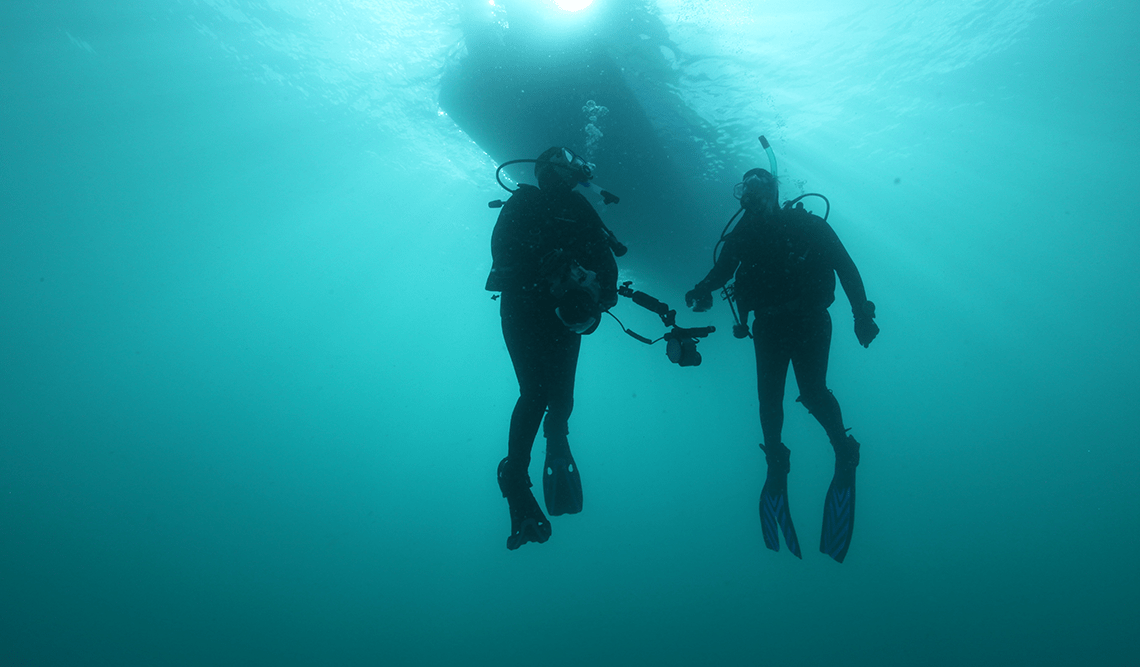 Manage the hazards safely by taking precautions so you can make the most of summer. Always have a backup plan and if the carpark is full, don't cause overcrowding.
Although a great time to have a dip, the warmer weather can also bring increased bushfire risk – especially if there is also wind forecast. Some sites close on days of increased fire danger always make sure you check weather conditions and park closures before heading out.
One of the best, and safest, ways to experience Victoria's waterways is with a Licensed Tour Operator. There are more than 400 Licensed Tour Operators across Victoria who are ready to help you discover our magnificent parks and waterways. Find one today and start exploring.