Bright, Feathertop and Dinner Plain
From panorama-prone hikes across wildflower draped ridgelines to cross-country ski trails through twisted snowgums and fresh mountain air, Bright, Feathertop and Dinner Plain has it all. Conquer Victoria's second highest peak, Mount Feathertop, ski the slopes of Mount Hotham or mountain bike between Dinner Plain and Hotham along the Brabralung Trail.
Mount Feathertop via The Razorback follows an exposed ridgeline, linking the popular Mount Hotham Alpine Resort to the top of Victoria's second highest peak. Although it falls 64-metres short of Mount Bogong's record, it is arguably Victoria's most spectacular peak. Through spring and summer, the slopes and alpine plains are carpeted in a sea of wildflowers. Among masses of alpine daisies, Billy Buttons poke through the vestiges of the remaining snow drifts.

For a change in scenery, follow the Bungalow Spur Walk from the quaint town of Harrietville and climb over 1300-metres to reach the pinnacle of Mount Feathertop. Sheltered from the harsh alpine conditions, for the most part, take a break at Federation Hut before making the final ascent to the top.

For shorter, family-friendly walks, set out on the Bungalow Spur Walk to Picture Point or Tobias Gap for views over the Ovens Valley. Or opt for a walk out to Carmichael Falls, where the confluence of the Precipice and Dinner Plain Creeks plunges 25-metres to the headwaters of the Dargo River.

Stay a night or two in the comfort of Harrietville, Mount Hotham or Dinner Plain, all cool havens through the summer months. The Brabralung Trail running between Dinner Plain Alpine Village and Mount Hotham Alpine Resort too is wonderful. Suited to cross-country skiing and snowshoeing in winter, and ideal for mountain biking, walking and trail running once the snow has melted, the 12-kilometre trail is not to be missed.

The bike-friendly towns of Dinner Plain and Hotham offer thrilling mountain biking and road cycling experiences - with the benefits of spectacular alpine vistas around every corner. Mountain bike through Snow Gums along The Brabralung Trail, or challenge yourself with the 7-Peaks ascent to the top of Hotham or Dinner Plain. And visit the Dinner Plain Alpine Village to access over 35-kilometres of singletrack mountain bike trails.
Things To Do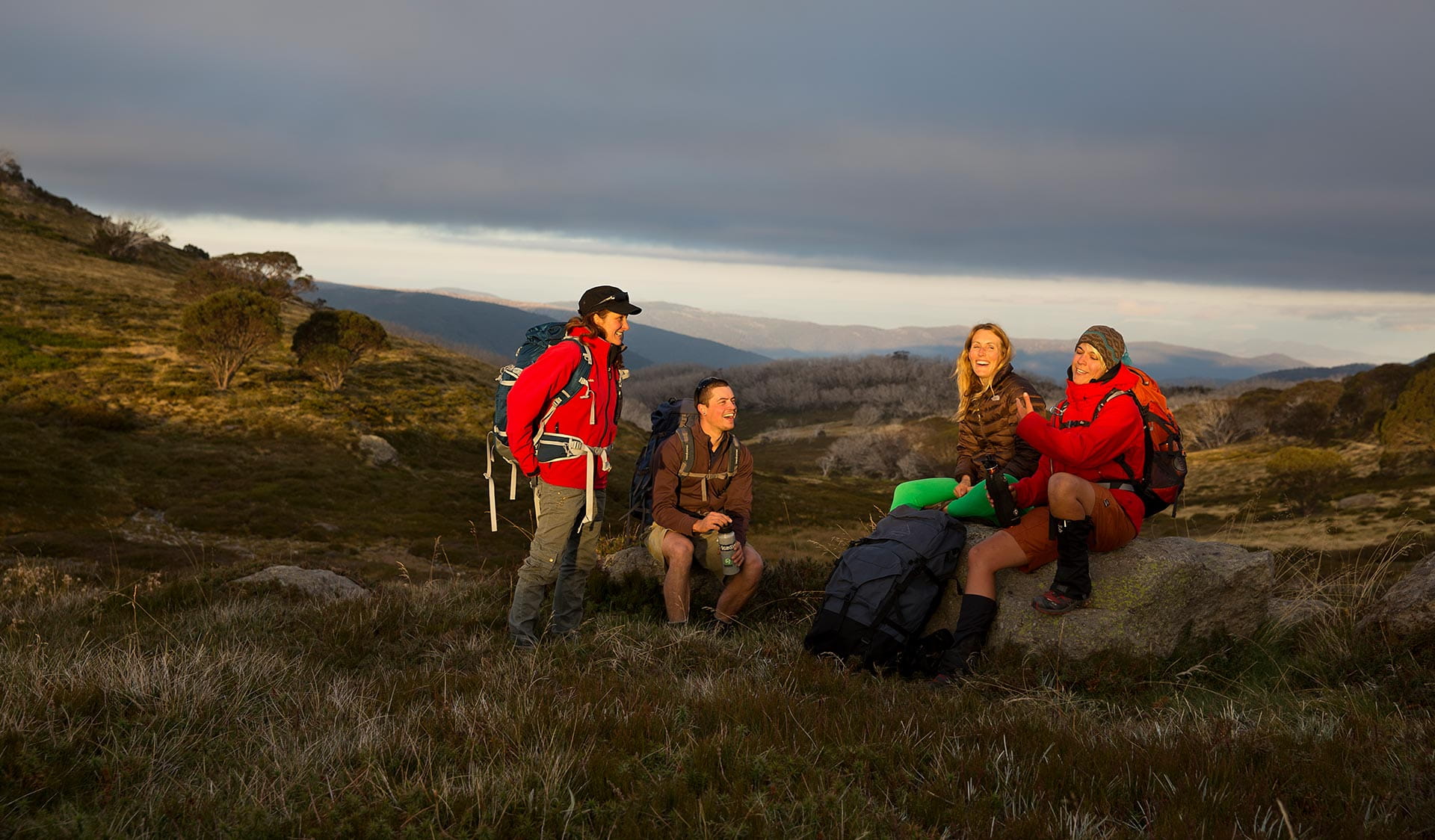 One of Victoria's icon walks, the 37km Falls to Hotham Alpine Crossing (FHAC) is a 3 day/2 night walk through the Alpine National Park, linking the resort villages of Falls Creek and Mt Hotham.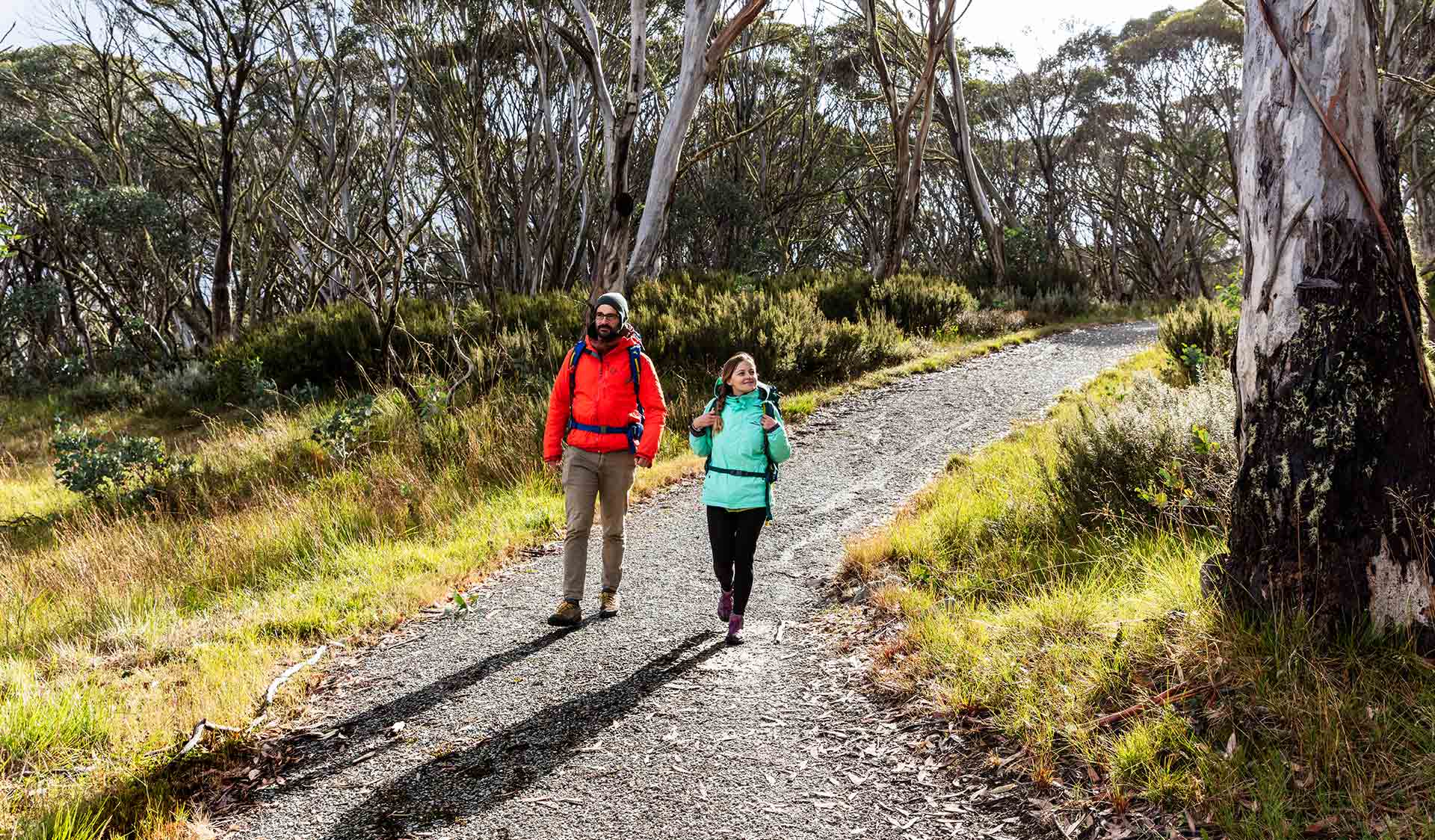 Enjoy a pleasant walk or cycle through Snow Gum woodland and open snow plains. Starting at the Hotham General Store and finishing at Dinner Plain Village, the trail is never far from the Great Alpine Road.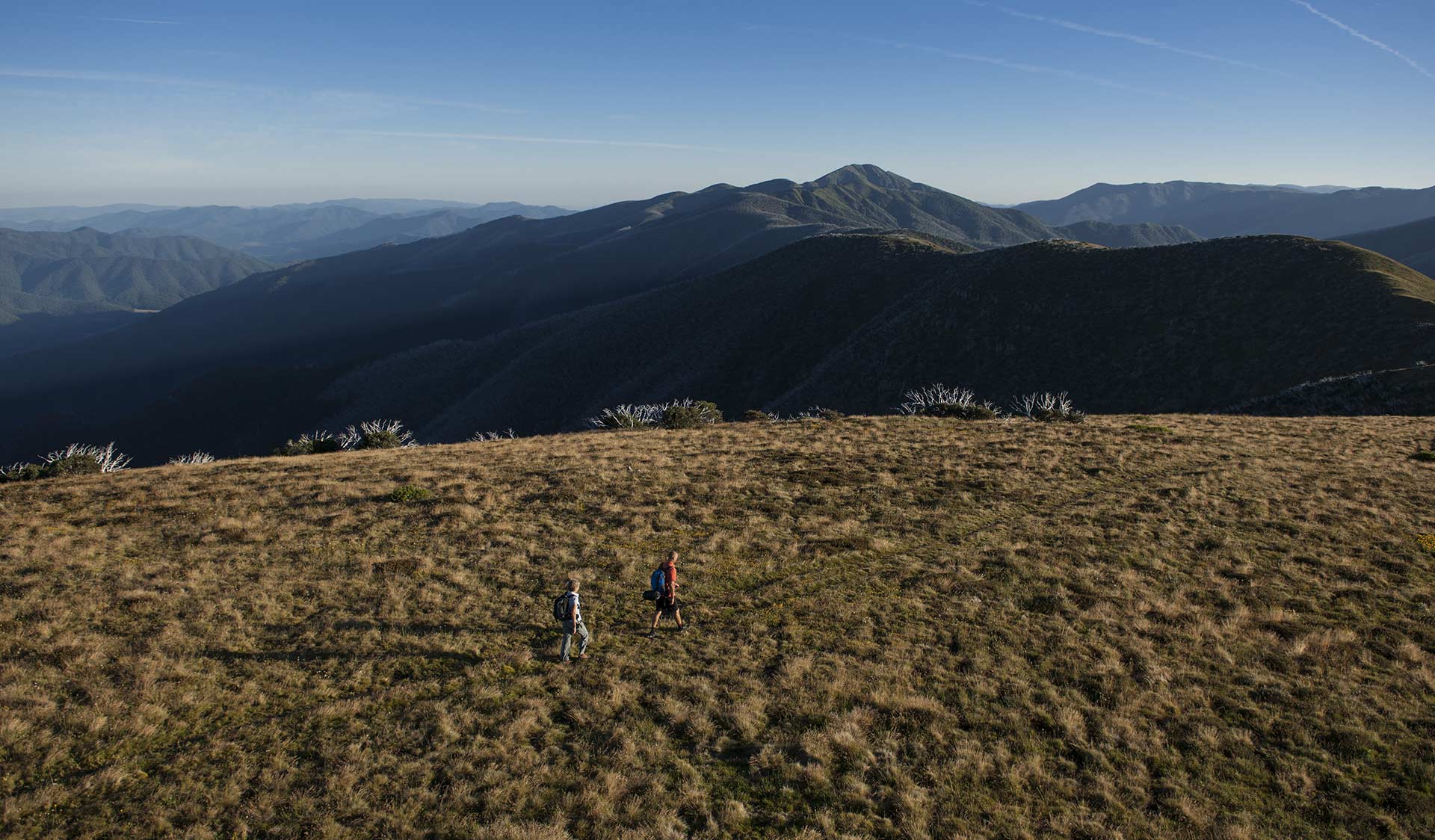 Mount Feathertop
Stunning Alpine landscape with Victoria's second highest peak, Mt Feathertop towering above Harrietville in the Ovens Valley.
How to get there
Bright, Feathertop and Dinner Plain
Alpine back country winter safety
Safe backcountry travel in Victorian Alpine areas during winter requires training and experience. You control your risk by choosing how, when and where you travel, and the activities you participate in.
When to go
Fun in the Alpine National Park continues long after the snow has melted. Hiking, mountain biking and road cycling is at its best through summer while wildflowers still blanket the slopes. Walk or mountain bike the Brabralung Trail, which runs from Mount Hotham to Dinner Plain, or pedal the thrilling mountain bike trails of Dinner Plain.
Need to know
Bright, Feathertop and Dinner Plain
Accessibility
Visiting a park can be more of a challenge for people with disabilities, however in Victoria there are a wide range of facilities to help people of all abilities enjoy our wonderful parks around the state.

An all-terrain wheelchair known as the TrailRider is available for free hire from the Mount Beauty Visitor Information Centre. Visitors must supply their own helmets. For more information, contact the Mount Beauty Visitor Information Centre on 1800 11 885.
Assistance dogs are welcome in Parks Victoria parks and reserves. Entry requirements apply for parks and reserves that are usually dog prohibited, such as national parks.
Change of Conditions
Nature being nature, sometimes conditions can change at short notice. It's a good idea to check this page ahead of your visit for any updates.
Notices Affecting Multiple Sites

Mt Selwyn Road closure

Mount Selwyn Road is closed between the intersections of Five Ways and Canyo Road between May 2023 till approximately December 2023 due to significant road works being undertaken on this section of road.




Alternate routes are Dingo Creek Tk - Great Diving Range Tk - Mt Selwyn Rd, Selwyn Creek Rd - Great Driving Range Tk - Mt Selwyn Rd or Selwyn Creek Rd - Tea Tree Range Rd - Mt Selwyn Rd or Walshs Tk - East Buffalo Rd - West Humffray Rd - Selwyn Tk. - Please check seasonal road closures prior to departure as these might affect your vogue.




In the interest of visitor safety this road is closed b

etween May 2023 till approximately December 2023.

Track closures due to flood impact

The following tracks are closed due to impact by storms and flood. Crews will assess and reopen when safe:

The following tracks are closed due to impact by storms and flood. Crews will assess and reopen when safe:

Cobberas Track


Ingeegoodbee Track

Little Cobbler Track

McFarlines Flat Track


Mt Pinnibar Track - deteriorated condition

Mt Pinnibar Track – deteriorated condition




Mt Pinnibar Track between Walkers Road and Tom Groggin Track has deteriorated significantly following recent flood and storm events.




Visitors are advised to consider alternate routes to the summit of Mt Pinnibar until repairs can be carried out.

Bogong High Plains Road

Following the landslide at Bogong Village the Bogong

High

Plains Road is now open however remediation work will continue into the foreseeable future to rectify the damage created by the landslide. Parks Victoria advises that all visitors check the

Regional

Roads Victoria and

Victoria's

big build website for the latest traffic updates on closures or delays before visiting.

https://regionalroads.vic.gov.au/map/north-eastern-improvements/bogong-high-plains-road-landslip

https://bigbuild.vic.gov.au/projects/mrpv/bogong-high-plains-road-landslip




Notices Affecting Multiple Parks

Seasonal road closures 2023

Seasonal road closures apply to areas within and tracks bordering this park from 15 June 2023. See

MapshareVic

for locations of the closures. Visit the

seasonal road closures

page for more information.

Ground shooting operations targeting deer

Ground control operations targeting deer will be undertaken in these Parks and Reserves from December 2022 to December 2023.

These areas will remain open to visitors during operations.

Alpine National Park (Bogong High Plains, Mount Bogong, Dinner Plain,

Dargo High Plains, Foothills and Southern Alps)

Buchan Caves Reserve

Burrowa-Pine Mountain

Cape Conran Coastal Park

Cape Liptrap Coastal Park

Cabbage Tree Creek Flora Reserve

Errinundra National Park

Lake Tyers State Park

Lakes National Park

Baw Baw National Park

Mount Buffalo National Park

Mount Mittamatite Regional Park

Mount Mitta Mitta Flora Reserve

Mount Lawson State Park

Mount Granya State Park

Mountain Creek Education Area

Pheasant Creek Flora Reserve

Wabba Wilderness Park

Wilsons Promontory National Park




For more information about deer control to protect biodiversity, please visit

this link

.

Davies Plain Hut & Camping Area (Alpine National Park)

Early seasonal closure for Davies Plain Track and Kings Plain Track, Alpine National Park

Kings Plain Track and Davies Plain Track

between Buckwong Creek Camping Area (at Tom Groggin) and Charlies Creek Camping Area are seasonally closed to all vehicles from

1 May to 30 November

inclusive.

Sections of Davies Plain Track north of Buckwong Creek Camping Area (at Tom Groggin) and south of Charlies Creek Camping Area are seasonally closed to vehicles between the 2nd Thursday in June and the Thursday before Melbourne Cup day.

Attachments: Davies Plain Track seasonal closure section_1 May - 30 Nov (258KB)