From panorama-prone hikes across wildflower draped ridgelines to cross-country ski trails through twisted snowgums and fresh mountain air, Bright, Feathertop and Dinner Plain has it all. Conquer Victoria's second highest peak, Mount Feathertop, ski the slopes of Mount Hotham or mountain bike between Dinner Plain and Hotham along the Brabralung Trail.
Mount Feathertop via The Razorback follows an exposed ridgeline, linking the popular Mount Hotham Alpine Resort to the top of Victoria's second highest peak. Although it falls 64-metres short of Mount Bogong's record, it is arguably Victoria's most spectacular peak. Through spring and summer, the slopes and alpine plains are carpeted in a sea of wildflowers. Among masses of alpine daisies, Billy Buttons poke through the vestiges of the remaining snow drifts.

For a change in scenery, follow the Bungalow Spur Walk from the quaint town of Harrietville and climb over 1300-metres to reach the pinnacle of Mount Feathertop. Sheltered from the harsh alpine conditions, for the most part, take a break at Federation Hut before making the final ascent to the top.

For shorter, family-friendly walks, set out on the Bungalow Spur Walk to Picture Point or Tobias Gap for views over the Ovens Valley. Or opt for a walk out to Carmichael Falls, where the confluence of the Precipice and Dinner Plain Creeks plunges 25-metres to the headwaters of the Dargo River.

Stay a night or two in the comfort of Harrietville, Mount Hotham or Dinner Plain, all cool havens through the summer months. The Brabralung Trail running between Dinner Plain Alpine Village and Mount Hotham Alpine Resort too is wonderful. Suited to cross-country skiing and snowshoeing in winter, and ideal for mountain biking, walking and trail running once the snow has melted, the 12-kilometre trail is not to be missed.

The bike-friendly towns of Dinner Plain and Hotham offer thrilling mountain biking and road cycling experiences - with the benefits of spectacular alpine vistas around every corner. Mountain bike through Snow Gums along The Brabralung Trail, or challenge yourself with the 7-Peaks ascent to the top of Hotham or Dinner Plain. And visit the Dinner Plain Alpine Village to access over 35-kilometres of singletrack mountain bike trails.
Things To Do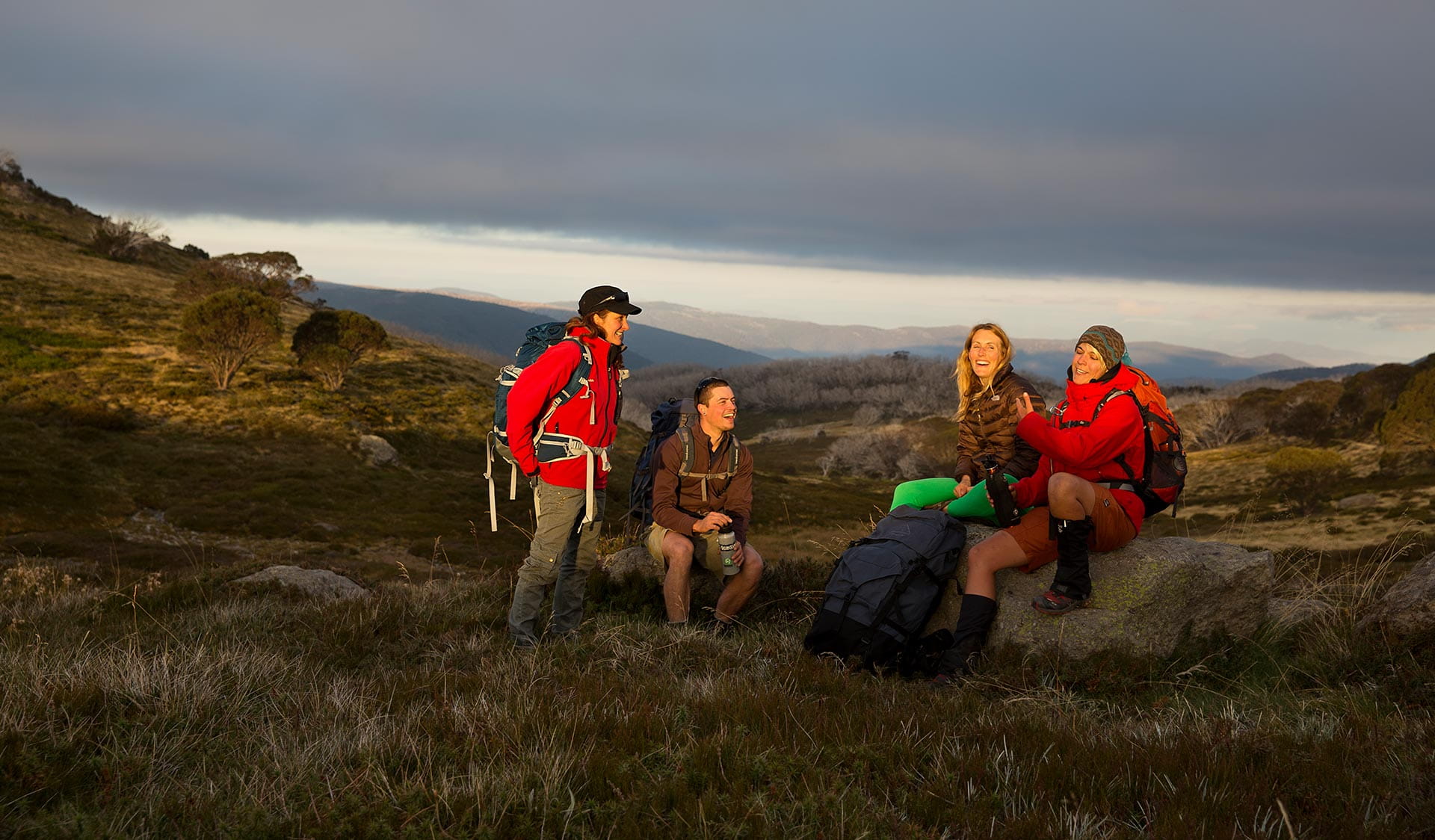 One of Victoria's icon walks, the 37km Falls to Hotham Alpine Crossing (FHAC) is a 3 day/2 night walk through the Alpine National Park, linking the resort villages of Falls Creek and Mt Hotham.
Enjoy a pleasant walk or cycle through Snow Gum woodland and open snow plains. Starting at the Hotham General Store and finishing at Dinner Plain Village, the trail is never far from the Great Alpine Road.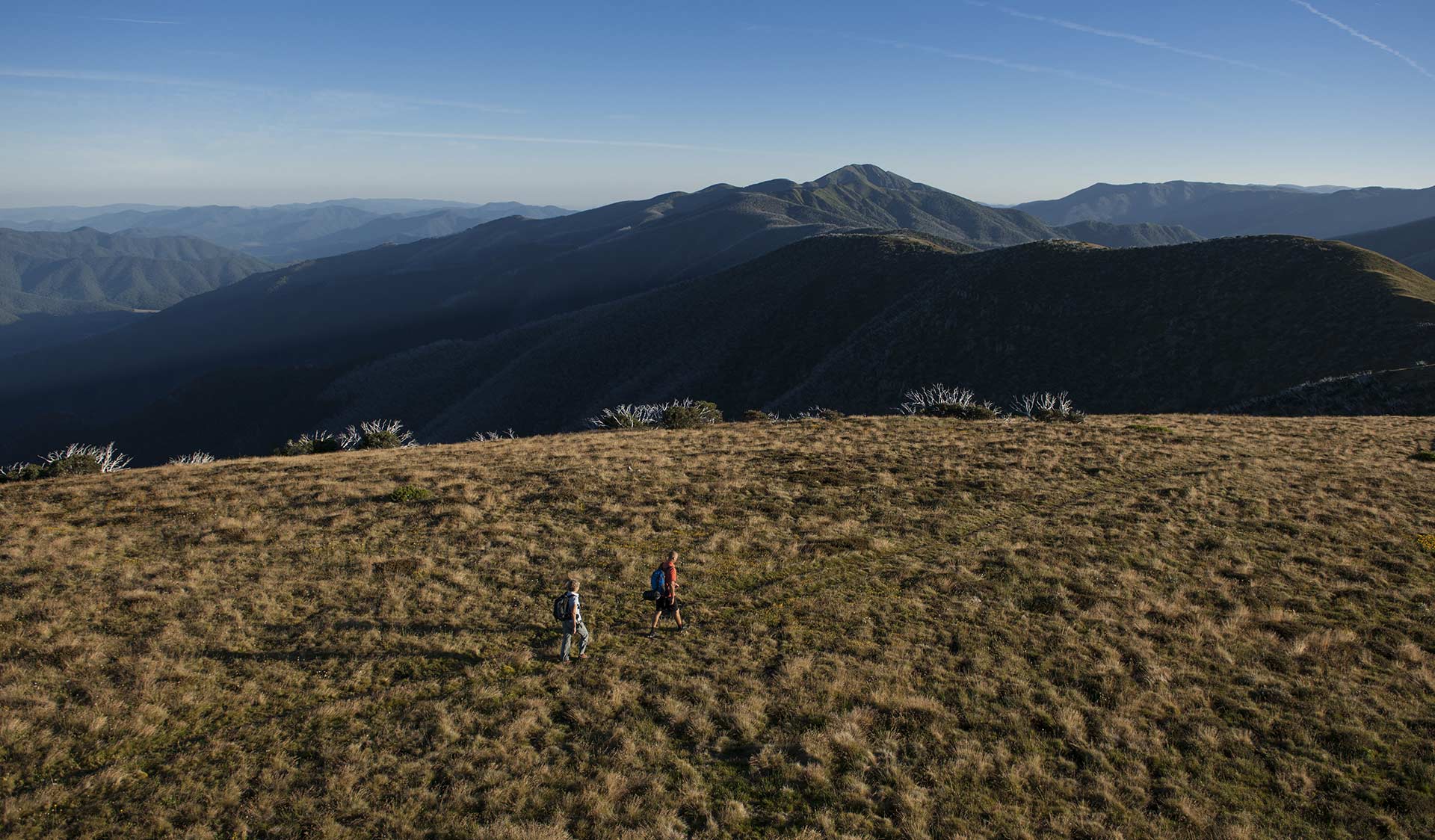 Mount Feathertop
Stunning Alpine landscape with Victoria's second highest peak, Mt Feathertop towering above Harrietville in the Ovens Valley.
How to get there
Bright, Feathertop and Dinner Plain
Accessibility
Visiting a park can be more of a challenge for people with disabilities, however in Victoria there are a wide range of facilities to help people of all abilities enjoy our wonderful parks around the state.

An all-terrain wheelchair known as the TrailRider is available for free hire from the Mount Beauty Visitor Information Centre. Visitors must supply their own helmets. For more information, contact the Mount Beauty Visitor Information Centre on 1800 11 885.
When to go
Fun in the Alpine National Park continues long after the snow has melted. Hiking, mountain biking and road cycling is at its best through summer while wildflowers still blanket the slopes. Walk or mountain bike the Brabralung Trail, which runs from Mount Hotham to Dinner Plain, or pedal the thrilling mountain bike trails of Dinner Plain.
Nearby Events
No results
There are no results matching your criteria.
Need to know
Bright, Feathertop and Dinner Plain
Change of Conditions
Nature being nature, sometimes conditions can change at short notice. It's a good idea to check this page ahead of your visit for any updates.
Notices Affecting Multiple Parks

Extended seasonal road closures 2019

Some roads in this park are subject to extended seasonal road closures. Seasonal road closures generally operate after the long weekend in June through to the end of October, but may be extended due to seasonal conditions. View the list of 2019 seasonal road closures for details and check the corresponding map numbers with the seasonal road closure 2019 index map for locations of the extended closures and visit the seasonal road closures page for more information.

Brocks Road closure for works

Brocks Road will be closed between Howqua Track and 8 Mile Gap from 7:00 am to 3:00 pm on Wednesday 4 December and Wednesday 11 December for works.

Notices Affecting Multiple Sites

Kelly Lane reopening following seasonal closure

Kelly Lane will reopen effective Thursday 21st November following an assessment of track condition. The bridge accessing the track from Thomastown (across Shaw Creek) is temporarily closed in the interest of public safety. Access to all Kelly Lane visitor sites can still be obtained from the Howitt Road entrance, or via Scrubby Hill track (4WD only). Thomastown Camping Area remains open.


Dargo High Plains Road closure

The Dargo High Plains Road (managed by the Alpine Shire Council) will remain closed until the end of November from the closure gate, approximately 1km south of Lanky Plain. For further information please call the Alpine Shire on 03 5755 0555, or

refer to their website

.

Nobs Track closure

Nobs Track, between Brocks Road and the Son of a Bitch Track and Nobs Track intersection, will be closed from 18 November to 2 December due to road works.


Poor condition of Armstrong Track, Deddick Valley

Armstrong Track is in very poor condition with several very steep, loose and severely rutted sections. The track condition deteriorates progressively the further south you travel, with the worst section of the track being the final descent towards the Deddick River near Bull Flat. The track is rated as double black diamond (very difficult in dry conditions) and should only be attempted by groups of experienced drivers in well-equipped vehicles with recovery equipment and should not be attempted in wet conditions. The track should only be driven in a southerly direction from Mt Taylor to Bull Flat and drivers should not proceed past any point where they would not be able to drive in the opposite direction.