The Mitta Mitta River carves its way through the heart of the Alpine National Park. Its lower reaches stretch from Lake Dartmouth to Anglers Rest where it splits into the Cobungra and Big Rivers. Among ample fishing, camping and four-wheel drive opportunities, the rich gold mining history of Omeo and Mount Wills Historic Area provides plenty of excitement.
Surrounded by national park and nestled in the beautiful Mitta Mitta Valley, Lake Dartmouth is a favourite of anglers and water sport enthusiasts. Brown and Rainbow Trout are plentiful, while Victoria's largest population of Macquarie Perch can be found here. Just down from the dam wall, at Six Mile Creek, boat launching facilities provide access to the lake and the remote campgrounds located around the lake.

Step out on the epic Australian Alps Walking Track as it cuts through this section of the national park before crossing the Mitta Mitta River and making its way east towards Mount Bogong. Swap challenging hikes for something a little shorter and climb to the granite-strewn summit of Mount Wills, where you can take in unforgettable views over the Mitta Mitta Valley. Or enjoy 360-degree vistas of the Australian Alps from the Mt Benambra Fire Tower or the summit of Mt Pinnibar.

The epic Davies Plain Drive ventures through some of Victoria's most isolated and scenic landscapes. Accessible via Omeo or Corryong, the multi-day four-wheel drive journey takes in the commanding peaks of Mount Anderson and Mount Pinnibar, the historic Davies Plain Hut and Tom Groggin Station. Take in the beauty of the Snowy Mountains and the landscape that inspired Banjo Paterson's iconic poem, The Man From Snowy River.

In addition to legendary cattlemen huts, this region is rich with gold mining history. The remote and mountainous town of Omeo struck gold in the mid-1800s. And although less successful than the discoveries through Victoria's central goldfields, Omeo survived through the years and serves as a reminder of Gippsland's main goldrushes. Other gold mining towns, such as Boggy Creek, Bingo and Jericho faltered and become ghost towns. Their footprints, along with relics, can be found littered throughout the region.
Things To Do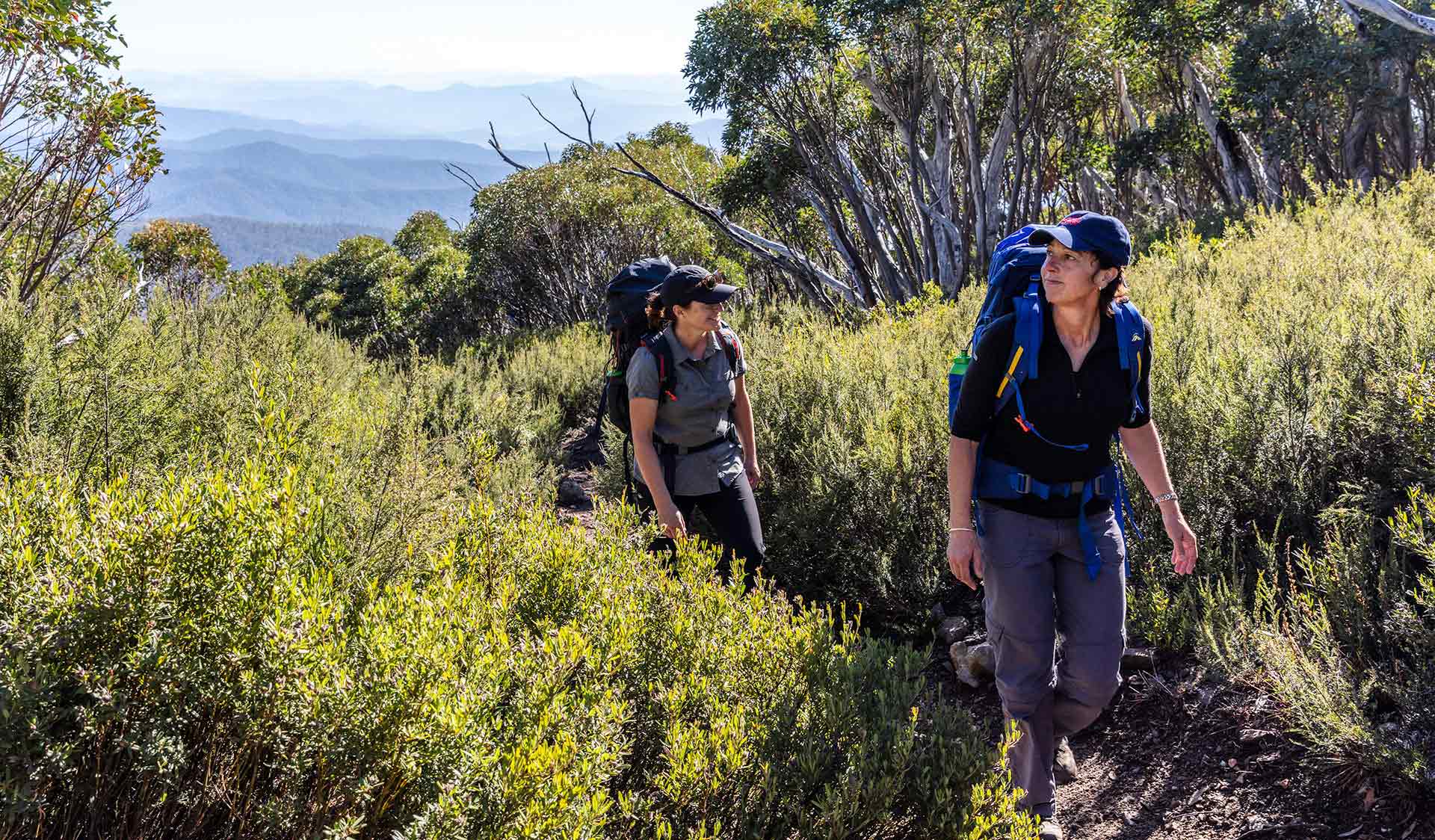 Explore some of Australia's best mountain walking around Mount Bogong, including the Staircase, Eskdale Spur and a variety of other day hikes and family walks.
The Alpine National Park offers some of the most authentic and scenic bush camping opportunities in Victoria.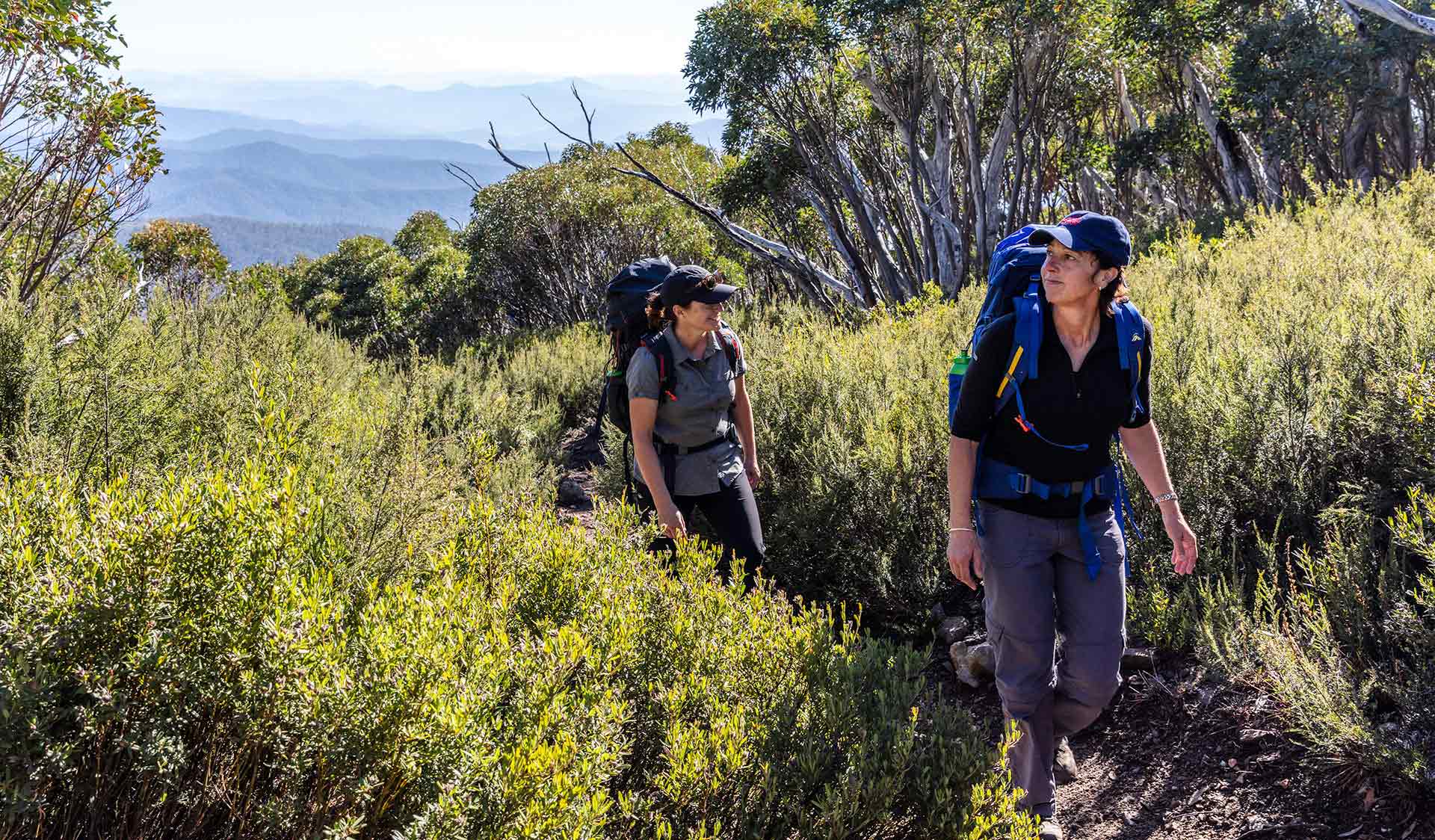 Whether you're after a gentle stroll or something long-distance, there are walking trails to suit all levels of fitness and ability.
How to get there
Omeo and Mitta Mitta
When you're there
The Alpine National Park is accessible to visitors year-round, although seasonal changes may affect access to certain areas within the park, with some vehicle tracks closed between June and November. Download the Omeo, Mitta Mitta visitor guide for more information about this part of the Alpine National Park.
Accessibility
Visiting a park can be more of a challenge for people with disabilities, however in Victoria there are a wide range of facilities to help people of all abilities enjoy our wonderful parks around the state.
When to go
The best time to explore the Alpine National Park on foot or four-wheel drive is between November and April. The mild summer temperatures found in the high altitudes of the Alpine National Park are the perfect retreat from its lower-lying counterparts and make for perfect exploring conditions. While the occasional sunny day can see daytime temperatures rise above 30°C, the nights are still cool.
Nearby Events
No results
There are no results matching your criteria.
Need to know
Omeo and Mitta Mitta
Change of Conditions
Nature being nature, sometimes conditions can change at short notice. It's a good idea to check this page ahead of your visit for any updates.
Notices Affecting Multiple Parks

Extended seasonal road closures 2019

Some roads in this park are subject to extended seasonal road closures. Seasonal road closures generally operate after the long weekend in June through to the end of October, but may be extended due to seasonal conditions. View the list of 2019 seasonal road closures for details and check the corresponding map numbers with the seasonal road closure 2019 index map for locations of the extended closures and visit the seasonal road closures page for more information.

Brocks Road closure for works

Brocks Road will be closed between Howqua Track and 8 Mile Gap from 7:00 am to 3:00 pm on Wednesday 4 December and Wednesday 11 December for works.

Notices Affecting Multiple Sites

Kelly Lane reopening following seasonal closure

Kelly Lane will reopen effective Thursday 21st November following an assessment of track condition. The bridge accessing the track from Thomastown (across Shaw Creek) is temporarily closed in the interest of public safety. Access to all Kelly Lane visitor sites can still be obtained from the Howitt Road entrance, or via Scrubby Hill track (4WD only). Thomastown Camping Area remains open.


Dargo High Plains Road closure

The Dargo High Plains Road (managed by the Alpine Shire Council) will remain closed until the end of November from the closure gate, approximately 1km south of Lanky Plain. For further information please call the Alpine Shire on 03 5755 0555, or

refer to their website

.

Nobs Track closure

Nobs Track, between Brocks Road and the Son of a Bitch Track and Nobs Track intersection, will be closed from 18 November to 2 December due to road works.


Poor condition of Armstrong Track, Deddick Valley

Armstrong Track is in very poor condition with several very steep, loose and severely rutted sections. The track condition deteriorates progressively the further south you travel, with the worst section of the track being the final descent towards the Deddick River near Bull Flat. The track is rated as double black diamond (very difficult in dry conditions) and should only be attempted by groups of experienced drivers in well-equipped vehicles with recovery equipment and should not be attempted in wet conditions. The track should only be driven in a southerly direction from Mt Taylor to Bull Flat and drivers should not proceed past any point where they would not be able to drive in the opposite direction.