The Mitta Mitta River carves its way through the heart of the Alpine National Park. Its lower reaches stretch from Lake Dartmouth to Anglers Rest where it splits into the Cobungra and Big Rivers. Among ample fishing, camping and four-wheel drive opportunities, the rich gold mining history of Omeo and Mount Wills Historic Area provides plenty of excitement.
Surrounded by national park and nestled in the beautiful Mitta Mitta Valley, Lake Dartmouth is a favourite of anglers and water sport enthusiasts. Brown and Rainbow Trout are plentiful, while Victoria's largest population of Macquarie Perch can be found here. Just down from the dam wall, at Six Mile Creek, boat launching facilities provide access to the lake and the remote campgrounds located around the lake.

Step out on the epic Australian Alps Walking Track as it cuts through this section of the national park before crossing the Mitta Mitta River and making its way east towards Mount Bogong. Swap challenging hikes for something a little shorter and climb to the granite-strewn summit of Mount Wills, where you can take in unforgettable views over the Mitta Mitta Valley. Or enjoy 360-degree vistas of the Australian Alps from the Mt Benambra Fire Tower or the summit of Mt Pinnibar.

The epic Davies Plain Drive ventures through some of Victoria's most isolated and scenic landscapes. Accessible via Omeo or Corryong, the multi-day four-wheel drive journey takes in the commanding peaks of Mount Anderson and Mount Pinnibar, the historic Davies Plain Hut and Tom Groggin Station. Take in the beauty of the Snowy Mountains and the landscape that inspired Banjo Paterson's iconic poem, The Man From Snowy River.

In addition to legendary cattlemen huts, this region is rich with gold mining history. The remote and mountainous town of Omeo struck gold in the mid-1800s. And although less successful than the discoveries through Victoria's central goldfields, Omeo survived through the years and serves as a reminder of Gippsland's main goldrushes. Other gold mining towns, such as Boggy Creek, Bingo and Jericho faltered and become ghost towns. Their footprints, along with relics, can be found littered throughout the region.
Things To Do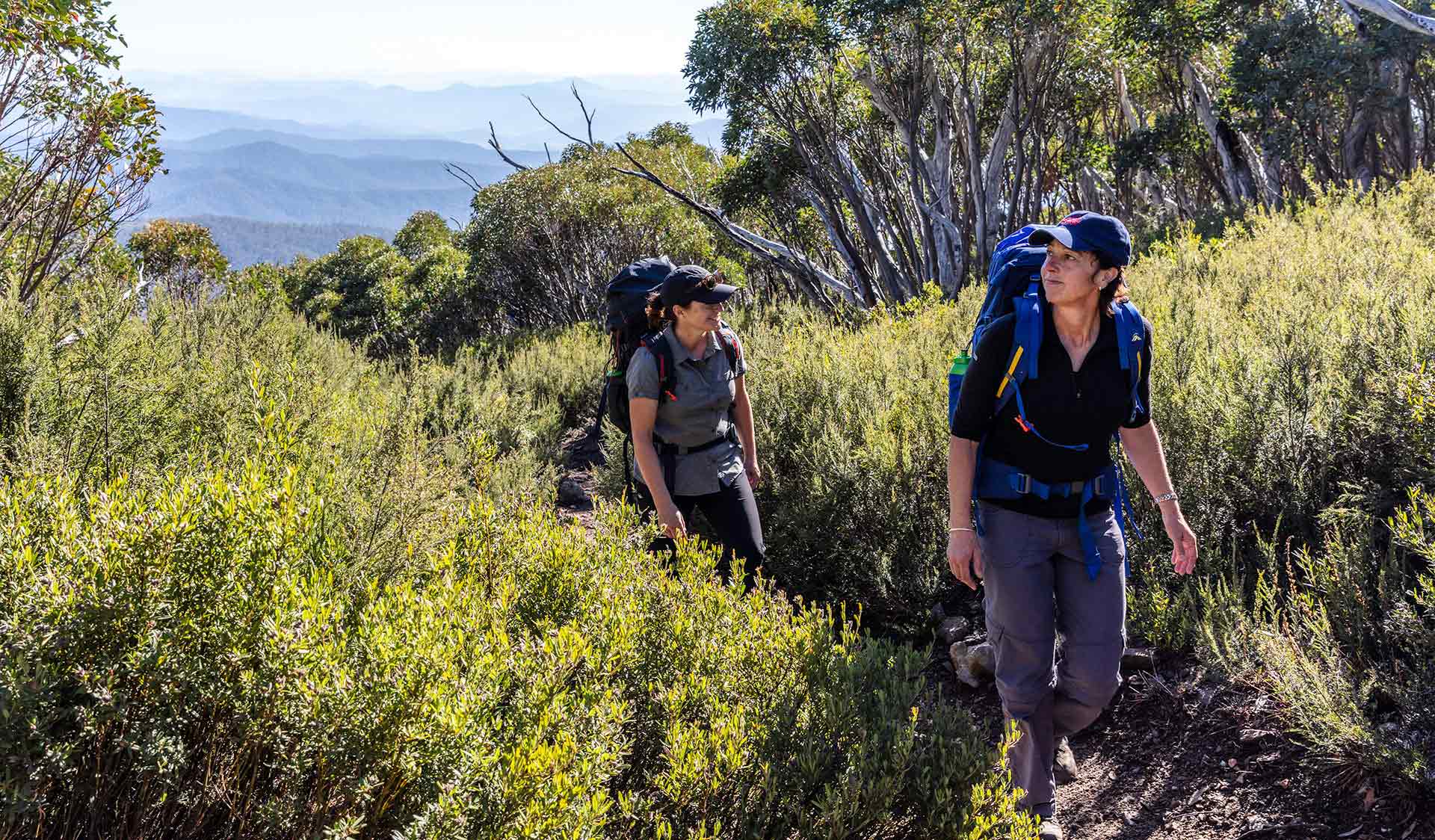 Explore some of Australia's best mountain walking around Mount Bogong, including the Staircase, Eskdale Spur and a variety of other day hikes and family walks.
The Alpine National Park offers some of the most authentic and scenic bush camping opportunities in Victoria.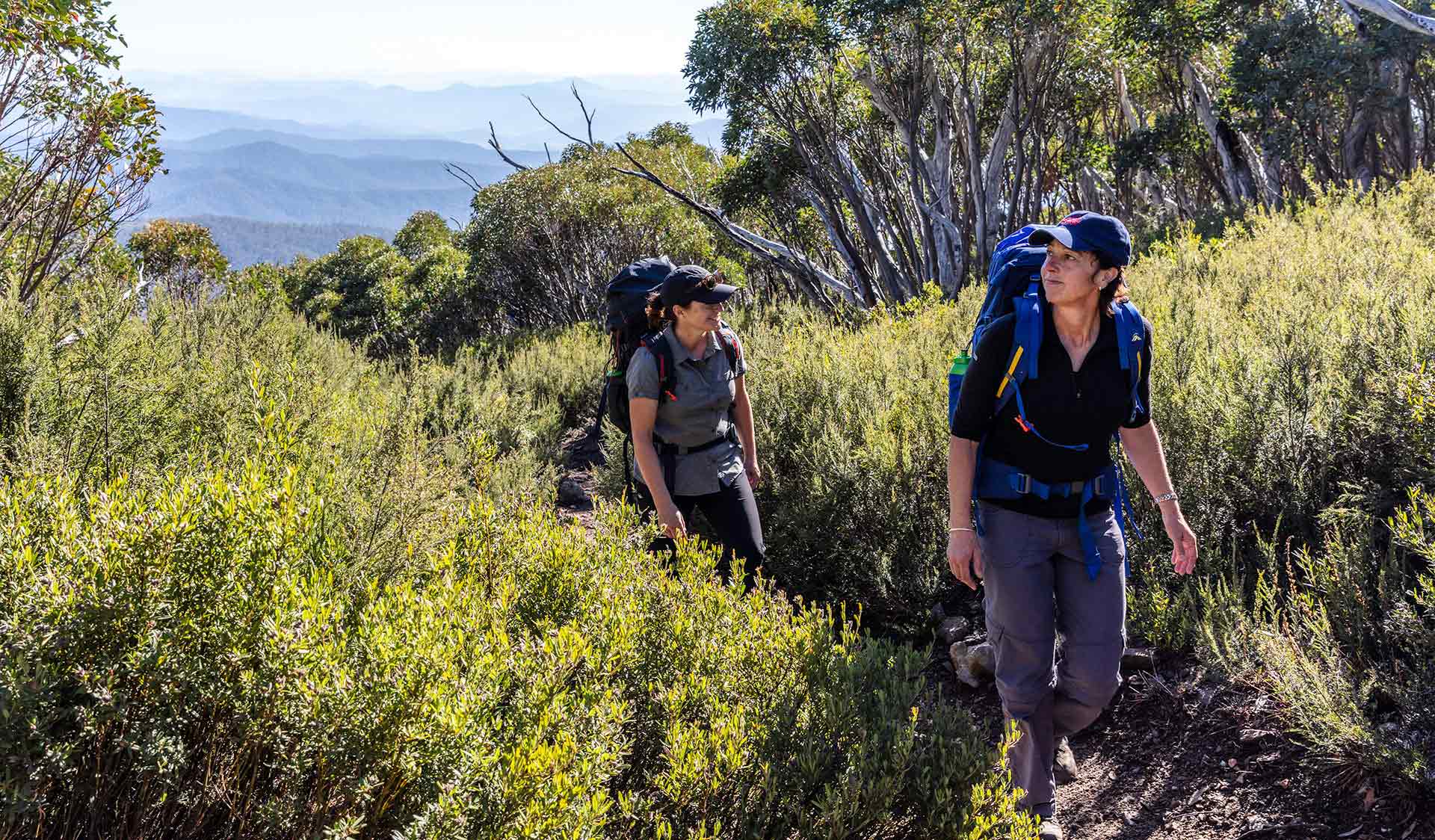 Whether you're after a gentle stroll or something long-distance, there are walking trails to suit all levels of fitness and ability.
How to get there
Omeo and Mitta Mitta
When you're there
The Alpine National Park is accessible to visitors year-round, although seasonal changes may affect access to certain areas within the park, with some vehicle tracks closed between June and November. Download the Omeo, Mitta Mitta visitor guide for more information about this part of the Alpine National Park.
Accessibility
Visiting a park can be more of a challenge for people with disabilities, however in Victoria there are a wide range of facilities to help people of all abilities enjoy our wonderful parks around the state.
When to go
The best time to explore the Alpine National Park on foot or four-wheel drive is between November and April. The mild summer temperatures found in the high altitudes of the Alpine National Park are the perfect retreat from its lower-lying counterparts and make for perfect exploring conditions. While the occasional sunny day can see daytime temperatures rise above 30°C, the nights are still cool.
Nearby Events
No results
There are no results matching your criteria.
Need to know
Omeo and Mitta Mitta
Change of Conditions
Nature being nature, sometimes conditions can change at short notice. It's a good idea to check this page ahead of your visit for any updates.
Notices Affecting Multiple Parks

Campground closure

As directed by the Chief Health Officer all campsites, camping grounds and caravan parks closed from midnight 25 March 2020.

People can continue to live on a closed caravan park or camping ground if it is registered as their primary place of residence or if they are staying in caravan parks as interim accommodation where

their primary residence is not available. For further information go to parks.vic.gov.au/COVID19

Australian Alps Walking Track - section closed due to bushfire impact

During the summer the Australian Alps Walking Track (AAWT) was impacted by fire. Parks Victoria has been working to assess and reinstate the sections of the AAWT impacted by fire. Currently the section from Mount Speculation to the Great Alpine Road, Mount Hotham is closed.




Parks Victoria asks all visitors to respect this decision and not enter areas listed as closed. For details visit fire affected parks.

Areas of Alpine National Park closed due to fires

Alpine National Park remains closed due to fire activity in the area, with the exception of certain areas. Please check the

Fire Affected Parks page

for a full list. For a list of State Forest closures, visit the

DELWP website

. For the latest information on fires, visit

www.emergency.vic.gov.au

. For the latest information on road closures, visit traffic.vicroads.vic.gov.au.