The peaceful bushland and steep rocky terrain makes Arthurs Seat State Park an exciting mountain bike destination. The combination of single trail and management vehicle tracks provides opportunities for mountain bike riders of most skill levels.
The park has 13 kilometres of single mountain biking trails that connects in with the broader management vehicle network to provide options for all abilities. The trails can be enjoyed individually, with friends or you can join a local riders club. Remember to keep to the designated mountain biking trails.
Start your mountain bike trail experience from Hillview Community Reserve, Boundary Road, Dromana, were there are toilets, potable water and a bike maintenance station. The start of the trail is approximately 400m south of the Hillview Community Reserve carpark. Look for the trail information sign inside the park boundary gate.
Alternatively, park at Seawinds Gardens, Purves Road, Arthurs Seat and check out the trail information approximately 50m inside the main entrance on the left-hand side of the road.
The Mornington Peninsula Shire links several of the mountain bike trails with their roadside trail network. For further information contact the Shire on 1300 850 600. Mountain bike shuttle services and guided tours are available.
The variety of trails range in difficulty:
Easy - Suitable for beginner riders, with firm and stable surfaces and avoidable obstacles. Includes Pink Line, Slippery Gypsy, East Link and Loop trails.
More difficult - Suitable for riders with some off-road experience. Variety of terrain, including obstacles and some steep sections. Includes Rock Salt, Wombat, Pine Climb, High Roller and Link trails.
Very difficult - Suitable for experienced riders. Challenging terrain and frequent obstacles. Includes Pins and Needles, Fall Line, Deadwoods, Crits and Charlotte's Pass trails.
Extremely difficult - Only suitable for highly experienced riders with excellent skills. Large unavoidable obstacles, steep descents or climbs. At the start of each black run safety and risk signage is located on a "skills gate". The skills gate is an indicator of the terrain and the trail surfacing you can expect along its length. If you are unable to safely navigate the skills gate, you should consider riding a different trail.
The Arthurs Seat State Park - Mountain Bike fact sheet and trail map has more information.
How to get there
Mountain bike riding
Need to know
Mountain bike riding
Rules of the trail
These guidelines are in place to help you and other park users stay safe and keep the park in good condition for the future:
Plan your ride and wear appropriate safety gear including helmets
Ride only on formed trails designated for cycling.
Do not take short cuts or make new trails.
Respect the rights of other park users.
Please follow the Mountain Bike Australia (MTBA) Mountain Bike Code of Conduct, found on www.mtba.asn.au.
Control your bike and ride tracks suited to your ability.
Do not disturb plants or animals.
Trails can be closed due to extreme weather events. Observe closure signs and check changes to conditions on this website for updates.
Clean your bike; don't spread weeds or plant diseases.
Similar experiences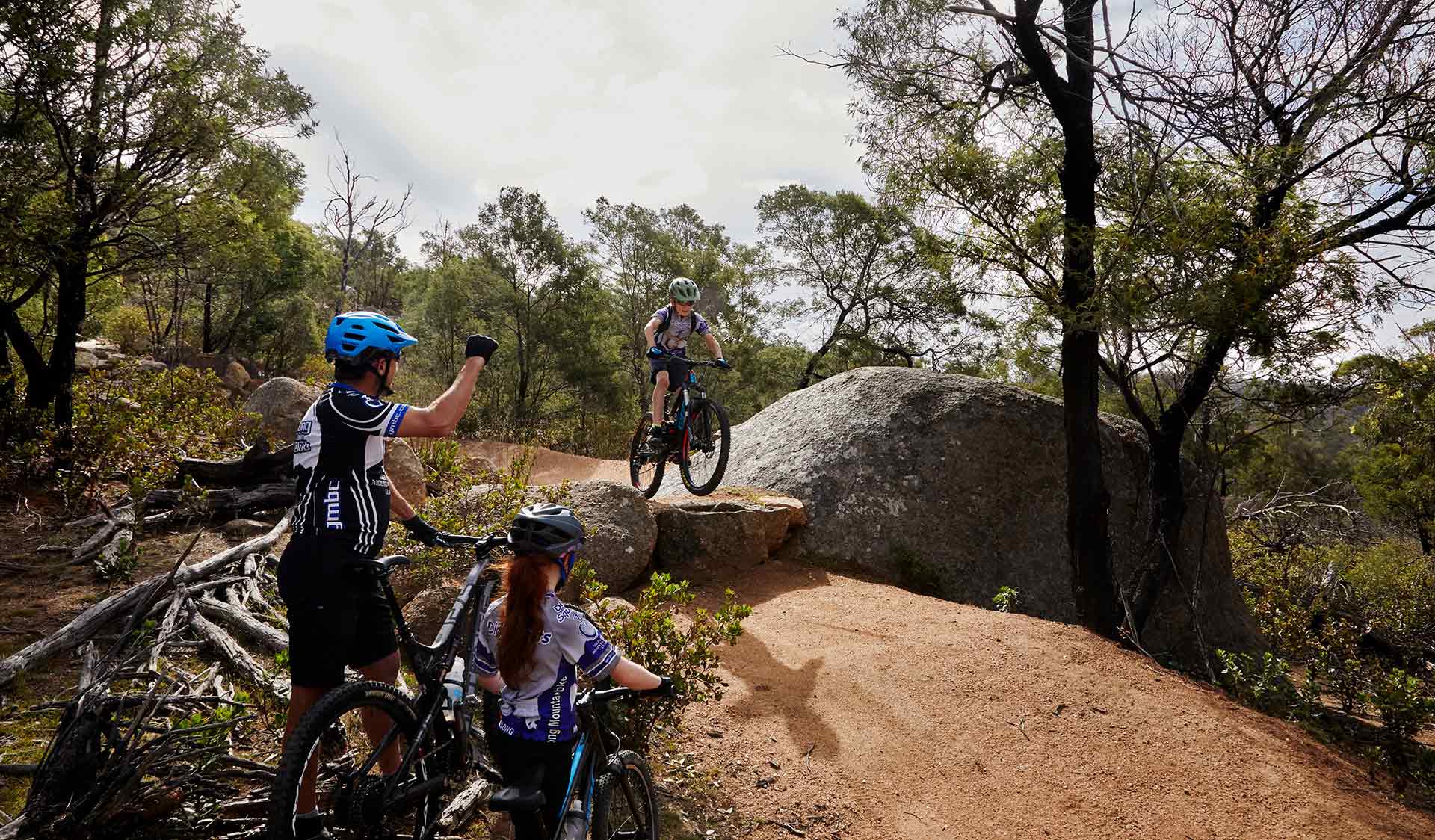 Explore parks on two wheels with mountain bike trails to suit most experience and fitness levels.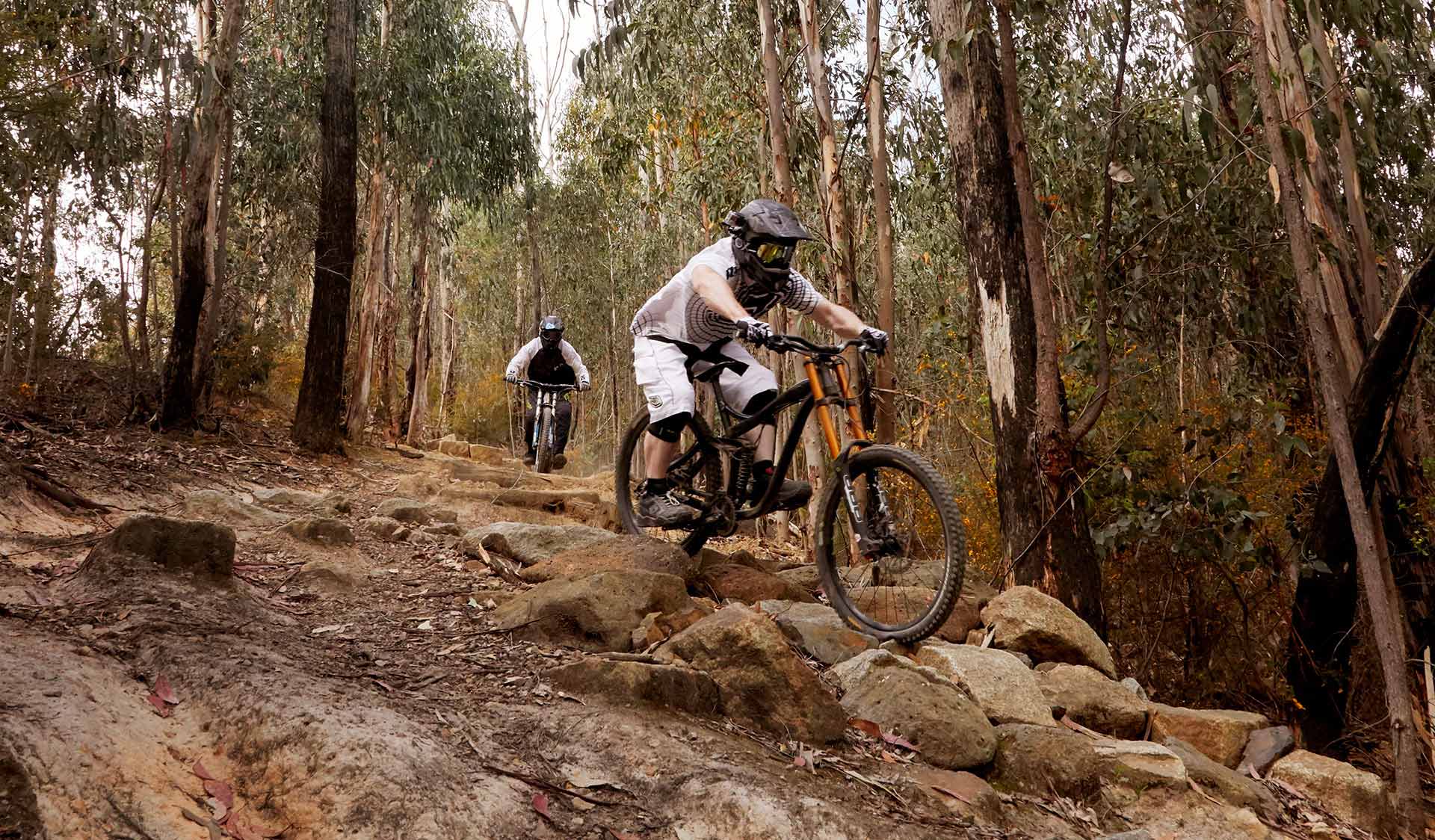 Experience the thrills of downhill mountain biking at Bowden Spur Mountain Bike Area. Shepherds Track will challenge and delight the most seasoned mountain bike riders. With dirt jumps, rock gardens, flowing earth berms and off-camber riding, there's excitement at every twist and turn.