Explore
Strachans Campground
Positioned on the site of a former timber mill, Strachans Campground is a small secluded spot to pitch a tent in the south-west corner of the Grampians. Wake to the sounds of native birds feeding on the nectar-rich trees and kangaroos grazing outside.
Book now
Strachans is ideally situated beside the headwaters of the Glenelg River to explore the Victoria Range and Victoria Valley, where there is fantastic four wheel driving, bushwalking and rock climbing.
There are eight tent-based camping sites with adjacent vehicle parking. There are no caravan, campervan or camper trailer campsites at Strachans Campground. Sites are unpowered.
Strachans is ideally situated beside the headwaters of the Glenelg River to explore the Victoria Range and Victoria Valley, where there is fantastic four wheel driving, bushwalking and rock climbing.
Visit the nearby Chimney Pots, a set of unique rock formations that open up to panoramas of the Grampians' rugged landscape. Or drive to Manja and Billimina rock art shelters where there are short walks to Aboriginal art.
How to get there
Strachans Campground
16km east of the Henty Hwy on Glenelg River Road. The road is unsealed and suitable for two wheel drive vehicles.
When you're there
No drinking water is provided and only a limited water supply is available from the nearby stream during winter. This is not for drinking and should be treated before use. Campfires are only allowed in designated fireplaces and you must supply your own wood.
Download the Grampians National Park visitor guide to get the most out of your park visit.
Need to know
Strachans Campground
Safety tips for a great visit
Stay safe and get the most out of your park visit by preparing for natural hazards and other outdoor risks in Victoria's parks. You are responsible for your own safety and the safety of those in your care.
Accessibility
Visiting a park can be more of a challenge for people with disabilities, however in Victoria there are a wide range of facilities to help people of all abilities enjoy our wonderful parks around the state.
Bushfire awareness
Strachans Campground in the Grampians National Park is in the Wimmera fire district. Bushfire safety is a personal responsibility. Anyone entering the park during the bushfire season needs to stay aware of forecast weather conditions. Check the Fire Danger Rating and for days of Total Fire Ban at emergency.vic.gov.au, on the Vic Emergency App or call the Vic Emergency Hotline 1800 226 226.
No fires may be lit on Total Fire Ban days. On Catastrophic Fire Danger Rating days this park will be closed for public safety. Closure signs will be erected but do not expect an official warning.
Change of Conditions
Nature being nature, sometimes conditions can change at short notice. It's a good idea to check this page ahead of your visit for any updates.
Grampians (Gariwerd) National Park Update 24.1.2023

Grampians (Gariwerd) National Park was impacted by heavy rainfall and flash flooding during spring and early summer 2022. Multiple roads and some visitor sites are temporarily closed for assessment and repair works. The movement of visitors in these parts of the National Park is restricted.

For more information, visit regionalroads.vic.gov.au and search 'Mt Victory Road Halls Gap', call 133 788.

Redman Road is now open. Further road works are taking place from Monday 23/1/23. Travel with caution.

Lodge Road is partly closed (Syphon Rd to Asses Ears Road and Rose

Creek Rd to Glenelg River Rd sections are closed).
Multiple other roads and tracks in the north end of Victoria Valley.

Mitchell Road is closed
Mt Difficult Road is open (4WD only)


**See latest road report for full road and track details at the bottom of this page.

Key Visitor Sites impacted by walking track closures





Mackenzie Falls: Access to the Eastern Rock Shelf (across the stepping-stones) at Mackenzie Falls is not open. Visitors can still access the walking track through to Fish Falls and Zumsteins.

The Silverband Falls temporary closure is still in place due to flood damage. Visitors can access Clematis Falls and the Venus Baths loop as alternative walks.

Current Campground closures due to closed roads


Kalymna Campground is closed


Grampians Peaks Trail sites impacted by closures



Griffin Trail Head is Four-Wheel Drive access only


For park information, visitors can contact 13 1963 or visit the Brambuk the National Park and Cultural Centre in Halls Gap.

Attachments: Grampians (Gariwerd) National Park Road Report 24.01.2023_V1 (183KB)
Similar experiences
Buandik Campground is located in the Western Grampians at the base of the Victoria Range. The campground is set amongst open woodland beside Cultivation Creek and is close to the start of walks to Billimina and Manja rock art shelters and Buandik Falls.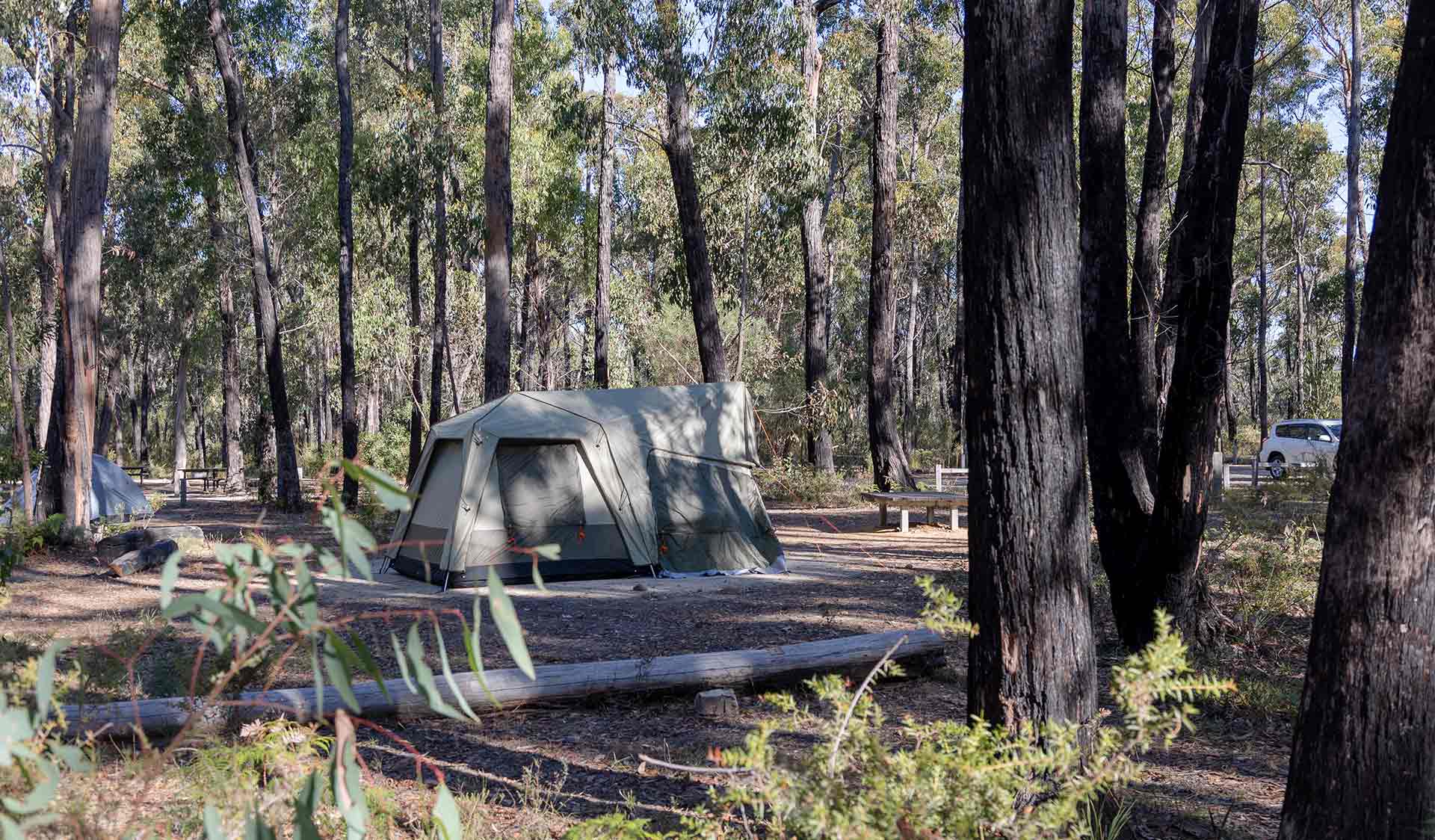 Smiths Mill Campground is positioned within heath woodland at the site of an old sawmill. It is centrally located a kilometre from Mackenzie Falls, and only a short drive to Boroka Lookout, Reed Lookout and Zumsteins Picnic Area.