Explore
Aire River East Campground
Nestled in the shadow of the Otway Ranges, enjoy a stay by the heritage-listed Aire River at Aire River East Campground.
Book now
This small campground is located in a shady spot on the Aire River and is a great place for kayaking. The best place to launch your kayak is near the bridge. The peaceful estuarine waters are also ideal for canoeing, standup paddle boarding and fishing. A 25-minute walk from the campground, the ocean swells of Glenaire Beach attract experienced surfers looking for the perfect break.

Advanced bookings and payment at Aire River East Campground are required year-round. Aire River East Campground contains 20 grassy campsites. Each campsite accommodates a maximum of six people. Campsites 1-4 are only suitable for smaller tents, while campsites 10-20 can cater to large caravans too. All campsites are unpowered.

Things to do
Canoeing and kayaking are great ways to explore beautiful waterways. Enjoy the tranquility and spot wildlife that hikers don't normally see.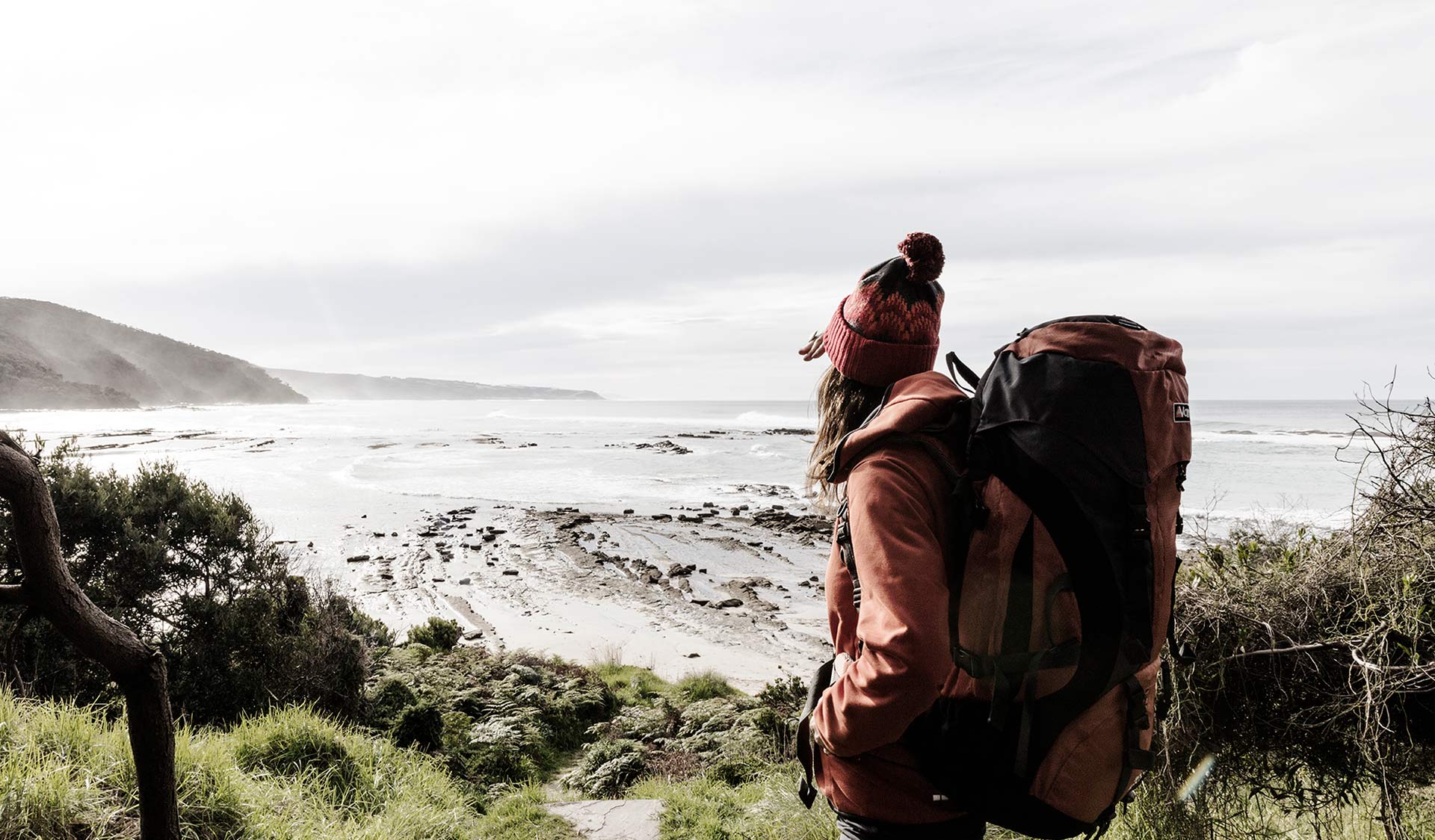 The Great Ocean Walk extends just over 100km between Apollo Bay and the Twelve Apostles near Princetown. The spectacular walk weaves its way through tall forests, coastal heathlands, wild rocky shores, river estuaries and windswept cliff-tops presenting amazing views.
In quiet lakes and gently flowing rivers, in the pounding surf or in the depths beneath your boat – the waters of Victoria's parks and reserves offer some prize catches.
How to get there
Aire River East Campground
Aire River lies approximately three hours' drive west of Melbourne and is positioned on the western edges of Cape Otway. It can be reached via the Great Ocean Road or via Lavers Hill. Head west on the Princes Highway from Melbourne before joining up with Cape Otway Road and following signs to Apollo Bay. Here, join up with the Great Ocean Road and turn off onto Horden Vale Road to reach Aire River East Campground.
When you're there
While the campground caters for self-contained comfort, you should bring your own drinking water and take all rubbish home with you.
Need to know
Aire River East Campground
Accessibility
Visiting a park can be more of a challenge for people with disabilities, however in Victoria there are a wide range of facilities to help people of all abilities enjoy our wonderful parks around the state.
Be prepared and stay safe
No solid fuel fires permitted.
Fuel stoves or gas barbecues are preferred for cooking.
Bring your own drinking water.
Come and enjoy the peace and quiet – please, no generators.
Great Otway National Park is in the South West fire district. Bushfires can occur during the warmer months. It is your responsibility to check current and forecast weather conditions. Campfires cannot be lit on days of Total Fire Ban, however gas cookers can be used for preparing food.
Check the Fire Danger Rating and for days of Total Fire Ban at emergency.vic.gov.au, on the Vic Emergency App or call the Vic Emergency Hotline 1800 226 226.
Change of Conditions
Nature being nature, sometimes conditions can change at short notice. It's a good idea to check this page ahead of your visit for any updates.
Kalimna Falls Walk (Great Otway National Park)

Upper Kalimna Walking Trail Closed

Walking trail to Upper Kalimna Falls closed until further notice due to storm damage. Lower Falls remain open.

Notices Affecting Multiple Sites

Erskine Falls Lower Lookout Closed

Erskine Falls lower lookout is closed until further notice. Access to the base of the waterfall is no longer open due to unsafe conditions. Erskine Falls can be viewed from the top lookout which looks across to the top of the falls. Straw Falls is also inaccessible from the Erskine Falls carpark due to this closure. Erskine Falls walking track is still open from the Lorne township up to the base of Erskine Falls.

Youngs Creek track closure

This track is closed due to roadworks

Great Ocean Walk - Wet and Muddy conditions

As a result of ongoing rain in the Great Otway National Park over autumn and through winter 2023, conditions of the track on the day 1 and day 2 sections of the Great Ocean Walk are advised to be very wet and muddy.




The Elliot Road section of walk is particularly unfavourable, and heavy conditions are anticipated to be ongoing until late Spring 2023.




South West District Weather forecast

Attachments: GOW May 2023 (540KB)

Great Otway National Park

Delayneys Track Closed

Delayneys Track is closed until further notice.

Lifejackets Required For Rock Fishers from March 1, 2022

A two-year trial of new laws

that require rock fishers to wear a lifejacket at high-risk locations will commence on

1 March 2022

.

For Great Otway National Park this includes:


Artillery Rocks, west of Lorne

The rock platform opposite Sheoak Falls, south of Lorne




Fines apply if you don't wear a lifejacket at these sites.

Notices Affecting Multiple Parks

Garvey Track Closed until further notice.

Garvey track will remain closed until further notice. Major road works are due to occur when conditions are suitable.

Kalimna Tramline Link Walk (Great Otway National Park)

Kalimna Tramline Trail Closed

This walking track is closed due to damage to a pedestrian bridge. Walkers can still access the Lower Kalimna Waterfall via the Kalimna Falls Walking Track, which starts at Sheoak Picnic Area.

Cora Lynn Campground (Great Otway National Park)

Cora Lynn Campground Closure

This campground is closed until further notice due to hazardous trees.

Blanket Bay - Bush Rats

Following the success of our fox and feral cat management programmes population numbers of

Rattus fuscipes

have grown again in the Blanket Bay campground area of the Great Otway National Park.

The combination of less predators and conducive weather conditions has allowed a population to return that campers at Blanket Bay should be cautious of.

The

Bush rat

has some specific features that can help you distinguish it from similar rats.

·

It has pointed head and rounded ears.

·

Its tail is smaller than the rat's body.

·

Another key feature is their front teeth - they are chisel-shaped with hard yellow enamel.

These native rodents are known to scavenge on campers' food, gnawing through tents to get to uncontained foodstuffs.

Native bush Rats are protected wildlife in the National Park and may form part of your camping experience while camping at Blanket Bay.

Attachments: Native vs Non-Native FS (779KB)

Melba Gully Day Visitor Area (Great Otway National Park)

Melba Gully - Large bus access

Melba Gully Walk Track and picnic area is accessible for large coaches. Toilet facilities are available on site

Maits Rest Rainforest Walk (Great Otway National Park)

Maits Rest Carpark- bus access

Maits Rest Carpark is suitable for small coaster buses only. Large buses or coaches are advised to use Melba Gully walk track near Lavers Hill.

Sheoak Picnic Area (Great Otway National Park)

No All-Abilities Toilet at Sheoak Picnic Area

No all-abilities toilet access at Sheoak Picnic Area. Portable toilets temporarily in use.

Aire River West Campground (Aire River Heritage River, Great Otway National Park)

Aire West Campground - sites closed

Due to wet conditions Aire River West campground, campsites 17 - 40 are closed through until Spring.

These sites can not be booked nor used until at least September 2023.