Explore
Hepburn Regional Park
Womin-Dji-Ka (Welcome) Hepburn Regional Park is one of six Aboriginal Title parks in Central West Victoria, jointly managed by the Dja Dja Wurrung Clans Aboriginal Corporation and Parks Victoria. For more information on Joint Management, please visit the Dja Dja Wurrung Clans Aboriginal Corporation and Dhelkunya Dja Land Management Board who oversee implementation of the Joint Management Plan 2018 - see relevant strategy and resources documents.
Nestled around the famous mineral springs townships of Daylesford, Hepburn and Hepburn Springs, Hepburn Regional Park is a real treasure rich with picturesque waterfalls, spectacular views, natural springs and relics from the Gold Rush era.
Discover serene bushland and natural beauty. Visit the mineral springs of Sailors Falls, Tipperary Springs, Golden and Argyle Springs as you walk along the many tracks that wind through the bushland and along the creeks and water races.
Take the Mineral Springs Loop Walk for a view of Sailors Falls, or walk from Breakneck Falls to Golden Springs, sampling some of the 'curative' waters, before making your way to Jacksons Lookout for panoramic views from the tower over the surrounding landscape. Stop in for a wood-fired barbecue picnic at Mount Franklin, Twin Bridges or Bryces Flat and take in the serenity of this beautiful retreat.
Part of the 210km Goldfields Track runs through Hepburn Regional Park, providing a popular shared track for walking and mountain biking all year round. Linking Ballarat and Bendigo, the Goldfields Track is the longest shared track in Victoria. Keen mountain bikers can explore other shared tracks in the park and surrounds, but please follow the signage and be mindful of other trail users.
Stand on the viewing platform at The Blowhole and witness the landscape-altering changes 1850s gold miners were willing to undertake in their quest for gold. Miners diverted the flow of Sailors Creek through the hillside in order to work a bend in the creek line. Take your pick of a long or short loop walk through the remnants of gold rush workings.
Set up camp at Mount Franklin or at a caravan park in one of the picturesque surrounding towns, such as Daylesford. Stay awhile, replenish in nature and explore this beautiful area, including the nearby Creswick Regional Park.
Hepburn Regional Park - track closures
Hepburn Regional Park is open for visitors, however, due to storm damage Tipperary Springs Day Visitor Area, several walking trails and parts of the Goldfields Track are closed. Parks Victoria and DJAARA are working hard to reopen these areas as soon as possible. Please see map and information on track closures to best plan your visit.
Things To Do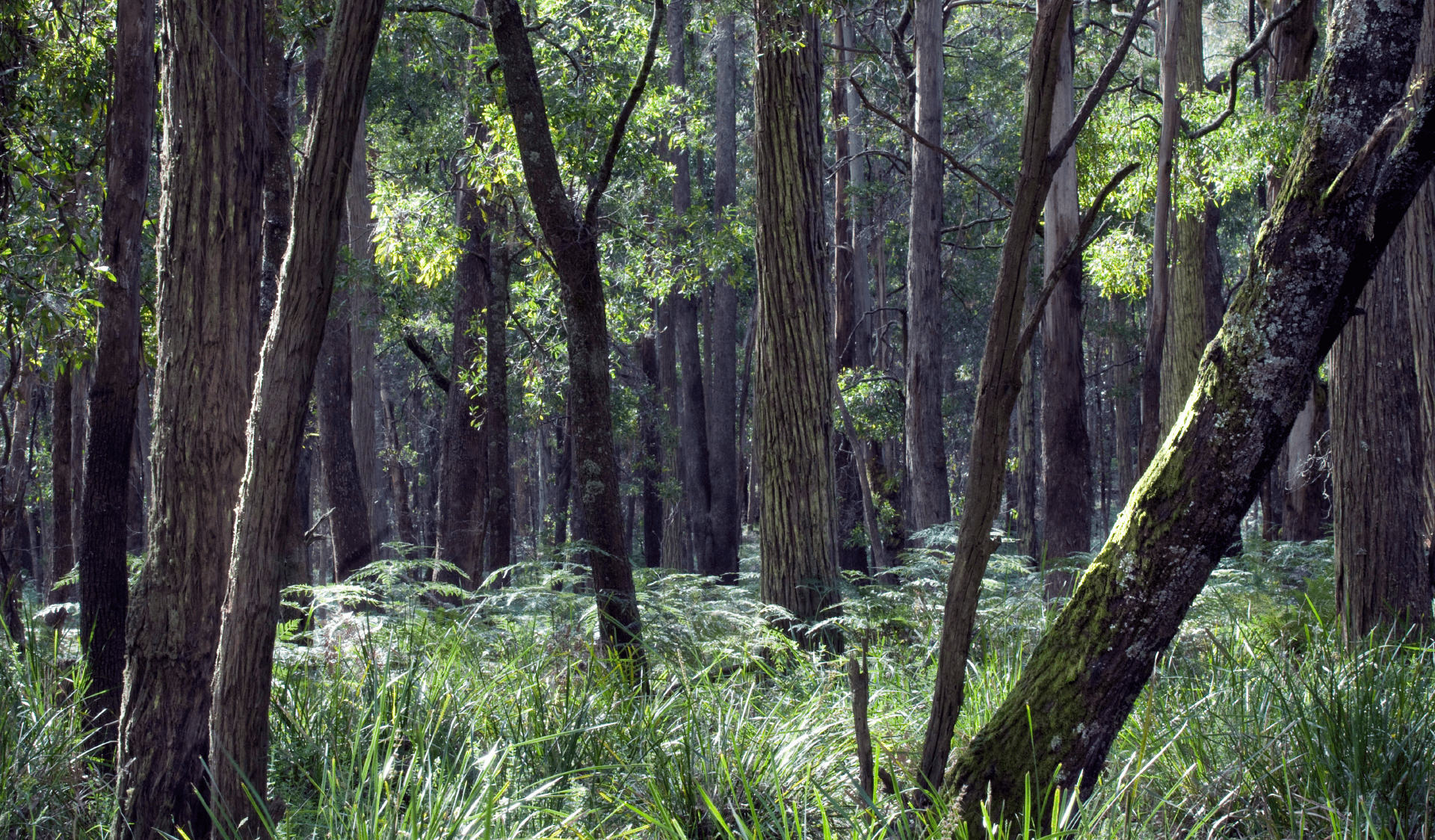 Discover the park's picturesque waterfalls, spectacular views, natural springs and relics from the Gold Rush era on one of the many walking tracks.
Camping at Hepburn Regional Park
Tent, caravan and motor home camping in Mount Franklin is available on a first-come, first-served basis, with toilets, wood fireplaces and picnic tables provided.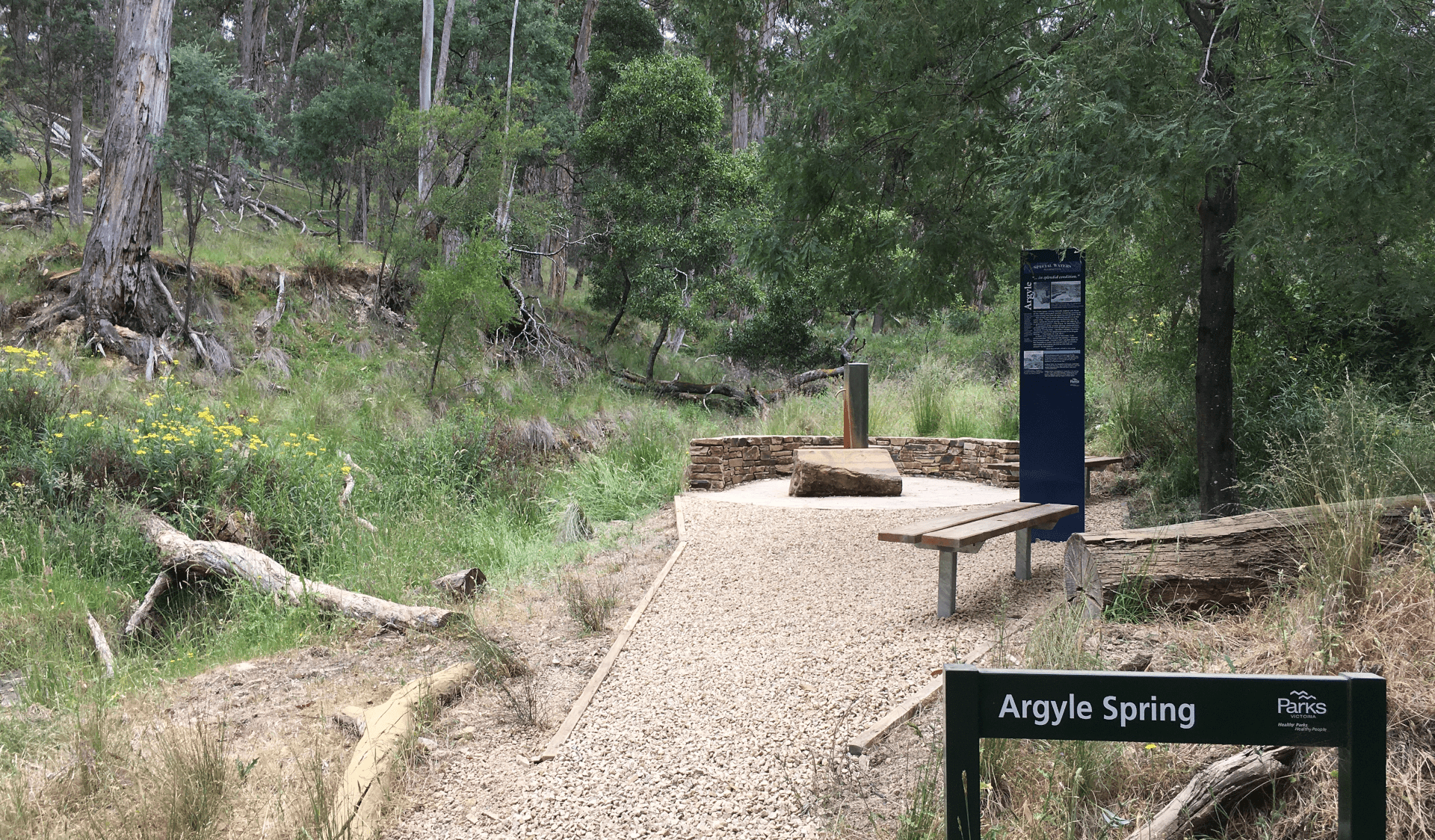 Mineral Springs at Hepburn Regional Park
Natural mineral springs abound in the Daylesford and Hepburn area. Mineral springs in the park include Sailors Falls, Tipperary Springs, Golden and Argyle Springs.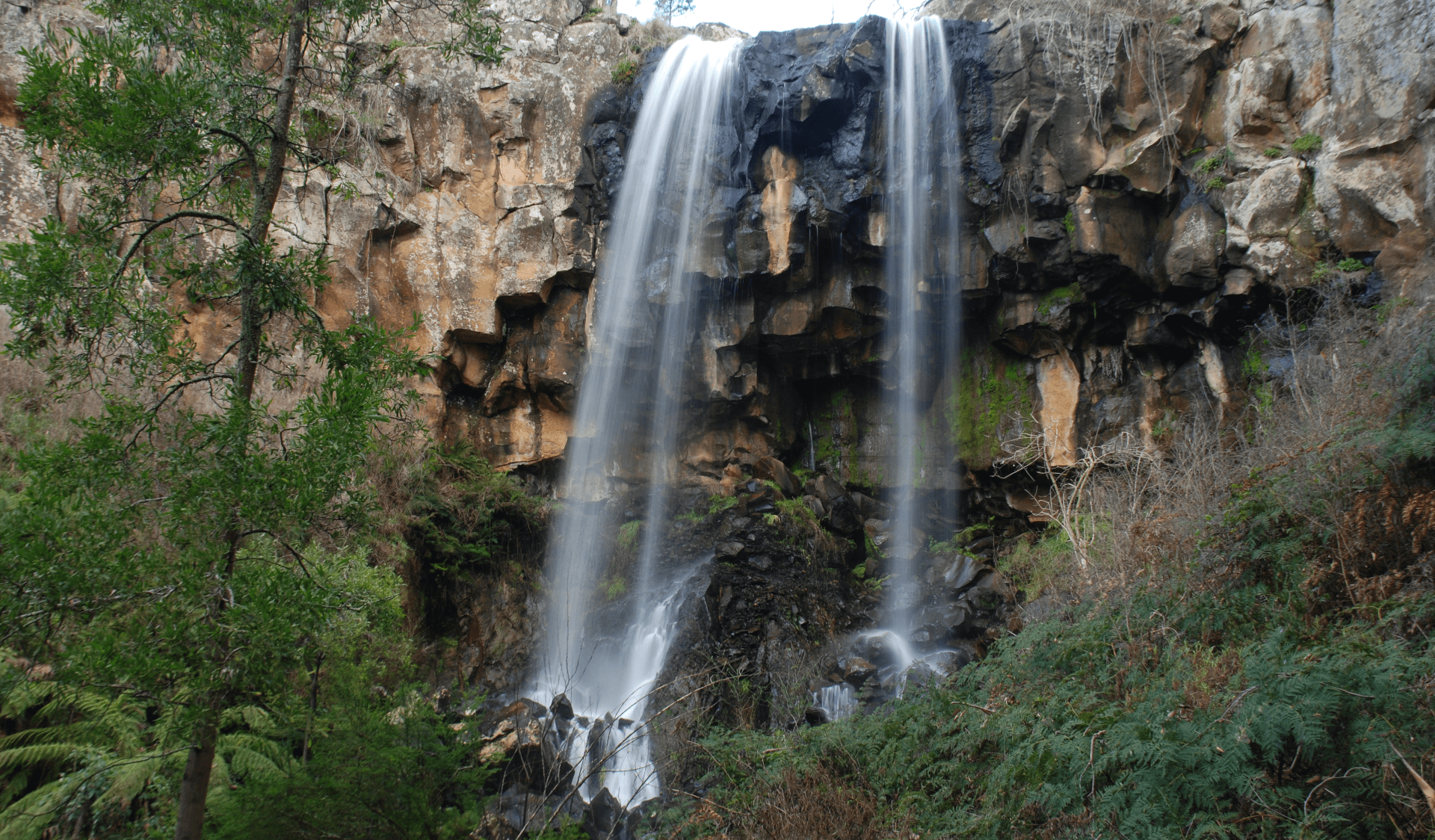 Picnicking at Hepburn Regional Park
There are several picnic areas with tables provided, including at Tipperary Springs, Mount Franklin, Sailors Falls Twin Bridges and Bryces Flat.
Hepburn Regional Park
Common birds to spot in the area include White-Browed Scrub Wrens, Grey Currawongs, Crimson Rosellas, White-Throated Tree-Creepers and Yellow Robins. The Rufous Fantail and Satin Flycatcher visit the gullies seasonally.
Koalas and kangaroos are often sighted in the park while the rare Brush-Tailed Phascogale is a shy resident and seldom seen.
Tours and adventure experiences in parks
One of the best ways you can get into nature is with a Licensed Tour Operator.

There are more than 400 Licensed Tour Operators across Victoria who are ready and waiting to help you experience and connect with Victoria's spectacular parks and waterways.

Discover more than 60 different types of nature-based experiences including hiking, mountain biking, boating, four-wheel driving, indigenous culture tours, birdwatching, surfing, diving and so much more.

Licensed Tour Operators know all the best places to go and will plan and prepare your visit to ensure you are safe and can enjoy your nature-based adventure to the fullest.
Find a Licensed Tour Operator
How to get there
Hepburn Regional Park
Hepburn Regional Park is 110km north-west of Melbourne via the Western Freeway (M8 National). Follow the Ballan-Daylesford Road after taking the exit from the freeway.
Linked train and coach services are available from Melbourne to Daylesford via Woodend or Ballarat.
When you're there
Download the Hepburn Regional Park visitor guide for more information about the park and a map.
When to go
Take a short walk from Tipperary Springs to Twin Bridges. Cross the stepping stones in Sailors Creek at Twin Bridges to return. Cool at the end of the walk by sitting in the shade under the beautiful Manna Gum tree and try the effervescent mineral water from the hand pump in the picnic area.
Need to know
Hepburn Regional Park
Accessibility
Sailors Falls has an all abilities toilet with a stonework and compacted gravel path from a gravel carpark. Works have commenced on all abilities toilet facilities at Lalgambuk (Mount Franklin).
Visiting a park can be more of a challenge for people with disabilities, however in Victoria there are a wide range of facilities to help people of all abilities enjoy our wonderful parks around the state.
Assistance dogs are welcome in Parks Victoria parks and reserves. Entry requirements apply for parks and reserves that are usually dog prohibited, such as national parks.
Safety
To ensure that you and your companions stay safe, always remember that the natural environment can be unpredictable. Before you go, take a look at our safety tips and check our changed conditions and closures information for a great visit.
Change of Conditions
Nature being nature, sometimes conditions can change at short notice. It's a good idea to check this page ahead of your visit for any updates.
Jacksons Lookout (Hepburn Regional Park)

Jacksons Lookout

Visitors, please note Jacksons lookout road is temporarily closed whilst we complete necessary repairs. The Lookout remains open to pedestrians.

Blowhole walking tracks closed

The Blowhole carpark, viewing platform and lower viewing platform via the main staircase is open, however all other associated walking tracks are closed

Sailors Falls - walking loop closed

Sailors Falls - walking loop closed due to damage to bridges, walking tracks and landslips

Tipperary Springs Visitor area closed

Tipperary Springs Visitor node with all associated assets due to flood impact. Crews will assess and reopen when safe.


Bryces Flat walking trails closed

Bryces Flat is open, however only accessible via the western side of Bald Hill Road. All associated walking tracks are closed due to flood impact.

Track closures due to flood impact

Walking tracks on either side of Sailors Creek between Twin Bridges and The Blowhole

Notices Affecting Multiple Parks

Seasonal road closures 2023

Seasonal road closures apply to areas within and tracks bordering this park from 15 June 2023. See

MapshareVic

for locations of the closures. Visit the

seasonal road closures

page for more information

Doctors Gully (Hepburn Regional Park)

Mine Tailings management

Tailings from former mining activities have been identified in bushland along Doctor Gully Rd in Hepburn. These tailings contain elevated levels of heavy metals which can be harmful to human health. Please follow the directions on signs in the area to avoid contact with these tailings. Parks Victoria and the Environment Protection Authority are working to identify and assess the extent of mine tailings along Doctors Gully Rd

Attachments: Hepburn Regional Park - Tailings (322KB)
How we keep it special
The Dja Dja Wurrung People have Aboriginal Title over six parks and reserves within their settlement area, which are jointly managed, including Hepburn Regional Park. These parks are jointly managed and overseen by the Dhelkunya Dja Land Management Board. A Joint Management Plan for the Dja Dja Wurrung parks is in place.
Keep this park beautiful by taking your rubbish home. Fires are permitted in constructed fire pits only for the whole park, no fires are permitted on days of total fire ban.