Your A-Z guide to Victoria's dog-friendly walking trails
Thursday 1 April, 2021
While dogs aren't allowed in our national and state parks, there's still plenty of great places you can get into nature with your pooch. Remember to keep your dog on lead at all times, except in designated off-lead areas. So, grab a lead and a handful of treats, whistle up the dog and head for the park.
Albert Park Lake Path, Albert Park – 4.7km
Walk around Albert Park Lake, taking in spectacular views of the city while passing by the park's wildlife. If your dog still has energy after the walk, Albert Park also has two designated off-lead areas.
Brimbank Loop Walk, Brimbank Park – 3.5km
Follow the path alongside the Maribyrnong River as it winds around the natural basin of Brimbank Park. Then head up the escarpment away from the river, where you can enjoy panoramic views of the area.
Crystal Brook Picnic Area Walk, Cardinia Reservoir Park – 5.2kms
The lower part of this walk takes you through a swampy area, which provides habitat for frogs. As you walk higher through the heathy bushland, keep an eye out for echidnas, kangaroos and wallabies. You'll also get great views across the picnic area.
Dights Falls Loop Trail, Yarra Bend Park – 3.2km
Take a walk through the rich history and versatile landscape of Yarra Bend Park. Along the Dight Falls trail is is Deep Rock, where dogs can access the Yarra River for a refreshing dip. An off-lead dog area is nearby.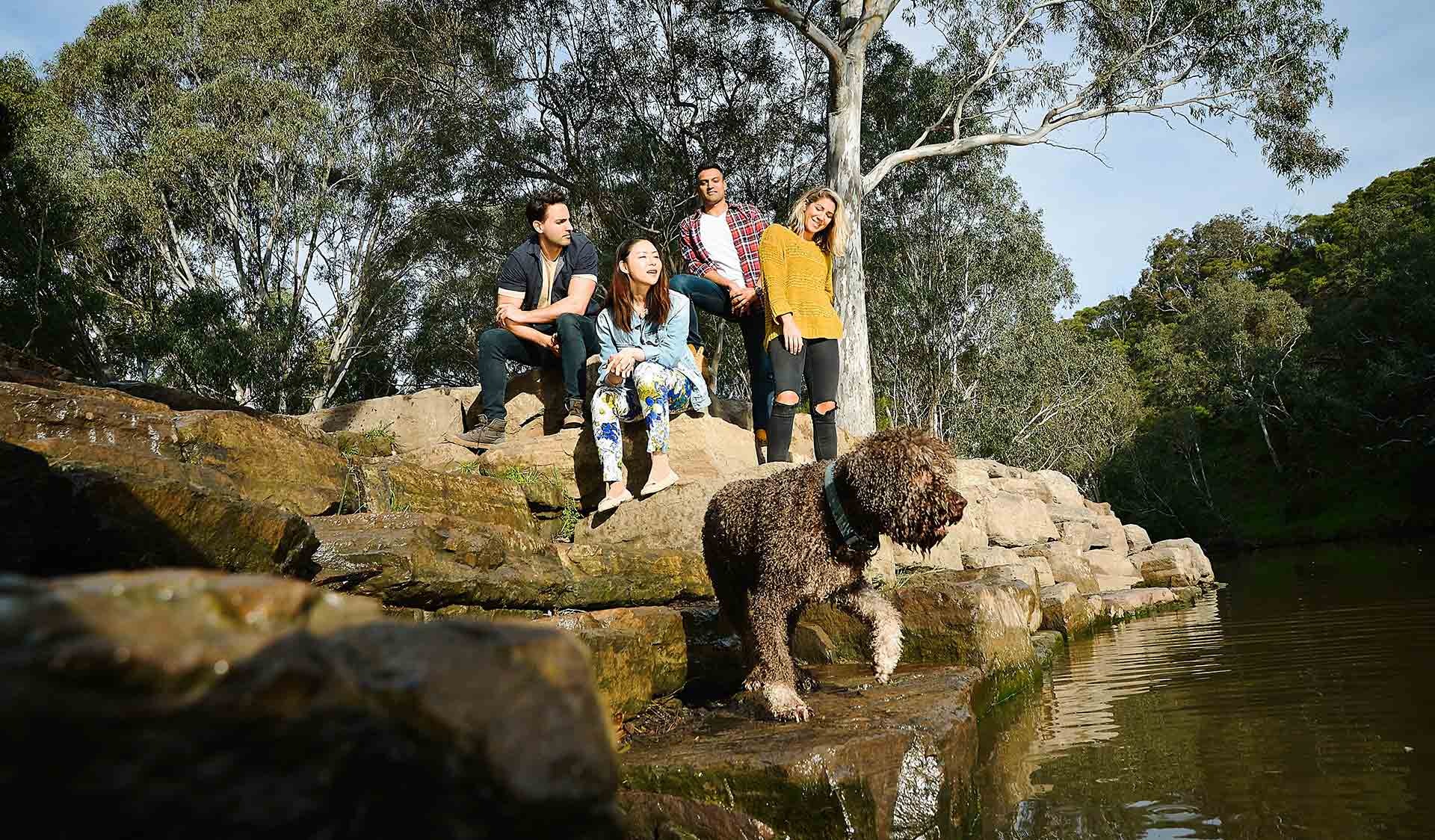 Eureka Reef Heritage Walk, Castlemaine Diggings National Heritage Park – 1.8km
As you wander through relaxing bushland, you'll be transported back through 140 years of mining history. The walk helps you see the forest through the eyes of the Dja Dja Wurrung people, alluvial gold diggers and quartz reef miners.
Freshwater Lake Trail, Westgate Park – 0.9km
Westgate Park is a green oasis located in the heart of industrial Melbourne. This shared loop trail circles the picturesque Freshwater Lake. Walking along the Freshwater Lake Trail provides a wonderful opportunity to view the extensive revegetation works that have taken place.
George Bass Coastal Walk, Punchbowl Coastal Reserve – 7km
For those looking for a longer walk, you won't want to miss the George Bass Coastal Walk. The narrow path winds along the cliff tops above Bass Strait. You'll be rewarded with panoramic coastal views.
Howqua Hills Heritage Walk, Howqua Hills Historic Area – 4km
This easy walk follows the Howqua River from Sheepyard Flat to Frys Flat. Along the way, you'll walk past the old brick chimney and smelting furnace built in 1884.
Ironbark Gorge Walking Track, Great Otway National Park – 4.5kms
For a great family adventure, head to the Ironbark Gorge Walking track. Before long you are surrounded by green under growth and red ironbarks. Please remember that while dogs are permitted on this walk, they are not allowed in most areas of Great Otway National Park.
Jells Park Walking Tracks, Jells Park
Dogs are welcome in most of Jells Park. You and your dog will love walking the many walking tracks in the park, before enjoying a picnic with views of the lake. Make sure to check park signage as dogs aren't permitted in conservation zones.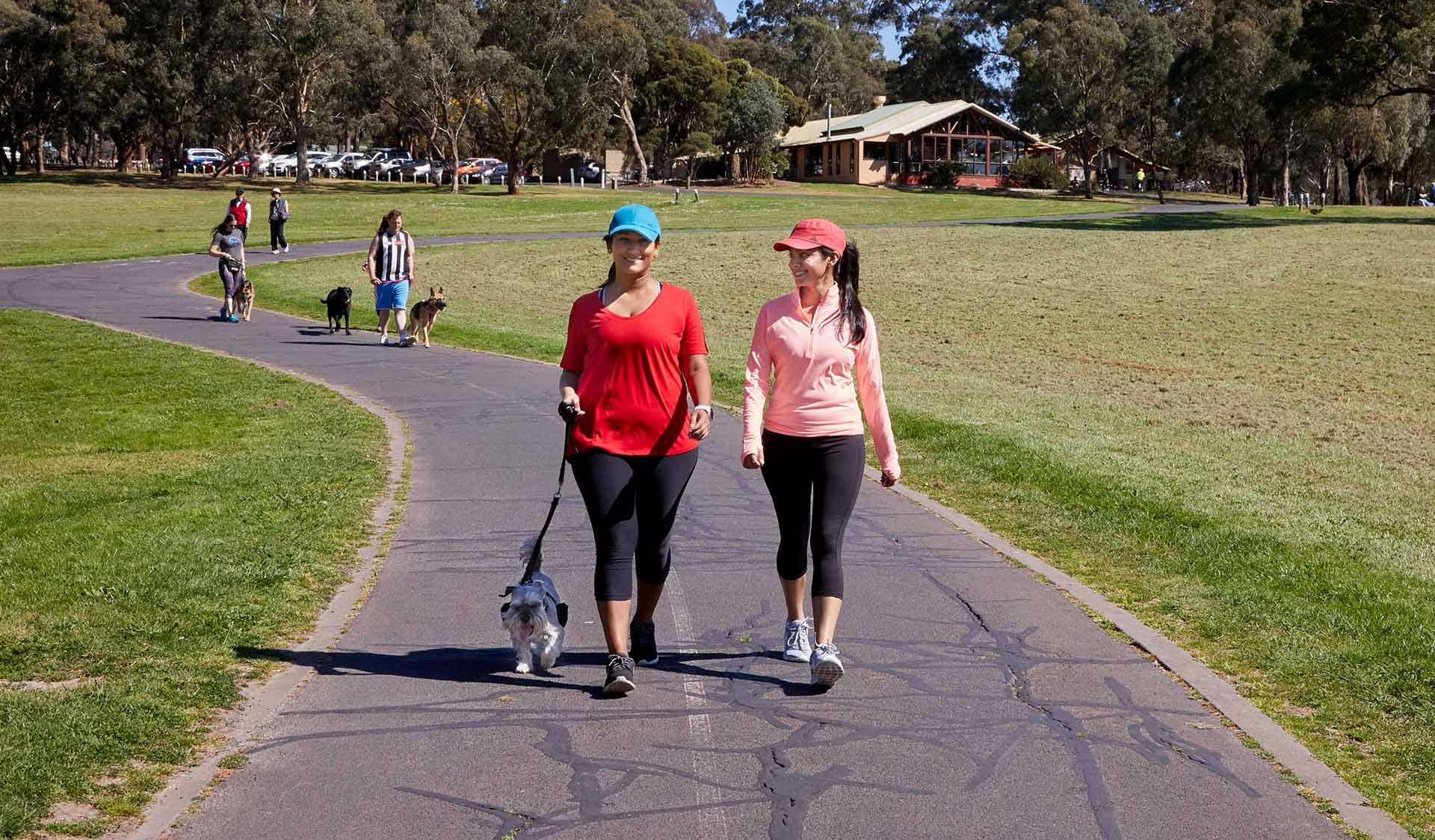 Koala Park Walk, Creswick Regional Park – 2km
You and your dog will enjoy this easy circuit walk. Explore the tracks within Koala Park, originally a breeding site for koalas. This is one of the many great dog-friendly walks within Creswick Regional Park, so make sure to explore the rest of the park while you're there.
Lily Pond Walk, Toorourrong Reservoir Park – 600m
Take this short walk for stunning views of the Lily Pond. At the edge of the lilypond you'll find a memorial of remembrance for community members whose lives were lost in the 2009 Black Saturday bushfires. Further information about those fires is detailed in the heritage rotunda – the only structure to have survived.
Mt Franklin Summit Walk, Hepburn Regional Park – 1.8km
Mt Franklin, also known as Lalgambook by the Djadja Wurrung people, is a small volcanic crater that offers an ideal place for a picnic and a walk amongst plantings of huge conifers and deciduous trees. Walk to the summit of Lalgambook for great views of the area.
Nature Trail, Cape Conran Coastal Park – 2.3km
Explore the diverse coastal environment as you walk through the heathlands on this scenic trail. Stop for a scenic break and take in the ocean views. For a longer walk, join the trail to Salmon Rocks Beach from Joiners Channel and the boat ramp.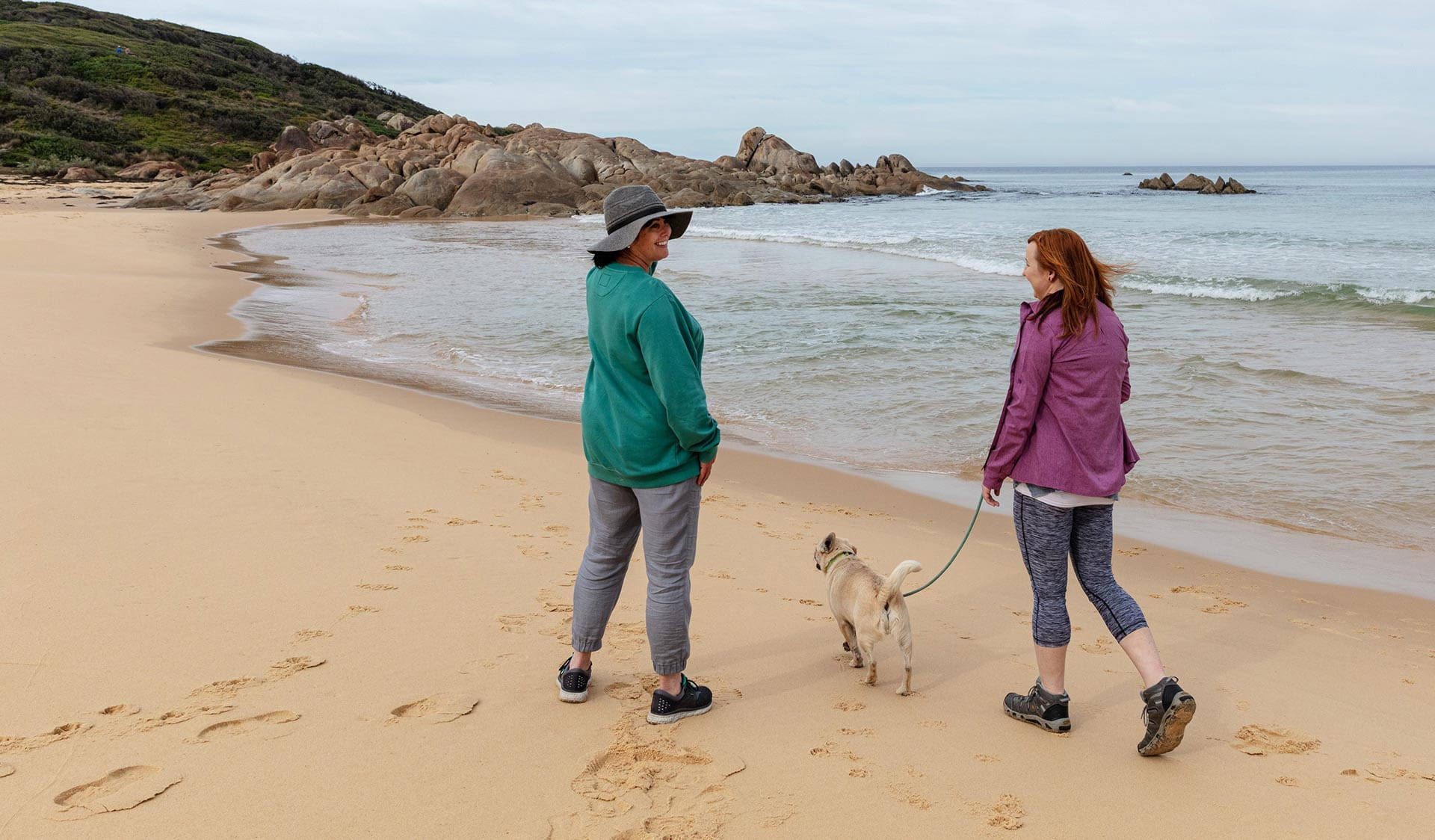 One Tree Hill Walk, Greater Bendigo National Park – 3km
Starting at the park entrance on Edwards Road, you can walk along the road all the way to the One Tree Hill lookout. Alternatively, drive to the lookout to enjoy the panoramic views then explore the nearby tracks on foot. Please note while dogs are permitted at One Tree Hill, they are not allowed in the other areas of Greater Bendigo National Park.
Patterson River Circuit Trail, Patterson River – 5.8kms
Starting and ending at Patterson River Picnic ground, enjoy a walk through urban parkland. This trail will reward you with extensive views upstream to the Dandenongs and downstream to the Bay.
Quinns Island Loop Track, Cobram Regional Park – 2.5kms
Take the bridge from off River Road to Quinns Island, a waterbird haven. The loop track will take you to a large bird hide and the beach.
RJ Hamer Arboretum walking tracks
You and your dog will love wandering the various walking tracks in RJ Hamer Arboretum. This is also a great place to enjoy a picnic. Please observe the boundaries of the park as dogs are not permitted in the adjoining Dandenong Ranges National Park.
Scenic Views Track, Maroondah Reservoir Park – 1.3kms
Wind your way through grassed areas with large exotic trees. As you reach the top of the dam walk, there's spectacular views of the surrounding mountains.
The Bay Trail, Point Gellibrand Heritage Park
Immerse yourself in Victoria's colonial past at Point Gellibrand Heritage Park. The Bay Trail is a great way for you and your dog to view the landscape.
Union Jack Long Loop Walk, Union Jack Education Area – 7kms
Explore all that Union Jack Education Area has to offer on this walk. Along the walk you will learn about tree dwelling mammals, frogs and historic diggings. You also find an old homestead site and a native grassland. For a shorter walk, the 2.8km short loop takes you around the southern section of the park.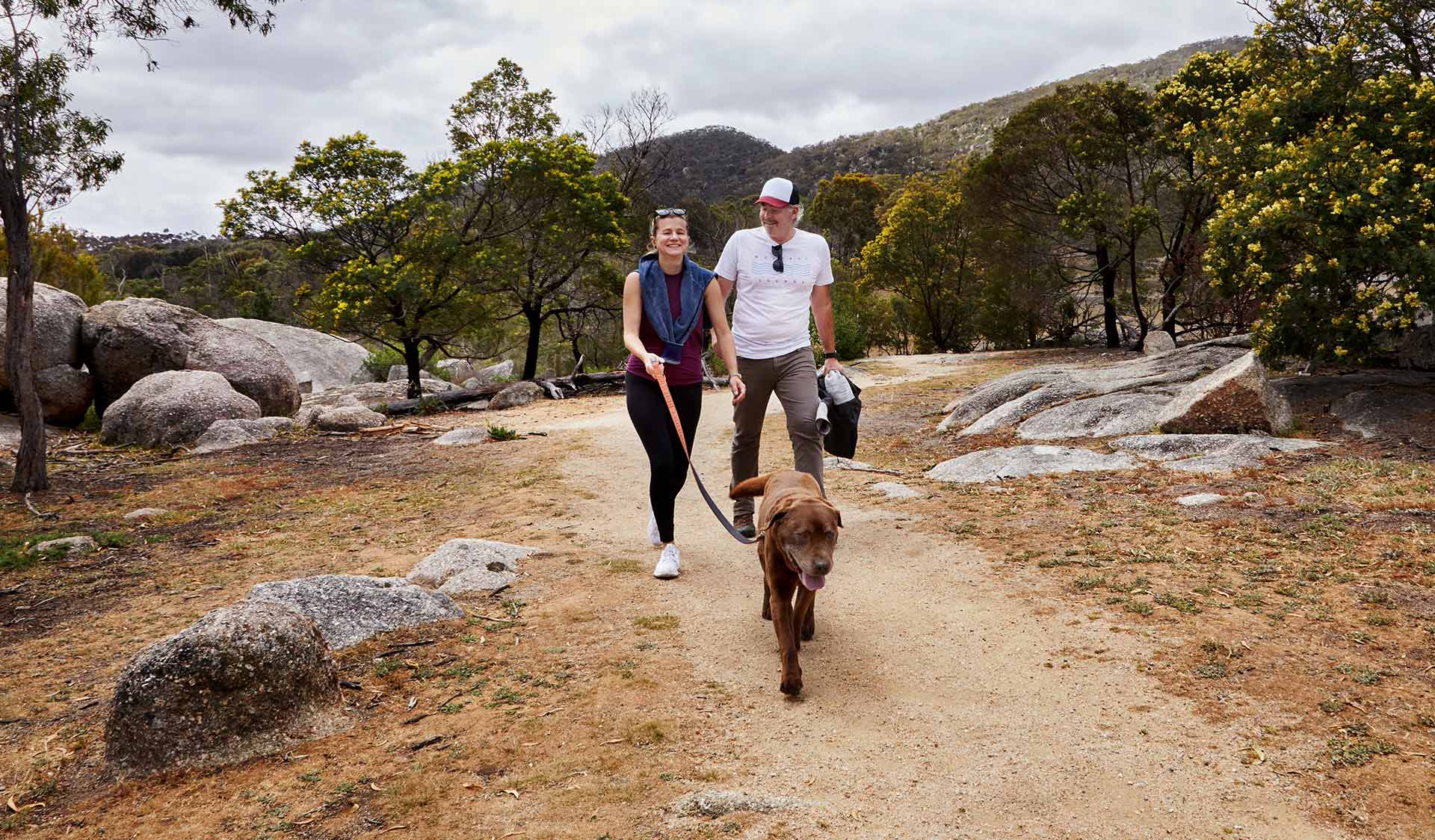 Visitor Centre to Big Rock Loop Walk, You Yangs Regional Park – 3kms
This great family walk winds up to the aptly named Big Rock for fantastic views towards Corio Bay and the Surf Coast. Let the kids explore while you enjoy a picnic or barbecue at the Big Rock Picnic Area.
Woowookarung Regional Park Walks
Ballarat's newest park has a network of informal tracks for you and your four-legged friend to explore. Head up to scenic lookouts or simply enjoy being surrounded by the Messmate Stringybark, Grass Trees and native heath.
Zig Zag Track to Hemphill's Track, Macedon Regional Park, 1.3km
The Zig Zag Track winds its way down through wet Messmate forest to Hemphill's Track. Listen out for the many bird species calling through the valley. This is one of many great dog-friendly walks in Macedon Regional Park
Looking for more spots to enjoy nature with your dog? Head to our dog-friendly parks page.