There are many walks in the Howqua Hills. From short walks perfect for the family, moderate walks with breathtaking views to challenging climbs to the Bluff.
Shorter Family Walks:
Tunnel Bend – 200m one-way
Escape the heat on a hot day and walk through the tunnel at Tunnel Bend. Don't forget your torch!

Howqua Hills Heritage Walk – 4km return, 1.5 hours – Grade 3
An easy self-guided 1.5-hour return walk between Sheepyard Flat and Frys Flat, following the Howqua River. This walk takes visitors past the old brick chimney and smelting furnace built in 1884.
Moderate Walks:
Just a short drive from your base at Howqua Hills Historic Area, there are many great moderate walks in the nearby Alpine National Park. More great family walks can also be found in the nearby Strathbogie and Mansfield State Forests.
High Track (Howqua Hills Historic Area into Alpine National Park)
The High Track runs above and parallel to Brock's Road and provides access to many of the flats along the Howqua River. This spectacular track continues all the way into the Alpine National Park and provides great views of the Howqua River and the surrounding landscape. Tackle the whole track or complete shorter sections.
8 Mile Gap to Eagles Peaks (Alpine National Park) – 4km return
A moderate day walk with breathtaking views across the Alpine National Park. For the adventurous, starting instead from Davon's Flat. This is a very challenging 22km return walk.
Bluff walks (Alpine National Park)
Bluff car park to Bluff Summit – 4km return – Grade 4
Bluff Hut to Bluff Summit – 7.2km return – Grade 4
Bluff car park to Bluff Hut – 11.2 km return – Grade 4
There are two ways to access the Bluff. The first is an easier family walk starting from Bluff Hut. The more difficult, steeper walk starts from the Bluff car park. At times, this can be a steep scramble up the front of The Bluff. Both options provide a good half-day walk. Combine the two shorter walks to create a challenging but rewarding full-day walk.
Ritchie's Hut from 8 Mile Flat (Alpine National Park)– 12km return – Grade 4
Set out from 8 Mile Camping Area and walk along to High Track to Ritchie's Hut in Alpine National Park. This moderate grade walk is a great day walk for the family.
Things To Do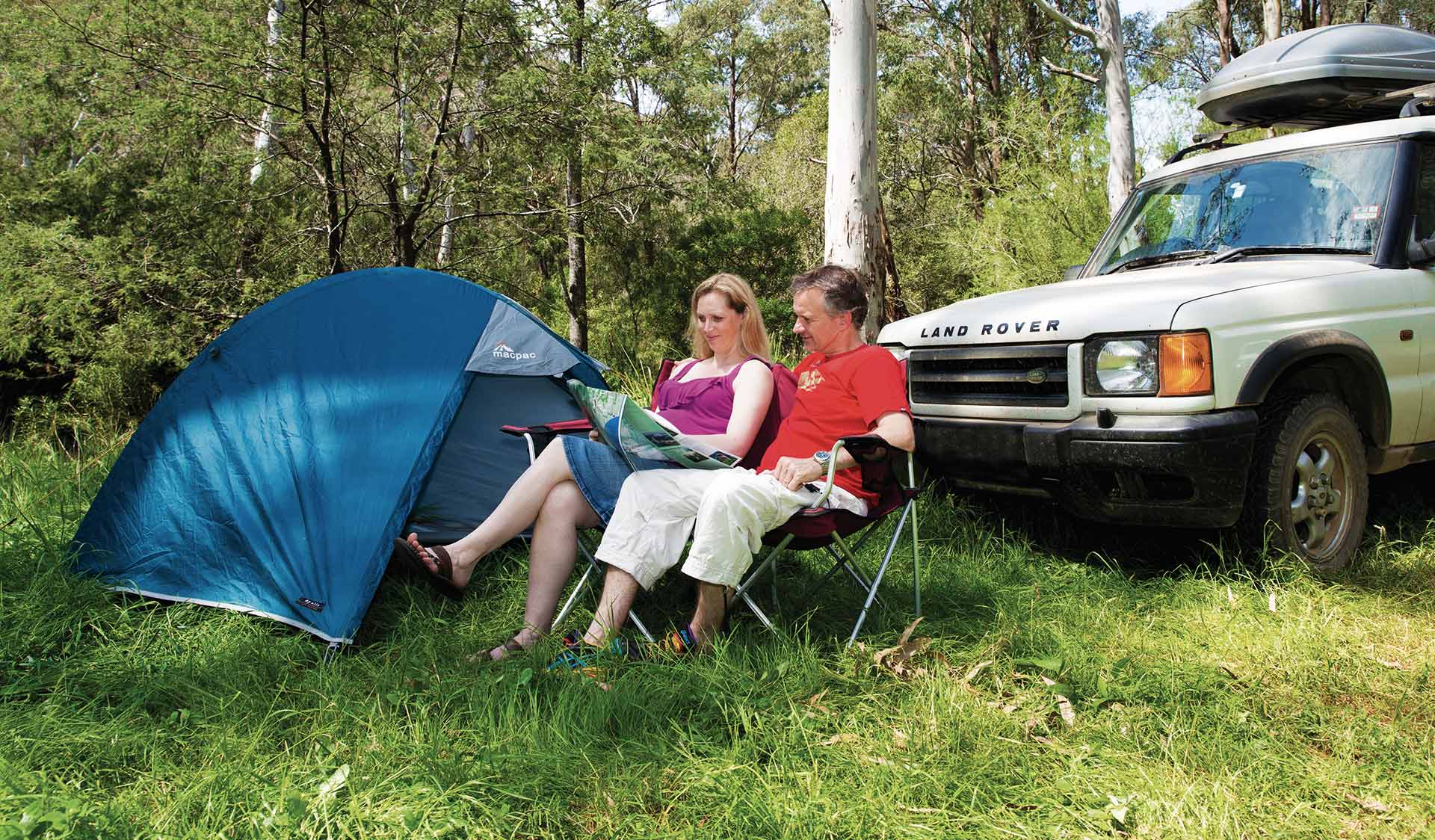 These are several camping options along the banks of the Howqua River. The sites are free and no bookings are required. All sites are a great base for bushwalking, four-wheel driving, fishing and relaxing.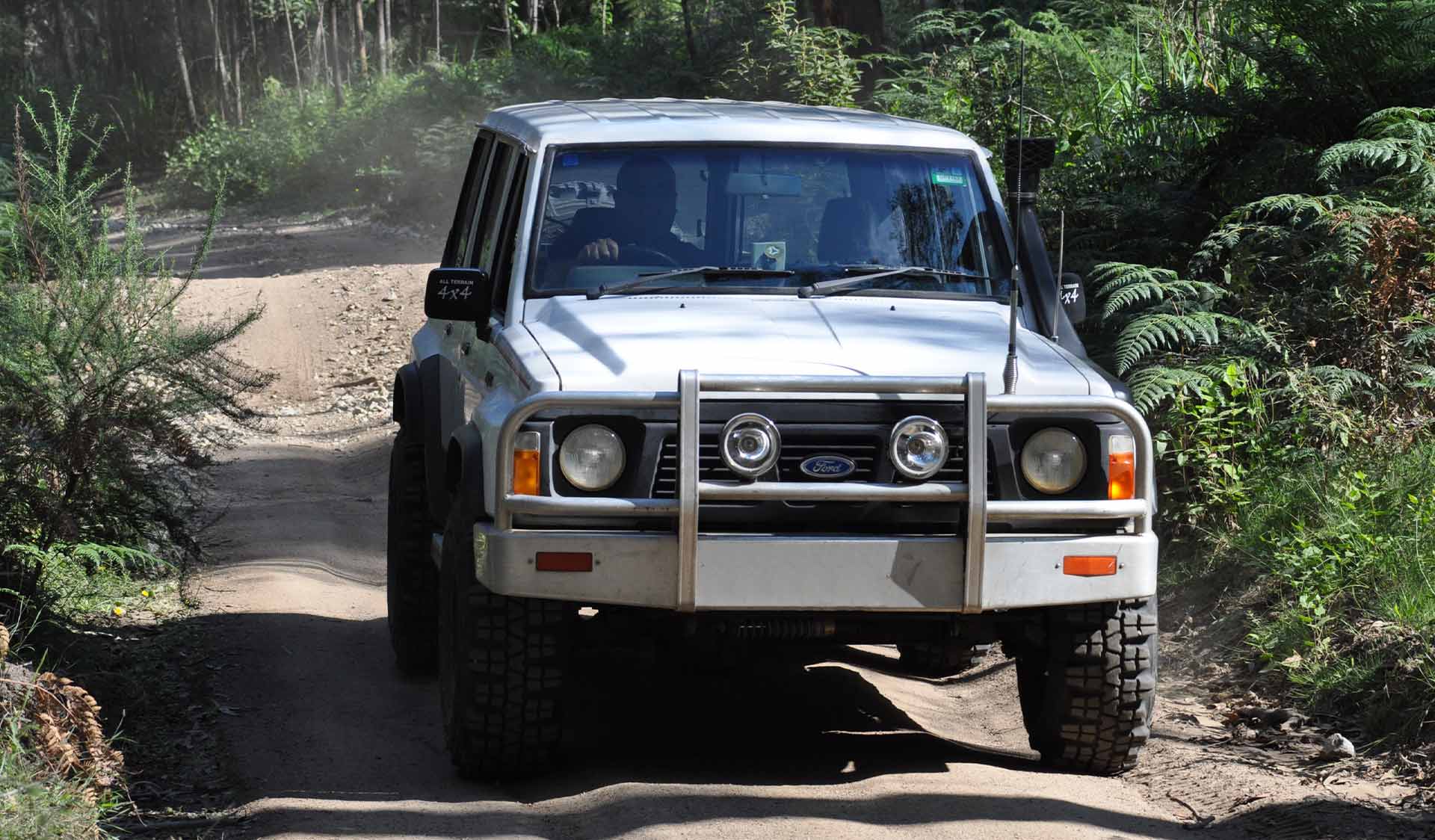 There are many four-wheel drive tracks to explore taking you further into the High Country. Howqua Hills Historic Area is a great base to explore further into the Alpine National Park and surrounding State Forest.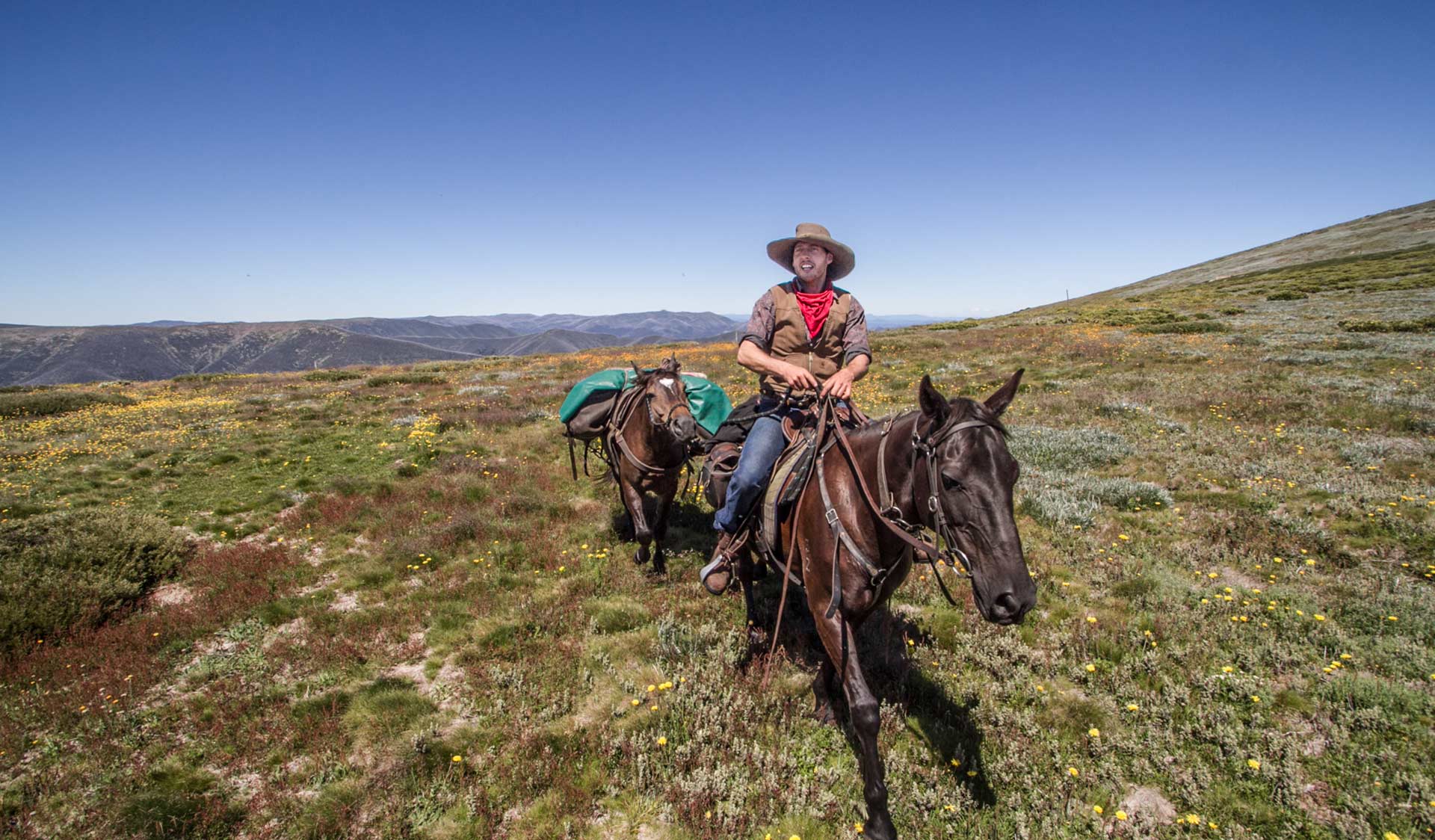 Fry's Flat and Tunnel Bend are the designated horse camping sites located on the scenic river flats at each end of Howqua Hills Historic Area. They provide the opportunity for people to camp with their horses and explore the surrounding area on horseback.
How to get there
Walking in Howqua Hills
Need to know
Walking in Howqua Hills
Bushwalking tips
Wear sturdy footwear with a good grip and carry plenty of water, especially in hot weather.
Bushfire safety is a personal responsibility. Check the Fire Danger Rating and for days of Total Fire Ban at www.emergency.vic.gov.au;or call the VicEmergency Hotline on 1800 226 226
The weather in the Alps can be very unpredictable and can change very quickly so ensure you come prepared for any weather.
Please take rubbish home with you for recycling and disposal.


All native plants and animals are protected by law, please do not disturb or feed them in any way.
Do not disturb or remove any fossil, relic or historic artefact.
Dogs are permitted in Howqua Hills Historic Area but must be on a leash or under control at all times. Dogs are not permitted in Alpine National Park.
Similar Walking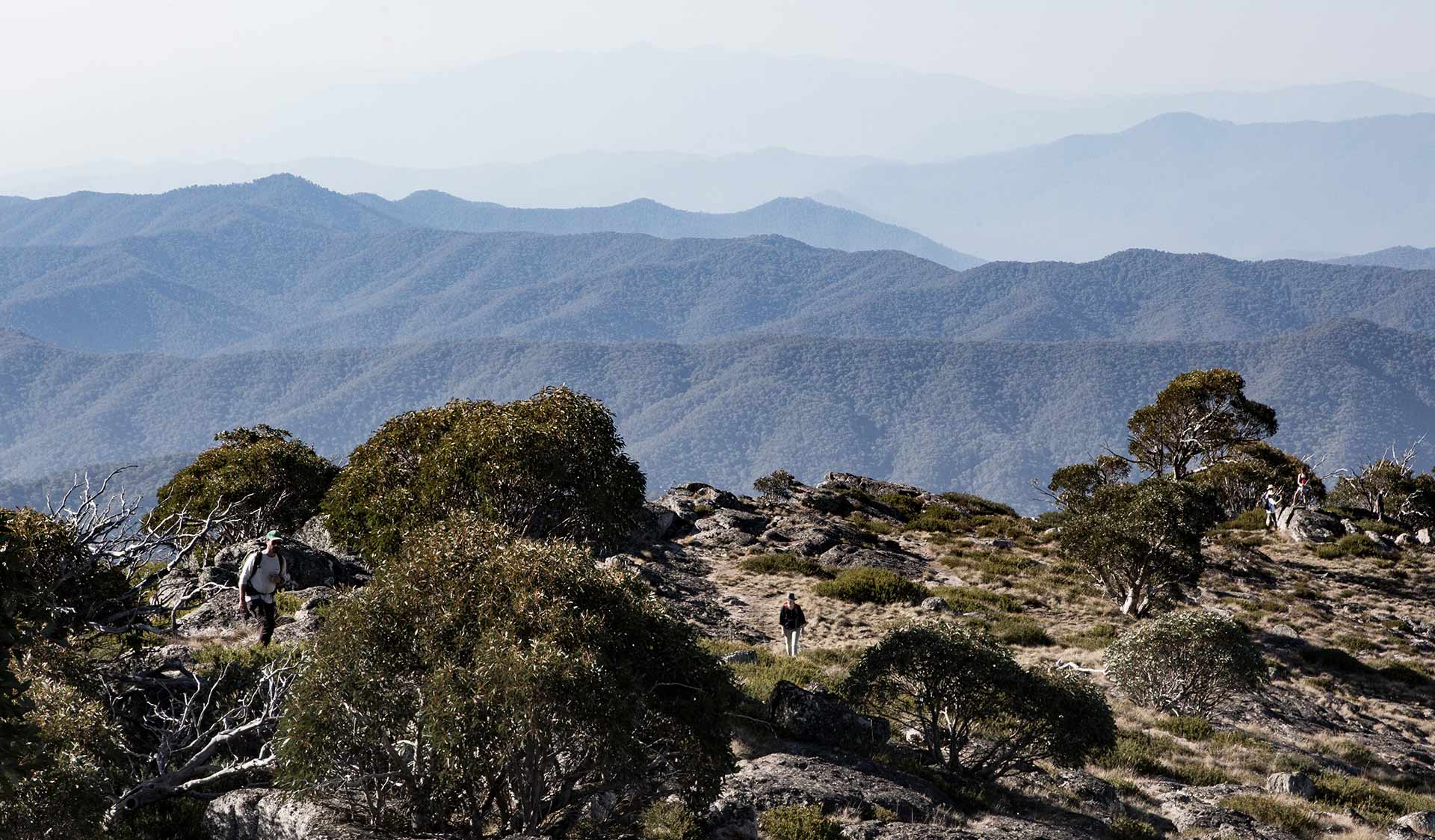 Enjoy a beautiful walk to Mount Cobbler and take in amazing views from the top of the mountain. The track is relatively steep and recommended for physically fit walkers.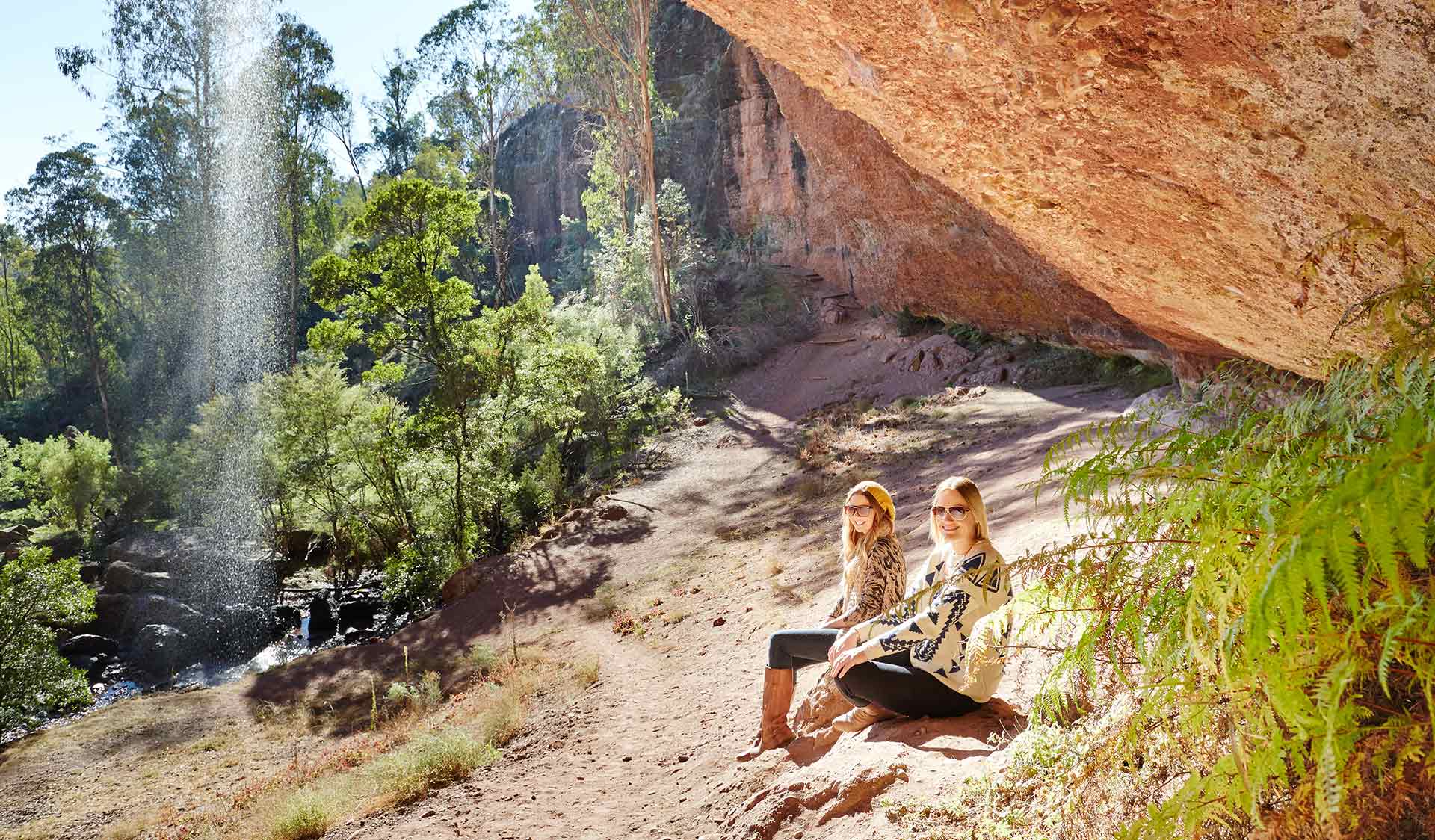 Paradise Falls cascade 31 metres and are most spectacular in spring, early summer or after rain. The walk to the viewing platform is a well‐made stepped track perfect for all ability levels.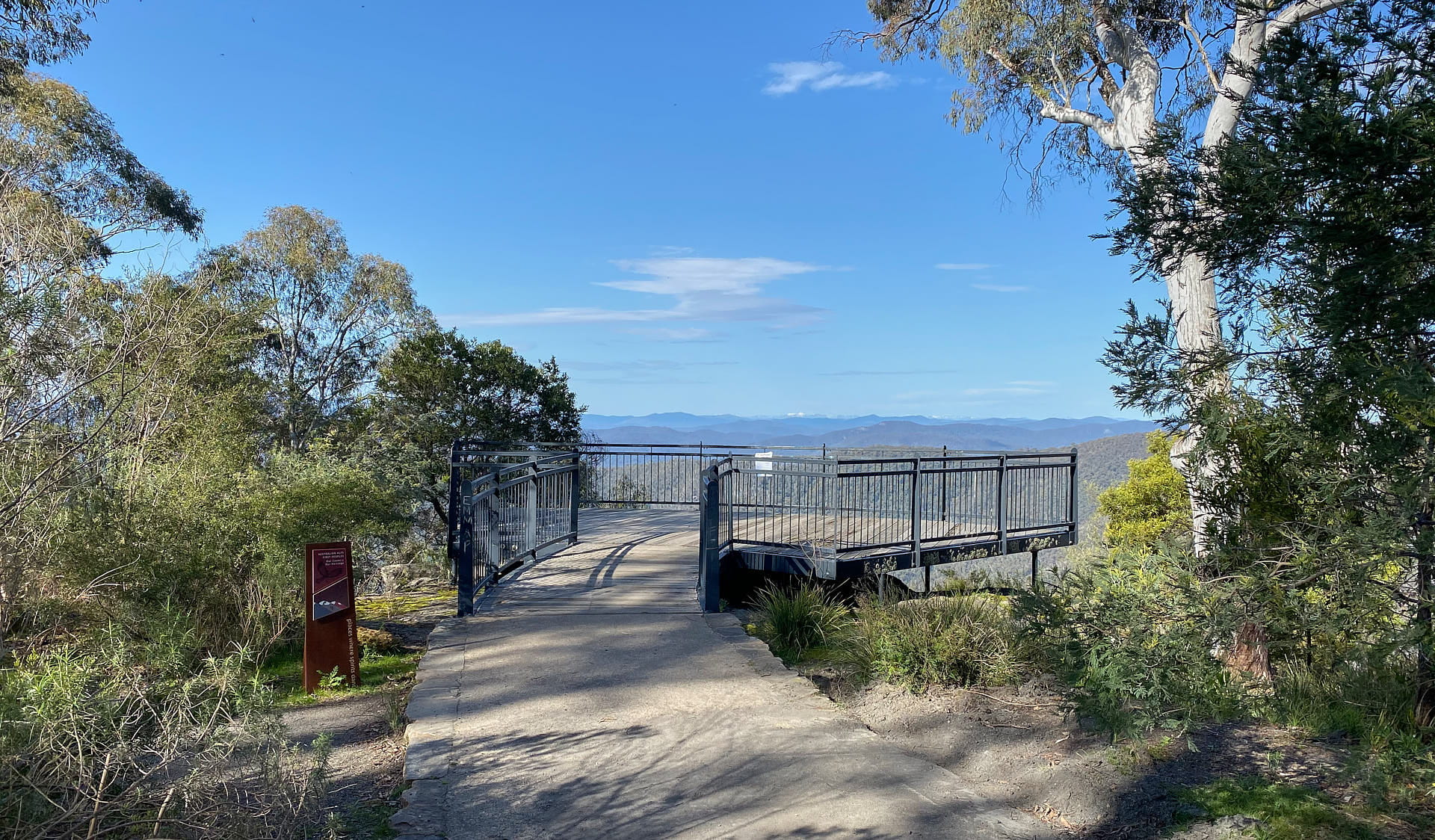 Powers Lookout provides a beautiful view of the King Valley. Just a short drive from Whitfield, It's very popular for day-trippers and those people who love a bit of Australian History as it is named after bushranger Harry Powers.