The Two Bays Walking Trail is part of an Aboriginal cultural landscape in the traditional Country of the Bunurong People. Parks Victoria respects the deep and continuing connection that Bunurong Traditional Owners have to these lands, waters and we recognise their ongoing role in caring for Country.
The Two Bays Walking Trail is a 26km hike from Dromana to Cape Schanck showcasing the landscapes of Arthurs Seat State Park and Mornington Peninsula National Park before concluding at the spectacular coastal cliffs of Cape Schanck. The trail is identified by a circular symbol displaying a Blue Wren, which can be seen on signage along the route.
Start at the Dromana foreshore on Point Nepean Road and walk up the stepped track and onto Latrobe Parade. Alternatively, start at the Dromana Visitor Centre and follow Latrobe Parade, until the entry to Arthurs Seat State Park, at the intersection with Bunurong Track.
The trail features some short hilly sections including steep gravel sections around Arthurs Seat State Park. Beyond Arthurs Seat, the walk is relatively flat and includes eucalypt forest, rolling grassy sections through Greens Bush to spectacular coastal cliff sections near Cape Schanck.
The trail is well signed but has areas of uneven ground, loose rock, bridge crossings and is subject to natural forces that result in fallen branches and debris. Always wear suitable footwear, be aware of changing trail conditions and carry drinking water.
The trail comprises a number of tracks to form a popular two-day hike but can also be completed as a long day hike or trail run. Alternatively, you can complete the walk a section at a time, as a range of shorter day hikes.
Some bushwalking experience and a good level of fitness are recommended, but the trail is suitable for most ages and is a good introduction to overnight hiking.
Things To Do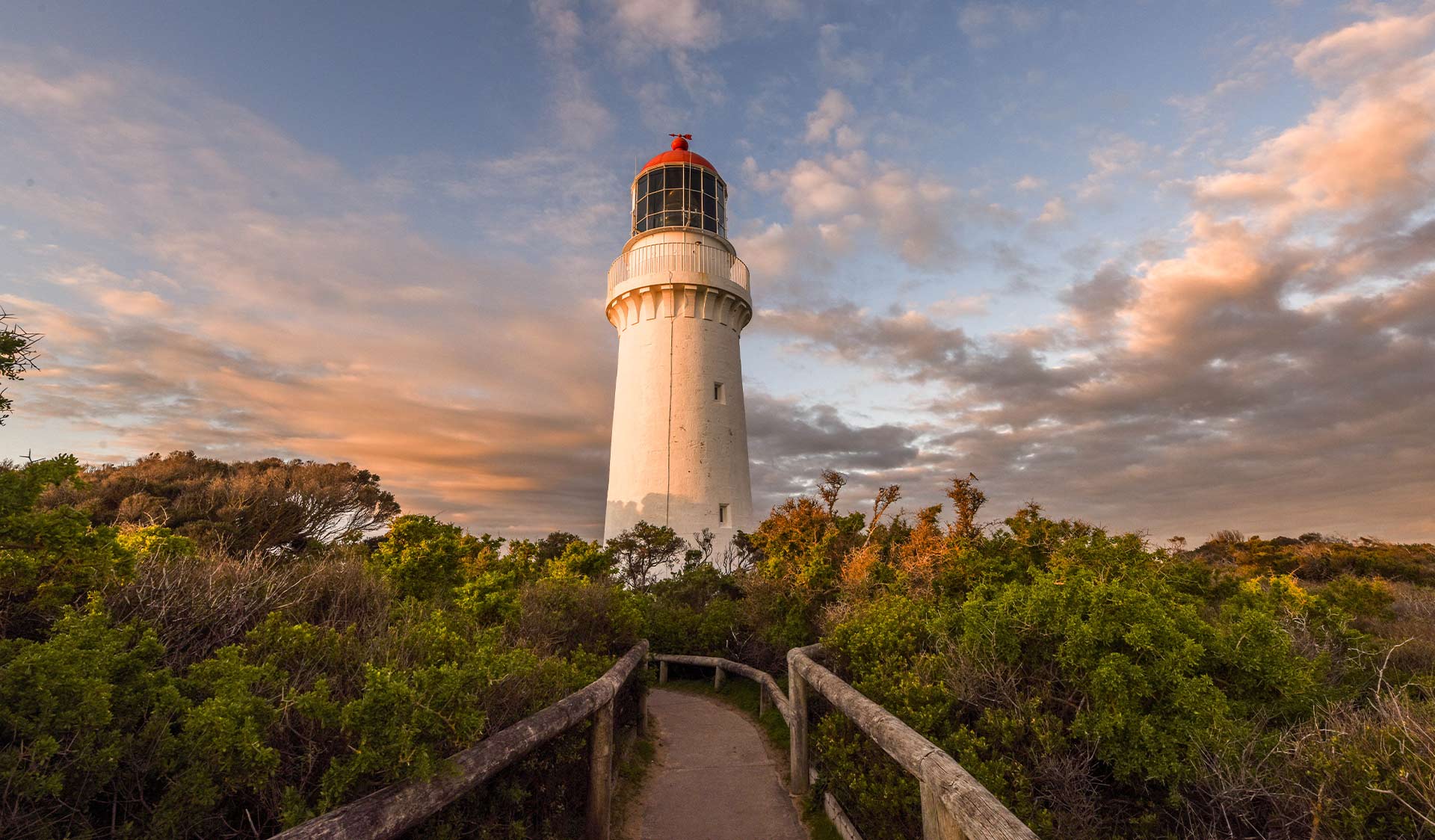 Cape Schanck Lighthouse Reserve
Perched atop dramatic cliffs, Cape Schanck offers stunning landscapes, dramatic volcanic features, unspoilt beaches and scenic walking tracks. It is also a site of rich European history, identified by the heritage listed Cape Shank Lighthouse precinct.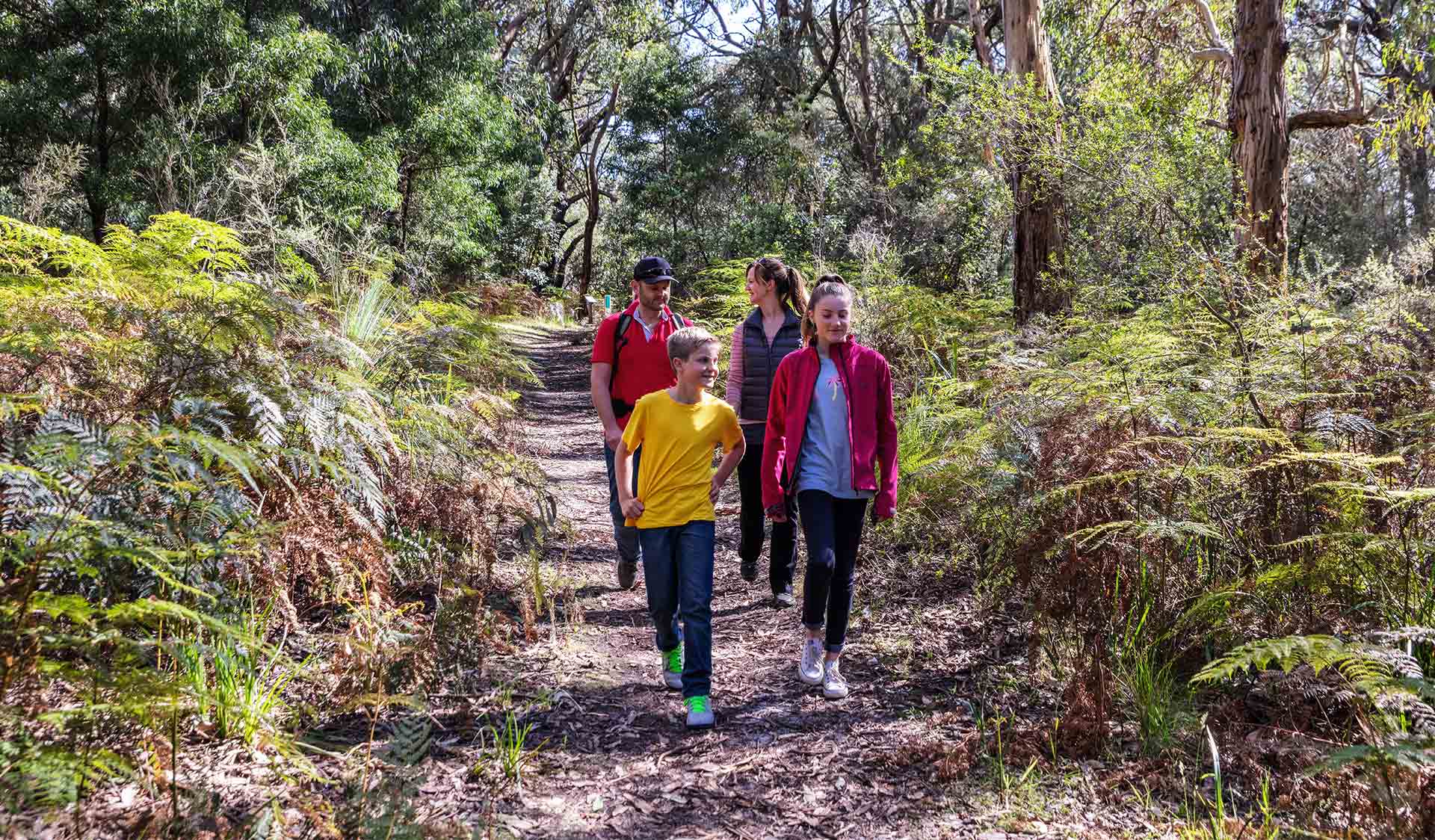 Situated between Arthurs Seat and Cape Schanck on the Mornington Peninsula and only 90 kilometres from Melbourne, Greens Bush is the largest remnant of bushland on the Peninsula. Surrounded by farmland, this island of native forest is a wildlife haven.
Rising above the Mornington Peninsula, Arthurs Seat State Park is a prominent feature in the landscape of Port Philip Bay.
Two Bays Walking Trail
This area is well known for its wildlife. Keep an eye out for:
How to get there
Two Bays Walking Trail
This walk is best completed from north to south, starting at Dromana foreshore following Latrobe Parade until the entrance to the state park at Bunurong Track. Alternatively, there are several opportunities to come on and off the trail to complete the trail in sections. The trail is well signed and marked with a unique Blue Wren symbol. Using the map, look for parking symbols to indicate areas to start or finish smaller segments.
The trailhead at Dromana and Arthurs Seat State Park are both located approximately 60km south of Melbourne via the Mornington Peninsula Freeway. The trailhead at Cape Schanck is about 100km from Melbourne.
When you're there
Download the Two Bays Walking Trail visitor guide for more information and a detailed map.
Camping
Lightwood Creek Camping Area is located on the Two Bays Walking Trail mid-way between Baldrys Crossing and Boneo Road. It is a picturesque, open, grassy area in a bush setting near Lightwood Creek, accessible only by foot.
The camping area has facilities for up to 20 people across 5 campsites, with a pit toilet and tables for cooking. Tank water is available however it's not recommended for drinking without boiling first and fires are not permitted.
Visitors can stay a maximum of two nights and while formal bookings or fees are not required, campers are advised to call 13 1963 to check with rangers on campground availability as sites are limited and can be fully occupied by Scouts or school groups.
School and large groups
School groups are required to register their trip for better safety with Parks Victoria at parkconnect.vic.gov.au at least one month in advance to help us better understand your planned visit(s) and keep you safe by organising a coordinated emergency management response with local ranger teams and government departments if required.
Event permits and bookings are not required for non-commercial groups of less than 30 persons. Commercial activities and ticketed events require an event permit or tour operator licence. For information on group options contact Parks Victoria via info@parks.vic.gov.au or 13 1963.
When to go
With longer daylight hours, fit walkers may find it possible to complete the entire 26km walk in one day. Remember to carry sufficient water for your journey as there are no drinking water taps along the way. The birdlife and wildlife are often found to be at their most active in the cooler summer mornings.
Need to know
Two Bays Walking Trail
Accessibility
Visiting a park can be more of a challenge for people with disabilities, however in Victoria there are a wide range of facilities to help people of all abilities enjoy our wonderful parks around the state.
While some track sections may be suitable, overall, the Two Bays Walking Trail is not suitable for wheelchairs and strollers due to steepness and the presence of steps, rocks and roots.
Assistance dogs are welcome in Parks Victoria parks and reserves. Entry requirements apply for parks and reserves that are usually dog prohibited, such as national parks.
Safety
There are no dedicated drinking water taps along the trail so ensure you carry sufficient drinking water for your journey.
You can maximise your enjoyment by dressing according to the weather, wearing sunscreen and insect repellent.
The trail is signed but has areas of uneven ground, loose rock, bridge crossings and is subject to natural forces that result in fallen branches and debris. Always wear suitable footwear and be aware of changing trail conditions.
How we keep it special
Help us look after Arthurs Seat State Park and Mornington Peninsula National Park by remembering the following points:
Dogs, cats, horses and motorbikes are not permitted in Arthurs Seat State Park or Mornington Peninsula National Park
Heat beads are not permitted
Please take all your rubbish home with you
Do not feed the animals
Bicycles are not permitted on walking only tracks
Pedestrians are not permitted on cycling-only tracks
Bicycles are not permitted in Greens Bush
Firearms and fires are not permitted
Camping is only permitted at Lightwood Creek Camping Area
Snakes live in the park and sometimes sunbake on the paths. Do not approach
Management Plans
The Management Plan for Mornington Peninsula National Park and Arthurs Seat State Park directs all aspects of management in the parks until the plan is reviewed. The plan was amended in September 2014 to allow for mountain bike riding in Arthurs Seat State Park and further amended in October 2016 to prohibit dog walking in Mornington Peninsula National Park.
Change of Conditions
Nature being nature, sometimes conditions can change at short notice. It's a good idea to check this page ahead of your visit for any updates.
Notices Affecting Multiple Sites

Beach access closed at Number 16 Beach

The access platform at Number 16 Beach has been closed for public safety until further notice. Assessments have revealed significant structural failures meaning it poses a significant hazard to visitors.  


Mountain bike run closed

Mountain bike run 'Crusher' - closed. This is due to extensive washing out of the trail, exposed tree roots and fallen trees.




Mornington Peninsula National Park

Lifejackets Required For Rock Fishers from March 1, 2022

A two-year trial of new laws that require rock fishers to wear a lifejacket at high-risk locations will commence on 1 March 2022.

For Mornington Peninsula National Park, this includes the following locations:

Sorrento Back Beach rocks

No. 16 beach at Rye back beach

Bushrangers Bay rocks, east of Cape Schanck

Fines apply if you don't wear a lifejacket at these sites.

Coastal Pest Predator Control Program - Mornington Peninsula National Park

Between 31/10/22 - 05/03/23 Parks Victoria will be conducting a pest predator control program in coastal sections of Mornington Peninsula National Park. An objective of the program is to reduce fox numbers to relieve predation of native wildlife, particularly vulnerable and threatened species, such as the hooded plover and white-footed dunnart, in accordance with the Flora and Fauna Guarantee Act (1988) and associated Action Statements.

The program will involve the use of para-aminopropiophenone (PAPP) and canid pest ejectors to bait foxes in strategic dune locations. The risk of PAPP to native fauna is very low.

Dogs are prohibited from Mornington Peninsula National Park. If pets are suspected of having consumed a PAPP bait during the baiting period, a vet should be consulted immediately. An antidote to PAPP (methylene blue) is available and stocked by most vets on the Mornington Peninsula.

Flinders Ocean Beach (Mornington Peninsula National Park, Mushroom Reef Marine Sanctuary)

Landslip affecting beach west of Mushroom Reef, Flinders Ocean Beach

There is a landslip affecting the beach west of Mushroom Reef, Flinders Ocean Beach (within Mornington Peninsula NP). Please do not approach the slip.

Similar trails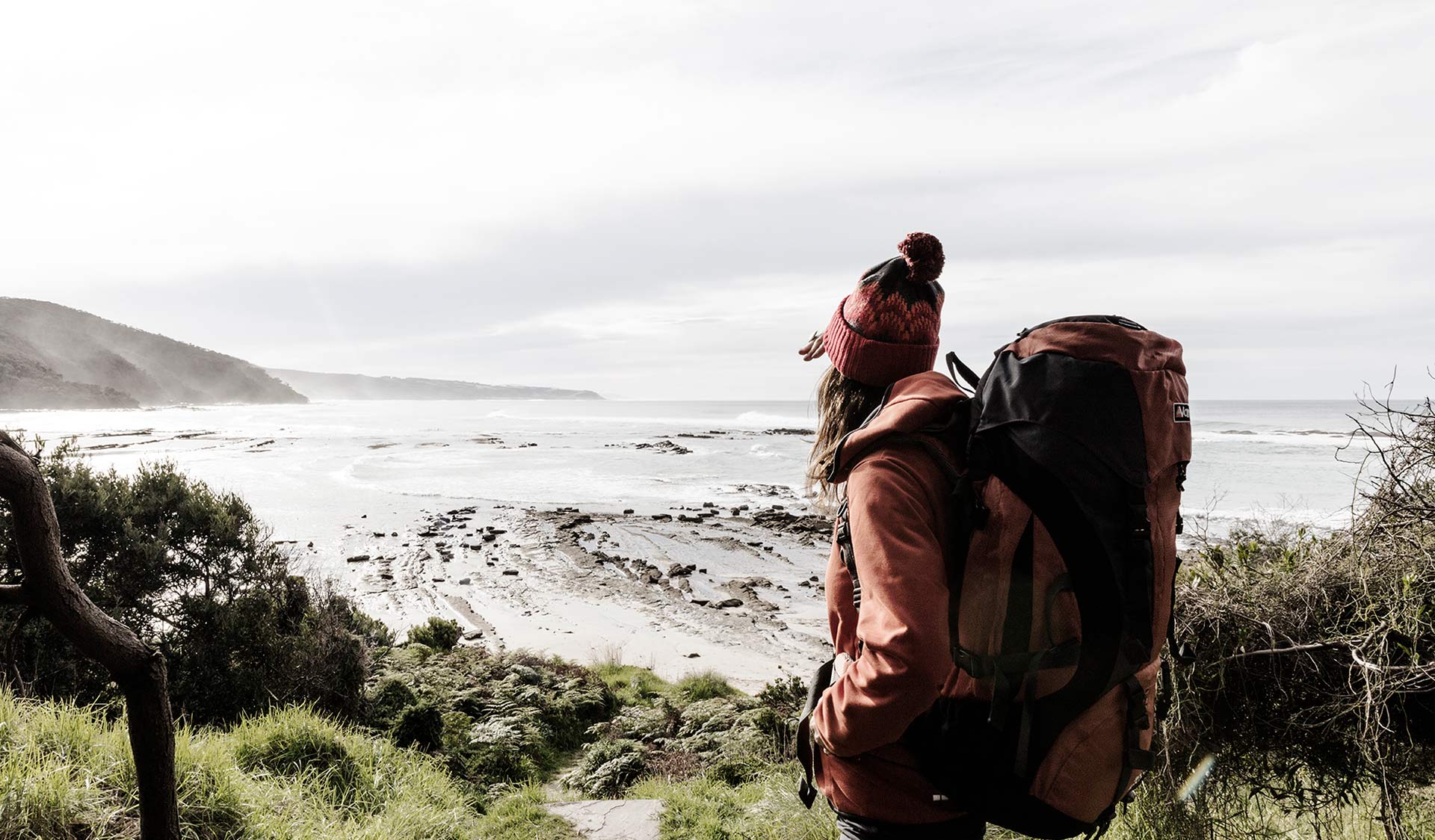 The Great Ocean Walk extends just over 100km between Apollo Bay and the Twelve Apostles near Princetown. The spectacular walk weaves its way through tall forests, coastal heathlands, wild rocky shores, river estuaries and windswept cliff-tops presenting amazing views.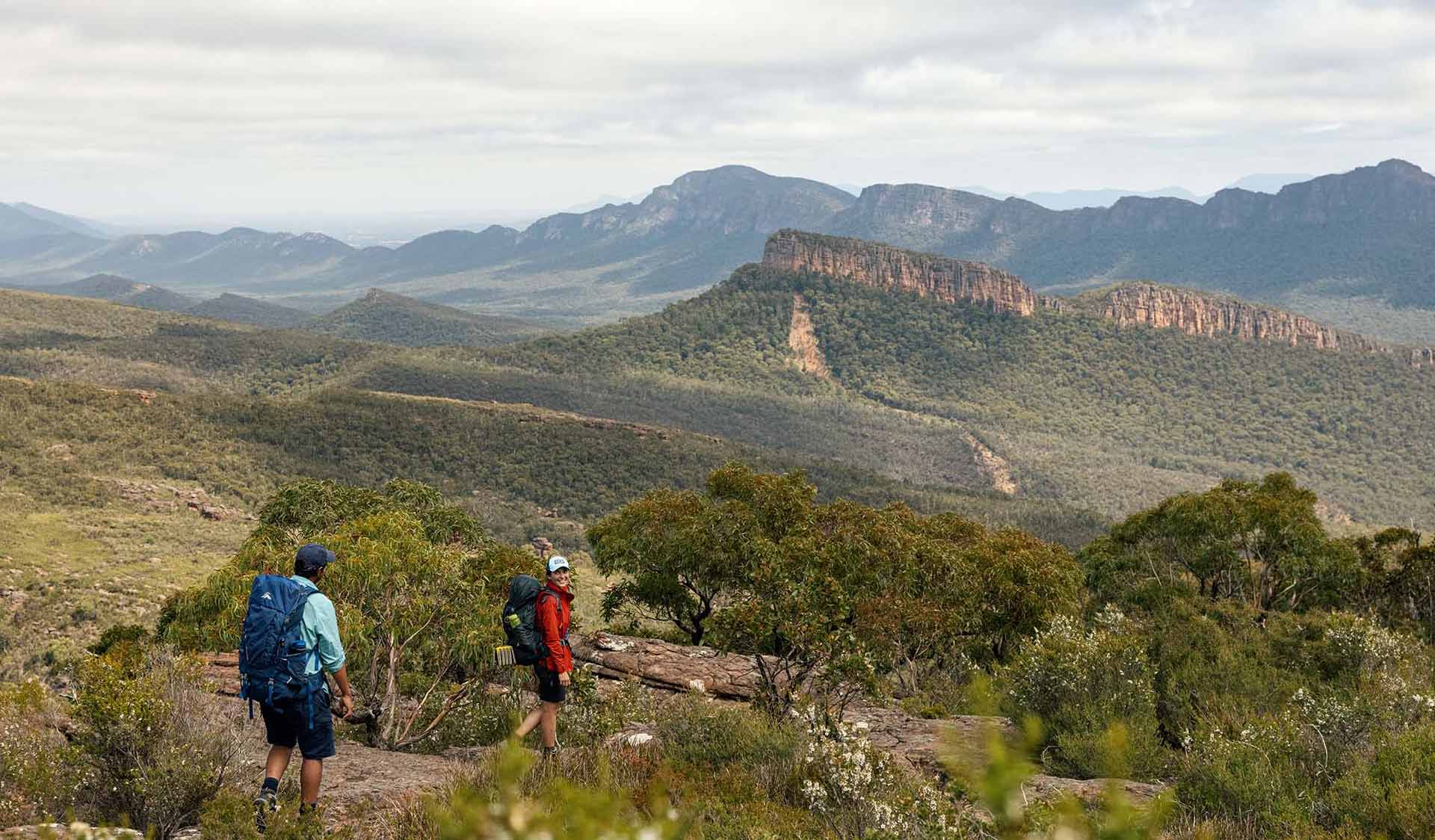 The Grampians Peaks Trail (160km) is a world-class 13-day hiking experience from Mt Zero in the north, through Halls Gap and finishing at Dunkeld. It can also be completed in shorter sections.