Explore
Mount Arapiles-Tooan State Park
Dalkaiana Wartaty Dyurrait – Welcome to Mt Arapiles. The Traditional Owners of this land; the Wotjobaluk, Wergaia, Jadawadjali, Jaadwa and Jupagalk people welcome you.
Mt Arapiles is a spectacular feature, rising sharply from the Wimmera plains. It is one of Australia's premier rock climbing areas, and a valuable nature conservation area, with 14% of the State's flora species represented in the Mt Arapiles section alone.
Things to do in the area
Walking
Circuit Walk
15.0km, 3 hrs one way Starting and ending at Centenary Park Campground & Picnic Area, this mostly flat walk follows the park boundary. The walk takes in a changing landscape, views of the region and has access to the Mt Arapiles Summit via short but steep paths at the end of the circuit.
Gully Loop Walk
4.0km, 1 hr one way The Pharos Gully and Central Gully walking tracks can be combined into a loop walk and feature some spectacular views.
Nature Walk
1.0km, 30min circuit This short track on the Summit Road features spring wildflowers on an easy walk.
Rock climbing
Mt Arapiles is a world-renowned rock climbing area. More than 3000 routes have been established on the many cliffs, crags and pinnacles, presenting variety and challenge for all levels of experience. A range of commercial climbing guides available from the Natimuk Post Office or the Arapiles Mountain Shop in Natimuk.
Climbing should only be undertaken by climbers with experience and training, or under the guidance of skilled and qualified instructors.
Mt Arapiles is much loved and sees many thousands of visitors annually. Please support the long-term sustainability of climbing here by respecting the park and other visitors. Stay on existing tracks, avoid damaging vegetation and the rock, and respect cultural sites.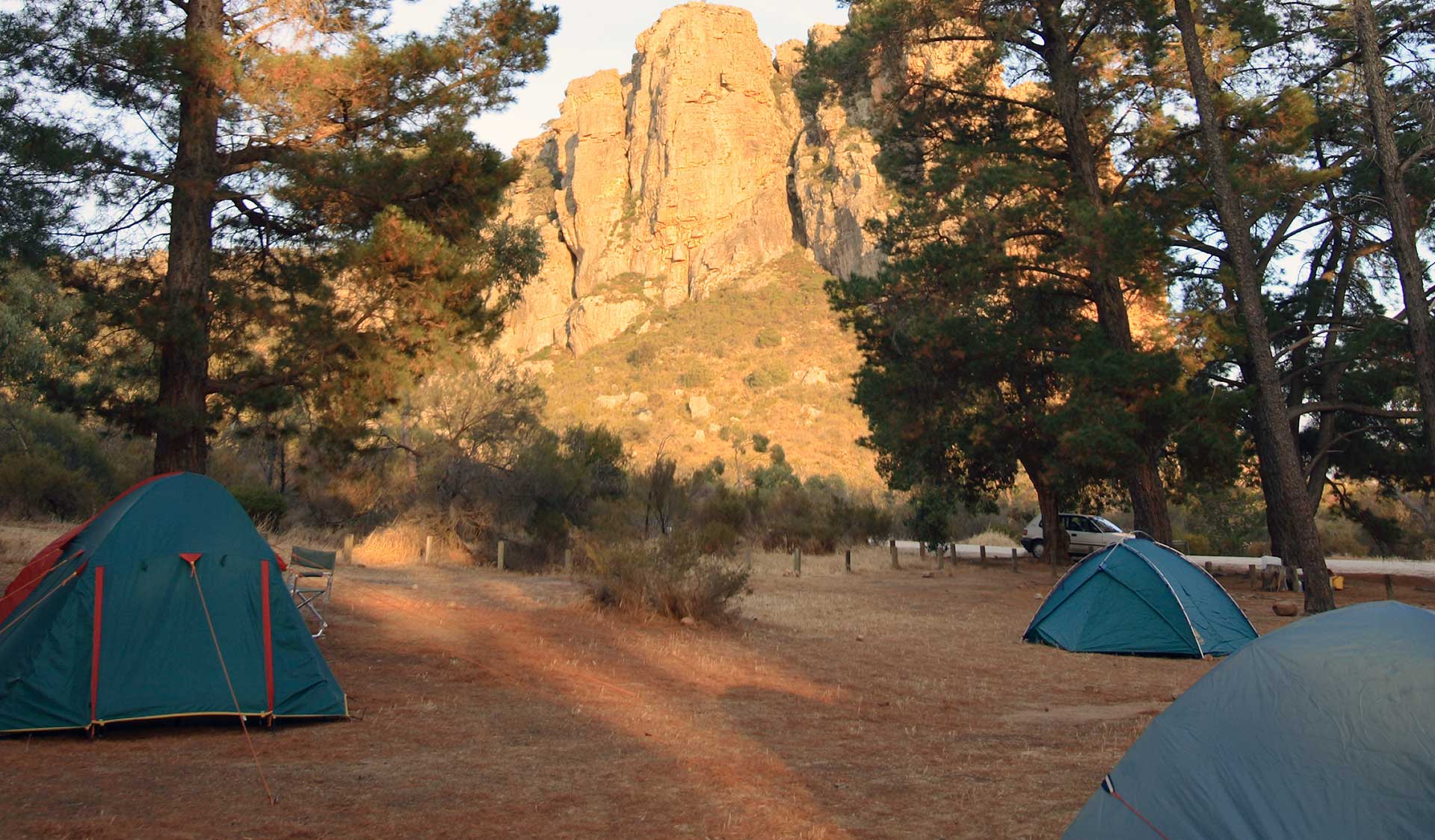 Centenary campground is the only place to camp in Mount Arapiles-Tooan State Park. There are three camping areas withing the campground.
Learn more about the culture, history and contemporary aspirations of the Aboriginal Traditional Owners of our land.
Get up close and personal with some of Australia's shy native wildlife or look up to spot tree-dwelling mammals and flocks of colourful birds,
Tours in the area
Bushwalking, four-wheel driving, horse riding, kayaking, rock climbing and mountain biking are just some of the many activities you can experience in Victoria's parks.
If you want to try something new or meet some like-minded people on your next visit to a park, contact a licensed tour operator.
Parks Victoria licenses tour operators who are experts in these activities and more. They will help you get the most out of your visit.
View all local tours
Nearby Events
No results
There are no results matching your criteria.
How to get there
Mount Arapiles-Tooan State Park
Mt Arapiles-Tooan State Park is 334km northwest of Melbourne, with access via the Wimmera Highway and Centenary Park Road. The nearest town supplies are Natimuk and major town is Horsham.
When you're there
Download the Mt Arapiles-Tooan State Park visitor guide for more information about the park and the plethora of experiences to be had within its borders.
Camping & accommodation
Three camping areas are located in Centenary Park, Mount Arapiles. A combination of non-flush and flush toilets are available for campers to use. The site has communal fireplaces at some sites in the camping areas.
Check availability
Need to know
Mount Arapiles-Tooan State Park
Accessibility
Visiting a park can be more of a challenge for people with disabilities, however in Victoria there are a wide range of facilities to help people of all abilities enjoy our wonderful parks around the state.