At Ladies Bath Falls, water cascades into a perfectly clear pool of water, while at Upper and Lower Eurobin Falls, Crystal Creek spills spectacularly over a formidable granite escarpment. With only a short walk to see all three, this is an excellent half-day trip if you are holidaying near Bright.
Ladies Bath and Eurobin Falls is one of the first places you can stop on your way up Mount Buffalo. In the early 20th century, travellers would stop here to cool off on their way to the Mount Buffalo chalet. The men and women would separate and Ladies Bath is where the women would come to dip their toes in the refreshing waters of Crystal Brook.
Although the waterfall doesn't look very big, this creek has formed the huge chasm you will see up at the top of Eurobin Falls.
This is a great place for a picnic and, in the summer, to escape the heat of the Ovens and Buckland valleys.
If you are cooling off at Ladies Bath Falls, be careful walking over the rocks as they can be very slippery.
As waterfalls are within a natural environment, you may encounter hazards. Follow our water safety advice to make sure your day out at Ladies Bath and Eurobin Falls is a safe and enjoyable one.
Ladies Bath and Eurobin Falls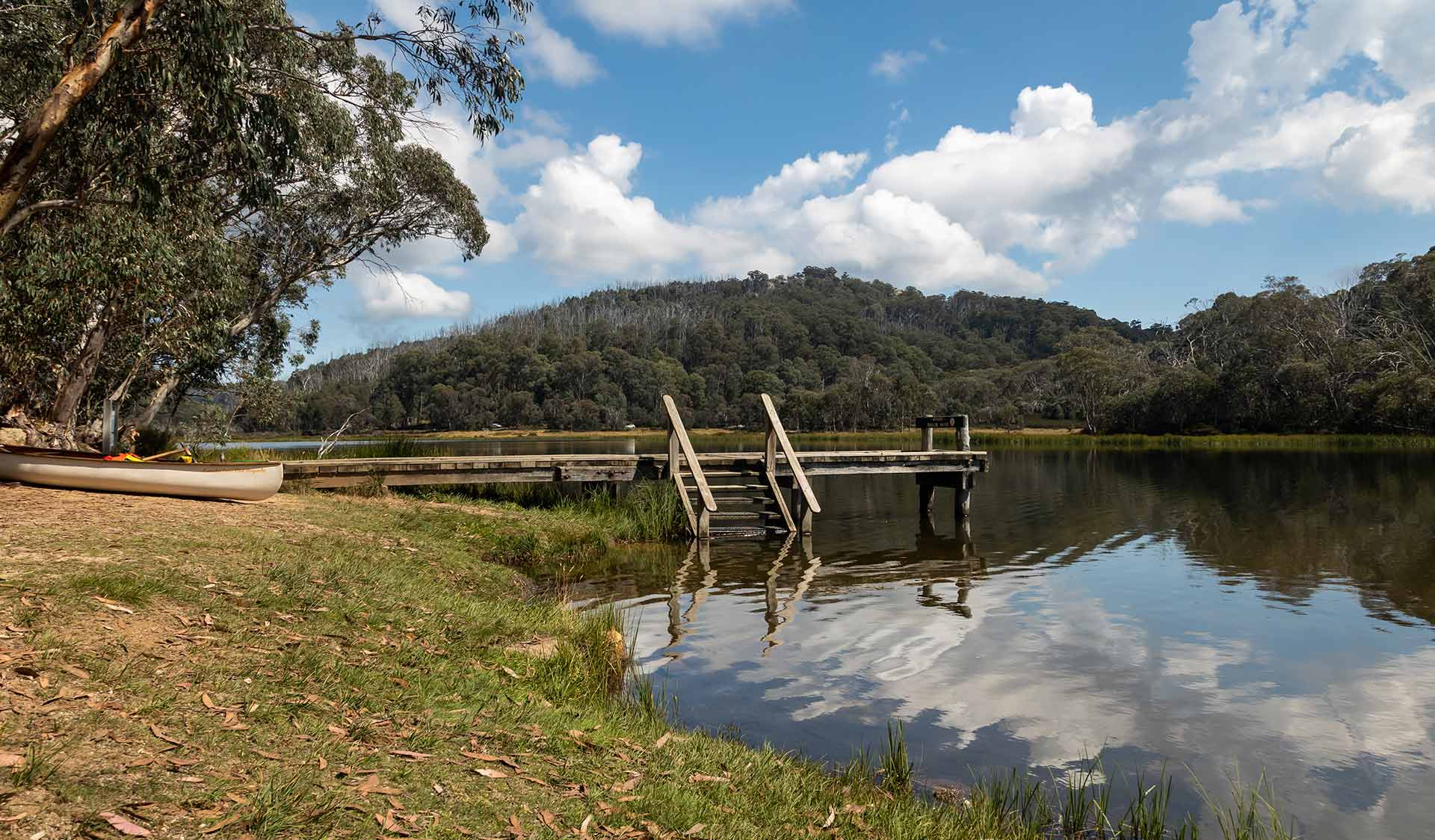 Discover magnificent waterfalls and remote alpine landscapes while camping within beautiful Snow Gum woodlands beside Lake Catani in Mount Buffalo National Park.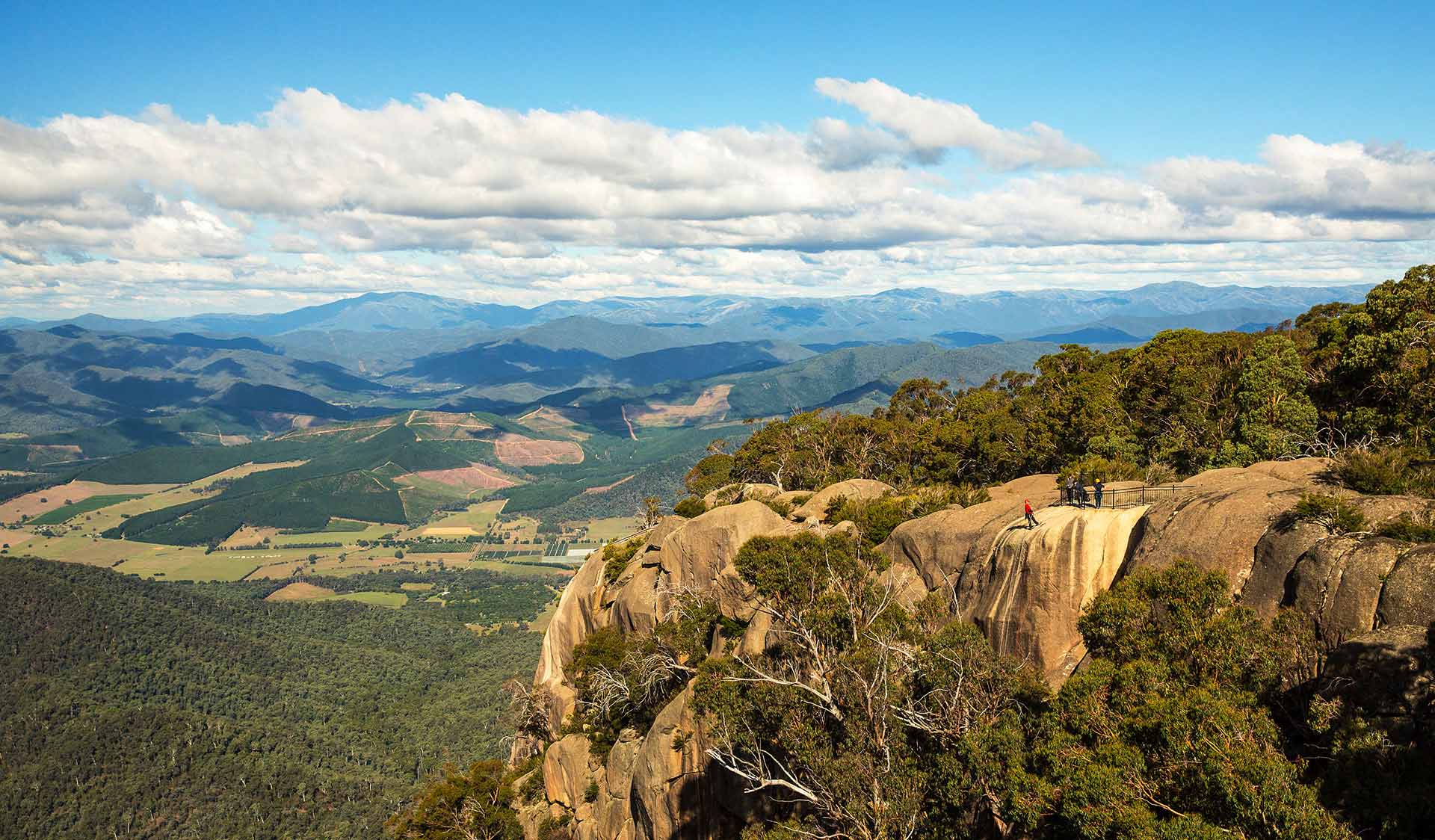 Home to historic Mount Buffalo Chalet, the Gorge is perched on 200m sheer cliffs and commands fantastic views over the Alps.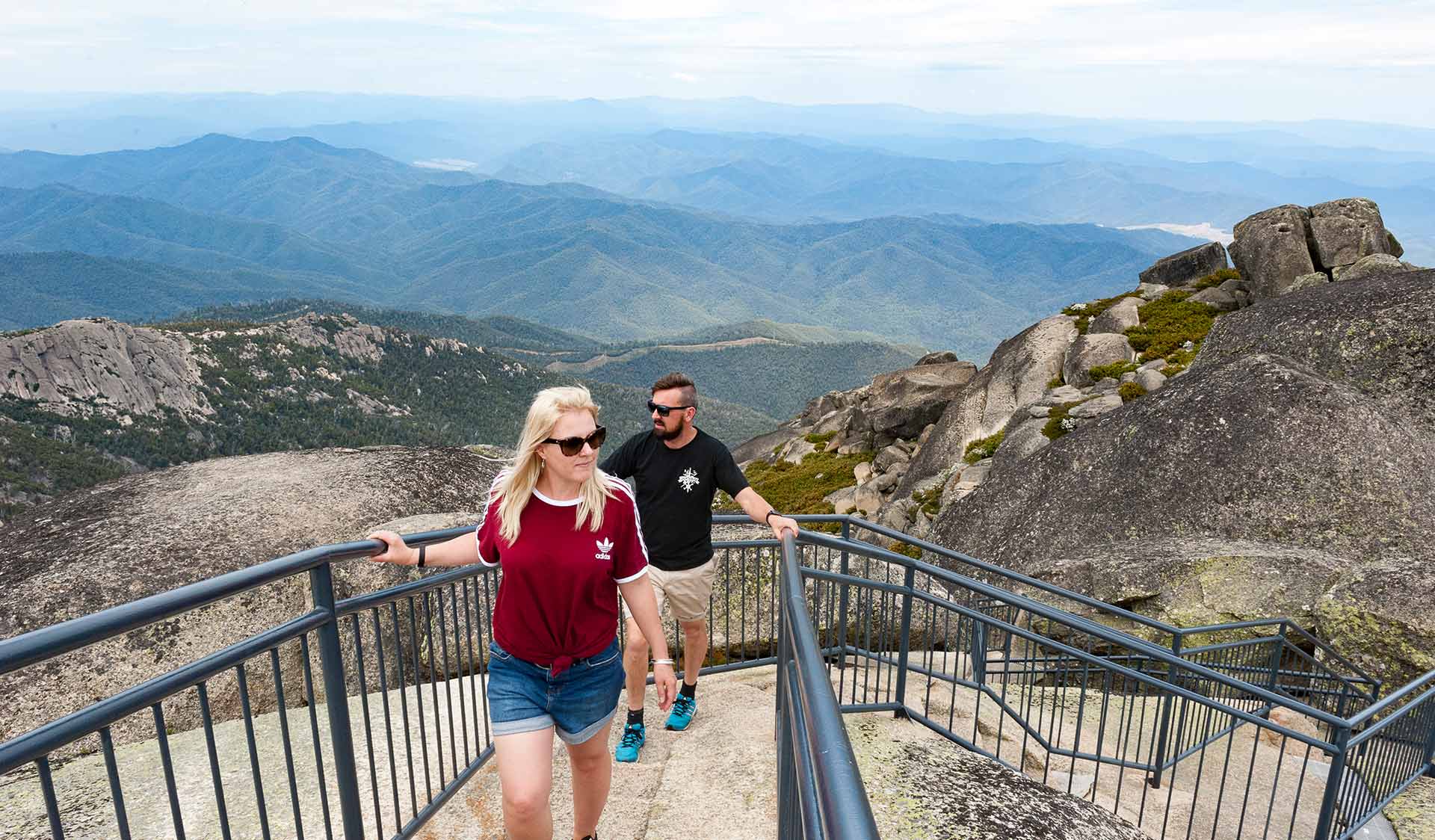 Enjoy a picnic with a view at The Horn before climbing to the highest point in Mount Buffalo National Park and surveying the folded mountains of the Great Dividing Range stretching into the distance.
How to get there
Ladies Bath and Eurobin Falls
Mount Buffalo is 325 kilometres. or three and a half hours' drive, northeast of Melbourne along the Hume Highway. Either take the Snow Road exit just before Wangaratta or continue along the highway to the Great Alpine Road (B500) exit. There is roadside parking at the trailhead for Eurobin Falls.
When you're there
There is one trail to access both Ladies Bath and Eurobin Falls. Departing from a small roadside carpark, the Eurobin Falls Track climbs past the Ladies Bath Falls and onto Lower Eurobin Falls, then continues up to the base of the Upper Falls. Please remain on the track for your own safety.

Download the Mount Buffalo National Park visitor guide before your visit.
Need to know
Ladies Bath and Eurobin Falls
Accessibility
Visiting a park can be more of a challenge for people with disabilities, however in Victoria there are a wide range of facilities to help people of all abilities enjoy our wonderful parks around the state.
Assistance dogs are welcome in Parks Victoria parks and reserves. Entry requirements apply for parks and reserves that are usually dog prohibited, such as national parks.
Change of Conditions
Nature being nature, sometimes conditions can change at short notice. It's a good idea to check this page ahead of your visit for any updates.
Mount Buffalo National Park

Planned aerial shooting operations targeting deer - Mount Buffalo NP

Parts of the Park will be closed during these dates while aerial shooting operations targeting deer are undertaken.

14-18 November 2022

21-25 November 2022

8-12 May 2023

29 May-2 June 2023

5-9 June 2023

See attached map for details.

Attachments: Mt Buffalo Aerial Shooting Information (430KB)

What's On at Mount Buffalo? Activities for Junior Rangers and adults

This summer Mt Buffalo National Park has a range of activities on offer for children and adults. Follow the links below for information on the Junior Ranger activities that are taking place near Lake Catani and Ranger led heritage tours at the Mt Buffalo Chalet.




Places are limited and online registration is essential.

Notices Affecting Multiple Parks

Ground shooting operations targeting deer

Ground shooting operations targeting deer will be undertaken in this Park from December 2022 to June 2023.

The park will remain open for visitors during ground shooting operations.

For more information about deer control to protect biodiversity, please visit this link.


Ground shooting operations targeting deer

Ground shooting operations targeting deer will be undertaken in these Parks from December 2022 to June 2023.

Some access restrictions may apply. Please observe local signage.




Alpine National Park (Bogong High Plains, Mount Bogong, Dinner Plain, Dargo High Plains, Foothills and Southern Alps)

Buchan Caves Reserve

Burrowa-Pine Mountain

Cape Conran Coastal Park

Cabbage Tree Creek Flora Reserve

Errinundra National Park

Howitt-Wellington Plains

Lake Tyers State Park

Mount Baw Baw National Park

Mount Buffalo National Park

Mount Mittamatite Regional Park

Mount Mitta Mitta Flora Reserve

Mount Lawson State Park

Mount Granya State Park

Mountain Creek Education Area

Pheasant Creek Flora Reserve

Wabba Wilderness Park

Wilsons Promontory National Park

Lake Catani Campground (Mount Buffalo National Park)

Purchasing of firewood from Lake Catani Campground

The honesty system for the payment of firewood is no longer in place.

Firewood bags can be purchased at 11am only each day from a Ranger in the campground.

If there are volunteer camp hosts staying at Lake Catani Campground (in the canvas tent next to the firewood shed), firewood can be purchased between 9-10am and 4-5pm from the volunteer camp host. However, do not rely on a camp host being onsite to assist with the purchase of firewood as there are periods of time where we don't have volunteers in place.

If you aren't able to be in the campground at 11am please bring your own firewood from home.

Firewood can be purchased for $15 per bag. CASH ONLY.

Note: the collection of firewood within a National Park is not allowed.