If you only have a short time to spend in Mount Buffalo National Park, the Gorge is the place to visit. Home to historic Mount Buffalo Chalet, the Gorge is perched on 200m sheer cliffs and commands fantastic views over the Alps. Enjoy one of the easy but rewarding walks and bring a picnic.
The Gorge is a perfect daytrip for people holidaying near Bright. There are picnic facilities and toilets, including accessible facilities for disabled visitors. And there's plenty to do, with a number of viewpoints from which to enjoy the stunning Alpine panoramas, the chalet and a range of walks. Some of the walks have benches for rest stops, making the Gorge an excellent place for people who are less mobile.
Things to do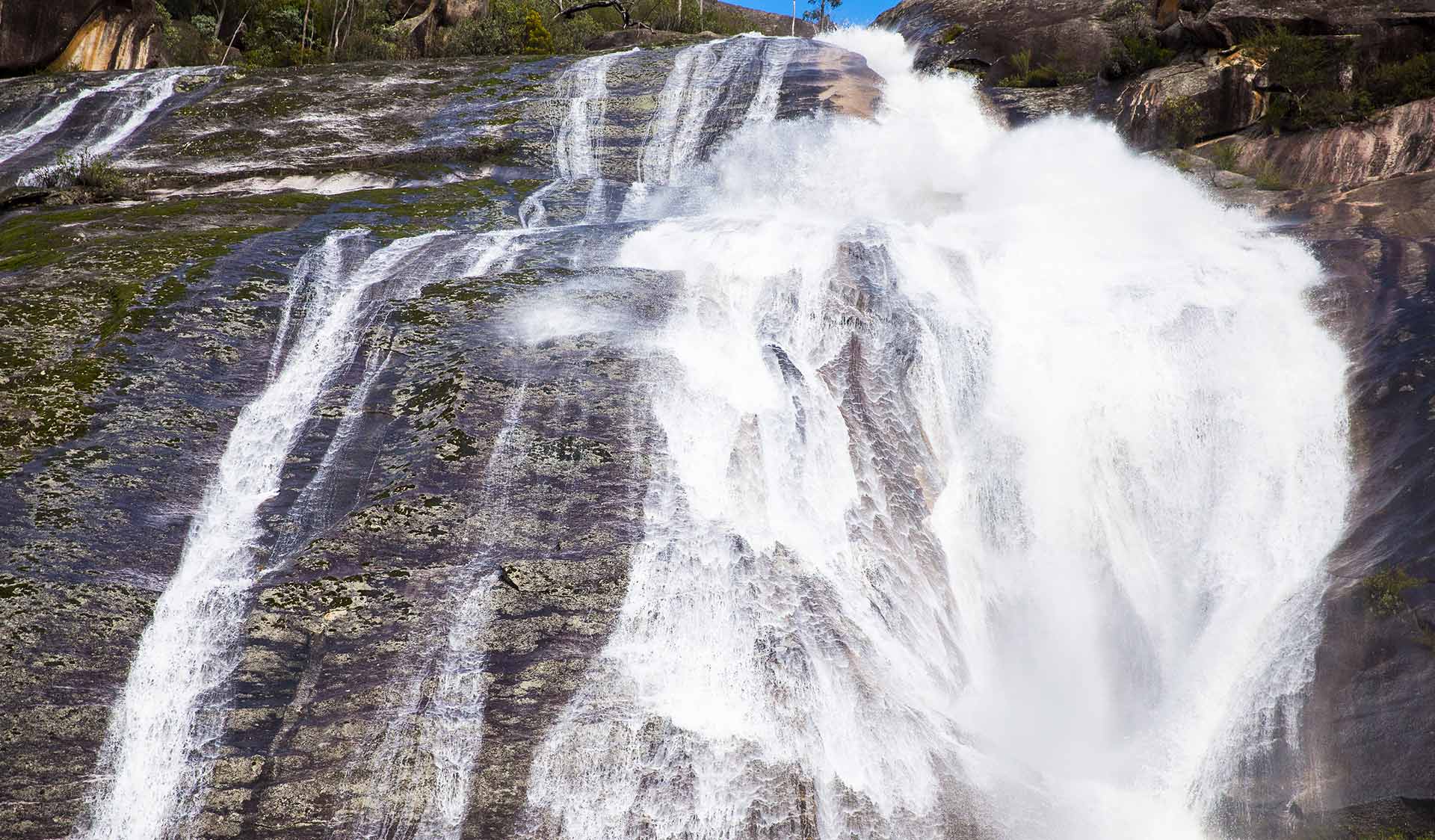 At Ladies Bath Falls, water cascades into a perfectly clear pool of water, while at Upper and Lower Eurobin Falls, Crystal Creek spills spectacularly over a formidable granite escarpment.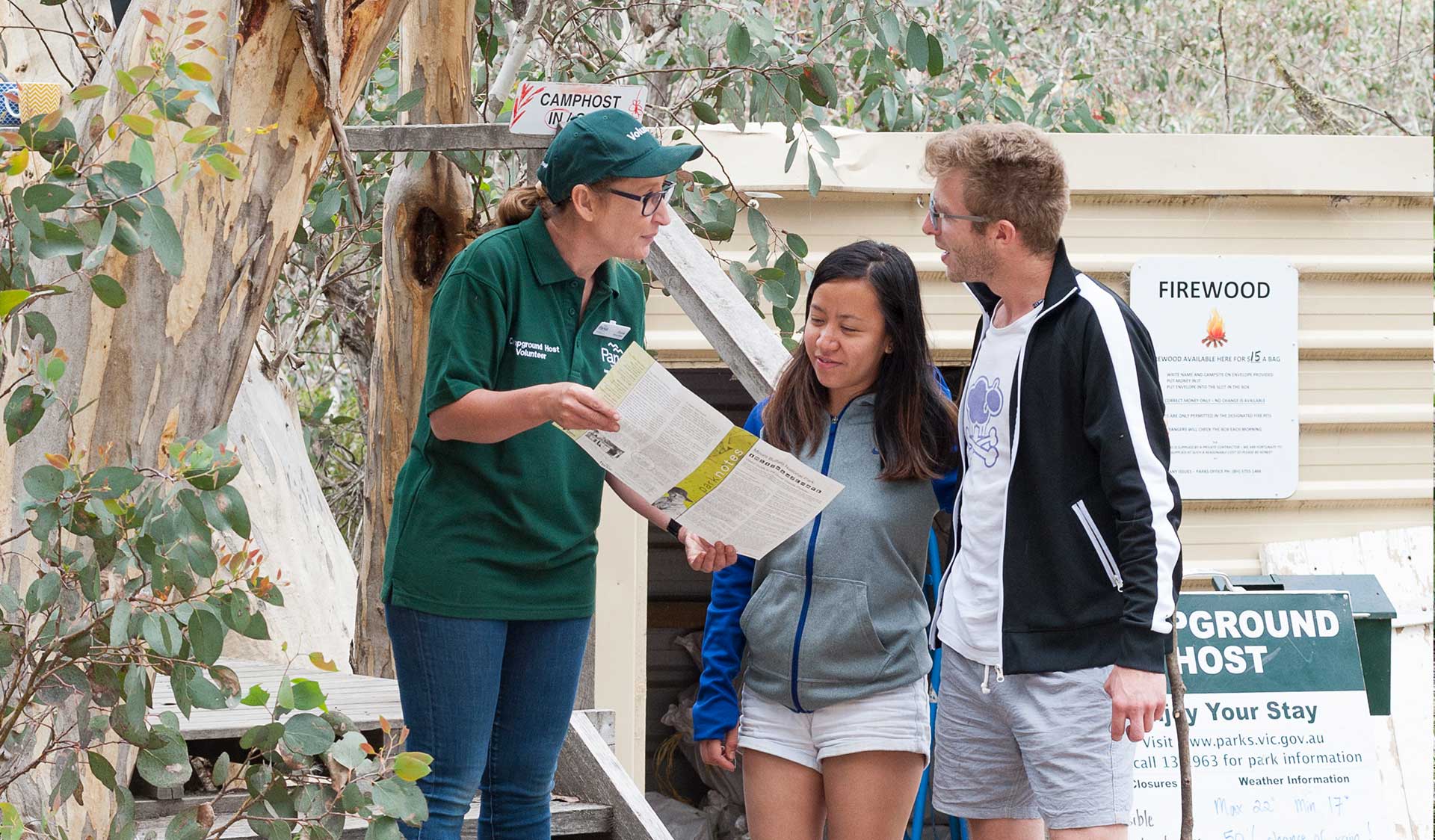 Discover magnificent waterfalls and remote alpine landscapes while camping within beautiful Snow Gum woodlands beside Lake Catani in Mount Buffalo National Park.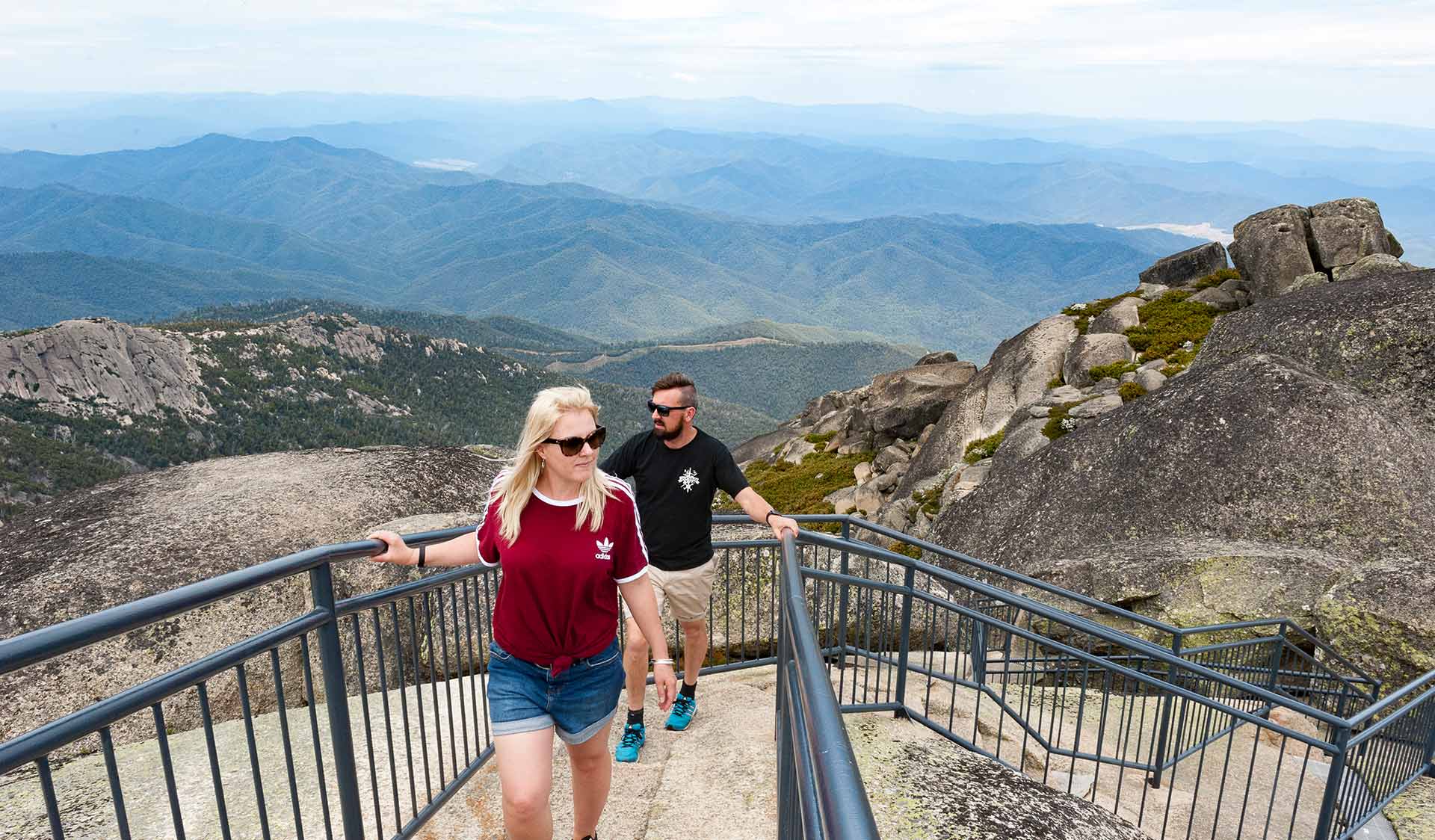 Enjoy a picnic with a view at The Horn before climbing to the highest point in Mount Buffalo National Park and surveying the folded mountains of the Great Dividing Range stretching into the distance.
How to get there
The Gorge and Mount Buffalo Chalet
Mount Buffalo is 325 kilometres, or three and a half hours' drive, northeast of Melbourne along the Hume Highway. Either take the Snow Road exit just before Wangaratta or continue along the highway to the Great Alpine Road (B500) exit. Watch out for native animals, especially early in the morning and at dusk. Take care driving during winter. The main road is often snow covered. Snow chains must be carried and fitted when and where directed by road signs during the declared snow season.
When you're there
During winter the carpark at the Gorge Day Visitor Area is closed. Parking is instead available at the Mount Buffalo Chalet. From here there is a short walk to reach the Gorge lookouts and toilets. Download the Visitor Guide for more information.
Mount Buffalo Chalet
Built in 1910 by the Victorian Government, the Mount Buffalo Chalet is listed in the Victorian Heritage Register for its architectural, historical and social significance.

Today the building is only open for occasional guided tours. However, you can appreciate the grandeur of the building from the outside and explore the terraced European Garden which in spring time is a mass of stunning colour.

Gorge Heritage Walk - 2.5km, 1 hour return
This walk starts in the Gorge Day Visitor Area opposite the Mt Buffalo Chalet and leads to many spectacular lookout points. Interpretative signs describe the area's history and beauty through the eyes of local pioneer, Guide Alice.

Lake Catani Track - 4km, 1.5hr return
This easy track links the Gorge, campground and Lakeside Day Visitor Areas through stands of Alpine Ash and is suitable for cycling. There is also a loop walk around Lake Catani, which will add 3km or an hour to your walk.

View Point Walk - 4km, 2hr return
Access to this walk can be from the Gorge Catani Track or Underground River Track. There are great views of the Buckland Valley from the lookout.

The Gorge is also popular for more adventurous pursuits such as rock climbing, hang gliding and trail running. There is a hang gliding ramp just past the Echo Point Lookout at The Gorge Day Visitor Area.
Need to know
The Gorge and Mount Buffalo Chalet
Accessibility
The Gorge has a number of features, including accessible toilets, that make it suitable for people with limited mobility.
Change of Conditions
Nature being nature, sometimes conditions can change at short notice. It's a good idea to check this page ahead of your visit for any updates.
Notices Affecting Multiple Parks

Campground closure

As directed by the Chief Health Officer all campsites, camping grounds and caravan parks closed from midnight 25 March 2020.

People can continue to live on a closed caravan park or camping ground if it is registered as their primary place of residence or if they are staying in caravan parks as interim accommodation where

their primary residence is not available. For further information go to parks.vic.gov.au/COVID19

Mount Buffalo National Park

Areas of Mount Buffalo National Park closed due to fire

The majority of Mount Buffalo National Park has re-opened. However, the following areas remain closed until further notice: Dicksons Falls; Back Wall; South Buffalo; Mollisons Galleries Track at Eagle Point; Rocky Creek Track south of Macs Point; and Rocky Creak camping area.