Raymond Island Gippsland Lakes Reserve is one of the jointly managed parks within Gippsland. The Joint Management agreement recognises the fact that the Gunaikurnai people hold Aboriginal Title and maintain a strong connection to Country. As custodians of the land, they are the rightful people who speak for their Country. These parks and reserves are cultural landscapes that continue to be part of Gunaikurnai living culture. For more information on Joint Management, please visit the Gunaikurnai Traditional Owner Land Management Board and the Gunaikurnai Land and Waters Aboriginal Corporation.
Gunaikurnai people lived and camped on this Island, which they called Gragin, for thousands of years. It was particularly important for collecting swan eggs, and evidence of scar trees, burial sites and artefact scatters have been found in the area. It is in a strategic location in the lagoon system, providing a line of sight to many of the other important places on the water. Our old people would have used this place to keep an eye on what was going on in the surrounding area.
Gunaikurnai Creation Story
The story of our creation starts with Borun, the pelican, who traversed our Country from the mountains in the north to the place called Tarra Warackel in the south.
As Borun travelled down the mountains, he could hear a constant tapping sound, but he couldn't identify the sound or where it was coming from. Tap tap tap. He traversed the cliffs and mountains and forged his way through the forests. Tap tap tap. He followed the river systems across our Country and created songlines and storylines as he went. Tap tap tap.
He walked on alone and when he got down into the deeper inlets near Tarra Warackel (now known as Port Albert) he put down his canoe and, much to his surprise, there was a woman in it. She was Tuk, the musk duck. Borun was very happy to see Tuk, and they married and became the mother and father of the five clans, the creators of Gunaikurnai.
The creation story is about the origin of our people. It helps to explain the bonds we have to our Country and reminds us that our ancestors are still watching over the landscape today.
It is important for us to be able to walk in their footsteps and follow their journeys from thousands of years ago – it is a powerful, spiritual aspect to our cultural heritage, and fundamental to our recognition and respect. We are guided by the spirits of our ancestors when we walk through this Country.
Preserving the past is important to better manage our cultural landscapes. Patrick Mullett is a proud Gunaikurnai man working on Country to manage Aboriginal cultural heritage. He assesses sites and provides advice under the Aboriginal Heritage Act 2006 on how to best protect cultural heritage.
Experience more Aboriginal Cultural Heritage in parks
Victoria's parks provide a range of guided and non-guided experiences that provide unique insights into Aboriginal cultural values and stories.
How to get there
Cultural Heritage
How we keep it special
The Gunakurnai and Victorian Government Joint Management Plan provides a description of joint management strategies and actions that are specific to Raymond Island Gippsland Lakes Reserve.
Need to know
Cultural Heritage
Accessibility
Visiting a park can be more of a challenge for people with disabilities, however, in Victoria there are a wide range of facilities to help people of all abilities enjoy our wonderful parks around the state. Parks Victoria provides a range of a equipment, including all-terrain and beach wheelchairs, facilities, accommodation and accessibility information and programs to help you plan and enjoy your visit to Victoria's parks.
Assistance dogs are welcome in Parks Victoria parks and reserves. Entry requirements apply for parks and reserves that are usually dog prohibited, such as national parks.
Things to do in the area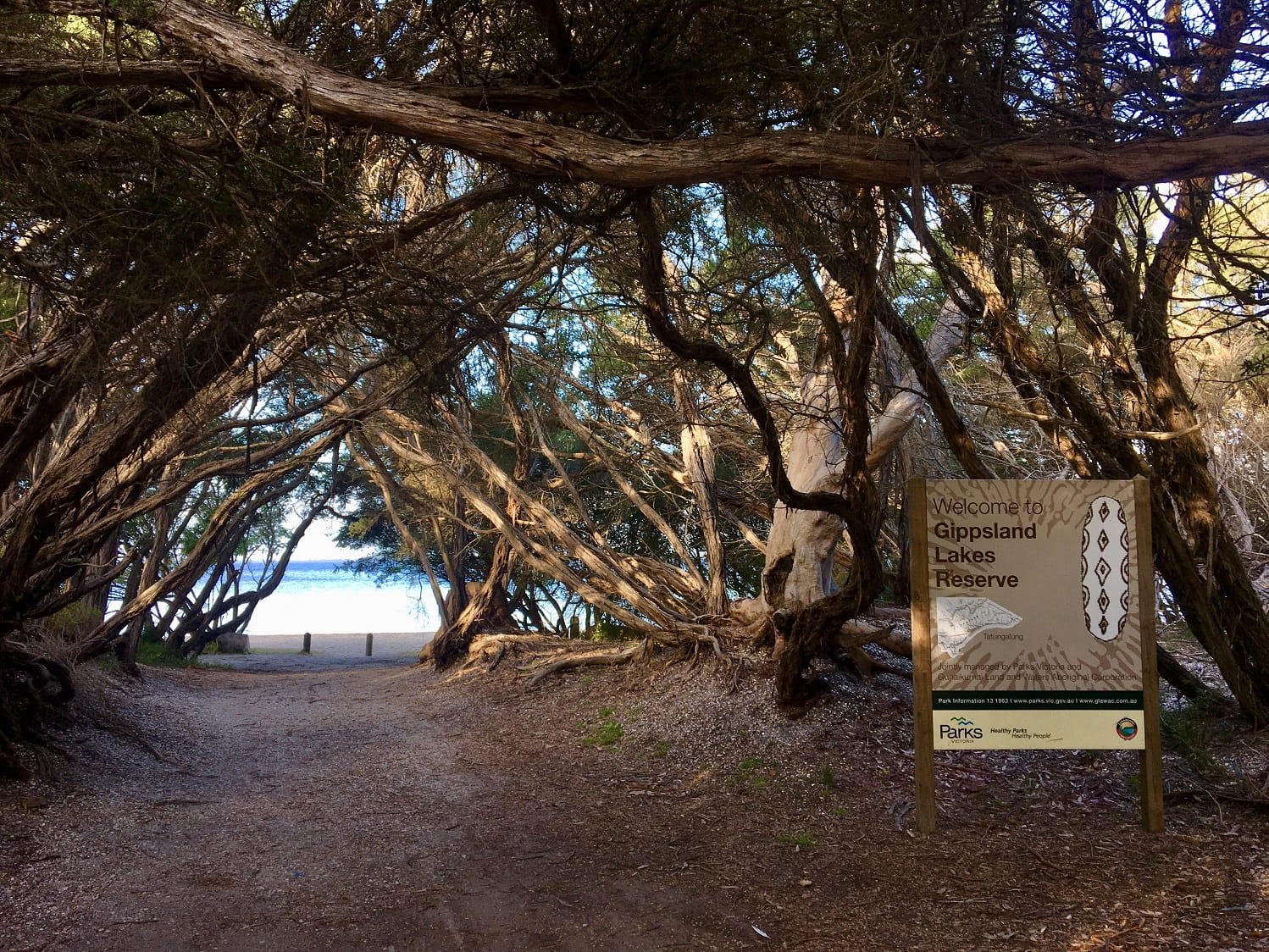 Enjoy a Picnic
Have a picnic at either The Old School Site at the corner of Centre Rd and Gravelly Point Rd, or one of the sites along the foreshore of Gravelly Point Rd, where you can enjoy a swim in the expansive Lake Victoria section of the Gippsland Lakes.
Explore on foot or by bike
Take a walk through the many tracks within the park. Enjoy the many wildflowers, orchids and birds, or try your luck at spotting the Gippsland Lakes Burrunun dolphin. Hire a 4-wheel family bicycle, or bring your own and tour the Island.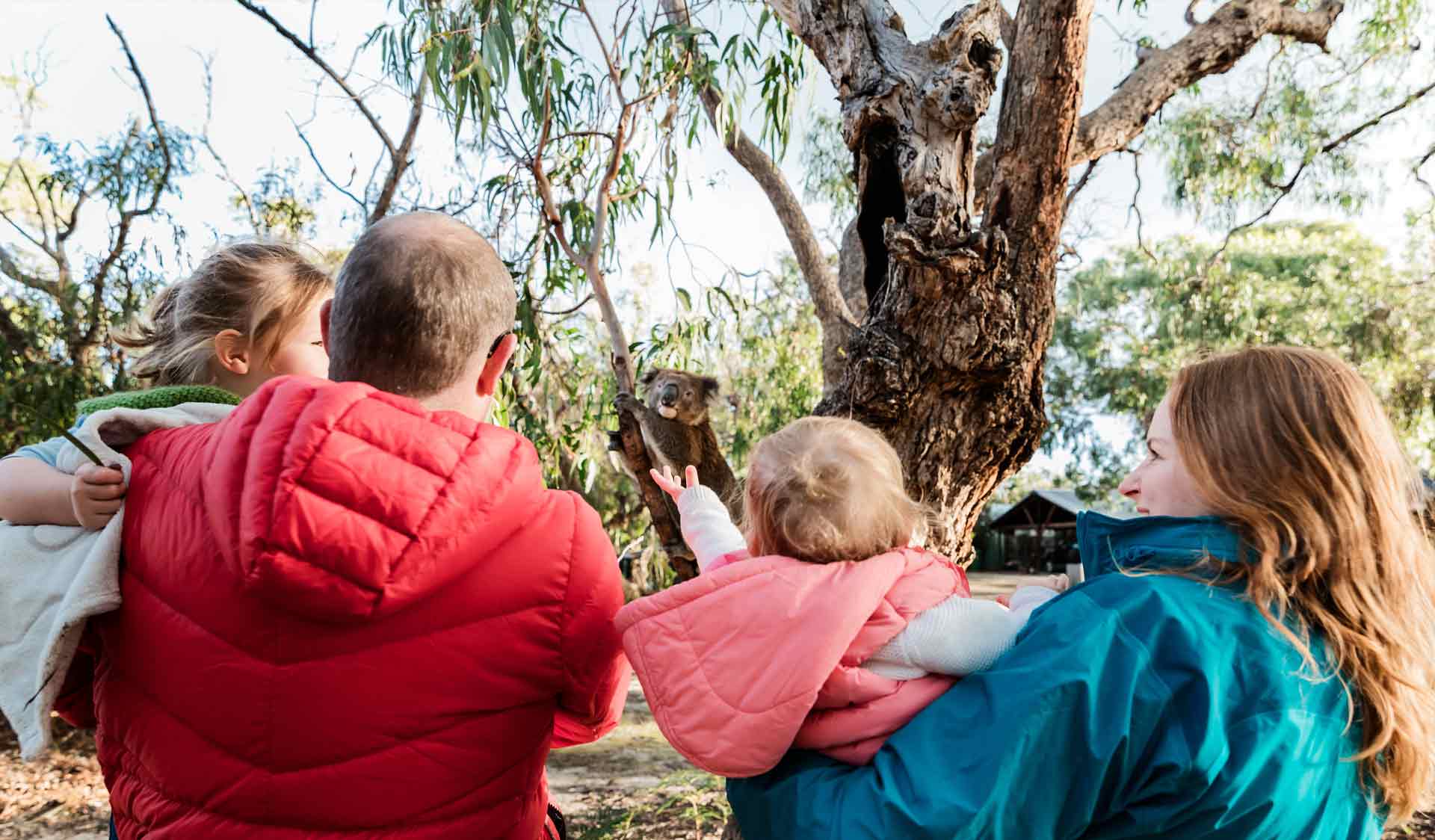 Koala Trail Loop
Walk the Koala Trail loop and see how many koalas you can spot. Raymond Island is well known for its large koala population, and is one of the few places in Victoria at which you are almost guaranteed to see at least one koala during your visit.