Explore
The Lakes National Park
The Lakes National Park is one of the jointly managed parks within Gippsland. The Joint Management agreement recognises the fact that the Gunaikurnai people hold Aboriginal Title and maintain a strong connection to Country. As custodians of the land, they are the rightful people who speak for their Country. These parks and reserves are cultural landscapes that continue to be part of Gunaikurnai living culture. For more information on Joint Management, please visit the Gunaikurnai Traditional Owner Land Management Board and the Gunaikurnai Land and Waters Aboriginal Corporation.
The Lakes National Park is a peaceful bushland retreat in Central Gippsland consisting of the peninsula of Sperm Whale Head, Rotamah and Little Rotamah Islands. Fringed by the tranquil waters of Lake Victoria and Lake Reeve, the National Park provides a quintessential paradise for lovers of nature. Swim in the pristine lakes, walk through the remote bushland trails and camp in comfort at the secluded, family-friendly Emu Bight Campground - where local kangaroos, echidnas, wombats and koalas eagerly await meeting you.
On Sperm Whale Head you will find countless chances to immerse yourself in the Australian bush – from lakeside walking tracks, to elevated viewing platforms which allow you to cast your eyes across the captivating and picturesque vista that is Lake Reeve. This very lake is part of a system of wetlands of international significance for migratory birds - so be sure to pack your binoculars and field guides! For those more botanically inclined, The Lakes National Park is also known to be home to a variety of rare orchids and coastal flora.
Further along the Peninsula you will discover secluded picnic areas, idealistic fishing spots and jetties to set sail into the blissful waters of Lake Reeve and Lake Victoria. From here, you can sail over to Rotamah Island, where you will be taken by a tranquil and peaceful seascape. The Island itself is another attraction entirely - being only accessible by boat, it is a naturalists' bushland delight. Surrounded by Lake Victoria and Lake Reeve to the north, and the sand dunes of 90 Mile Beach to the south, it offers incredibly secluded beaches where you can unwind as you feel the sand between your toes. Neighboured by pristine coastal habitat, there is no shortage of native wildlife to admire. On a clear day you may even see the rare Burrunan Dolphins leaping for joy in the sparkling lakes.
So what are you waiting for? Pack your hiking boots, bring a kayak and set sail for an adventure of a lifetime in The Gippsland Lakes National Park.
As beaches and coasts are natural environments, you may encounter hazards. Follow our water safety advice to make sure your day out at The Lakes National Park is a safe and enjoyable one.
Things to do in the area
Rotamah Island is a bushland delight accessible by boat via Paynesville (six kilometres) or Loch Sport (18 kilometres).

Clearly defined tracks offer exceptional views and bird watching opportunities. The tracks are generally sandy and gently undulating and are suitable for family outings. A small picnic area is set aside adjacent to the observatory only a short stroll from the jetty on Rotamah Island. A barbecue, toilets and picnic tables are available.
The camping area is restricted to educational groups who book in advance.
Walks
90 Mile Beach Walk (3.8km – 1.5 hours return)
From the jetty walk along the Causeway Track past the tree hide to the beach. Return via Fenceline Track and Lake Reeve Track.

West End Walk (4.8km – 2 hours return)
Starting at the jetty, follow the Causeway Track and West Track to the end of the island. Return via Melaleuca Track and Lake Reeve Track.

Rotamah Loop (7.6km – 3 hours return)
From the jetty and picnic area, follow East Track over the footbridge onto Little Rotamah Island. Return via Ocean Grange Track or the 90 Mile Beach to Causeway rack. Alternatively visit Ocean Grange by following the track down and back (additional 4.5km – 1.5 hour return)

East End Walk (4.6km – 2 hours return)
Follow East Track from the jetty and picnic area. This track offers some fantastic views before heading back along Forest Track
Lake Reeve Nature Trail and Lookout Tower
Lake Reeve is an important feeding and roosting habitat for waterfowl, and is one of Victoria's most important areas for wading birds.
The lake is a significant feature of the Gippsland Lakes system and is listed under the Convention on Wetlands of International Importance (RAMSAR).
A short walk (30 mins return) will lead you from the Lookout Tower carpark down through a range of habitats to the shores of Lake Reeve.
Emu Bight is a peaceful family-friendly campground tucked away in the bush near the shores of Lake Victoria.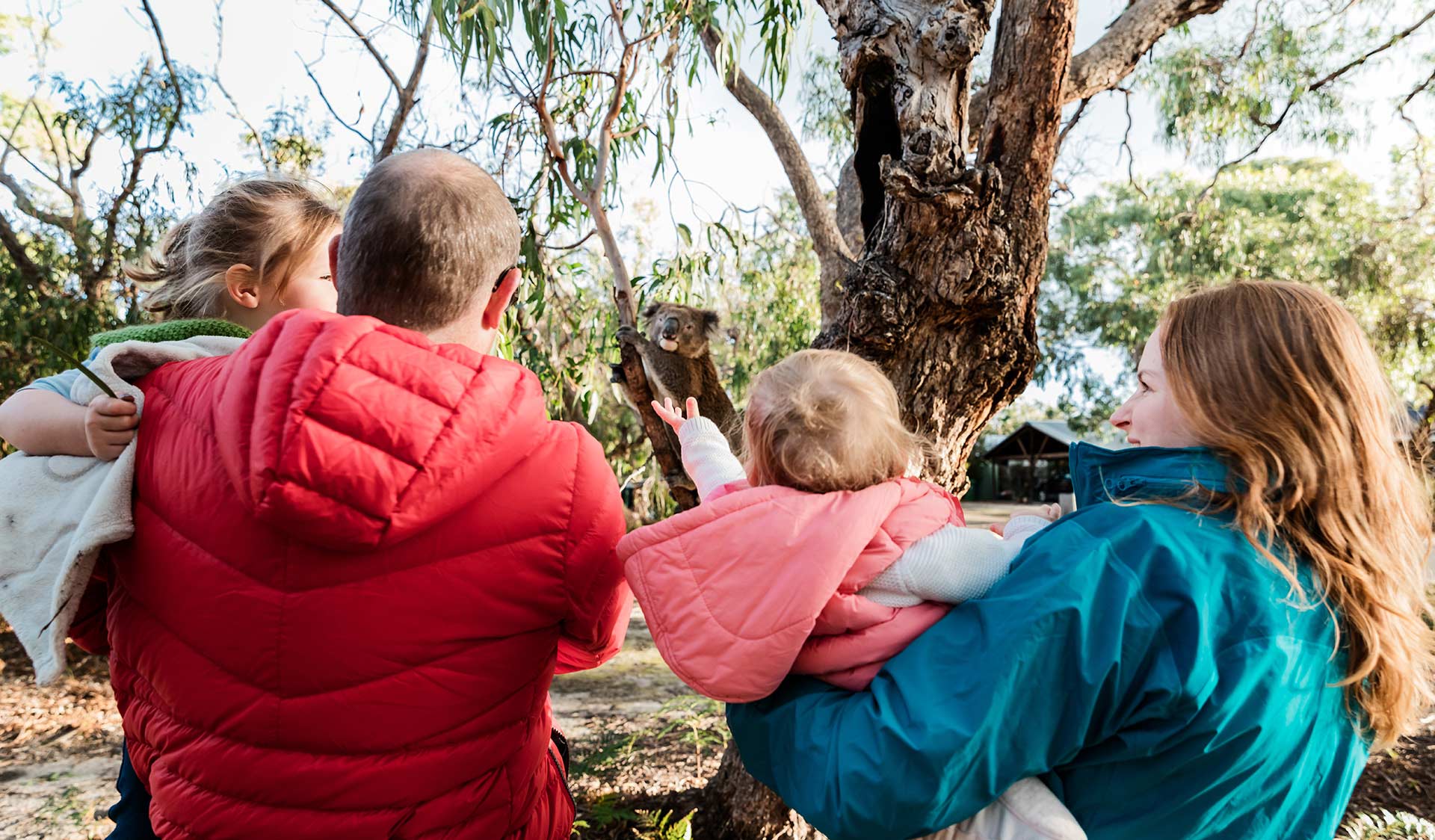 Rotamah Island is a bushland delight accessible by boat via Paynesville or Loch Sport. Pack a picnic and go for a walk to enjoy scenic views and birdwatching.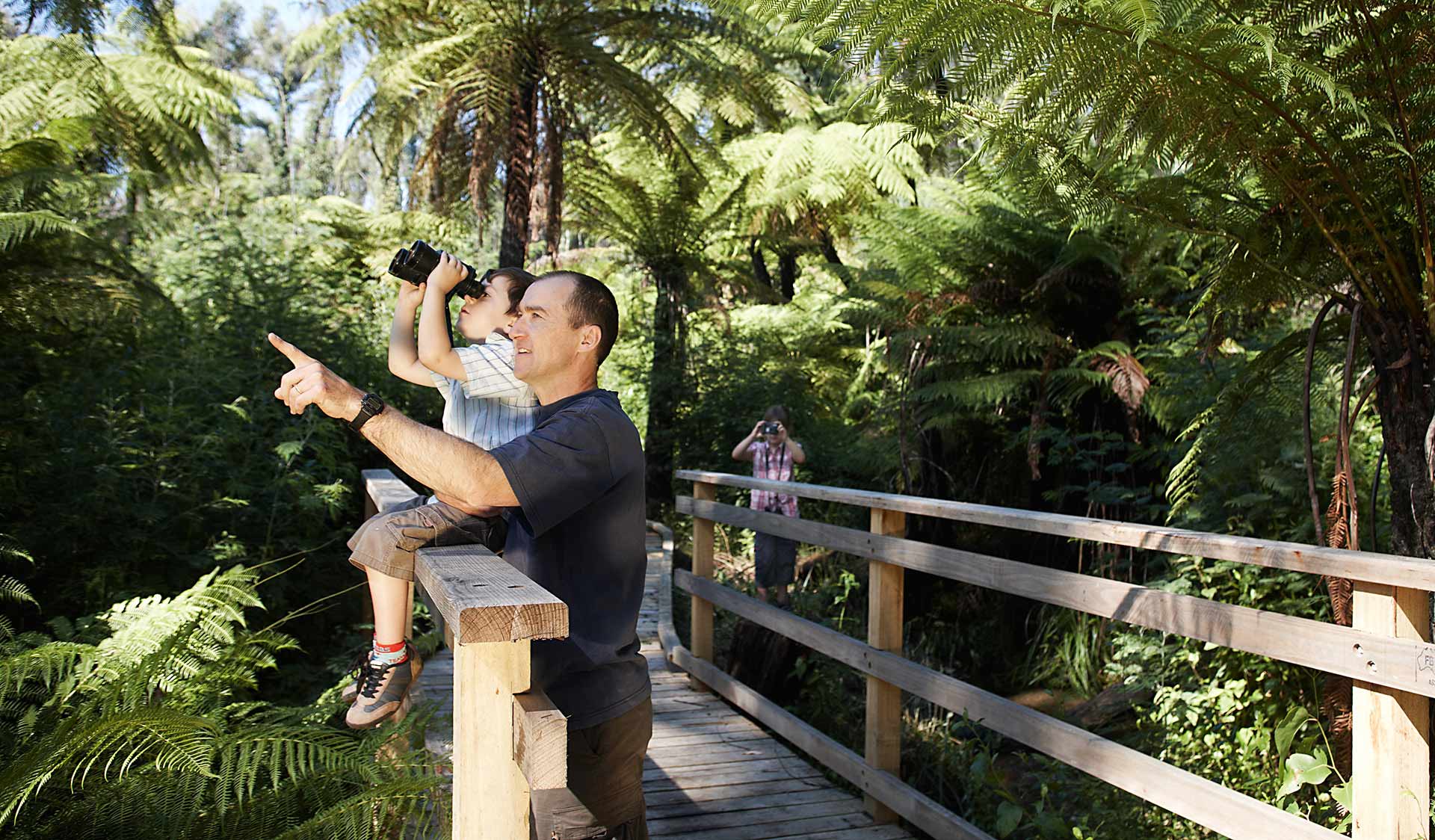 From bushland to wetlands and everything in between, parks provide habitat to an abundance of common and rare bird species. Go for a wander and see how many you can spot.
Wildlife
This area is well known for its wildlife. Keep an eye out for:
Tours and adventure experiences in parks
One of the best ways you can get into nature is with a Licensed Tour Operator.

There are more than 400 Licensed Tour Operators across Victoria who are ready and waiting to help you experience and connect with Victoria's spectacular parks and waterways.

Discover more than 60 different types of nature-based experiences including hiking, mountain biking, boating, four-wheel driving, indigenous culture tours, birdwatching, surfing, diving and so much more.

Licensed Tour Operators know all the best places to go and will plan and prepare your visit to ensure you are safe and can enjoy your nature-based adventure to the fullest.
Find a Licensed Tour Operator
How to get there
The Lakes National Park
The Lakes National Park is in East Gippsland about 300 km east of Melbourne. The park is at the eastern end of Loch Sport, 63 km east of Sale. There is boat access from Paynesville.
When you're there
Download the The Lakes National Park visitor guide for more information about the park and the plethora of experiences to be had within its borders.
Need to know
The Lakes National Park
Accessibility
Visiting a park can be more of a challenge for people with disabilities, however in Victoria there are a wide range of facilities to help people of all abilities enjoy our wonderful parks around the state.
Assistance dogs are welcome in Parks Victoria parks and reserves. Entry requirements apply for parks and reserves that are usually dog prohibited, such as national parks.
Change of Conditions
Nature being nature, sometimes conditions can change at short notice. It's a good idea to check this page ahead of your visit for any updates.
Notices Affecting Multiple Parks

PARK CLOSED DUE TO FIRE - The Lakes National Park, Gippsland Lakes Coastal Park

The Lakes National Park and Gippsland Lakes Coastal Park are CLOSED due to active bushfires in the area. Please stay up to date with warnings and advice at www.emergency.vic.gov.au

Seasonal road closures 2023

Seasonal road closures apply to areas within and tracks bordering this park from 15 June 2023. See

MapshareVic

for locations of the closures. Visit the

seasonal road closures

page for more information

Ground shooting operations targeting deer

Ground control operations targeting deer will be undertaken in these Parks and Reserves from December 2022 to December 2023.

These areas will remain open to visitors during operations.

Alpine National Park (Bogong High Plains, Mount Bogong, Dinner Plain,

Dargo High Plains, Foothills and Southern Alps)

Buchan Caves Reserve

Burrowa-Pine Mountain

Cape Conran Coastal Park

Cape Liptrap Coastal Park

Cabbage Tree Creek Flora Reserve

Errinundra National Park

Lake Tyers State Park

Lakes National Park

Baw Baw National Park

Mount Buffalo National Park

Mount Mittamatite Regional Park

Mount Mitta Mitta Flora Reserve

Mount Lawson State Park

Mount Granya State Park

Mountain Creek Education Area

Pheasant Creek Flora Reserve

Wabba Wilderness Park

Wilsons Promontory National Park




For more information about deer control to protect biodiversity, please visit

this link

.

Little Rotamah Track closed until further notice
How we keep it special
The Lakes National Park is recognised as an internationally significant wetland, playing an important role in providing habitat for migratory bird species. Rich in wildlife, they are home to several of the

Gunaikurnai people's

totem species

,

as well as a number of rare and endangered species. There are shell middens all along the sand dunes. The Gunaikurnai and Victorian Government Joint Management Plan provides a description of joint management strategies and actions that are specific to The Lakes National Park and Gippsland Lakes Coastal Park.