Mount Oberon offers one of the best views in Victoria. Trek to the summit overlooking Tidal River and enjoy a 360-degree panorama of Wilsons Promontory. See unrivalled views of the Prom's spectacular landscape, from its pristine coastline and beautiful offshore islands, to its lush gullies and magnificent mountains.
Climb to Mt Oberon Summit on this iconic hike at Wilsons Promontory. The hard work is worth it, promising panoramic views of one of the most beautiful places in Victoria

Starting at Telegraph Saddle Carpark, the hike to Mt Oberon makes a steady incline as it weaves up the mountain. As you near the peak, a steep climb up steps will lead you to the rocky summit.

Standing 558m high, Mt Oberon offers incredible 360-degree views over Wilsons Prom. See sparkling turquoise water and picturesque islands scattered off the coast. Along the shore, spot the beautiful bays on Wilsons Prom's western coast; Little Oberon Bay, Norman Bay, Leonard Bay, Picnic Bay and Whisky Bay.

Enjoy scenic views over Tidal River Campground and trace the river as it weaves through coastal heath to the sandy shores of Norman Beach. Further inland, admire the rolling peaks of forested mountains.

Look south towards the southern-most tip of Australia's mainland, which is home to an abundance of native wildlife including wombats, emus, kangaroos and echidnas. Explore the southern section of Wilsons Prom on longer hikes if you get the chance.

Hike to Mt Oberon later in the day for one of the best best spots to watch the sunset at Wilsons Prom, but don't forget to bring a torch.
Things to do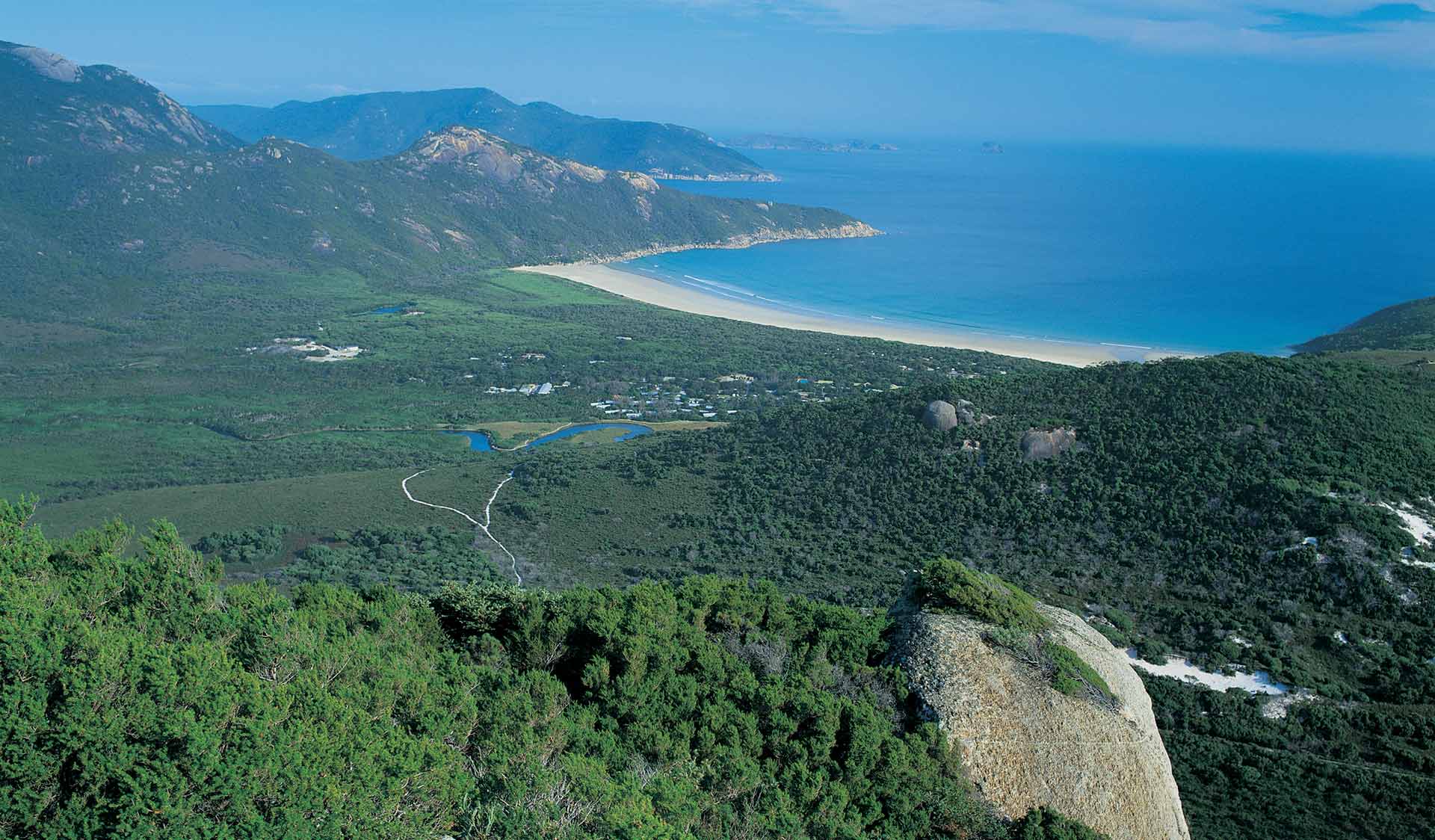 Follow the Lilly Pilly Gully Circuit Track and turn off at the side track that leads to the rocky summit of Mt Bishop. Magnificent views are offered of the Prom's west coast and off shore islands. Retrace your steps to the car park or return via Lilly Pilly Gully Nature Walk.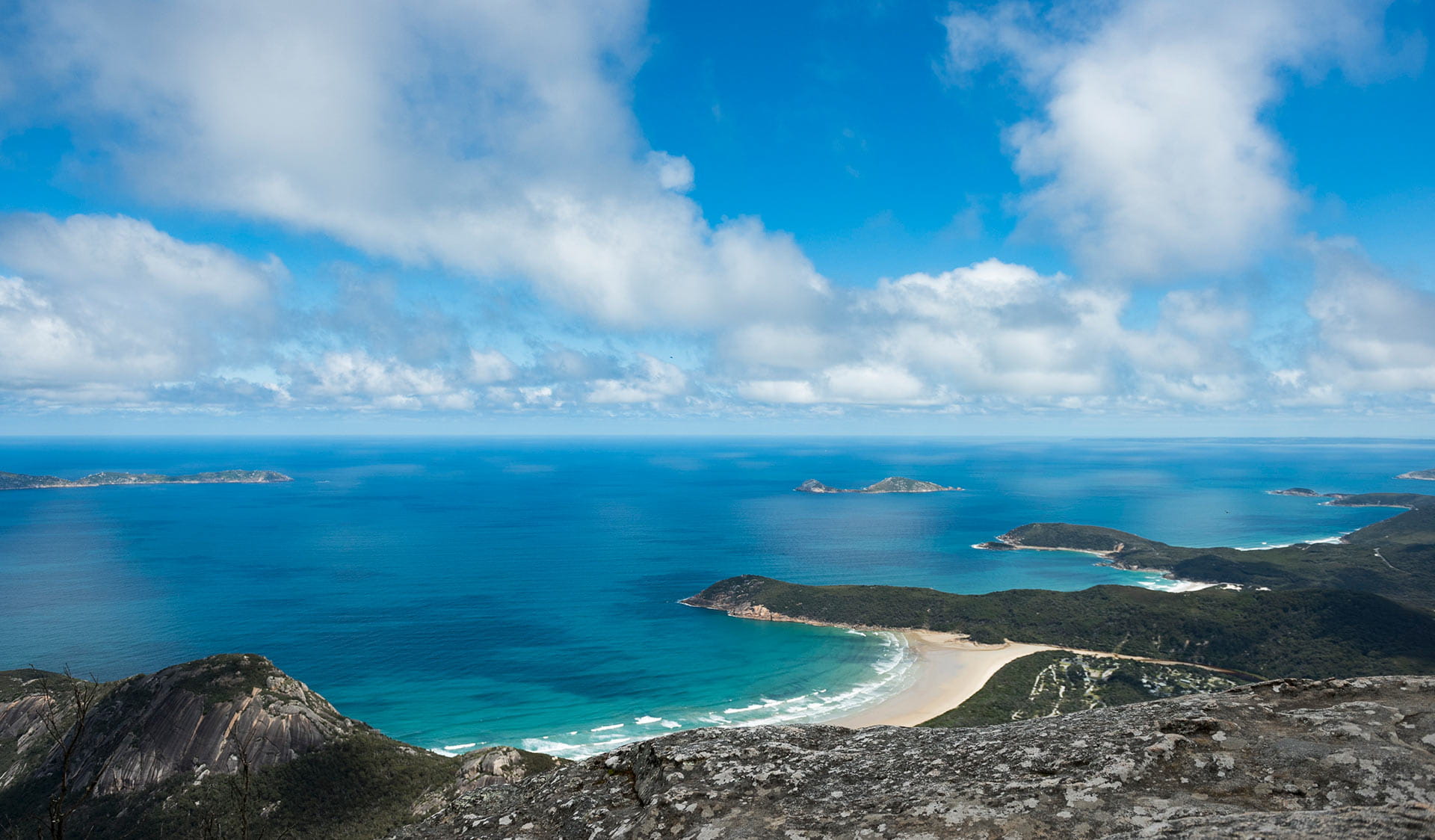 Norman Beach
Close to Tidal River campground, the beautiful Norman Beach is flanked by Pillar Point in the north and Norman Point in the south and offers stunning views of Mount Oberon.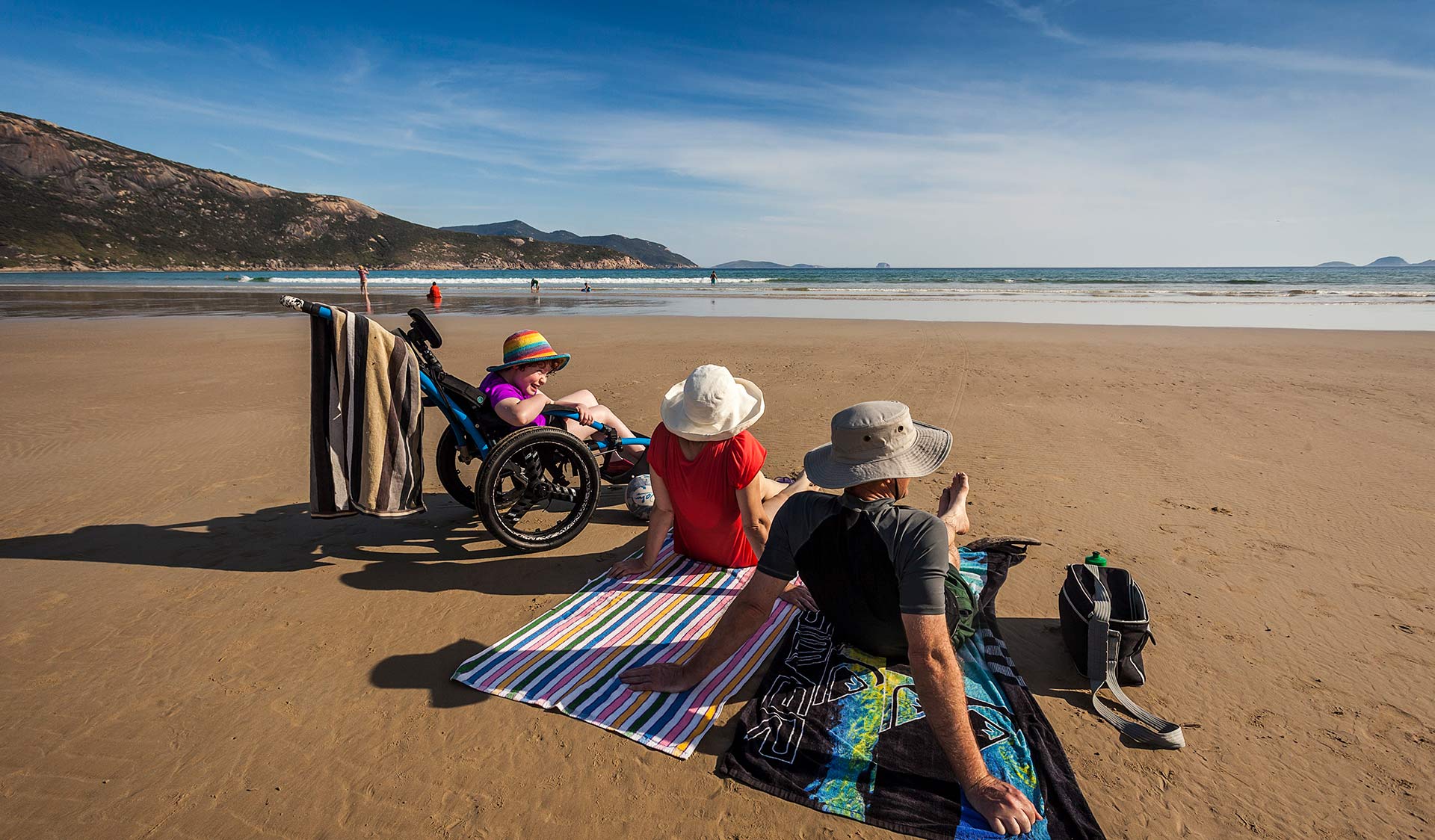 One of the Prom's iconic locations, the rounded grains of quartz sand make a 'squeak' when walked on.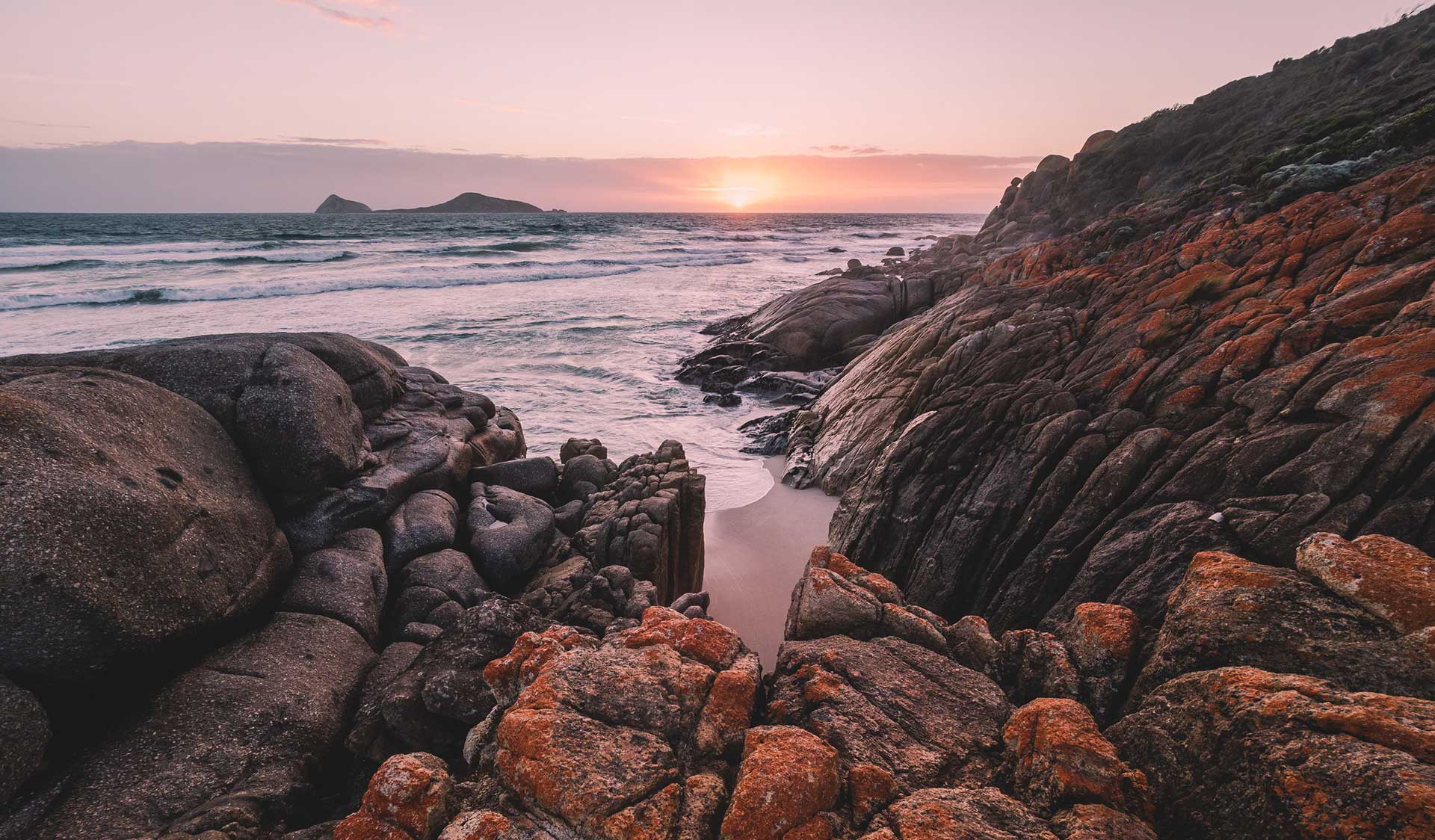 Whisky Bay
Whisky Bay is a small sheltered beach with rock formations at each end. Accessible from the Whisky Bay car park, the track follows a moist gully along Whisky Creek before passing over a sand dune to the beach.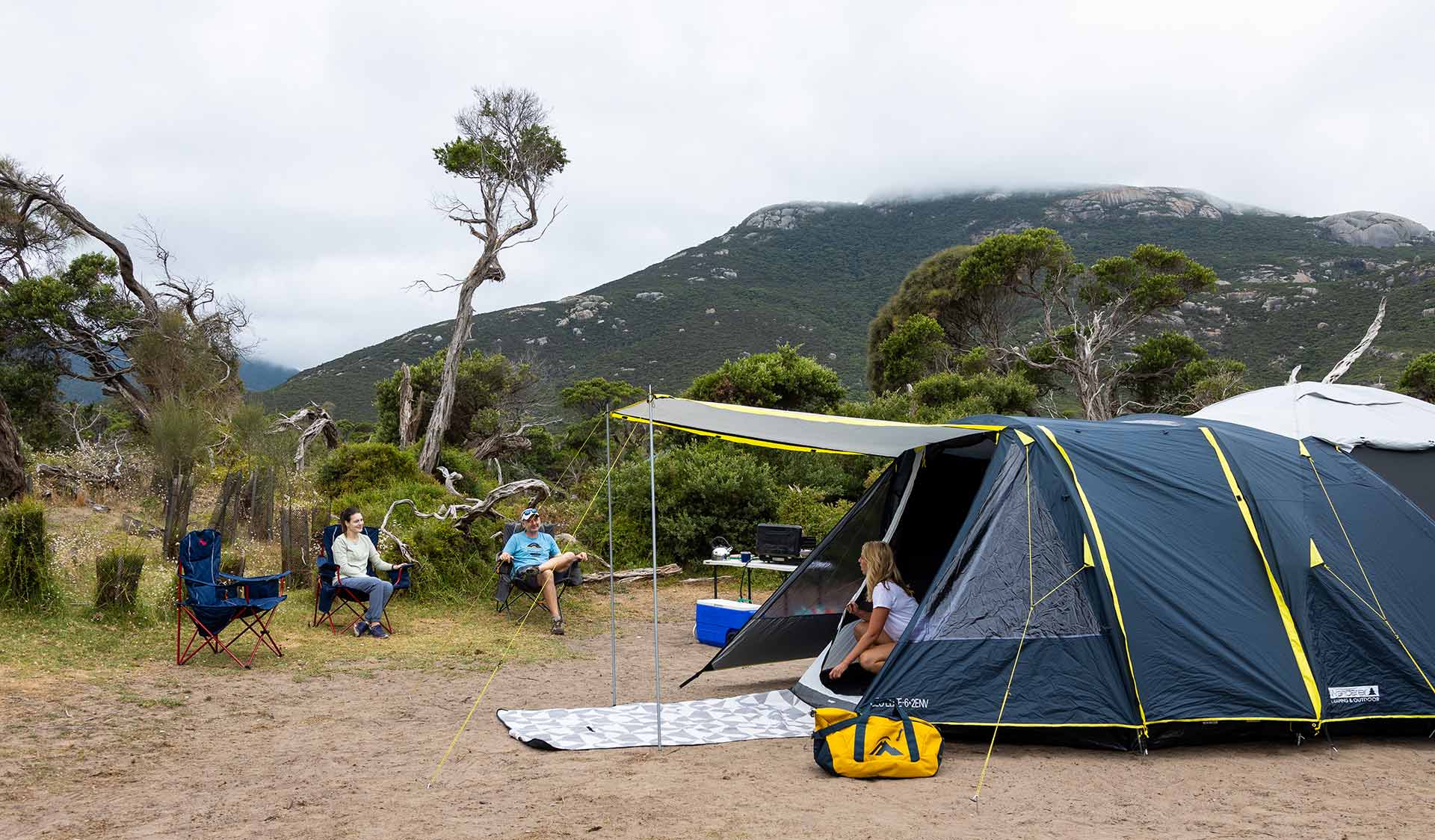 Tidal River is also the main camping location in Wilsons Promontory National Park, offering 484 camping and caravan sites (including 20 powered) situated near the beach and river.
How to get there
Mount Oberon
Telegraph Saddle Carpark is closed during summer school holidays, Easter and on weekends from November to April. At these times you can catch a shuttle bus from Tidal River. Departure points include the Tidal River Visitor Centre Carpark, Overnight Hikers Carpark (Tidal River) and Telegraph Saddle Carpark. The bus timetable is posted at all departure locations and the Tidal River Visitor Centre. Click here to view the timetable.
When you're there
The 6.8km return hike to Mt Oberon takes around two hours.

Be prepared for all weather conditions. Even in summer, Mt Oberon weather can be windy, cool and cloudy. Take care at the summit and beware of unprotected cliffs.

Download the Wilsons Promontory National Park visitor guide and the park map before you go.
Need to know
Mount Oberon
Change of Conditions
Nature being nature, sometimes conditions can change at short notice. It's a good idea to check this page ahead of your visit for any updates.
Yanakie Cemetery Walk (Wilsons Promontory National Park)

Stockyard Toilet Block Closed

The Stockyard Toilet Block is closed until further notice.

Notices Affecting Multiple Sites

Aerial deer control operation October 23rd-27th 2023

The following tracks and visitor areas will be closed during the operation:

Northern overnight hike circuit
5 Mile Beach




Access to the following areas may be restricted at various times during the operation:

Big Drift
Stockyard Campground
Cotters Road, Cotters Lake and Cotters Beach
Vereker Outlook
Millers Landing

Boundary Track



Shallow Inlet via Hourigan Camp Lane
Yanakie Cemetery Walk




During the operation, visitors may hear gunshots and see a helicopter flying a low levels. Safety is of paramount importance and Parks Victoria will have an Operations Controller on-site to ensure visitor safety in addition to signage advising visitors of current closures.

Notices Affecting Multiple Parks

Ground shooting operations targeting deer

Ground control operations targeting deer will be undertaken in these Parks and Reserves from December 2022 to December 2023.

These areas will remain open to visitors during operations.

Alpine National Park (Bogong High Plains, Mount Bogong, Dinner Plain,

Dargo High Plains, Foothills and Southern Alps)

Buchan Caves Reserve

Burrowa-Pine Mountain

Cape Conran Coastal Park

Cape Liptrap Coastal Park

Cabbage Tree Creek Flora Reserve

Errinundra National Park

Lake Tyers State Park

Lakes National Park

Baw Baw National Park

Mount Buffalo National Park

Mount Mittamatite Regional Park

Mount Mitta Mitta Flora Reserve

Mount Lawson State Park

Mount Granya State Park

Mountain Creek Education Area

Pheasant Creek Flora Reserve

Wabba Wilderness Park

Wilsons Promontory National Park




For more information about deer control to protect biodiversity, please visit

this link

.