Explore
Tidal River Campground
Tidal River is the main visitor hub for Wilsons Promontory National Park. This picturesque spot offers a range of accommodations options to make the most of one of Victoria's favourite National Parks.
Book now
With 484 camping and caravan sites, this is the most popular and well-equipped camping ground in Wilsons Prom and is the perfect base to enjoy scenic walks, swim, surf or relax at your campsite. Tidal River Campground has a range of beautiful sites - choose between a campsite nestled in the tea trees for a short walk to the sandy shores of Norman Beach or a family-friendly site closer to the calm waters of Tidal River.
If you're interested in spending time at Tidal River, but would prefer the comfort of a cabin or lodge, check out our Tidal River Accommodation.
As beaches and coasts are natural environments, you may encounter hazards. Follow our water safety advice to make sure your day out at Tidal River is a safe and enjoyable one.
Things to do in the area
Hike your way to overnight camping sites and sleep in bookable shady campsites with views of glassy torquoise water.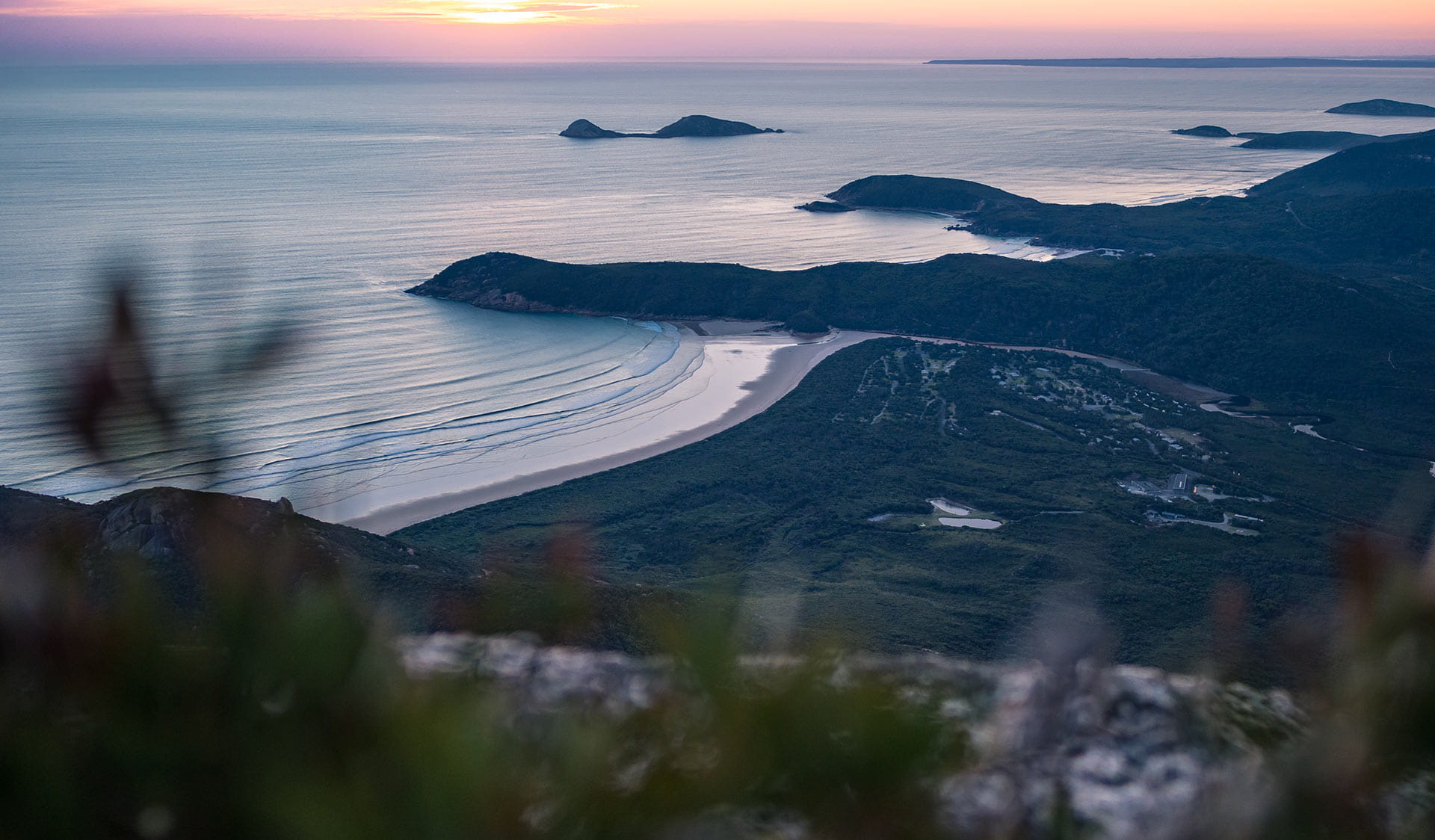 Starting from the Telegraph Saddle car park, this iconic Prom walk follows the management vehicle track to the summit of Mount Oberon.Steps below the rocky summit lead to postcard perfect, panoramic views over Tidal River, the coast and offshore islands.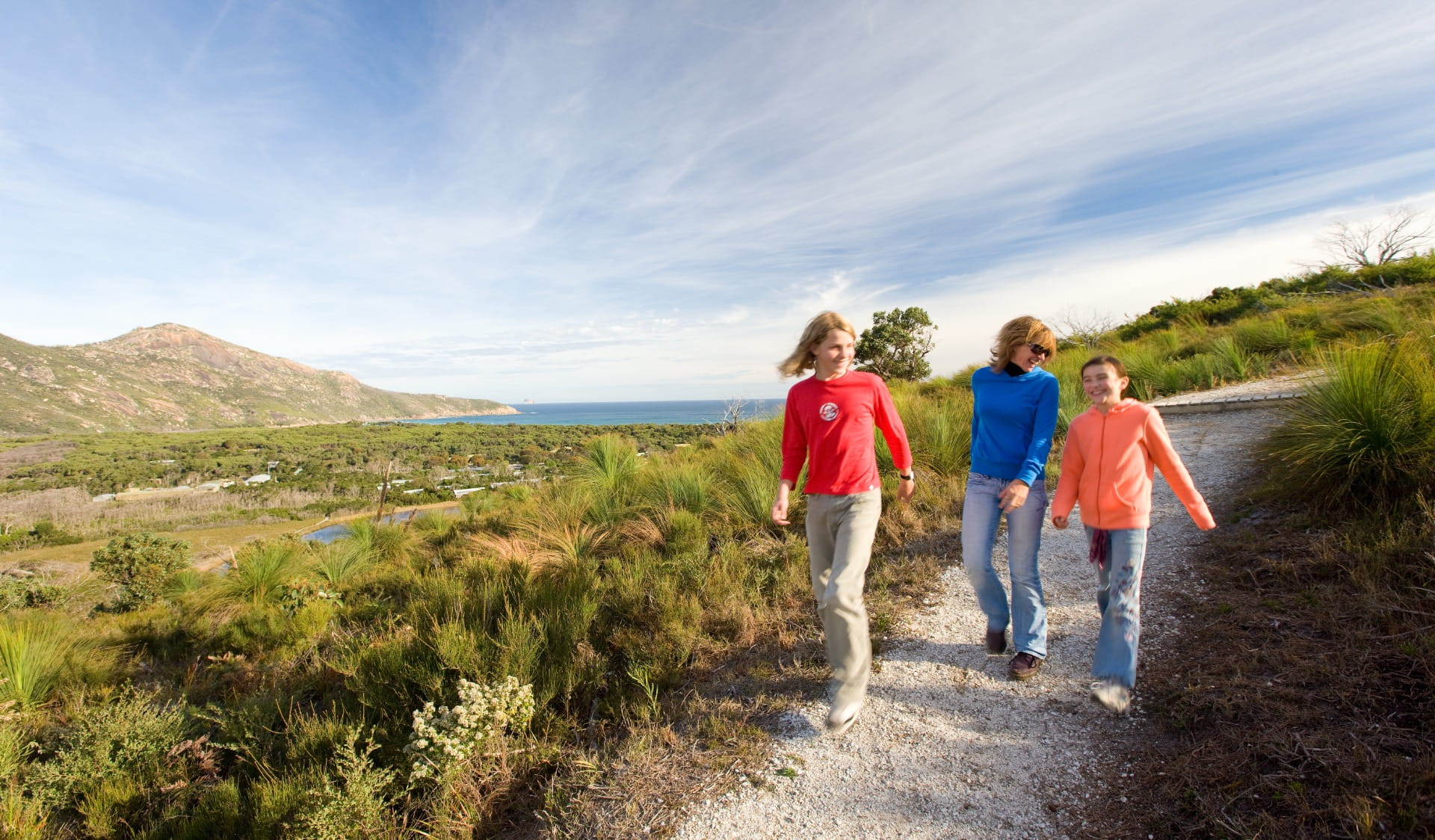 There are many walks around the Prom. The walks provide a perfect opportunities to view native wildlife including kangaroos, wallabies, emus and wombats as well as some spectacular views.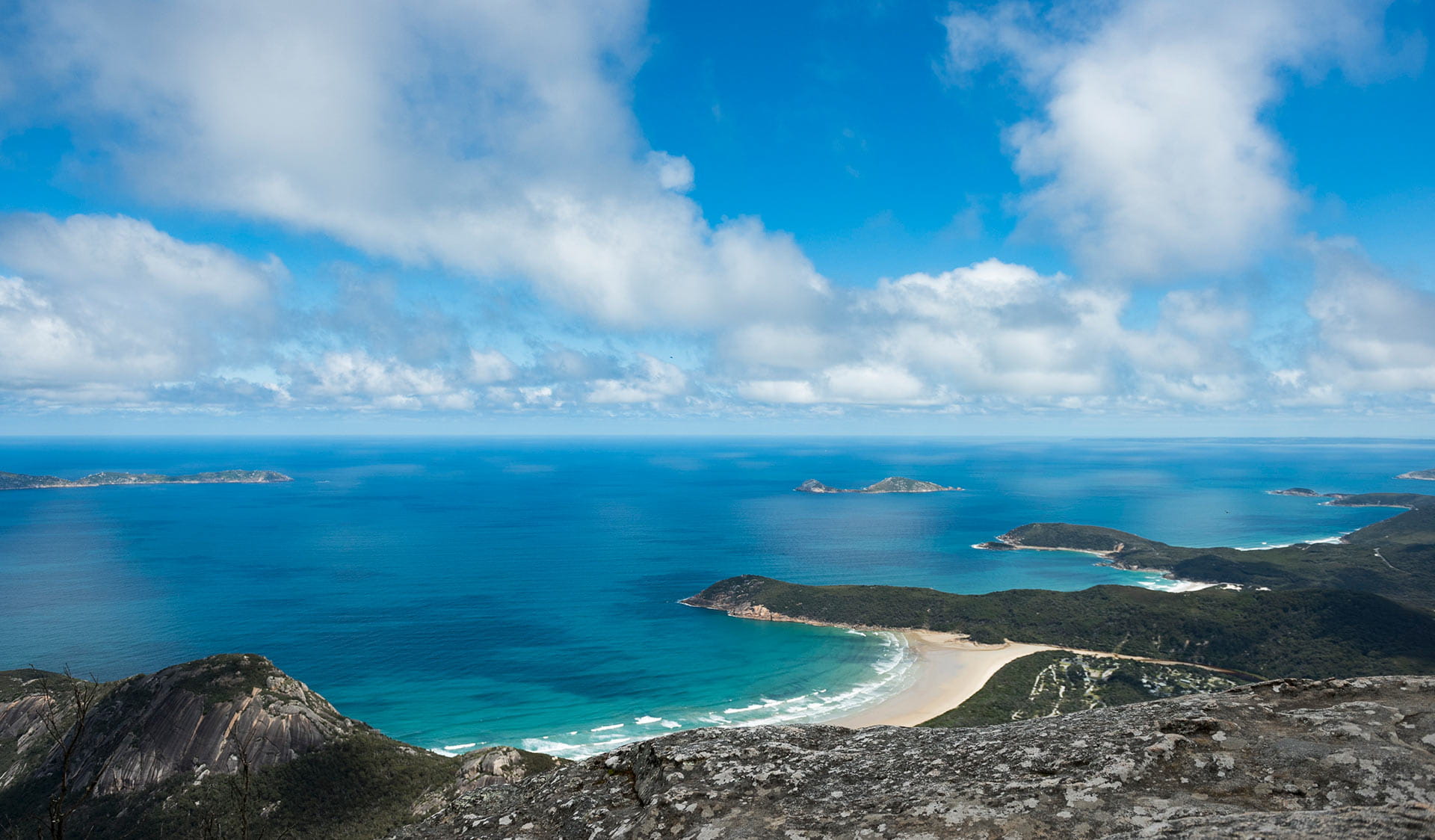 Norman Beach
Close to Tidal River campground, the beautiful Norman Beach is flanked by Pillar Point in the north and Norman Point in the south and offers stunning views of Mount Oberon.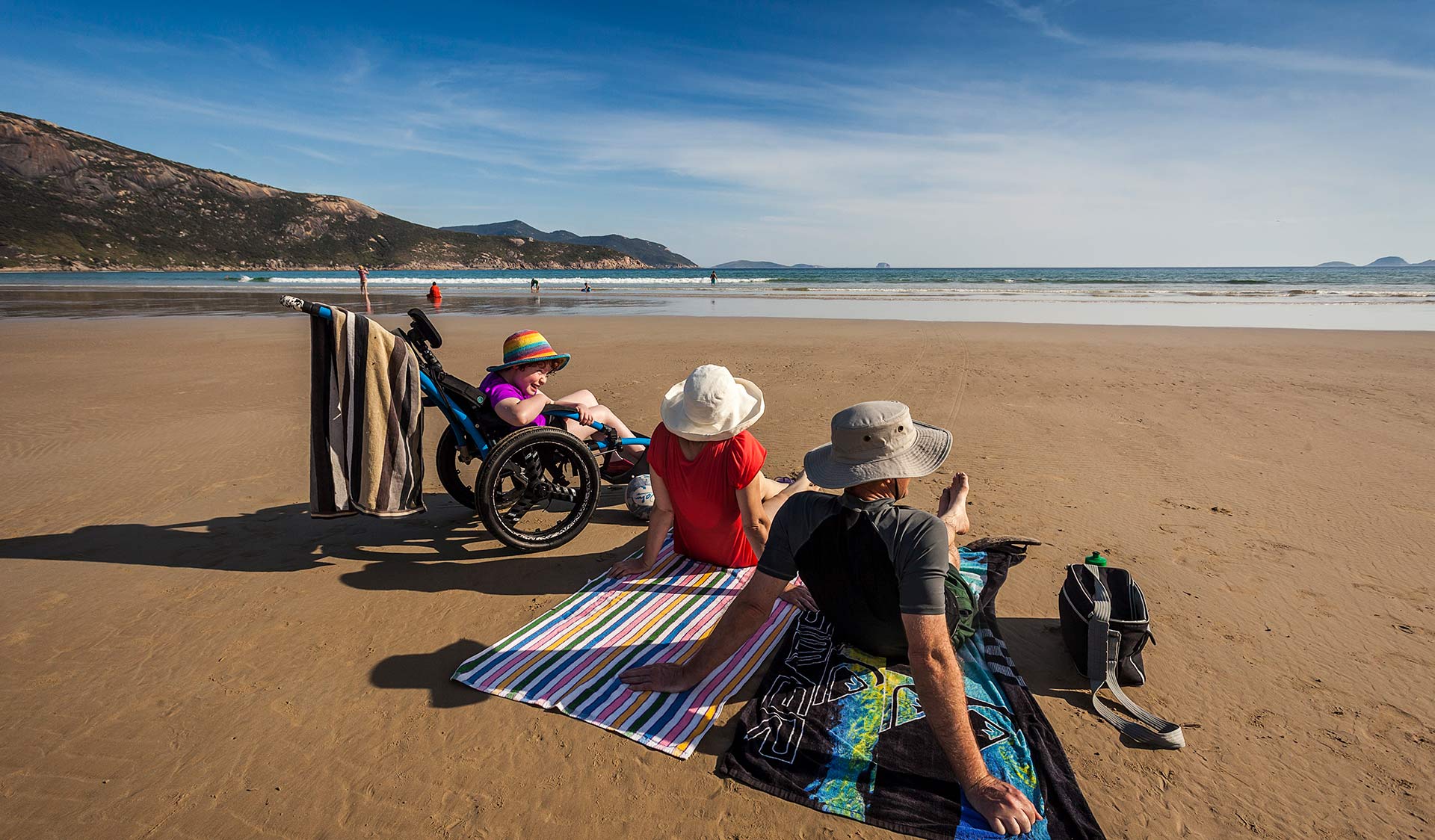 One of the Prom's iconic locations, the rounded grains of quartz sand make a 'squeak' when walked on.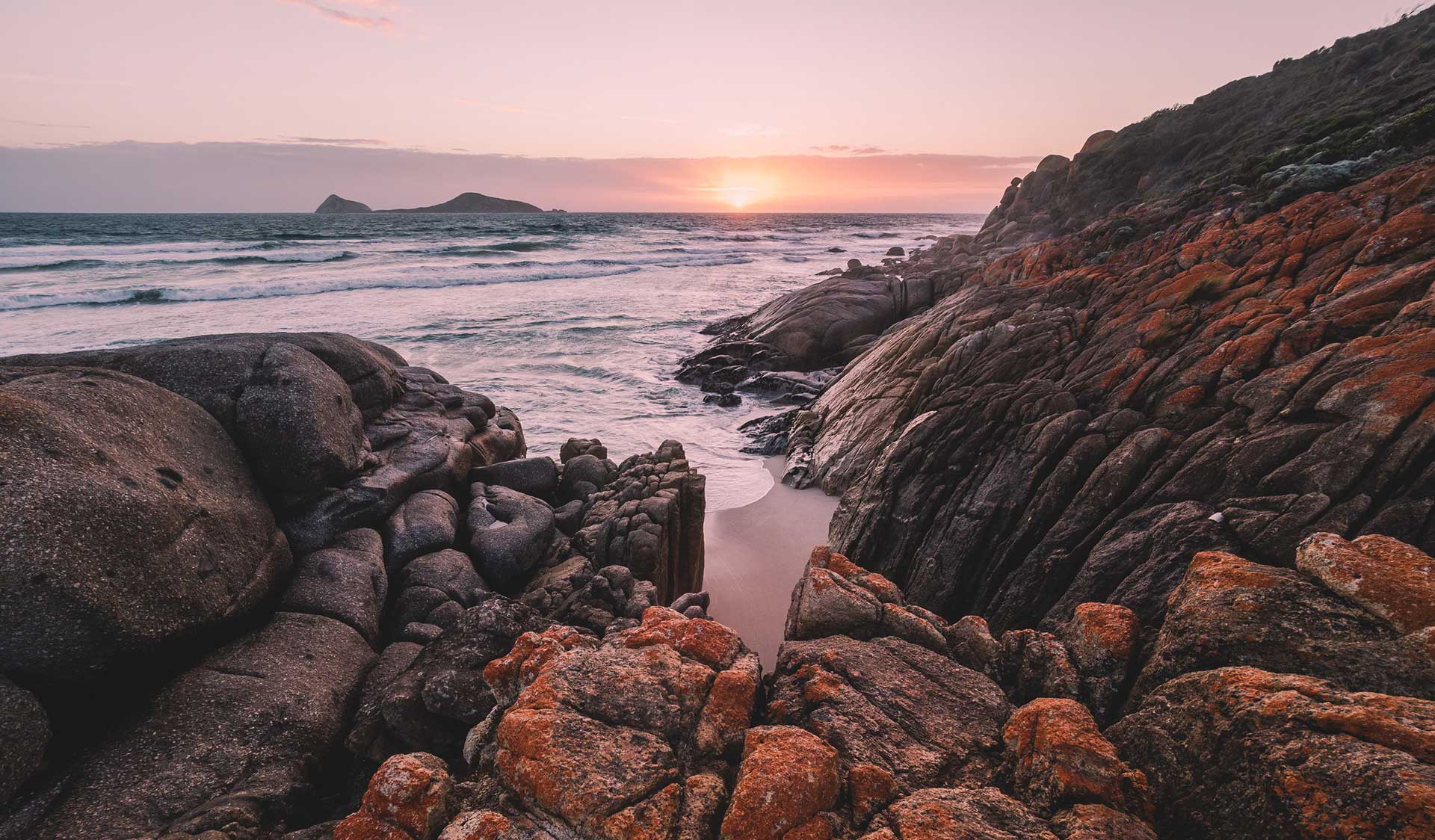 Whisky Bay
Whisky Bay is a small sheltered beach with rock formations at each end. Accessible from the Whisky Bay car park, the track follows a moist gully along Whisky Creek before passing over a sand dune to the beach.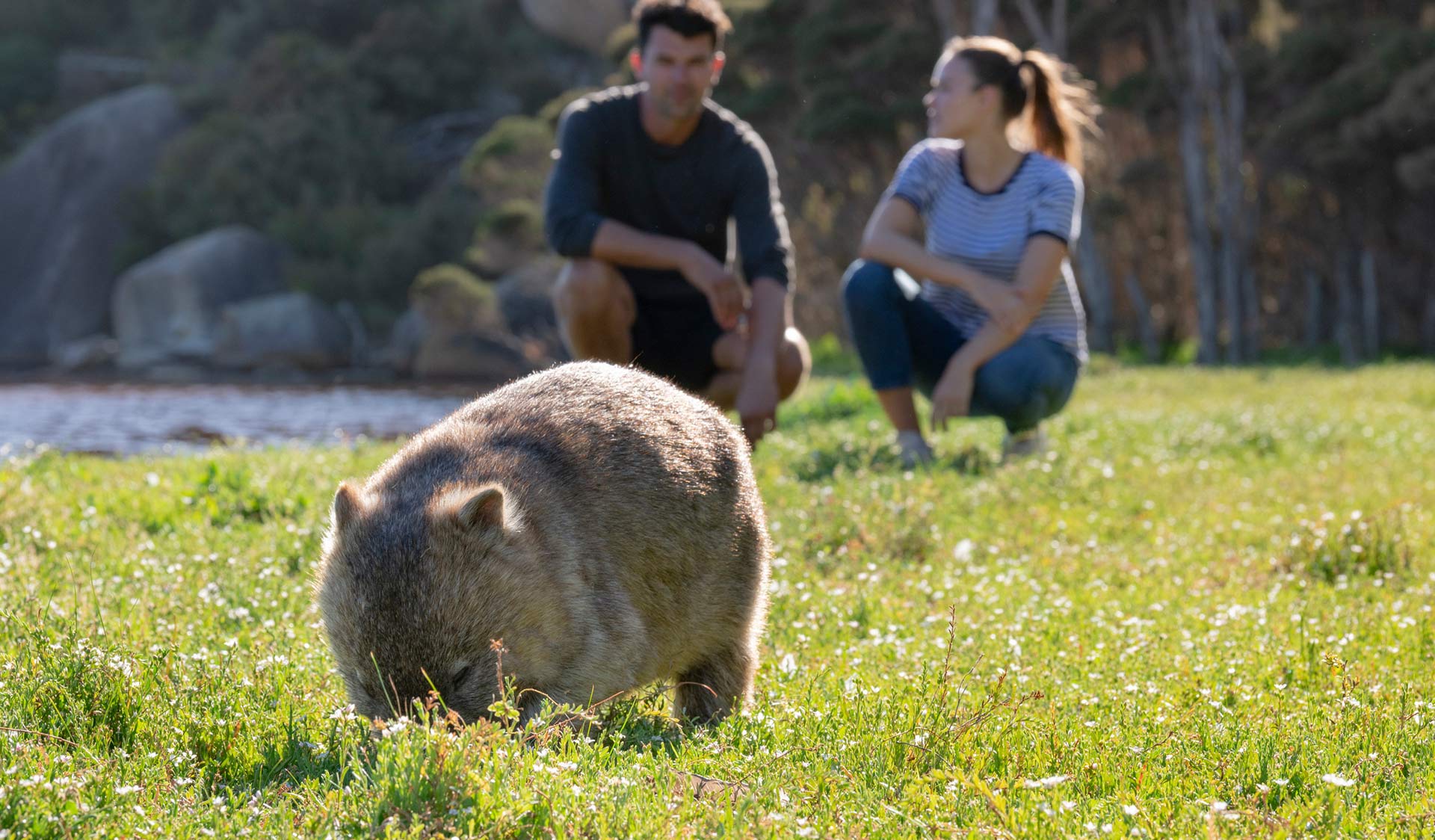 The visitor centre at Tidal River provides information about walking tracks and things to do within the park. The centre is open daily from 9.00am - 4.00pm.
How to get there
Tidal River Campground
Wilsons Promontory is a three-hour drive from Melbourne. Follow Monash Freeway (M1) to join South Gippsland Freeway (M420/A440) to Meeniyan. Take the Meeniyan‐ Promontory Road (C444) to the Wilsons Promontory entrance.
Tidal River is a further 30 minutes drive from the entrance. Please drive carefully and look out for wildlife. Avoid driving between dusk and dawn. There is no fuel at Tidal River with the closest fuel supplies are at Yanakie, Fish Creek and Foster.
When you're there
The Tidal River General Store stocks basic supermarket items, as well as ice, a range of souvenirs and camping gear. It also offers takeaway food and drinks. The store is open 7 days a week (9am to 5pm) and is closed Christmas Day with reduced opening hours on Boxing Day (9am to 2pm).
A free shuttle bus operates between Tidal River and Telegraph Saddle during the summer and Easter holidays and on weekends from November to April. Departure points include the Tidal River Visitor Centre carpark, the overnight hikers carpark (Tidal River) and Telegraph Saddle carpark. Telegraph Saddle carpark is closed to vehicle access when the shuttle bus is in operation.
Bookings for selected holiday periods
Advance bookings apply for selected holiday periods for Tidal River camping, including Labour Day weekend (minimum three nights), Easter weekend (minimum four nights) and Melbourne Cup weekend (minimum four nights).
A ballot is held for booking Tidal River camping and accommodation (except Wilderness Retreats) for the five weeks from Christmas until late January. Minimum stays apply.
See further information on ballots and peak season bookings.
Need to know
Tidal River Campground
Preparing for a busy summer
The Prom gets extremely busy over summer. For both visitor safety and your enjoyment, there is a limit to the number of vehicles that can be in the park. On busy summer days it can be challenging to park and safely move around popular sites like Tidal River and Squeaky Beach as cars and pedestrians often share the same roads.
If you are visiting the Prom this summer, please:
consider visiting the Prom during on a weekday if you can
carpool to and within the Prom to reduce congestion issues
you may have to wait in your car, please bring food and water
arrive before 10am and be prepared for crowds
check the Prom webpage before you travel for the latest conditions
only bring a maximum of two vehicles per site with your camping booking – this will be monitored and enforced
support the park team by leaving the park when you check-out to allow space for new campers and visitors
Accessibility
A motorised TrailRider and a range of beach wheelchairs are available for free hire from the Tidal River Visitor Centre. They allow people with significant physical disabilities or mobility limitations to explore the great outdoors at Wilsons Promontory National Park.

These all terrain wheelchairs are designed for different abilities and are available for both adults and children. The chairs are suited for sandy and semi-rough tracks where conventional wheelchairs cannot go. Contact the Tidal River Visitor Centre on (03) 8427 2122 for booking enquiries.
Safety in Nature
To ensure that you and your companions stay safe, always remember that the natural environment can be unpredictable. Before you go, take a look at our safety tips and check our changed conditions and closures information for a great visit.
Be prepared and stay safe
Wilsons Promontory National Park is in the South and West Gippsland fire district. Bushfires can occur during the warmer months. It is your responsibility to check current and forecast weather conditions.
Check the Fire Danger Rating and for days of Total Fire Ban at emergency.vic.gov.au, on the Vic Emergency App or call the Vic Emergency Hotline 1800 226 226.
Change of Conditions
Nature being nature, sometimes conditions can change at short notice. It's a good idea to check this page ahead of your visit for any updates.
Notices Affecting Multiple Sites

Stockyard Campground Closed

Stockyard Campground closed to campers. Bookings for camping at Tidal River can be made online.

Little Oberon Bay Walking Track (Norman Point to Oberon Bay) Closed

Little Oberon Walking Track is closed between Norman Point and Oberon Bay until further notice due to significant erosion to the track.

Oberon Bay Campsite is only accessible via Telegraph Saddle Walking Track until further notice.

Sealers Cove Walking Track closed until further notice

Wilsons Promontory National Park experienced widespread damage due to several flood and storm events in 2021. This significantly damaged many tracks including the Sealers Cove Boardwalk. A detailed engineering assessment found that the entire two kilometres of the Sealers Cove Boardwalk will need to be replaced. Planning is underway for this work, including costing the work to secure funding. Due to the extent of the damage, and complexity of the work required, Sealers Cove Walking Track will be temporarily closed.

Access to Sealers Cove is still achievable via Refuge Cove, which is a 25km hike from Telegraph Saddle.

Notices Affecting Multiple Parks

Ground shooting operations targeting deer

Ground shooting operations targeting deer will be undertaken in these Parks from December 2022 to June 2023.

Some access restrictions may apply. Please observe local signage.




Alpine National Park (Bogong High Plains, Mount Bogong, Dinner Plain, Dargo High Plains, Foothills and Southern Alps)

Buchan Caves Reserve

Burrowa-Pine Mountain

Cape Conran Coastal Park

Cabbage Tree Creek Flora Reserve

Errinundra National Park

Howitt-Wellington Plains

Lake Tyers State Park

Mount Baw Baw National Park

Mount Buffalo National Park

Mount Mittamatite Regional Park

Mount Mitta Mitta Flora Reserve

Mount Lawson State Park

Mount Granya State Park

Mountain Creek Education Area

Pheasant Creek Flora Reserve

Wabba Wilderness Park

Wilsons Promontory National Park
Similar Experiences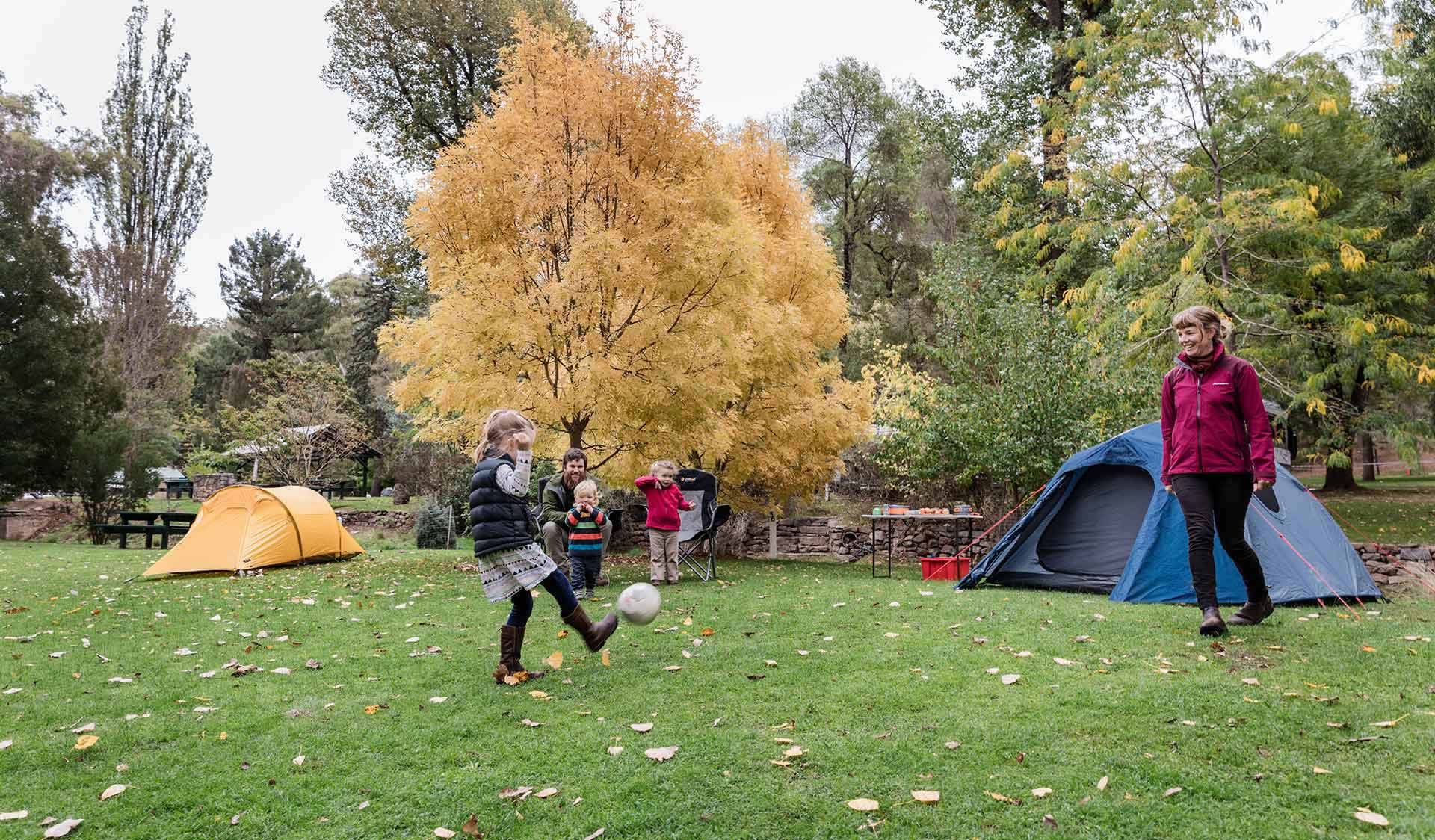 There are a range of powered campsites that are located on flat ground and generally close to the public amenities block. The sites allow vehicles to be parked within a few metres of each site. Campsites generally have a lawn surface and most sides have shade from trees.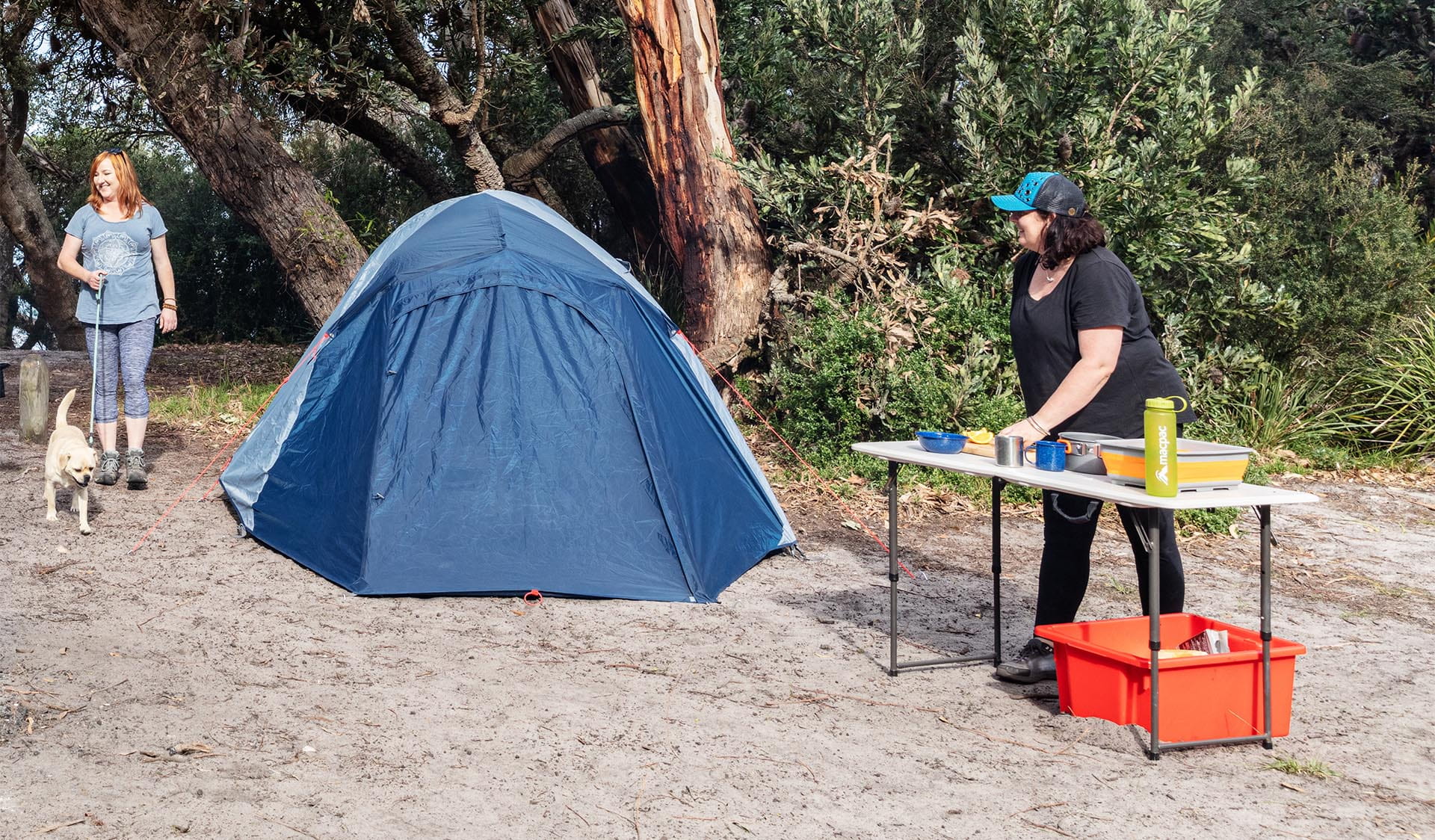 Banksia Bluff is a tranquil wooded campground where the peace is only broken by the dawn chorus and waves crashing. Set up camp among gum and banksia woodland and relax by the campfire. Camp with your dog on select sites.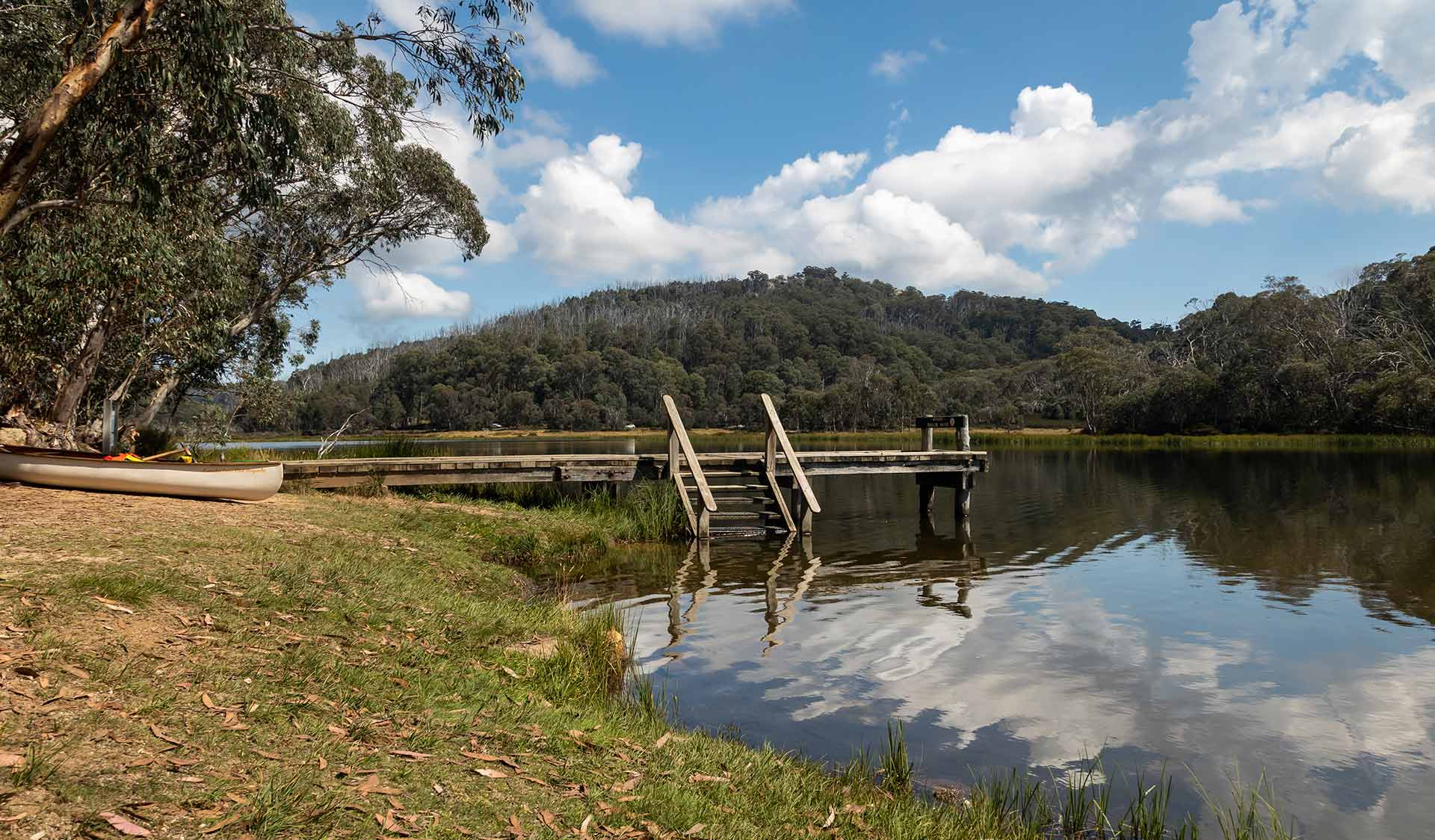 Discover magnificent waterfalls and remote alpine landscapes while camping within beautiful Snow Gum woodlands beside Lake Catani in Mount Buffalo National Park.