St Kilda Pier Redevelopment
Work is underway to rebuild the iconic St Kilda Pier.
Parks Victoria in partnership with the Department of Transport is delivering an exciting rebuild of the iconic St Kilda Pier.
Once complete, the new pier design chosen by the community, will provide improved recreational space for more people to enjoy. It will feature public access for the community and visitors out onto the bay, improved views of St Kilda and the city skyline, better protection and viewing area for the Little Penguins, a wider disability compliant walkway, new toilets, tiered seating and preservation of the precinct's heritage features. The pier will be constructed from concrete and timber and extend about 450 metres with a 50-year design life.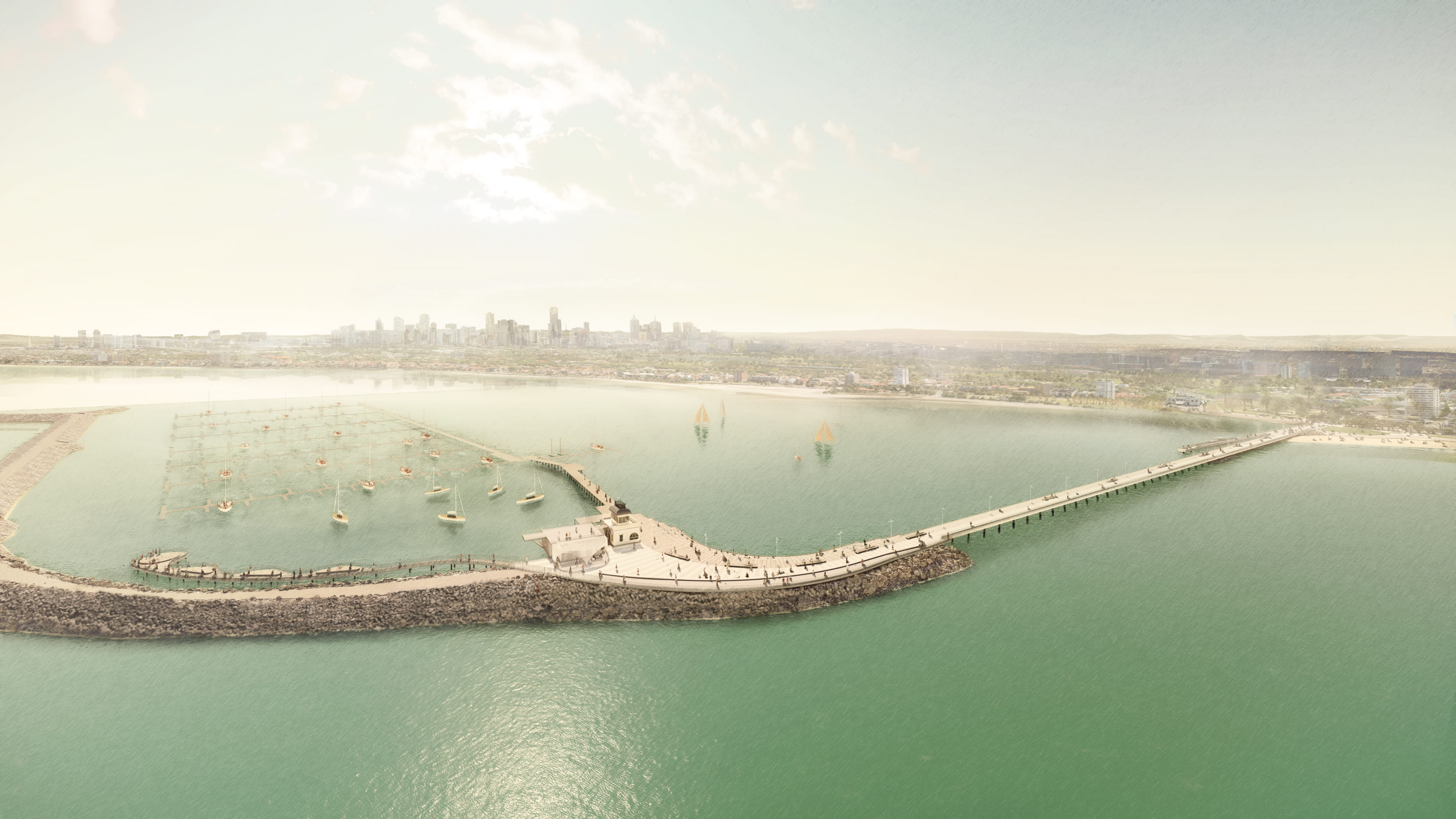 Community updates
Latest news
After years in planning, the iconic St Kilda Pier redevelopment has entered the much-anticipated construction phase.
With works starting this week, the anticipated timeframe to build the new pier is approximately 18 to 24 months, subject to weather or technical issues.
17 November 2021
Work on the new St Kilda Pier will soon begin with the appointment of the lead construction partner following a two-stage public tender process.
Minister for Ports and Freight Melissa Horne today announced Simpson Constructions would complete the $53 million St Kilda Pier Redevelopment project with off-site works starting shortly.
Construction alongside the existing St Kilda Pier is scheduled to start in early 2022, with the new pier due to be completed by early 2024.
1 May 2021 - Revitalisation plans for the iconic St Kilda Pier build momentum.
Today, the highly anticipated St Kilda Pier redevelopment is a step closer with the release of construction ready detailed designs.The Victorian Government's $50 million commitment to the St Kilda Pier rebuild is the biggest construction project for any pier asset in Victoria's history breathing new life into the iconic bayside destination.
A robust consultation and planning design process over the last three years has arrived at a stunning curved structure providing improved access and facilities for commercial and recreational users, greater protection for the Little Penguin colony and sustained economic benefits for Victoria.
Schematic designs released in December 2020 have undergone further consultation and refinement to ensure the design achieves optimum constructability, functionality and longevity.
The detailed design includes resolution of the structural and architectural elements, provides safe access and use by pedestrians, vehicles and vessels, and facilities to complement the visitor experience. This includes new public toilets, shelter, seating and back of house kiosk facilities. Details include use of timber for the penguin viewing platform to provide a more natural feel and space for seating; inclusion of a beach access ramp to allow access for visitors and council's beach cleaning tractor; a variety of seating options; and energy efficient lighting for safe public access in the evenings while minimising environmental and aesthetic impacts.
Timeline
2020-2021 - Detailed Design
February 2022 - Construction commences
August - September 2022 – Piling works continue from water and relocation of the foreshore rock groyne
Late 2022 – Continued installation of precast concrete headstocks and deck panels
2024 - Completion of the new pier
Start 2024 - Mid 2024 - Deconstruction of the existing pier will commence following completion of the new pier
Current works notices and disruptions
As part of major works, from February 15 2022, locals can expect to see site establishment near the start of the pier and Catani Gardens. This will involve trucks delivering equipment, the set up of a fenced construction compound and a section of Pier Road being closed to through traffic. Access to the Sea Baths will remain open from Jacka Boulevard. Following site establishment, the first stage of works will occur out on the southern breakwater near the St Kilda Pier kiosk.
Map of construction compound and detours (site establishment to commence 15 February 2022)
Take a look at the design for the new St Kilda Pier
Video tour of the detailed design of the new St Kilda Pier – May 2021

Watch a video to hear how we are managing the penguins that live on St Kilda Pier's breakwater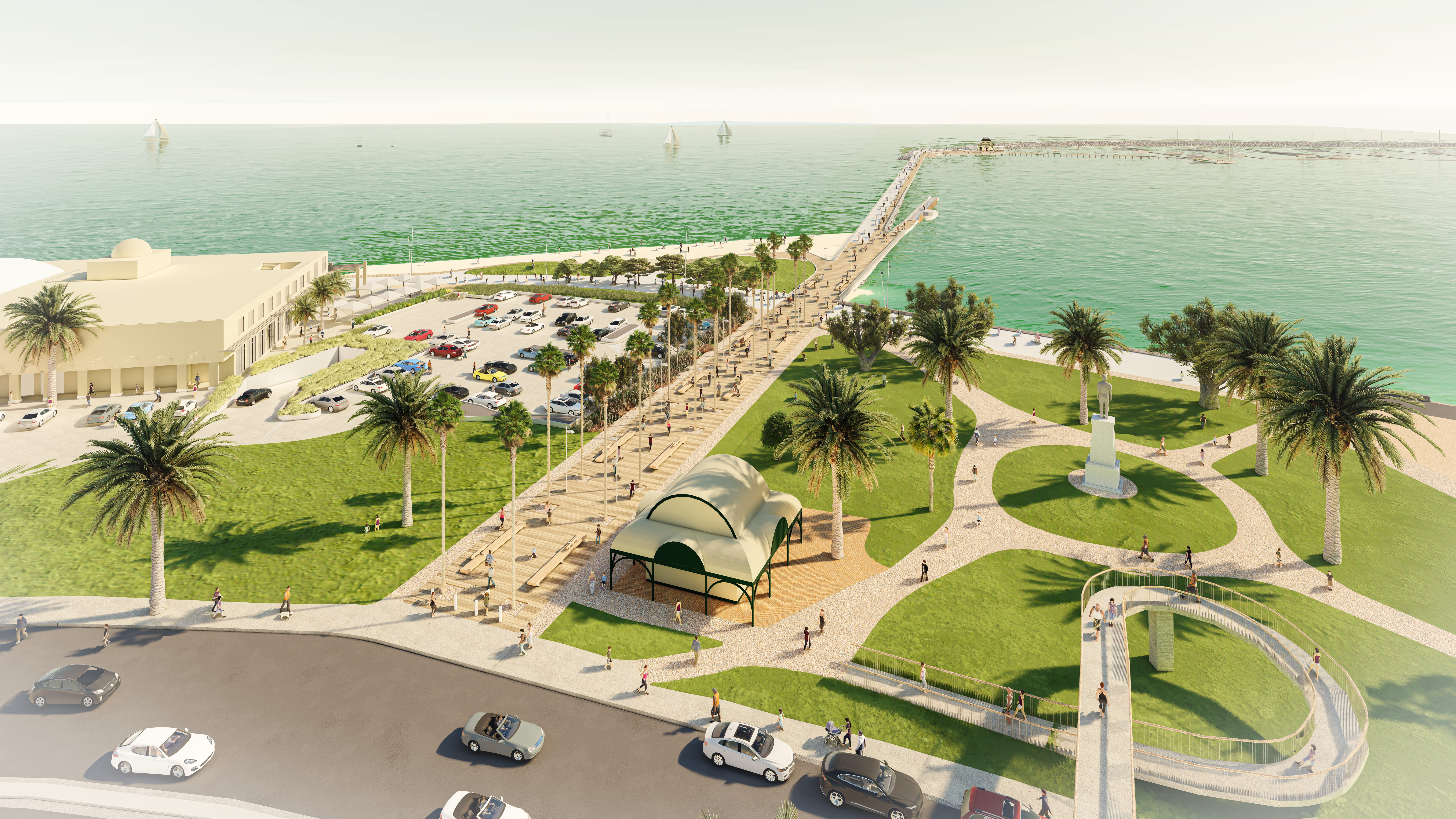 Image 1 - Foreshore integration. Concept design November 2021
Image 2 April 2021 Detailed Design - artists impression
Keep up to date
Community consultation
Local knowledge and insights are important in the detailed design and construction phase of the project. Community engagement will continue throughout the construction phase of the project, with regular project updates and stakeholder briefings. Anyone with an interest in the project can stay in-touch by signing up for email updates
Community/Stakeholder Reference Group
We've established a stakeholder reference group (SRG) to help share information and minimise impacts during construction on stakeholders and community. The SRG consists of members who represent the views and interests of stakeholders and community groups. This group provides a forum for sharing information, gaining feedback and capturing local views.
The group consists of the following representatives:
• City of Port Phillip
• Earthcare - St Kilda
• Kiosk Tenant
• Royal Melbourne Yacht Squadron
• St Kilda Life Saving Club
• St Kilda Sea Baths
If you wish to get in contact with any SRG representatives please contact Parks Victoria on 13 1963 or email info@parks.vic.gov.au
2017 Community Engagement Phase
In 2017, we engaged with more than 550 people to identify a design for a redeveloped St Kilda Pier that would best support the local community and visitors. A stakeholder reference group was established, and feedback was given in community and stakeholder forums, at market stands and via an online survey on Engage Victoria. The Engagement Summary Report provides an overview of the values, ideas and aspirations provided by community members and stakeholders during the engagement period in 2017. This feedback has been taken into consideration and used to inform the design and desired characteristics, facilities and services for the new pier.
2017 - St Kilda Pier Redevelopment Engagement Summary Report
FAQs
Why do we need a new pier?
St Kilda Pier is an iconic part of Melbourne's history, and Parks Victoria is committed to ensuring it remains a great place to visit. The pier has been rebuilt and repaired in response to age or damage many times since the 1850s. The current pier, built in the 1970s, is approaching the end of its 50-year design life. Parks Victoria has been considering the future of the Pier for several years, in response to both the expected replacement works, and in response to recent and future planning in the surrounding areas. Designing and building a new pier provides us with an opportunity to refresh the services and amenity the pier provides to Victorians and our visitors, and to strengthen its connection to the foreshore and the broader beach experience.
How did you decide on the curved pier option?
Two options, a curved or straight pier design were developed from a pier design concept developed in 2007/8 and published in the St Kilda Harbour Master Plan. During September and October 2017, more than 550 people engaged with us about the redevelopment of St Kilda Pier and provided feedback on the two options. A community reference group was established, and feedback was provided in community and stakeholder forums, face to face at market stands and via an online survey on Engage Victoria. There was resounding support for the curved pier option, over the like for like replacement of a straight pier. Further professional advice from engineers and designers was sought in the development of the design and in 2017 Parks Victoria, City of Port Philip and the Victorian Government endorsed the curved option.
What parts of St Kilda Pier are being replaced?
The section of pier that connects the foreshore to the kiosk is the primary focus of this project. In addition, this is an opportunity to provide better protection for the Little Penguin colony; improve the viewing area and provide all-abilities access to it.
Will the pier be closed to visitors during construction?
Construction of the new pier commenced in mid February 2022. The current pier will remain open during the construction of the new pier. Only once the new pier is ready for public use, will the old pier be dismantled.
The anticipated timeframe to build the new pier is approximately 18 – 24 months, subject to weather or technical issues.
What are the project work hours
Work hours will be Monday to Friday, 7am to 6pm. To minimise disturbance to weekend trading and events, work on Saturdays between 7am and 1pm will be used as a contingency only. Some quiet work outside these hours will include arriving at site, tidying up, office work and checking on site safety and security. Notification will be provided to project site neighbours if work is required outside these hours.
What impacts will there be on the pier's Little Penguin colony?
St Kilda Pier breakwater is home to a colony of nearly 1,300 Little Penguins. As part of the project, a new visitor viewing platform will be constructed to improve penguin viewing and provide penguins with more protection. The platform is being designed with specialist input to ensure that penguins can move
freely without the current intrusions of humans.
Parks Victoria works closely with Earthcare St Kilda to monitor and care for the penguin colony. This will continue during construction, and penguin safety is the highest priority during work near the Little Penguin colony. Working closely with the Department of Environment, Land, Water and Planning (DELWP), Parks
Victoria has obtained all environmental and wildlife permits and developing and implementing a Wildlife Management Plan to ensure the safety of the penguins and other wildlife during construction.
What changes have been made since the detailed designs were released?
A key project objective is to create a safe and accessible public pier. One of the challenges of the existing pier is that connection to the pier is directly on the popular pedestrian and cyclist Bay Trail/St Kilda Promenade resulting in conflicts between pedestrians accessing and departing the pier (in an east-west
direction) and pedestrians and cyclists travelling along the promenade (in a north-south direction). The extension of the pier towards Pier Road and Jacka Boulevard will provide more public space to minimise potential conflicts between different users.
In addition to the new pier, as part of the work, Parks Victoria and the Port Phillip City Council will deliver a revitalisation project on the adjoining foreshore. A design render has been developed (see above image) to illustrate how this upgrade will create an iconic visitor entrance to the pier from the St Kilda foreshore precinct and provide a better connection with Catani Gardens to the vibrant St Kilda neighbourhood. By creating more public space, this work will also improve the safety of Bay Trail users who cross over the pier entrance area. This foreshore work will mean changes to the way Pier Road is accessed and used. Parks Victoria and council will continue to work with stakeholders on the benefits and likely impacts and how they can be mitigated.
The original 1853 pier extended all the way to Jacka Boulevard, but successive pier and foreshore works have separated the pier from the land. Given this, an important aspect of the project will be to reconnect the pier to the St Kilda foreshore landscape in a manner that respects the important history and function of the site.
Where can I swim?
The pier is an essential part of St Kilda harbour and is a busy working area important for activities including boating, fishing, socialising, viewing wildlife, walking and photography. The beach at St Kilda Pier is unpatrolled so swimming is encouraged outside St Kilda Life Saving Club which is approximately 400m south of the pier. This site also has a disability beach access ramp, beach matting and beach wheelchairs. The club also has a full Changing Places facility with a hoist and change table.
How many people currently visit St Kilda Pier?
More than 800,000 people currently visit St Kilda Pier every year to enjoy the view, go fishing and spend time with friends and family. In peak season, the pier hosts more than 6,000 visitors a day.
Contact us
Sign up for email updates or contact us for any queries you have about this project on 13 1963 or info@parks.vic.gov.au
Project funding - $53 million State Government Funding
Project Partner - Department of Transport