Here are some examples of how the Parks Victoria brand comes to life in communication. These creative executions combine the logos, colours, design system, tone of voice and style guide to produce a variety of ways to communicate our brand that is visually engaging.
Signage
This example of temporary signage uses an existing signage template and the endorsed brand logo that the content is associated with.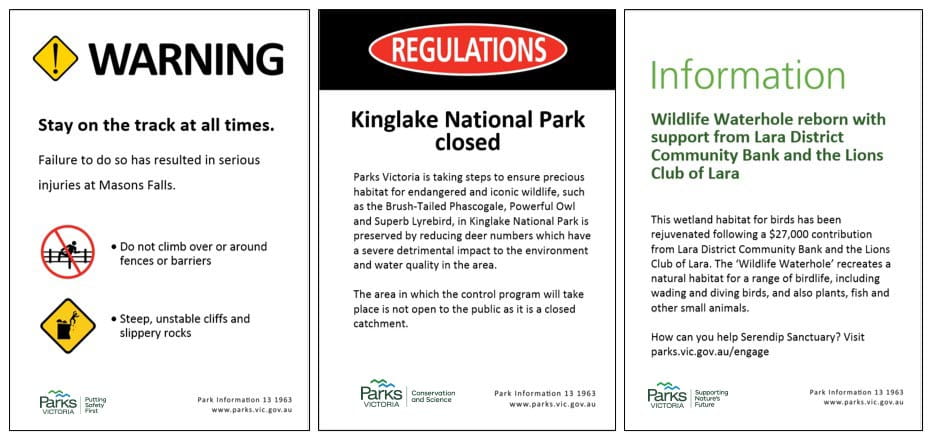 Interpretation signage boards used in parks and information hubs use the associated experience brand territory logo for the park and its colour palette and image style.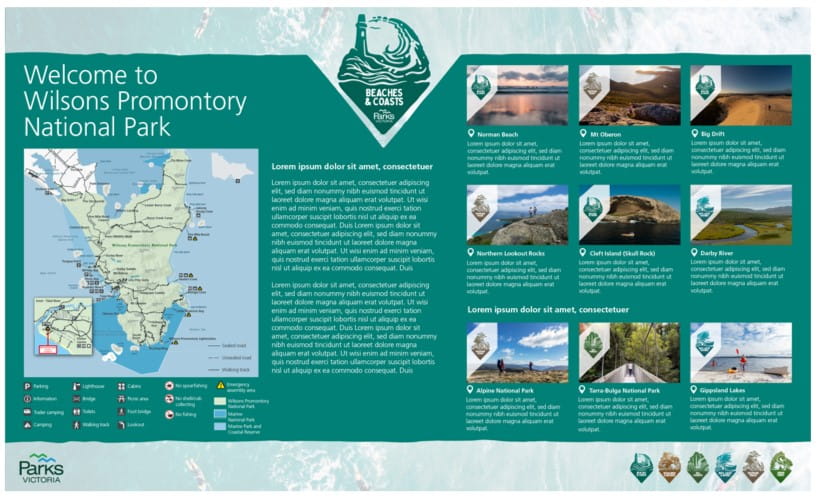 Capital infrastructure works require temporary signage and communications and engagement with the public. Investment of any kind into the Parks Victoria estate uses the endorsed brand logo (where relevant) and follows the Brand Victoria masthead in accordance with the investment fund. If in doubt, contact marketing@parks.vic.gov.au
Annual report
The annual report follows corporate master brand using an existing template. This does not use experience or endorsed brands.
Managing Country Together
Acknowledgment of the Traditional Owners of our lands is an important part of Parks Victoria's corporate goals. In jointly managed parks, we partner with Traditional Owner groups which is represented through its unique design system using the artwork 'Meereeng' by Gary Walker, the Parks Victoria endorsed brand logo and the logos from Traditional Owner groups.
Junior Rangers
To appeal to our young Junior Rangers, the program has a unique design system but still follows the Parks Victoria brand architecture. Activity booklets and content follow the associated brand territory logo and colour palette for the park (or group of parks if its online materials). Some souvenir materials include the 'JR badge' which is used on its own on stickers, buttons and hats.
Social media
We do not use logos on social media posts, however, our channels use the master brand as their identifier.
Event collateral
Pull up banners and printed collateral used at events should follow the most relevant brand system that applies to the event. If in doubt, contact marketing@parks.vic.gov.au

NB As part of our ongoing commitment to the environment, Parks Victoria limits the amount of paper-based printed collateral in favour of reusable materials and digital options. Please consider this when planning your next event.
Get help applying the Parks Victoria brand