9 ways you can #TravelKind into nature
Thursday 11 November, 2021
Bursting to get into nature? As Victorians emerge from extended lockdowns and the state reopens; we know that demand for spending time in nature's green spaces will be at an all-time high. That's why, to celebrate World Kindness Day (November 13), we're asking you to consider travelling with kindness as you rediscover our incredible parks in Victoria!
Did you know: working kindness into your life can bring more delight and happiness to your life as well as the lives of others?
Here are some ways you can #TravelKind and incorporate kindness when travelling into nature!
1. Be kind by booking ahead
It is more important than ever to plan ahead for that long-awaited road trip, camping trip, or daytrip. Don't leave it up to luck upon arrival at your destination - this can lead to disappointment if it is overcrowded or doesn't match your expectations.
" It may take you that little bit longer to reach your destination or find a suitable car park, but you will get there, more relaxed, and you will have a better time,"says Reuben, Ranger Team Leader - Southern Peninsula.
Do your research and book your journey, accommodation, campsites, and activities ahead of time when you can
Before you head out, check for changes of conditions on the park page as well as the Change of Conditions page on the Parks Victoria website as parks can be closed at short notice if unsafe.
Book a Licensed Tour Operator to ensure a richer experience during your next trip. They provide the best local tips, expert advice and all the equipment you'll need.
If you are stopping for lunch or dinner along the way, guarantee yourself a table by booking in advance.
Avoid the rush by taking a midweek getaway to your favourite park when possible.
Discover something new and consider lesser-known parks and destinations.
If your plans change and you can't make your booking, call to cancel so someone else can secure a booking.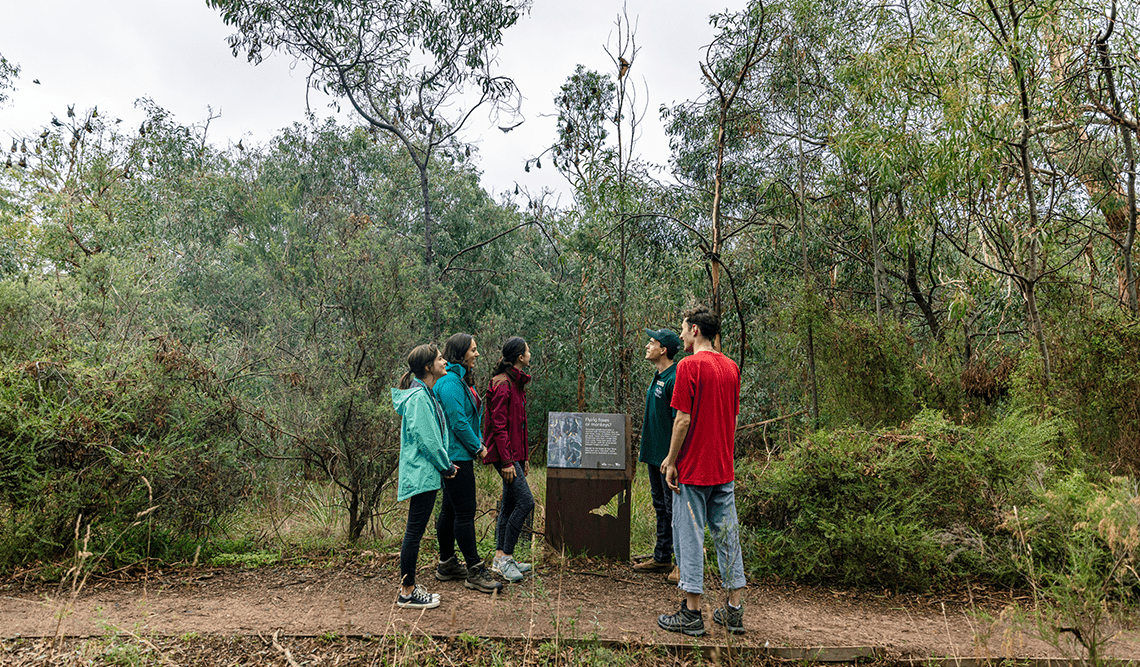 2. Be kind by choosing a Licensed Tour Operator
Did you know you can book different nature-based experiences when visiting a number of parks across Victoria? It's one of the best ways that you can experience nature! You can enjoy a range of experiences, allowing you to connect deeper with nature by learning more about our amazing flora, fauna, parks and waterways.
Using a Licensed Tour Operator is the easiest way to explore somewhere new and provides the confidence you need to ensure your visit is safe and enjoyable. Another bonus is they do all the hard work for you too (the planning and prep)! You'll also be supporting local businesses that operate in the area you visit - a big thumbs up for kindness!
There are more than 500 Licensed Tour Operators across Victoria who are ready to help you explore our spectacular parks and waterways.
With more than 50 types of park experiences to choose from!
You can search for a Licensed Tour Operator by selecting your preferred park, activity, or operator.
3. Be kind by being patient
It's very likely to be busy and bustling everywhere as you travel around Victoria over the coming months. Carparks could be full or over capacity at peak times.
"Be patient. At times over the summer period, particularly on hot days, weekends, and public holidays there can be a huge increase in the number of visitors wanting to enjoy our popular beaches." says Reuben, Ranger Team Leader – Southern Peninsula.
Some helpful tips:
Plan well in advance and arrive early, have a backup plan in case of overcrowding
Listen to ranger instructions or advice when entering a park
Be careful and drive slowly in carparks
If a carpark is full, keep driving, don't damage natural vegetation by parking in non-designated areas
Consider avoiding the crowds by visiting parks during off-peak times such as early morning (before 10am) or later in the day (after 3pm). Be careful to not venture out too late and plan your walk as walking at night can be dangerous and some parks have gates that will close.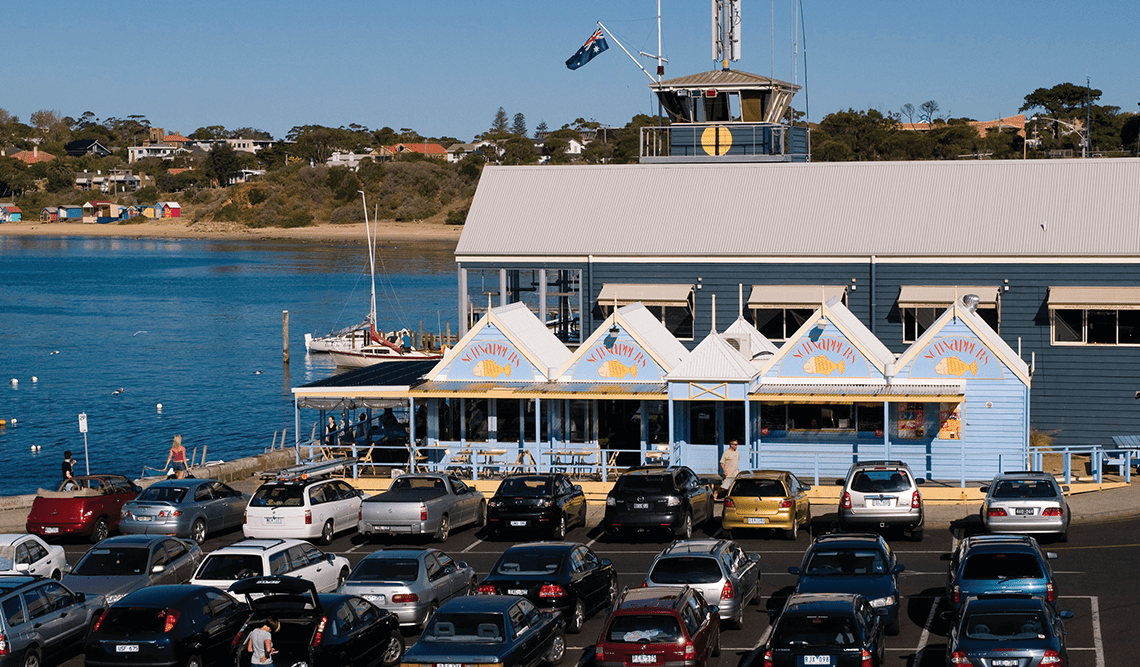 4. Be kind by deepening your connection to Country
Do you know the traditional name of the Country you live on? Country is so much more than the land beneath your feet; it is the term often used by Aboriginal peoples to describe lands, waterways and seas and it contains complex ideas about law, place, custom, language, spiritual belief, cultural practice, material sustenance, family, and identity.
Deepening your connection to Country when you travel is a great way to be kind to Traditional Owners, nature, and yourself.
Here are some ways you can deepen your connection to Country:
Parks Victoria is proud to work with Traditional Owners to care for Country. Managing Country Together is about understanding and respecting Traditional Owner rights and values, taking responsibility for protecting Aboriginal cultural heritage on the Parks Victoria estate and offering kindness and support to Aboriginal people working in park management.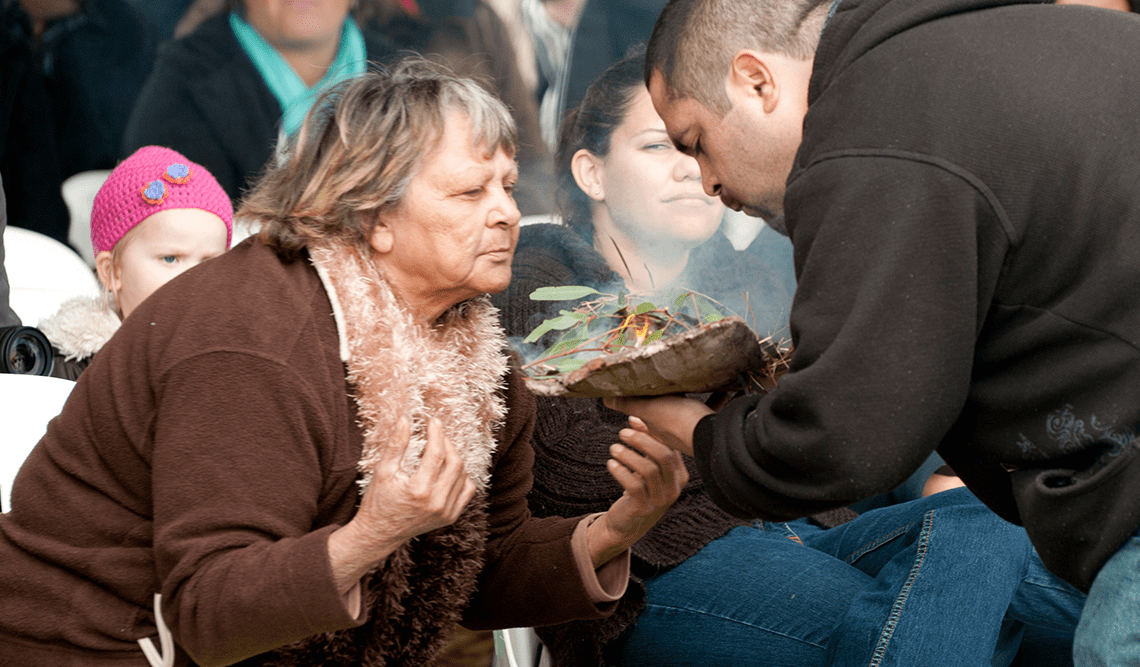 5. Be kind to park rangers, local businesses and other visitors
Please be kind to park rangers and other visitors when visiting parks as well as all tourism businesses when you travel. As travellers, please be patient, mindful, and respectful.
Say a friendly 'Hello' when you see a ranger in one of our parks and listen to any advice they may give.
By being prepared, safe and 'leaving no trace' you can help ensure our rangers can focus on looking after the park and its flora and fauna.
If you're driving through towns and stopping for food and supplies, be kind by being patient with business owners and other visitors. Be prepared to wait longer for your coffee or your sunset fish and chips!
6. Be kind to nature by staying on marked trails
Help to maintain our parks for the benefit of everyone and future generations by staying on the marked trails and remembering the importance of leaving no trace.
"There are lots of revegetation works done on the banks of the rivers by volunteers, Parks Victoria, Melbourne Water, and others. With the increase of use of our urban parks and river trails we are seeing more people trying to get close to the rivers and stepping on newly planted plants," says Rodolfo, Ranger - Waterways.
Walking on unofficial trails can be dangerous - there could be increased risk of safety issues along these paths, which are not maintained to park standards.
Marked trails prevent you and thousands of other travelers from accidentally disturbing wildlife, damaging native plants and trampling on important habitat.
Walking off track damages sensitive vegetation, can disturb Aboriginal culture heritage artefacts, compacts the ground, and can spread plant diseases.
Book a free Park Walk, guided by trained volunteers. These allow you to enjoy walking in urban parks or bushland without having to worry about where the trail is or how long it might take. Check out the Park Walks page for more information.
7. Be kind to nature by disposing of waste and rubbish properly
Dispose of any litter, recycle items where possible, and don't pollute. Rubbish and littering is harmful to our precious land and water ecosystems. Discarded waste has long-term impacts on the environment, cultural sites as well as being a safety issue for both visitors and the rangers.
"Take and dispose of your rubbish responsibly. The majority of litter ends up in our creeks, rivers, bays and eventually in our beaches." saysRodolfo, Ranger – Waterways.
Use toilets provided, do not go in the bush.
If there are no rubbish bins to discard your rubbish, take it home with you.
Keep a clean rubbish bag in your car for when you might need it.
Dispose of fishing equipment correctly.
Report littering from a vehicle with this form.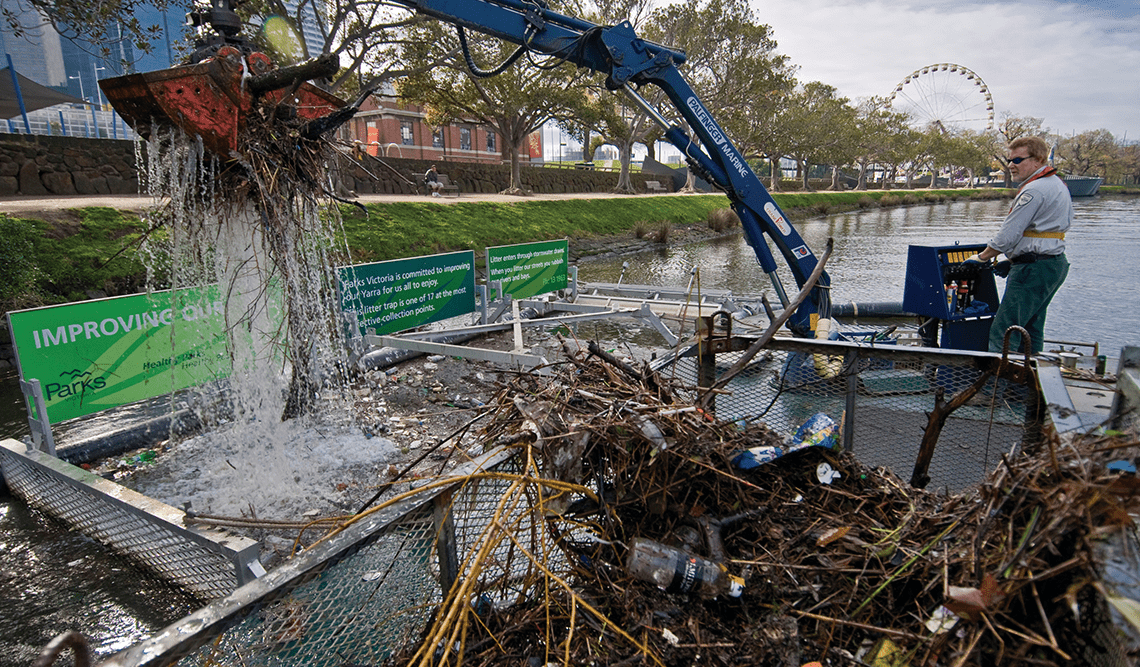 8. Be kind to, and beware of wildlife
When you encounter wildlife in parks and waterways it's important to not approach them. We want to give wildlife and, importantly, endangered species the best chance of survival. You can help to support our precious places and animals by actively being careful when you're near wildlife and appreciating their beauty from afar.
"We have a significant number of snakes around at the moment, so please look out for wildlife, keep a safe distance and remember to leave all wildlife alone," says Emma, Ranger- Shepparton
A couple of our top tips:
If you're driving at night, slow down at dawn and dusk as wildlife many animals become more active during these times - look out for wombats, kangaroos, wallabies, quolls, possums, and gliders.
Protect our wildlife by leaving animals alone.
Don't bring dogs or cats into national and state parks.
Don't remove artifacts, rocks, plants, shells, flowers, and other natural objects from their location.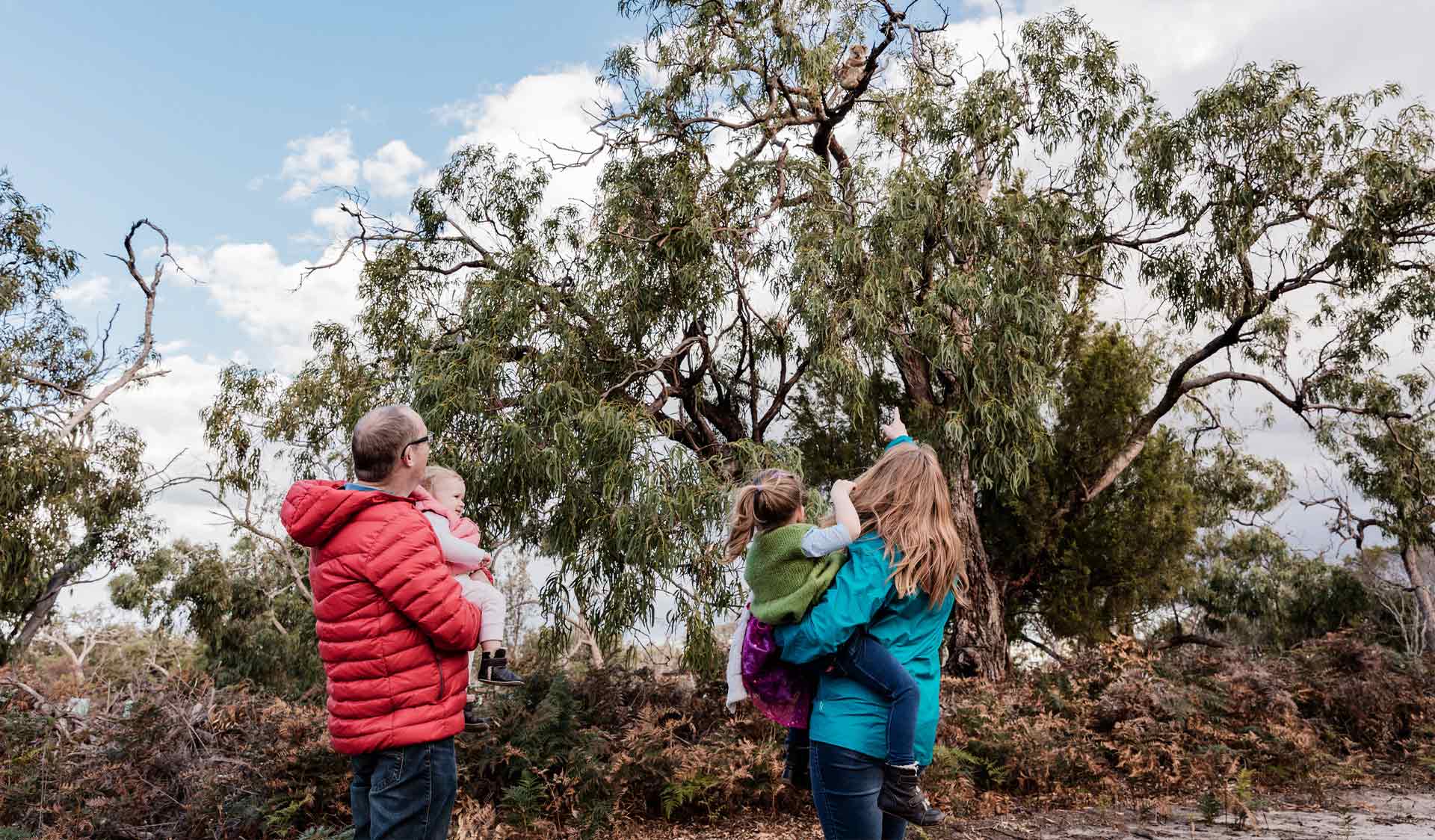 9. Be kind by volunteering your time
Contribute to conserving Victoria's special places by volunteering in parks. That's definitely a kind thing to do!
There are plenty of benefits of volunteering:
Learning more about plants and wildlife.
Gaining new skills.
Improving health and wellbeing.
Meeting new friends.
Reduce stress and promote physical wellbeing.
You can volunteer for an array of different activities, including:
Improving habitats for wildlife.
Learning how to propagate plants and collect seeds.
Taking photos of endangered species and habitats.
Providing visitor information along popular tracks and campgrounds.
Providing interpretation and guided walks.
There are volunteer activities for every age group, skill, and ability type. You can join a regular group or just participate occasionally. To find out more about volunteering opportunities, visit the Volunteering page.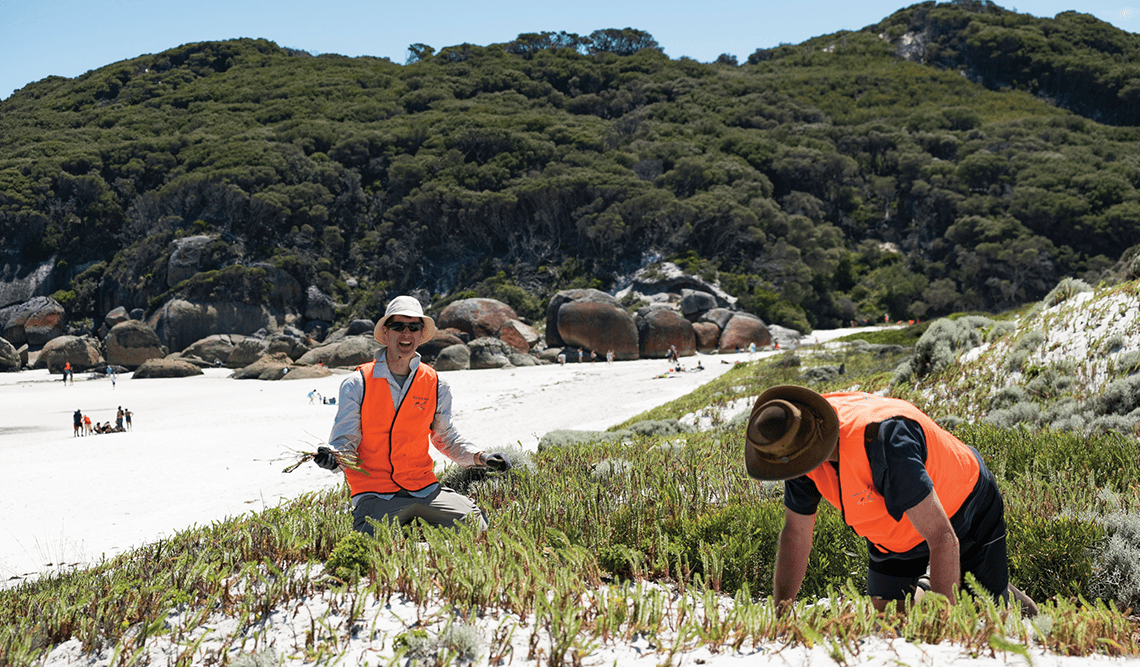 Our rangers are already planning ahead to ensure parks are ready to welcome visitors safely during the busy summer period. So, what act of kindness are you doing on World Kindness Day? Remember, a simple smile or thank you can go a long way! Enjoy.