One longer weekend in Buchan
Wednesday 28 June, 2023
Have you thought about extending your weekend away in nature? You might find you'll feel better, sleep deeper, smile more, and breathe fresher air.
Buchan is one of Victoria's oldest towns. Four hours east of Melbourne lies an enchanting system of limestone formations known as Buchan Caves Reserve, located on Gunaikurnai Country in East Gippsland.
Nestled in a picturesque valley in East Gippsland, the Buchan Caves Reserve hides an underground world of colour and enchantment just waiting to be discovered. Hundreds of caves are in this region and some of the most spectacular limestone formations in Australia can be found here.
What are you waiting for? Rare and exotic trees, a pretty river and lyrebirds await.
Where to stay
The peace and quiet of being away in nature can promote deeper, more restful sleep. Being exposed to natural light and fresh air during the day can help regulate your body's natural sleep-wake cycle, leading to better sleep at night.
Caves House
If you're looking for a roof over your head, the historic Caves House offers a cosy and comfortable experience. Take in the views over the Buchan River and explore all Buchan Caves Reserve has to offer.
Buchan Caves Camping
Set among rare and exotic trees, originally landscaped in the 1930s, this leafy campground is a family favourite. Immerse yourself in the peaceful landscape, relax to the sound of a babbling brook nearby and listen to lyrebirds mimicking the calls of their surrounds.
Campground facilities include hot showers, toilets, a laundry, a camper's kitchen and electric and wood fired barbecues.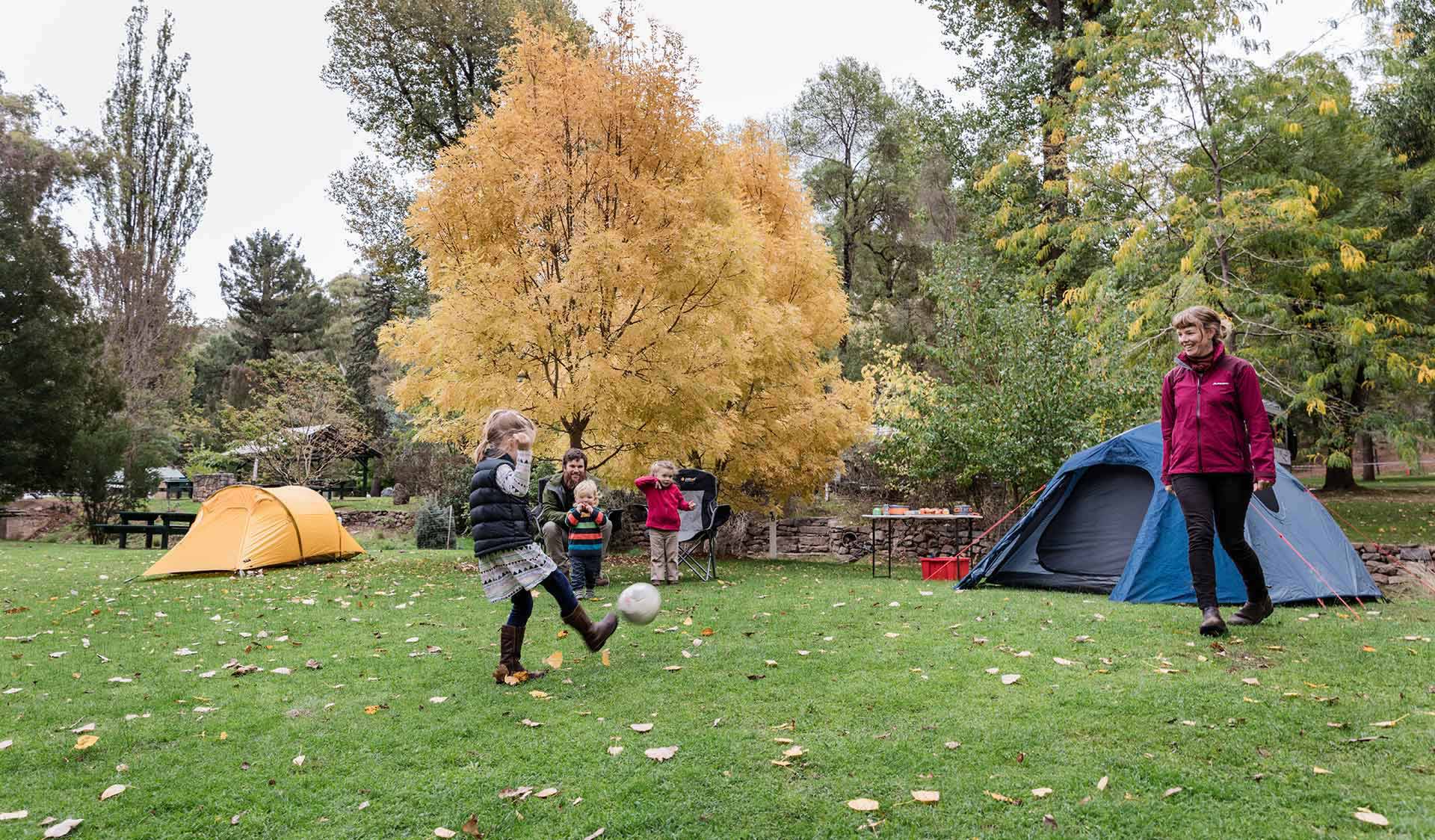 What to do
There is a Visitor Centre onsite to help you plan your trip.
Caves Guided Tours
The Buchan Caves Reserve is Victoria's largest cave system and home to the Royal Cave and Fairy Cave. Famous for its network of caves full of spectacular limestone formations, these are two of the finest caves in the region boasting elaborate stalactites (formed on the roof of the cave), stalagmites (build up from droplets which fall to the floor) and beautiful calcite.
Did you know? The caves were formed over 400 million years ago by underground rivers cutting through limestone rock.
Guided tours are the only and best way to experience this remarkable cave system.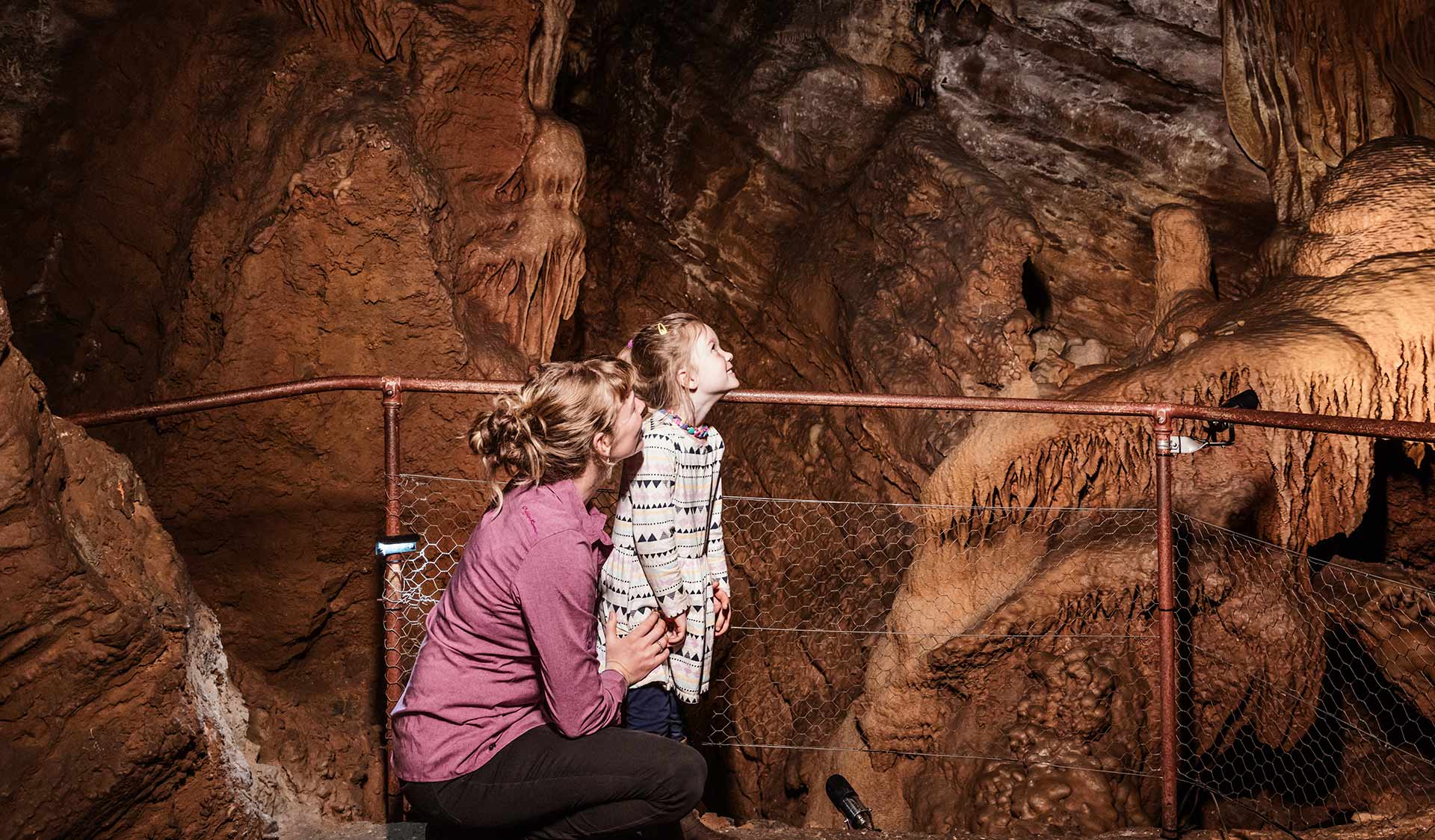 Walking
For the short easy walks, all you need are sturdy shoes with good tread and comfortable clothing. For the longer and more demanding walks, a reasonable level of fitness, good boots and plenty of water are recommended.
Moon Hill Walk – 0.5km, 30 minutes return This short walk leads to viewpoints overlooking the reserve, the Buchan Valley, and past the Devils Punchbowl, a large collapsed cave system. If you continue on and join Northern Arm Track, it will lead you back to the campground, which will be an additional 30 minutes.

FJ Wilson Interpreted Walk – 2km, 1 hour return This walk starts about 100m east of the Visitor Centre following the Royal Cave exit track and ends near the Fairy Cave entrance. From here you can return along the main road through the reserve.

Spring Creek Walk – 3km, 1.5 hours return This superb walk splits into the higher Tea Tree Track and the lower Kanooka Track with both meeting at the Spring Creek Falls viewing platform. Keep an eye out for lyrebirds, Gippsland Water Dragons, kookaburras, king parrots and other wildlife.

Caves Reserve Track – 4km, 2 hours return This walk starts opposite the playground and follows a fire access track along a ridge to the northwestern corner of the reserve. The Caves Reserve Track returns to the campground via the Northern Arm Track.

Granite Pools Walk – 4km, 2.5 hours return One of the steeper walks in the reserve, it makes its way through some tall timber and moss-covered gullies. Look out for lyrebirds on your way and enjoy the wonderful views of the Buchan Valley.
Download the Visitor Guide for detailed information on all of the walking tracks.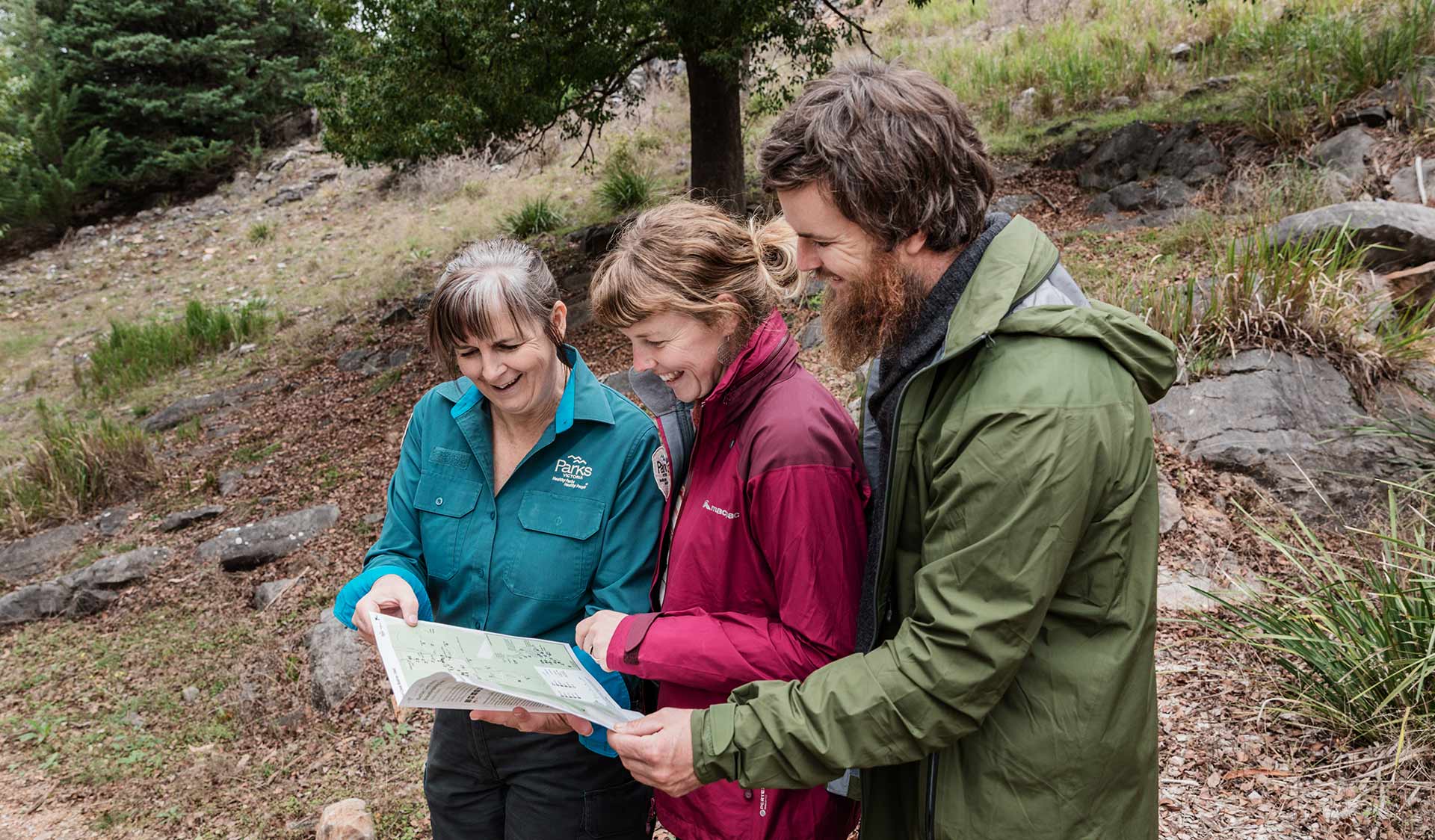 Buchan Pool
The Buchan Pool is famous for its icy-cold water straight from the caves. After the heavy rains in spring and early summer of 2022/23, testing found the flow and water quality high enough to reopen the pool.
To keep the community safe, the pool will be continually tested, therefore if the water quality or flow deteriorates, the pool may need to close again. Visitors and the community will be informed about the testing results.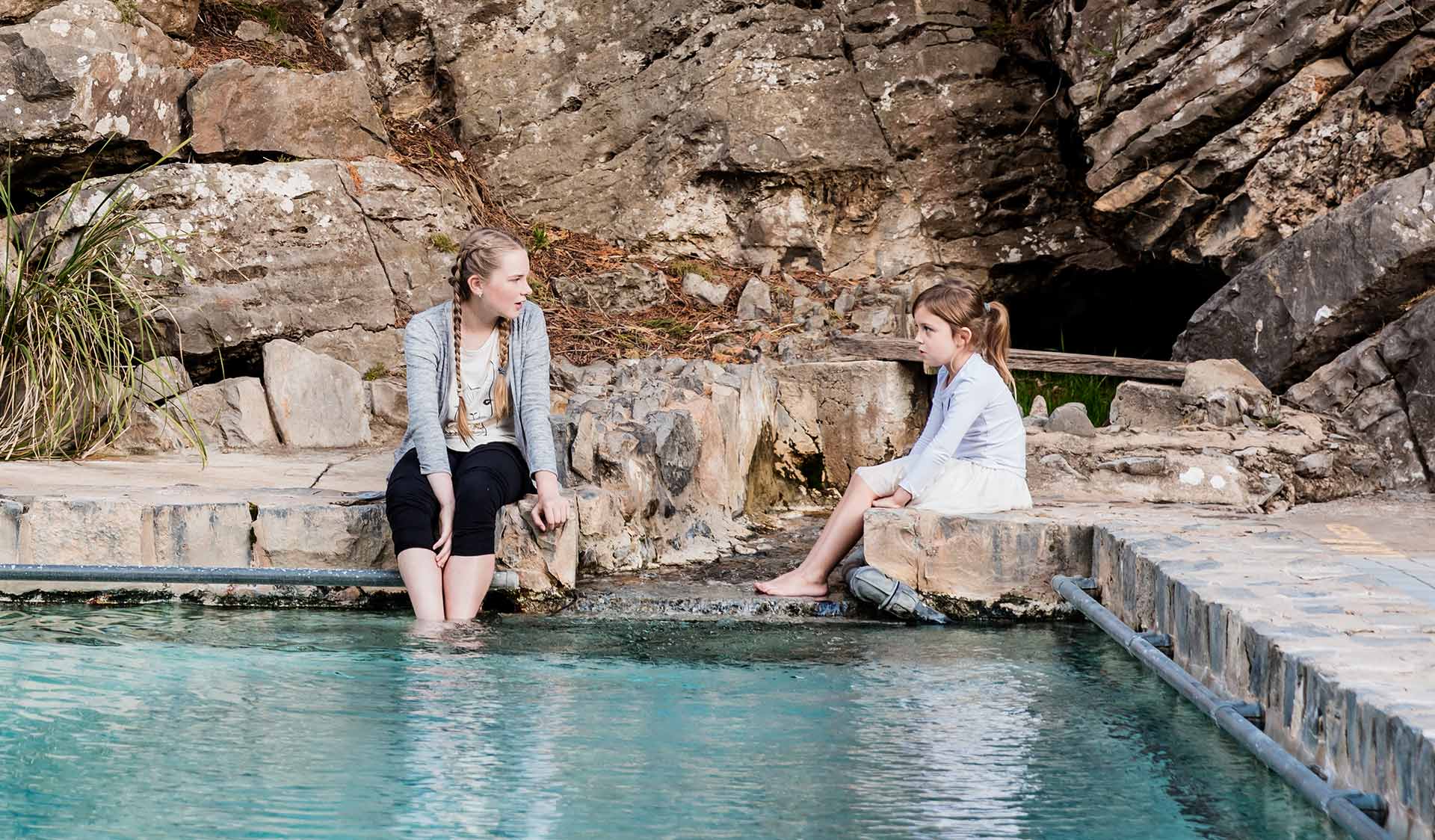 Wildlife Viewing

Keep an eye out for native wildlife who frequent the reserve. Kangaroos lay about the campground and visitor centre while native birds such as the Bell Miner, Powerful Owl, Superb Lyrebird and Pied Currawong can be seen perched among the trees.
What to eat
Kitchen or camping facilities
Can't go past homemade meals? If you're staying at the Caves House, you'll have access to the kitchen and enjoy family meals together. Your home away from home.
Or if you're camping, there are plenty of facilities you can utilise onsite, including the camper's kitchen and electric or wood-fired barbecues.

Picnicking
With walking tracks and wildlife, the Buchan Caves Reserve is a great spot to settle in for a picnic.
It's essential you leave parks and campsites free of litter or destruction. Rubbish bins are not provided at campgrounds, so be prepared to take all your rubbish home with you. Pack lots of waste bags for rubbish and recycling and dispose of them when you get home.
Buchan Caves Hotel
Take a short walk or drive out to the local Buchan Caves Hotel. A classic country pub where you'll come as strangers and leave as friends!
Buchan Caves Reserve is located in Krauatungalung Country.
Buchan Caves Reserve is one of the jointly managed parks within Gippsland. The Joint Management agreement recognises the fact that the Gunaikurnai people hold Aboriginal Title and maintain a strong connection to Country. As custodians of the land, they are the rightful people who speak for their Country. These parks and reserves are cultural landscapes that continue to be part of Gunaikurnai living culture. For more information on Joint Management, and to learn about Traditional Owner aspirations for their Country please visit the Gunaikurnai Traditional Owner Land Management Board and the Gunaikurnai Land and Waters Aboriginal Corporation.
For more inspiration or exciting things to see and do in Victoria's parks and reserves, subscribe to our monthly Outdoor Inspiration e-newsletter.