See Victoria's tallest waterfall, Dandongadale Falls, plunge 255 metres over a sheer cliff face and disappear into the Ross River below. Visit Paradise Falls, where a fine silver mist spills over a red conglomerate ledge or the quaint Little Falls nestled in a narrow fern-laden gully.
Climb Mount Howitt where fine views of the Crosscut Saw, Mount Speculation and the Terrible Hollow unfold. The huge escarpments of The Bluff may seem forbidding, but natural breaks allow a fairly easy scramble to the top. Take in the views of wildflower-strewn plains and Lake Eildon and Mount Buller in the distance. The Australian Alps Walking Trail also makes its final journey through the Alpine National Park before meandering east towards Walhalla.

Although accessible from various points within the Alpine National Park, you can access the iconic Wonnangatta Drive from Mansfield. This 4WD journey takes in the historic mountain huts, finding your way to the Wonnangatta Valley, the mysterious Wonnangatta Station and old goldmining town of Talbotville.
Things To Do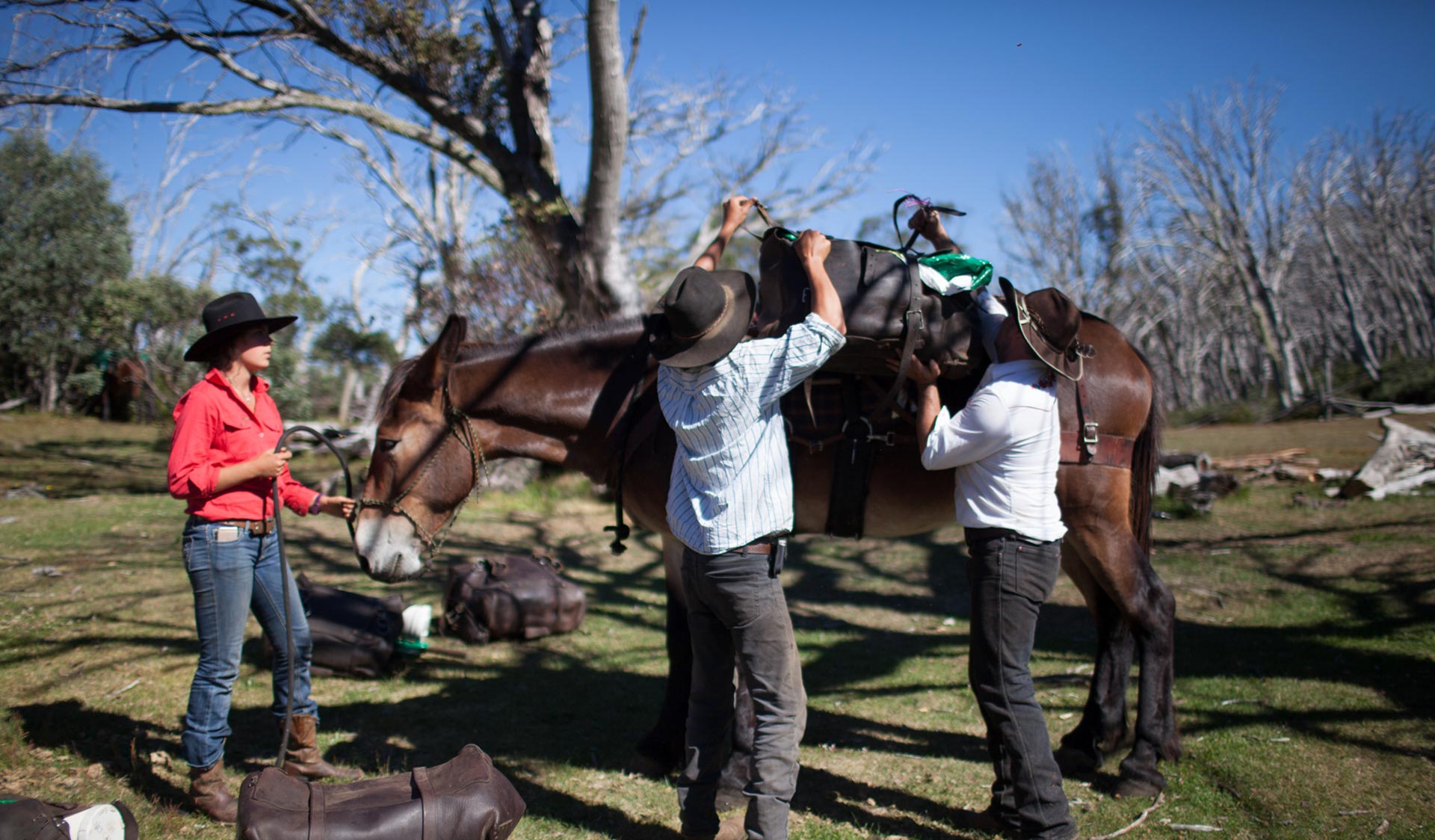 The Alpine National Park and Howqua Hills Historic Area provide a unique and stunning backdrop for multi-day horse rides.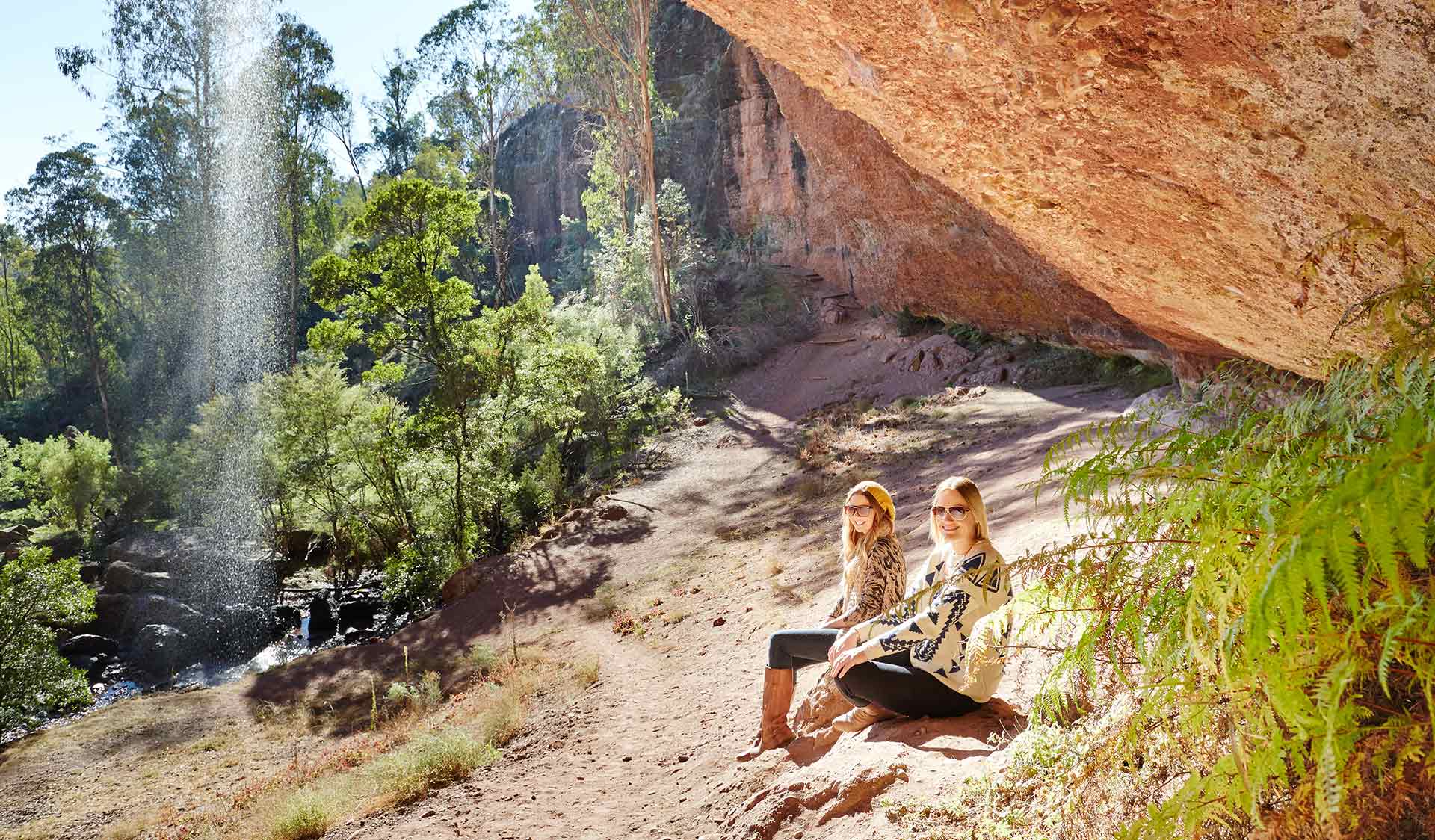 Paradise Falls cascade 31 metres and are most spectacular in spring, early summer or after rain. The walk to the viewing platform is a well‐made stepped track perfect for all ability levels.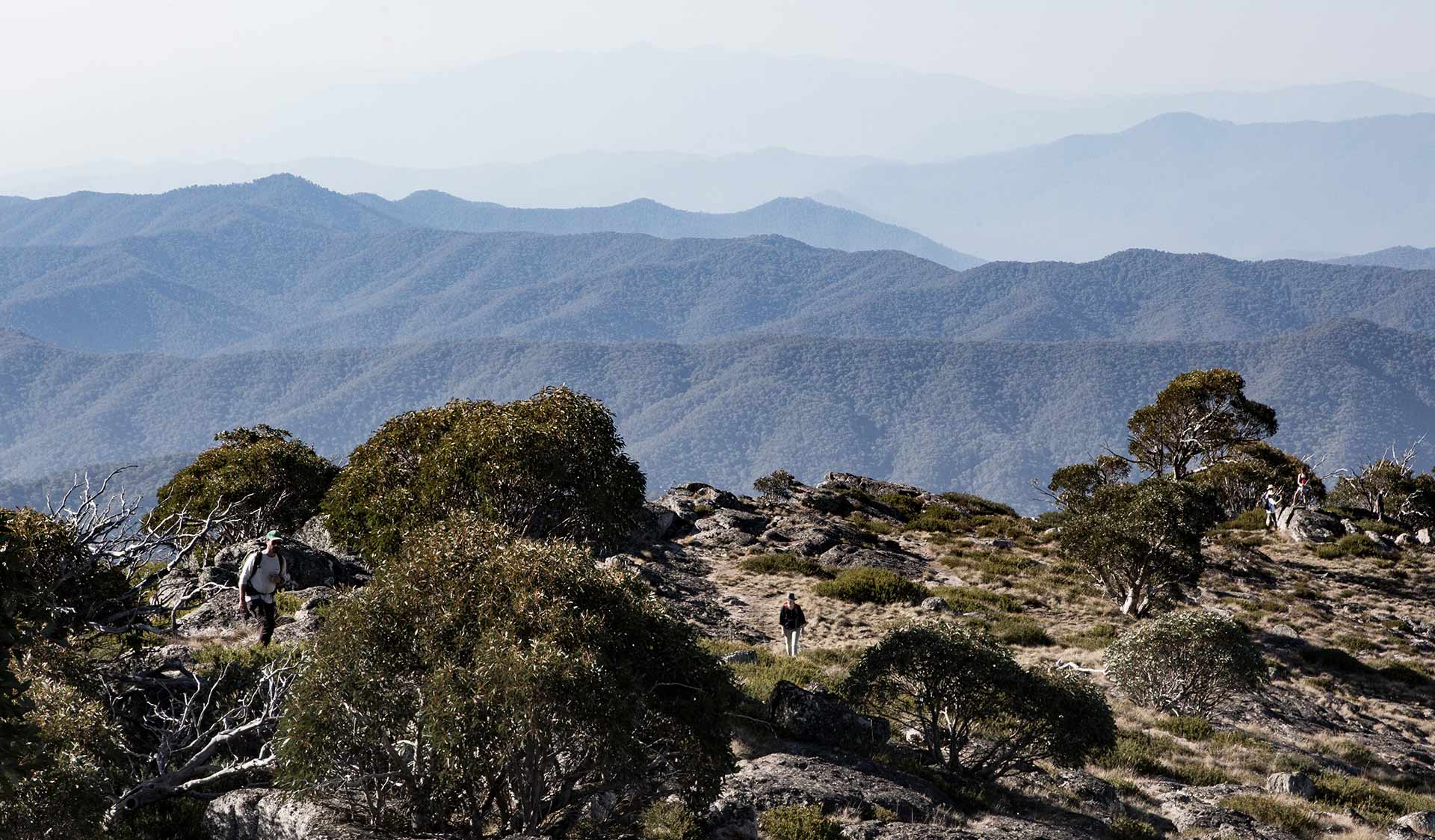 Enjoy a beautiful walk to Mount Cobbler and take in amazing views from the top of the mountain. The track is relatively steep and recommended for physically fit walkers.
How to get there
Mansfield and Whitfield
When you're there
Siting just behind Lake Eildon, Mansfield and Whitfield provide the perfect introduction to the Alpine National Park. Explore The Bluff, Mount Howitt and the Wabonga Plateau through summer wildflower season or for the experienced skier, ski its remote slopes during winter.

Many visitors enjoy exploring the historic huts in the area and camping in near by camping areas on the banks of the Howqua or King Rivers.

The iconic Wonnangatta Four Wheel Drive is easily accessible from Mansfield and opens opportunities to explore the more remote corners of the park. Download the Mansfield and Whitfield Visitor Guide for more information about this part of the park.
When to go
The best time to explore the Alpine National Park on foot is between November and April. The mild summer temperatures found in the high altitudes of the Alpine National Park are the perfect retreat from its lower-lying counterparts and make for perfect hiking, horse riding and four-wheel driving conditions. While the occasional sunny day can see daytime temperatures rise above 30°C, the nights are still cool.
Need to know
Mansfield and Whitfield
Accessibility
Visiting a park can be more of a challenge for people with disabilities, however in Victoria there are a wide range of facilities to help people of all abilities enjoy our wonderful parks around the state.

Most access is via 4WD vehicle, some 2WD sites are Paradise Falls, Bennies Camping Area, Lake Cobbler, Upper Howqua Camping Area (dry weather only).

A large portion of 4WD tracks are closed from the Thursday after the Queens Birthday long weekend in June, and generally reopen on the 1 November. Check with the local Parks Office for up to date information regarding track closures.
Assistance dogs are welcome in Parks Victoria parks and reserves. Entry requirements apply for parks and reserves that are usually dog prohibited, such as national parks.
Alpine back country winter safety
Safe backcountry travel in Victorian Alpine areas during winter requires training and experience. You control your risk by choosing how, when and where you travel, and the activities you participate in.
Change of Conditions
Nature being nature, sometimes conditions can change at short notice. It's a good idea to check this page ahead of your visit for any updates.
Track closures due to flood impact

The following tracks are closed due to impact by storms and flood. Crews will assess and reopen when safe:

The following tracks are closed due to impact by storms and flood. Crews will assess and reopen when safe:

Cobberas Track


Ingeegoodbee Track

Little Cobbler Track

McFarlines Flat Track


Mt Pinnibar Track - deteriorated condition

Mt Pinnibar Track between Walkers Road and Tom Groggin Track has deteriorated significantly following recent storm and flood events.

Visitors are advised to consider alternate routes until

repairs can be carried out.

Early seasonal road closures 2023

Early seasonal road closures apply to areas within and tracks bordering the Alpine National Park from 1 May 2023. See MapshareVic for locations of the closures. Visit the seasonal road closures page for more information.

Alpine National Park- Planned aerial shooting operations targeting deer

Parts of the Park will be closed during these dates while aerial shooting operations targeting deer are undertaken.

Areas include Mt Bogong, Bogong High Plains, Dinner Plain, Dargo High Plains and Feathertop.

29 May-2 June 2023
5-9 June 2023

See attached map for more details.

Attachments: Alpine NP Aerial Shooting Information (685KB)

Road Conditions – Howitt, Tamboritha and Moroka Roads.

Howitt, Moroka and Tamboritha Roads in the Foothills and Southern Alps area of the Alpine National Park are currently recommended for all wheel drive and four wheel drive vehicles with sufficient clearance and appropriate tyres as move into the cooler months. Road maintenance works have been completed on sections the Howitt and Moroka Roads in summer 2023. Vehicles travelling on the Howitt, Tamboritha (unsealed section) and Moroka Roads require attention to variations of the surface condition. Allow more time for your journey and always drive to the conditions.

Notices Affecting Multiple Sites

Mt Selwyn Road closure

Mount Selwyn Road is closed between the intersections of Five Ways and Canyo Road between May 2023 till approximately December 2023 due to significant road works being undertaken on this section of road.




Alternate routes are Dingo Creek Tk - Great Diving Range Tk - Mt Selwyn Rd, Selwyn Creek Rd - Great Driving Range Tk - Mt Selwyn Rd or Selwyn Creek Rd - Tea Tree Range Rd - Mt Selwyn Rd or Walshs Tk - East Buffalo Rd - West Humffray Rd - Selwyn Tk. - Please check seasonal road closures prior to departure as these might affect your vogue.




In the interest of visitor safety this road is closed b

etween May 2023 till approximately December 2023.

Davies Plain Hut & Camping Area (Alpine National Park)

Early seasonal closure for Davies Plain Track and Kings Plain Track, Alpine National Park

Kings Plain Track and Davies Plain Track

between Buckwong Creek Camping Area (at Tom Groggin) and Charlies Creek Camping Area are seasonally closed to all vehicles from

1 May to 30 November

inclusive.

Sections of Davies Plain Track north of Buckwong Creek Camping Area (at Tom Groggin) and south of Charlies Creek Camping Area are seasonally closed to vehicles between the 2nd Thursday in June and the Thursday before Melbourne Cup day.

Attachments: Davies Plain Track seasonal closure section_1 May - 30 Nov (258KB)

Notices Affecting Multiple Parks

Ground shooting operations targeting deer

Ground control operations targeting deer will be undertaken in these Parks and Reserves from December 2022 to December 2023.

These areas will remain open to visitors during operations.

Alpine National Park (Bogong High Plains, Mount Bogong, Dinner Plain,

Dargo High Plains, Foothills and Southern Alps)

Buchan Caves Reserve

Burrowa-Pine Mountain

Cape Conran Coastal Park

Cape Liptrap Coastal Park

Cabbage Tree Creek Flora Reserve

Errinundra National Park

Lake Tyers State Park

Lakes National Park

Baw Baw National Park

Mount Buffalo National Park

Mount Mittamatite Regional Park

Mount Mitta Mitta Flora Reserve

Mount Lawson State Park

Mount Granya State Park

Mountain Creek Education Area

Pheasant Creek Flora Reserve

Wabba Wilderness Park

Wilsons Promontory National Park




For more information about deer control to protect biodiversity, please visit

this link

.