The highest mountain in Victoria, Mount Bogong is part of a unique Australian alpine environment. Dominating the northern horizon of Alpine National Park, the peak's undulating planes are home to dozens of specialised species, along with abundant opportunities for adventure and some of the most spectacular views in the state.
At 1986m, Mount Bogong offers a high-altitude playground for outdoor adventurers, wildlife spotters and nature enthusiasts. In summer, the mountain serves as a cool, refreshing getaway on hot days, and has beautiful displays of alpine wildflowers. In winter, experienced skiers can enjoy backcountry skiing in a snowy wonderland.
For experienced hikers keen to tackle Victoria's highest peak, you can take your pick of three routes to the summit: the Granite Flat Walking Track, the Staircase Spur, and the Eskdale Spur Walking Track.
Granite Flat Walking Track is the shortest route to the summit of Mount Bogong. You'll need a four-wheel drive to access the trailhead, which starts at the end of the Granite Flat Vehicle track. The walk is steep and rocky, and can be hazardous when the weather is poor.
The Staircase Spur is aptly named, climbing 16km to the summit of Mount Bogong. Once you reach the exposed, true alpine treeless plateau the views are 360 degrees and spectacular. Be prepared for a steep, arduous hike that requires a high level of fitness.
Eskdale Spur Walking Track is a popular and challenging route to the summit of Mt Bogong. It is a steep, rocky, exposed climb with little shade as you get higher. This means the views are incredible from the walk and on the summit but be careful to protect yourself during summer from the sun and in winter from snow and high winds. Carry sufficient water for your needs as there is only a small water tank at Michelle Hut approximately halfway up that supplies untreated water and may at times be dry.
For all of these hikes, be prepared for snow, high winds and fog - always carry suitable clothing including a waterproof layer, and check the forecast before leaving.
Things To Do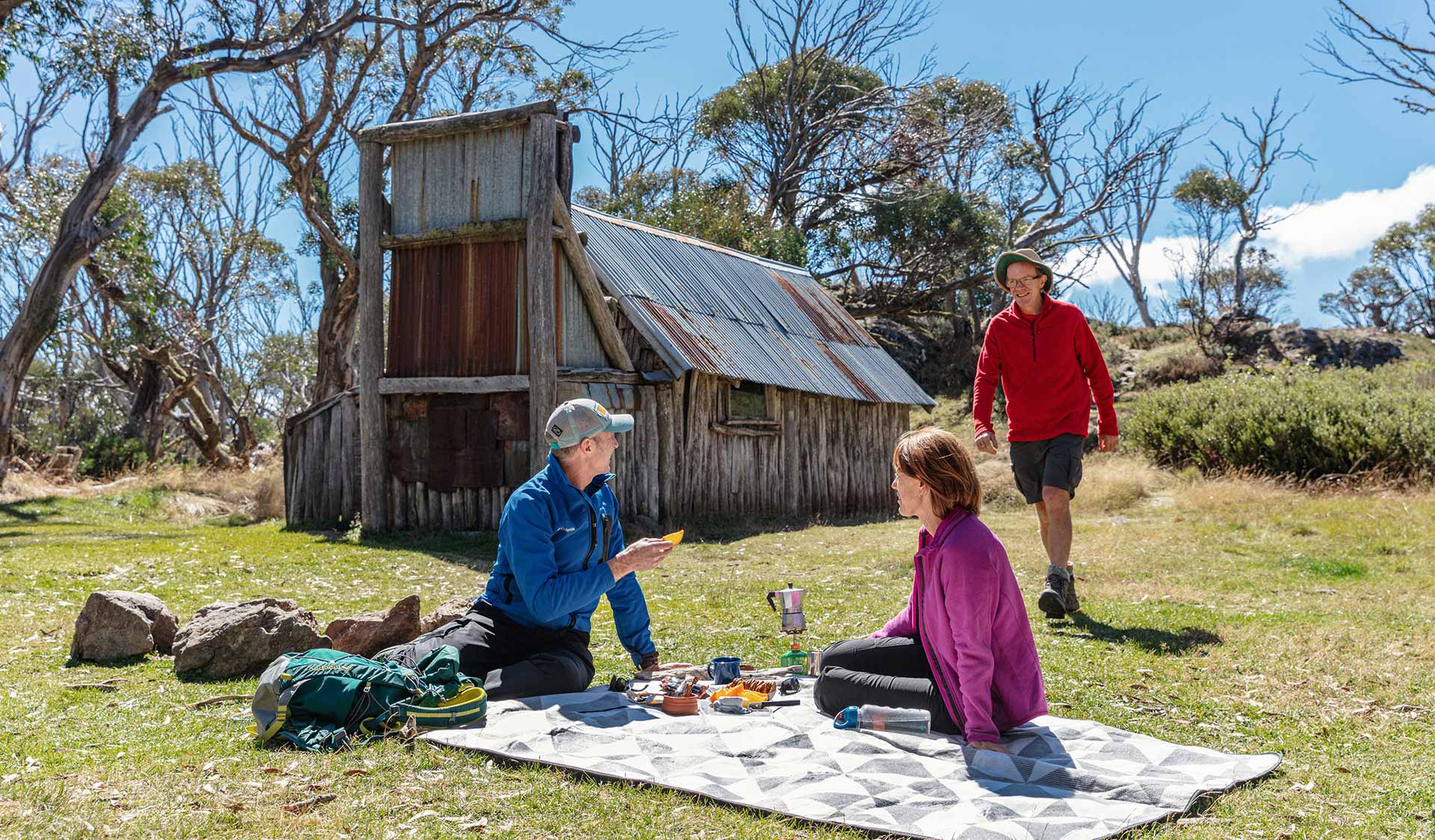 Historic huts in Alpine National Park
There are nearly 60 huts and hut ruins in the Bogong area of the Alpine National Park. Enjoy a visit to one of these historic huts, but do not use them for accommodation - they are only for emergency refuge.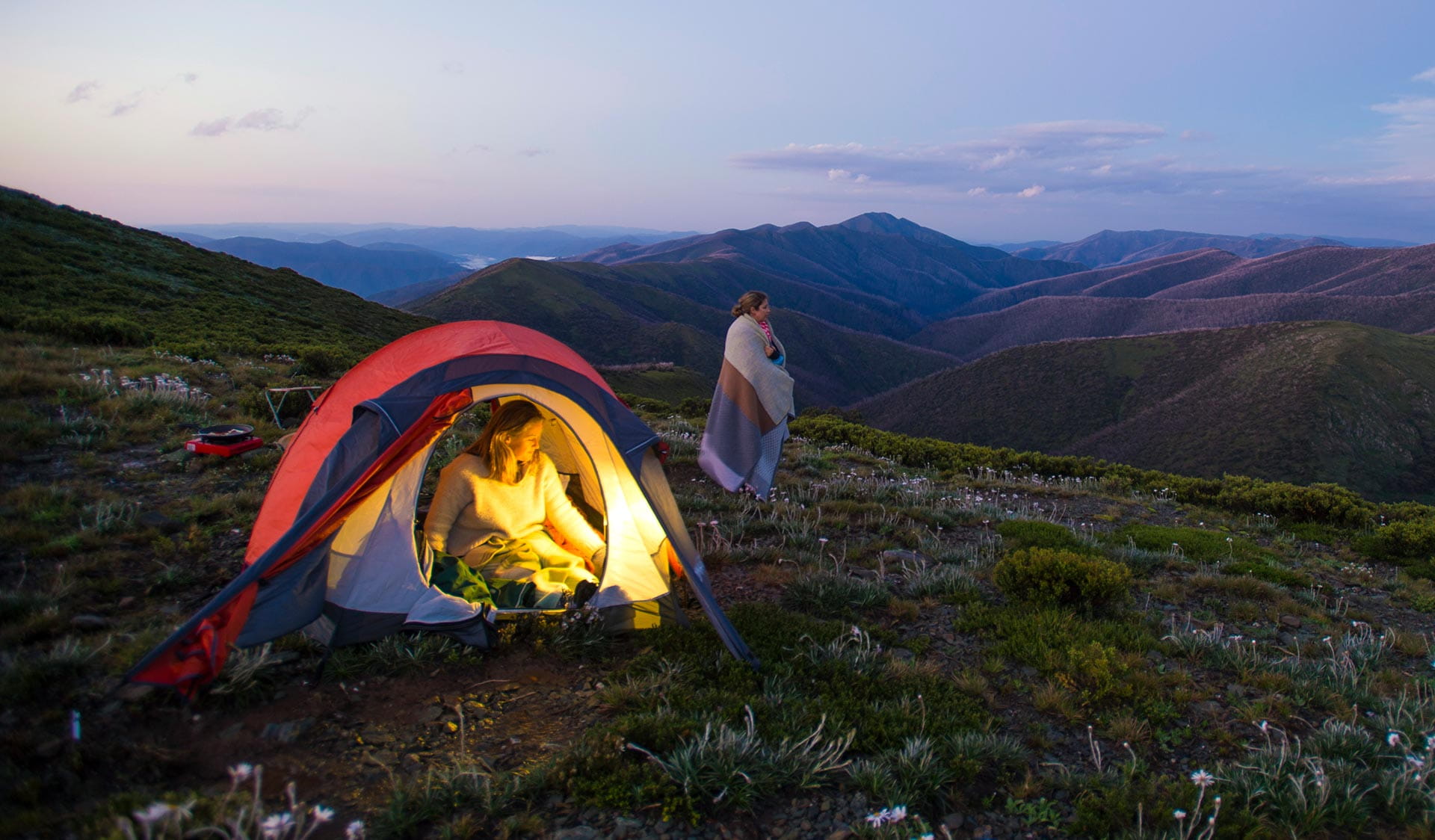 The Alpine National Park offers some of the most authentic and scenic bush camping opportunities in Victoria.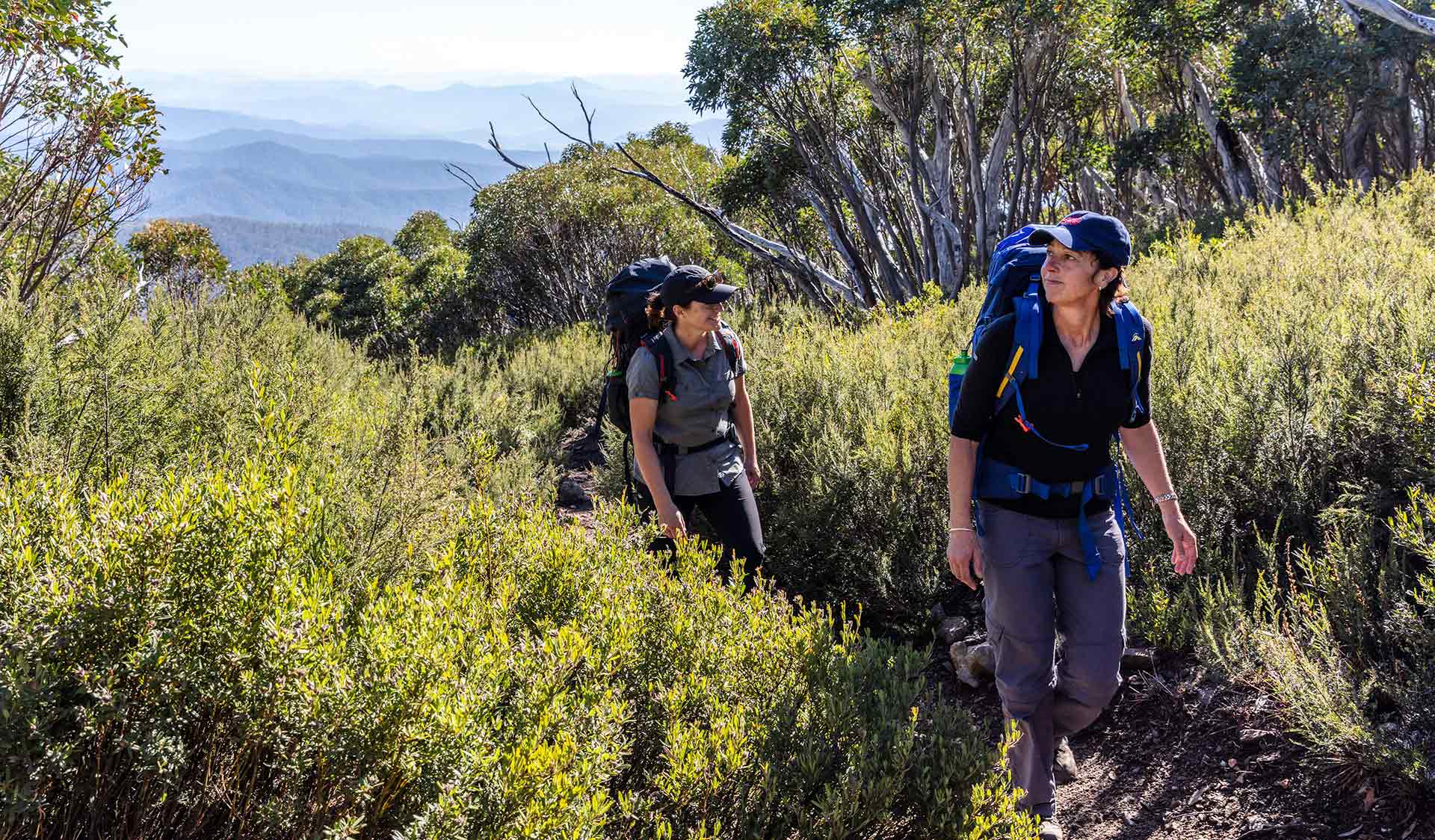 Explore some of Australia's best mountain walking around Mount Bogong, including the Staircase, Eskdale Spur and a variety of other day hikes and family walks.
How to get there
Mount Bogong
Need to know
Mount Bogong
Accessibility
Visiting a park can be more of a challenge for people with disabilities, however in Victoria there are a wide range of facilities to help people of all abilities enjoy our wonderful parks around the state.
Assistance dogs are welcome in Parks Victoria parks and reserves. Entry requirements apply for parks and reserves that are usually dog prohibited, such as national parks.
Alpine back country winter safety
Safe backcountry travel in Victorian Alpine areas during winter requires training and experience. You control your risk by choosing how, when and where you travel, and the activities you participate in.
Change of Conditions
Nature being nature, sometimes conditions can change at short notice. It's a good idea to check this page ahead of your visit for any updates.
Partial track closure - Besford Track, Alpine NP

A severely water damaged section of Besford Track, within the Alpine National Park north of Benambra, is closed to all vehicles. There is no through access for vehicles on Besford Track between the Benambra-Corryong Road and Deep Creek Track.

Seasonal road closures 2022

Some roads in this park are subject to seasonal road closures. Seasonal road closures generally operate from after the long weekend in June through to the end of October, but may be extended due to seasonal conditions. Visit the

seasonal road closures

page for maps and more information.

Frys Flat Camping Area (Howqua River Heritage River, Howqua Hills Historic Area)

Vehicle access to Frys Flat Horse Yards

The Howqua Hills Track between Sheepyard Flat South and Frys Flat currently

requires 4WD capability and may not be suitable for the use of floats and trailers to transport horses into this area. It is recommended that visitors inspect the track prior to crossing to ensure that they are comfortable with the condition of the track and have the ability to cross safely.




Parks Victoria are currently negotiating various approvals and permits required to undertake the necessary repair and maintenance to restore this section of track.




If you still wish to book and camp at Fry's Flat with your horse, there are alternate methods of accessing the area. You can:



Walk/ride horses in from Howqua Hills track (100-200m)

Walk/ride horse in from Martin/Fern or Spring street (across the river)




Alternative camping areas with vehicle-accessible horse yards available for booking nearby are also found at:

Tunnel Bend, Howqua Hills Historic Area (up to 10 horses, dogs permitted).

7-mile Flat,

Alpine National Park

(up to 20 horses, no dogs permitted)

King River Hut,

Alpine National Park

(up to 20 horses, no dogs permitted)

Lovicks Hut (up to 20 horses, no dogs permitted)




For further information, please contact the Mansfield office on 03 5733 1200 and ask to speak to one of the PV Rangers.
Similar Trails
Australian Alps Walking Trail
Discover some of Australia's finest alpine national parks as this track takes you 650 kilometres from Walhalla to Canberra and along tracks in the Baw Baw, Alpine Kosciusko and Namadgi National Parks.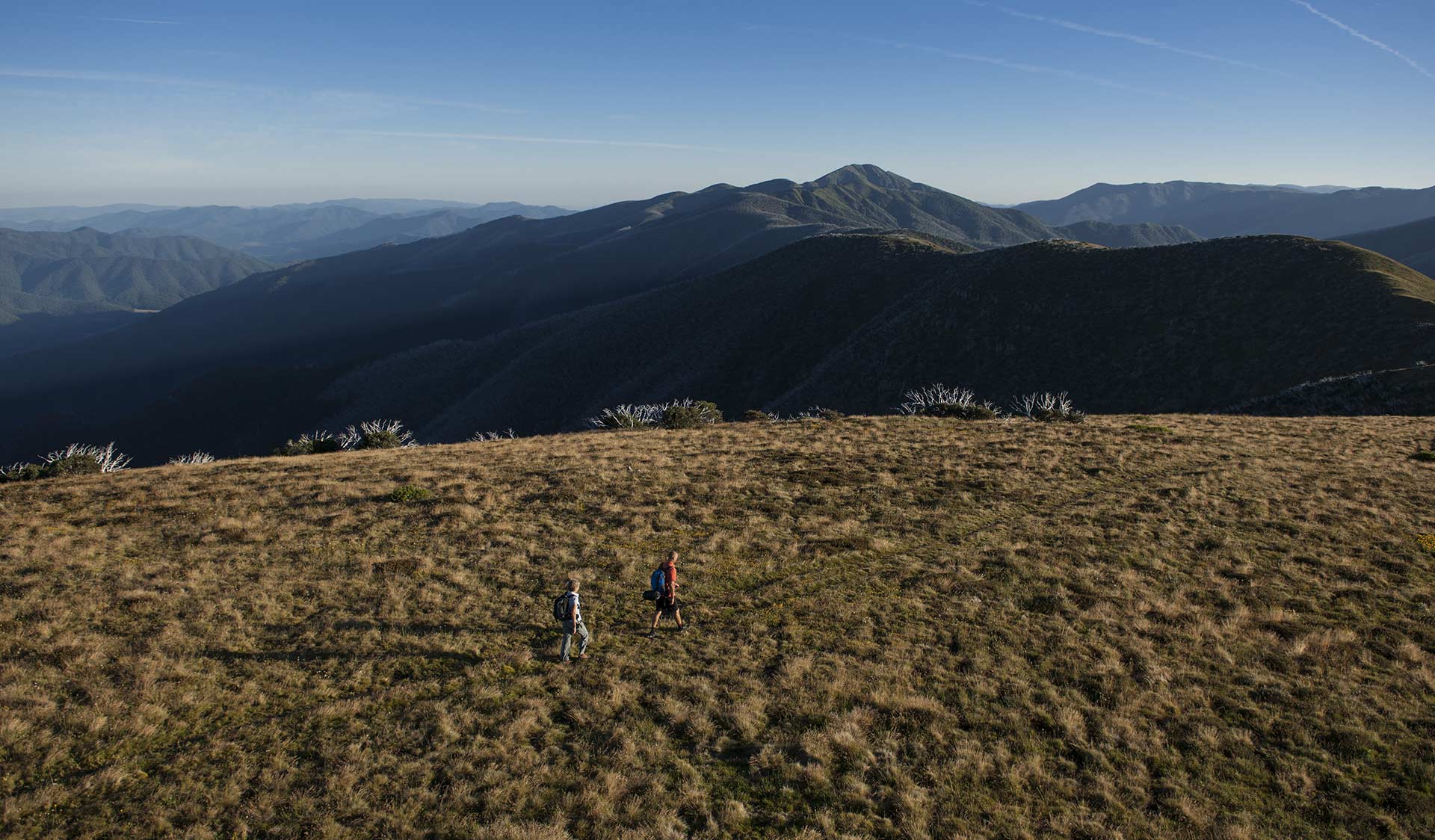 Mount Feathertop
Stunning Alpine landscape with Victoria's second highest peak, Mt Feathertop towering above Harrietville in the Ovens Valley.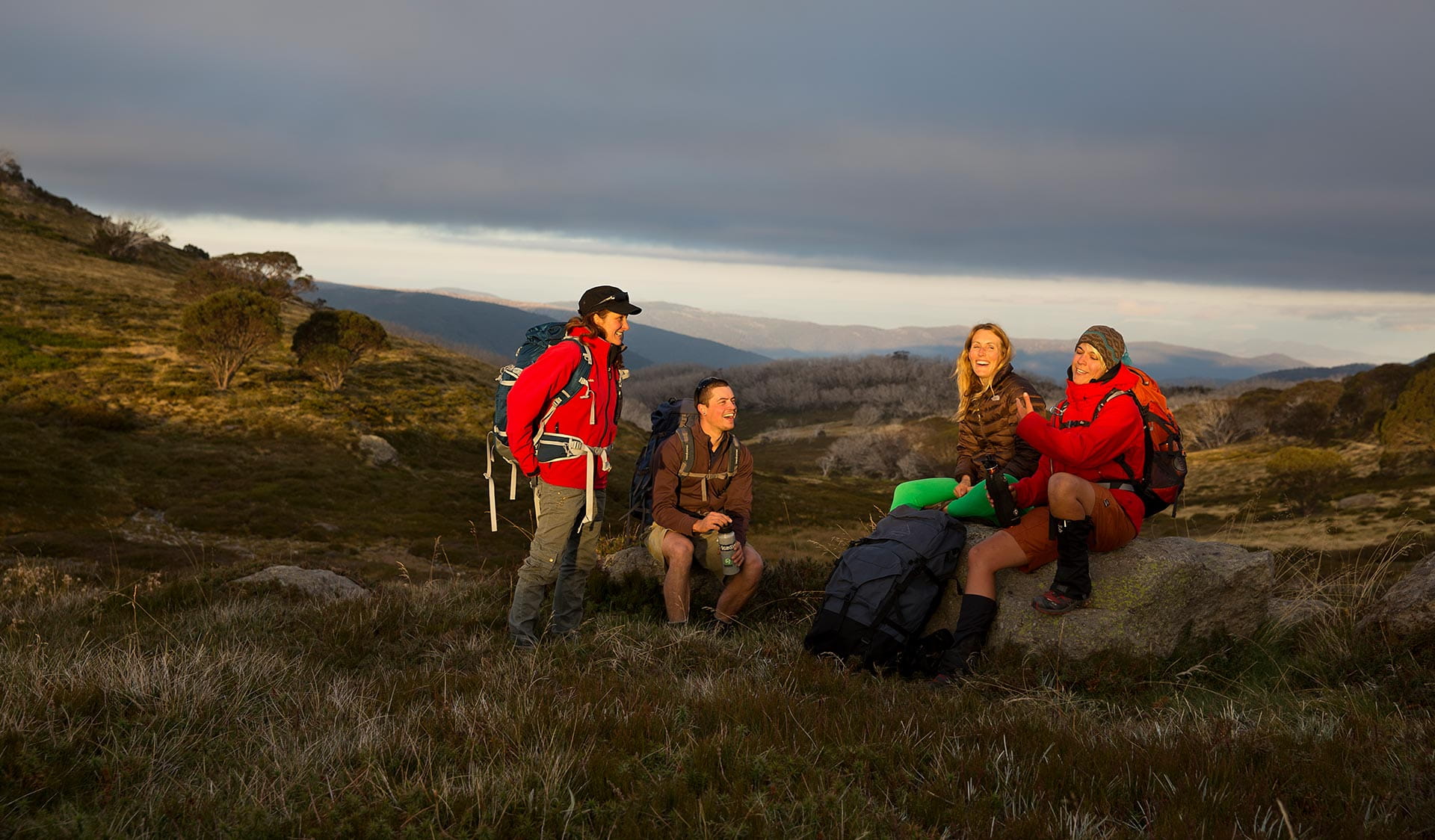 One of Victoria's icon walks, the 37km Falls to Hotham Alpine Crossing (FHAC) is a 3 day/2 night walk through the Alpine National Park, linking the resort villages of Falls Creek and Mt Hotham.