Explore
Dandenong Ranges National Park
Dandenong Ranges National Park is part of an Aboriginal cultural landscape in the traditional Country of the Wurundjeri People. Parks Victoria respects the deep and continuing connection that Traditional Owners have to these lands and waters, and we recognise their ongoing role in caring for Country.
The forested slopes of the Dandenong Ranges are a place of tranquil forest walks, quaint hilltop towns and charismatic animals such as lyrebirds and wallabies. Conquer the famous 1000 Steps, discover Olinda Falls and enjoy commanding views over Melbourne and the Yarra Valley.
The Dandenong Ranges is a rainforest getaway on Melbourne's doorstep. A short drive or train ride from the city you will find steep volcanic hills covered in stands of the world's tallest flowering tree, the Mountain Ash. Living among the greenery are wallabies, lyrebirds, wombats and the Powerful Owl so please ensure you leave your dogs at home to avoid disturbing the local wildlife.

Take an energetic walk up the 1000 Steps from Ferntree Gully Picnic Area and learn about its poignant association with Australia's Second World War veterans and the Kokoda Track Campaign.

The mountains of the Dandenong Ranges offer stunning views across Melbourne. Waterfalls are also a feature of this cool temperate rainforest. Olinda Falls and Sherbrooke Falls are best after rain. Just don't forget to wear hiking boots!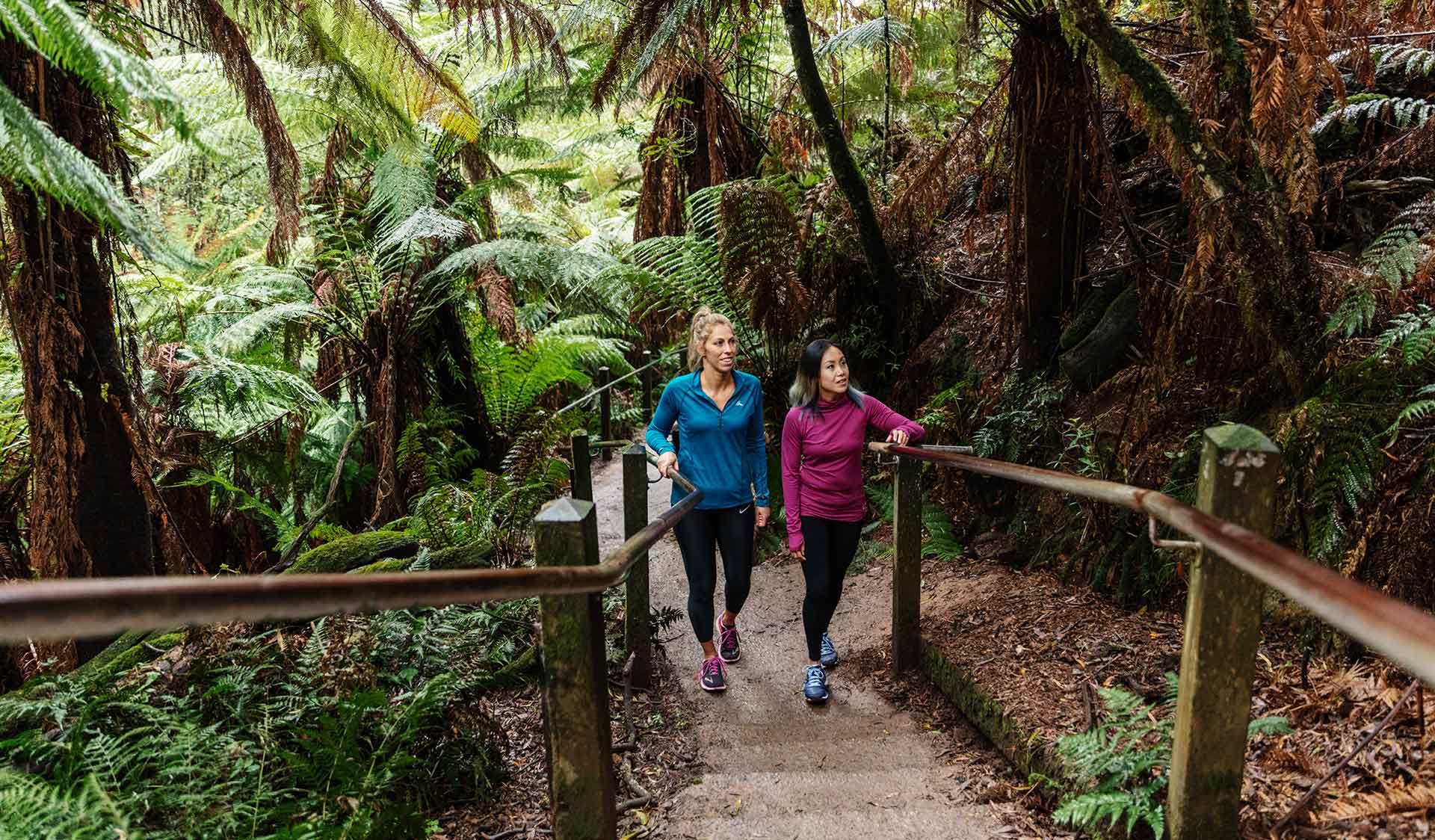 The 1000 Steps is probably Melbourne's most popular bushwalk. Officially the Kokoda Track Memorial Walk, runners love the challenge of the steep trail, locals appreciate the convenience and tourists just want a picture of a gorgeous rainforest walk.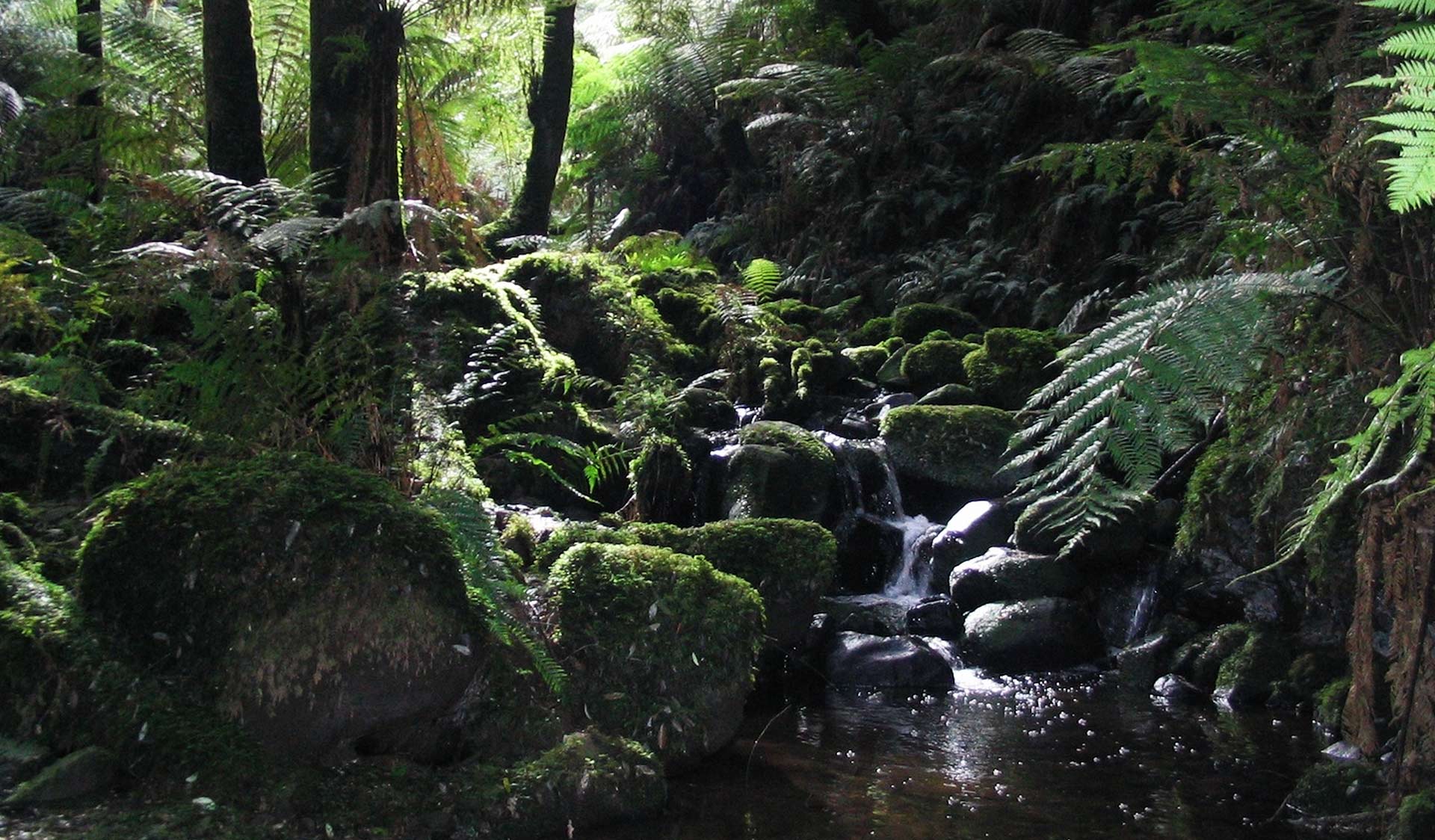 Deep in the Sherbrooke Forest, you'll find Sherbrooke Falls, where little creek cascades into a delightful gully.
When you're there
Download the Dandenong Ranges National Park visitor guide for more information about the park and the plethora of experiences to be had within its borders.
See the Dandenong Ranges National Park map for an overview of the area. For a detailed look, see maps of Doongalla Area, Fern Tree Gully Area, Olinda Area and Sherbrooke Area. Dandenong Ranges maps are also available on Avenza Maps.
Please note, dogs are not allowed in the Dandenong Ranges National Park.


Need to know
Dandenong Ranges National Park
Accessibility
Visiting a park can be more of a challenge for people with disabilities, however in Victoria there are a wide range of facilities to help people of all abilities enjoy our wonderful parks around the state. Grants, O'Donohue, Sherbrooke, One Tree Hill and Ferntree Gully picnic grounds were assessed for accessibility in June 2020, providing information about the accessibility of these areas and photos.
Margaret Lester Forest Walk
TrailRider
Journey among the tallest flowering plants in the world, the Mountain Ash. Picnic with the melodious song of the Superb Lyrebird in the background. Discover rare orchids and marvel at the tree ferns with their link to ancient Gondwanaland. A TrailRider all-terrain wheelchair is the perfect way for park visitors with significant mobility limitations to explore the magnificence of Dandenong Ranges National Park.
Education Excursions
This park offers curriculum-aligned ranger-guided excursions for school students. Download the Education Program to find out more and book your visit.
Assistance Dogs
Assistance dogs are welcome in Parks Victoria parks and reserves. Entry requirements apply for parks and reserves that are usually dog prohibited, such as national parks.
Weddings
While Parks Victoria offers a range of stunning natural landscapes to hold your special day, please note that we do not accept any wedding ceremony or photography bookings in the Dandenong Ranges National Park. Find out more about wedding ceremony and wedding photography and filming permits for other Parks Victoria venues.

Subscribe to Parks Victoria
Sign up to receive the latest ideas, inspiration and news delivered right to your inbox.
Change of Conditions
Nature being nature, sometimes conditions can change at short notice. It's a good idea to check this page ahead of your visit for any updates.
Notices Affecting Multiple Sites

Sherbrooke Track resurfacing works

Upgrade and maintenance works will commence Monday 22nd

of May 2023 on trails (see below) in the Sherbrooke Forest, these works will continue over the next five weeks.

Please note that not all trails will be closed at the same time, and we'll be working towards making the trails available over the weekends where possible. Segments of the car park will be made available as we progress through the works.

The order of the existing trails below will be resurfaced in partnership with Parks Victoria to ensure the communities safety, and experience (depending on weather):

During the next five weeks the Sherbrooke Picnic Ground carpark will be closed off to the public, but the O'Donohue Picnic Ground will still be available. The sites will be signposted while works are underway.

Deer control - Doongalla Homestead Picnic Ground and Stables Picnic Ground, Dandenong Ranges National Park

Shooting operations for deer will take place from Monday 29

th

May until Thursday 1

st

June each night

Doongalla Picnic Grounds will be closed to the public during this period (also during daylight hours).

Deer control, (Shooting) Night closures of Sherbrooke, Doongalla and Olinda

Areas of the Dandenong Ranges National Park will be closed between the hours of 5.30 pm and 6.00 am from Sunday 28th May to Thursday 1st June in order to control Deer via shooting. Affected areas of the national park include Doongalla, Sherbrooke and Olinda, during this period members of the public are not permitted in the areas as highlighted on the map.

Attachments: Shooting Operations Area Topgraphic (2,666KB)

Closures due to storm damage

Valley Picnic Ground is closed to picnicking; visitors can use Boundary Road to access the park however no vehicle access is permitted.
Sections of Sassafras Creek/Menzies Creek walking track
Wattle Track in Sherbrooke
William Ricketts Sanctuary
Areas of Silvan/Olinda forest

Attachments: DR Storm Damage Works - Autumn 2022 Flyer (1,671KB)

Ferntree Gully Picnic Ground (Dandenong Ranges National Park)

Access changes during Urban Parks Active Wellbeing Program upgrade works

Works to upgrade facilities as part of the Urban Parks Active Wellbeing Program have started.




During works access to park facilities including, pathways, picnic tables, barbeques and playground equipment may be limited or closed.

For more information about these upgrades please visit the Parks Victoria Project Page, or contact the Parks Victoria team at engage@parks.vic.gov.au or call 13 1963.

Olinda Falls Picnic Area (Dandenong Ranges National Park)

Olinda Falls lower viewing platform and creek crossing closed

The Olinda Falls lower viewing platform and creek crossing is closed indefinitely due to severe damage from a fallen tree. All access to the lower falls is closed to the public.




Dandenong Ranges National Park

Deer control works

Parks Victoria are continuing deer control in the Dandenong Ranges National Park. This program will be taking place between the hours of 4pm and 7am on a number of nights throughout May 2023. These control works are being undertaken by accredited and authorised contractors.

For public safety reason, various areas of the park will be inaccessible during the evening throughout this period.

Please observe the signage during this time and do not enter any closed areas.

For further information please call 131963

Mechanics Track Partially Closed

A section of Mechanics track from the Tourist rd. to Falls rd. near Olinda Falls Picnic Ground is closed due to significant damage from the June 2021 Storm.

Sherbrooke Picnic ground (Dandenong Ranges National Park)

Sherbrooke Picnic Ground Toilet Closed

The toilet block is closed temporarily awaiting connection to the sewer, the nearby O'Donohues Picnic Ground toilet is open.
Tours and adventure experiences in parks
One of the best ways you can get into nature is with a Licensed Tour Operator.

There are more than 400 Licensed Tour Operators across Victoria who are ready and waiting to help you experience and connect with Victoria's spectacular parks and waterways.

Discover more than 60 different types of nature-based experiences including hiking, mountain biking, boating, four-wheel driving, indigenous culture tours, birdwatching, surfing, diving and so much more.

Licensed Tour Operators know all the best places to go and will plan and prepare your visit to ensure you are safe and can enjoy your nature-based adventure to the fullest.
Find a Licensed Tour Operator
How we keep it special
We aim to ensure that our valued parks, and the natural assets and cultural heritage they hold, can be enjoyed now and by future generations.