Even in a region known for its magnificent waterfalls, Erskine Falls stands out. A short diversion from the Great Ocean Road and 15 minutes from Lorne, you can park close to the 30-metre cascade - or enjoy it as part of a longer, secluded walk through lush rainforest.
The Otway Ranges are infamous for their high rainfall - but on the plus side all that water means lush green fern gullies carved out by rivers and waterfalls. Erskine Falls is particularly popular among the waterfalls of the Otways, plunging (or trickling, depending on recent rainfall levels) down a 30-metre drop.
There's an easy walk to the first lookout or a more strenuous but rewarding climb down 230 steps to the second lookout, where you will see the waterfall in all its glory. The Erskine River Walk to Lorne continues off downstream from here if you are prepared for the 7.5km walk.
Erskine Falls makes a great half-day trip away from the beach if you are holidaying in Lorne or one of the other seaside townships along the Great Ocean Road. Combine it with a trip to one or more of the other beautiful waterfalls near Lorne, such as Sheoak or Kalimna Falls.
As waterfalls are within a natural environment, you may encounter hazards. Follow our water safety advice to make sure your day out at Erskine Falls is a safe and enjoyable one.
Things to do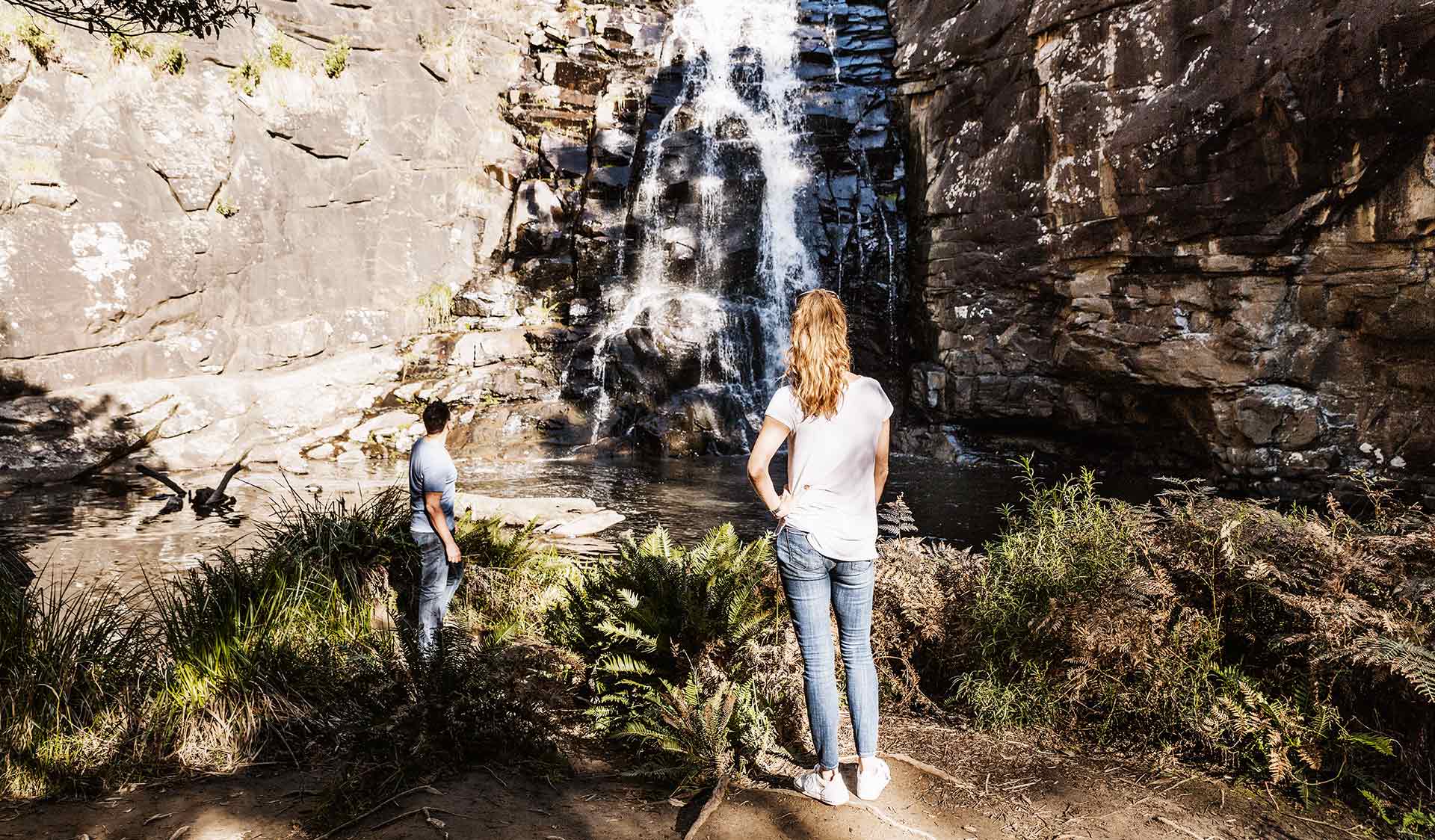 The Sheoak Falls Walk weaves its way from the coastal woodland at the mouth of the Sheoak Creek and through wet forest to the hidden cascades of Sheoak Falls.
Sheoak Picnic Area has a pretty good claim to be the waterfall capital of Victoria. Walks from this clearing surrounded by tall trees lead to at least six waterfalls through some gorgeous scenery.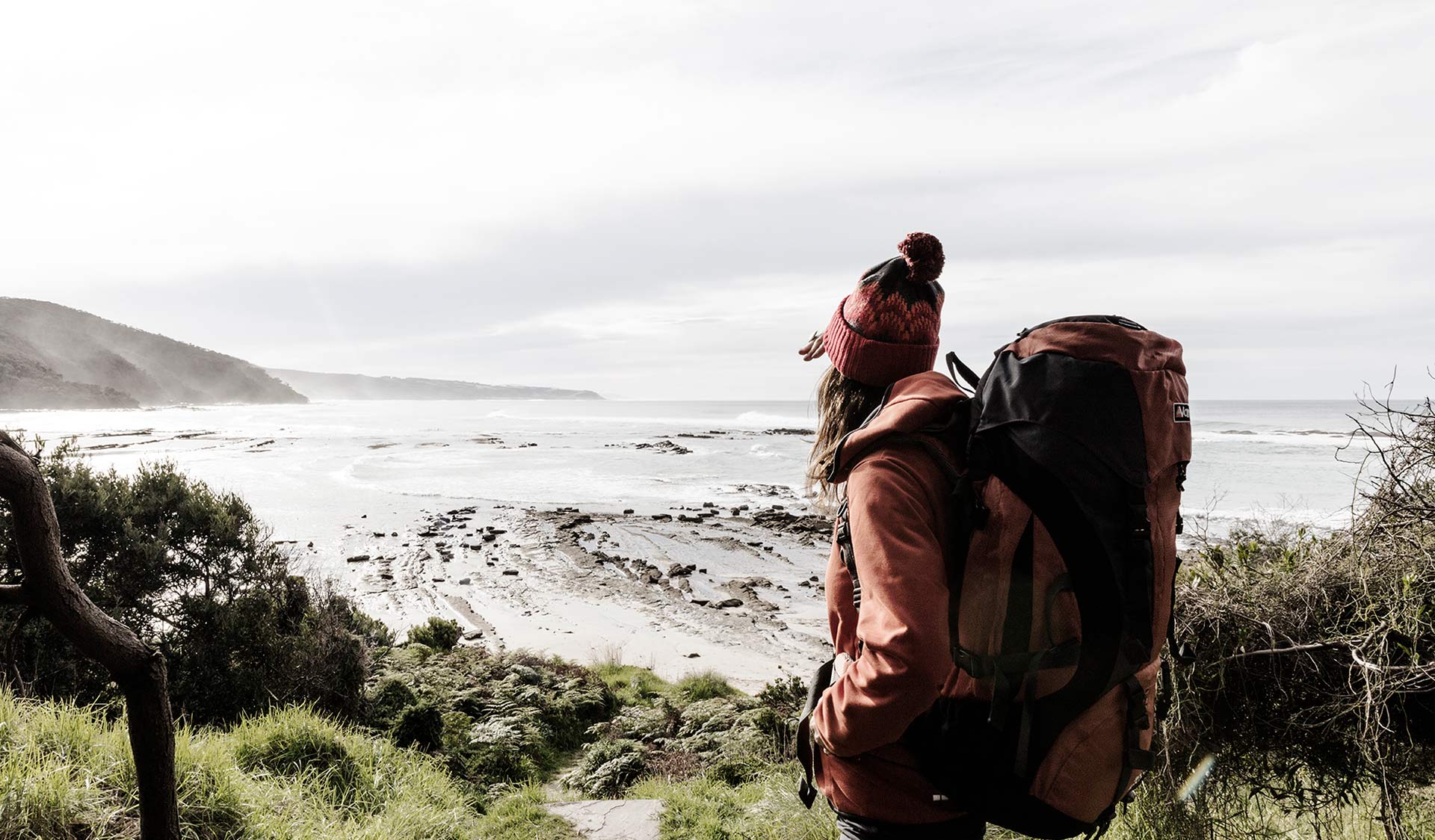 The Great Ocean Walk extends just over 100km between Apollo Bay and the Twelve Apostles near Princetown. The spectacular walk weaves its way through tall forests, coastal heathlands, wild rocky shores, river estuaries and windswept cliff-tops presenting amazing views.
How to get there
Erskine Falls
Erskine Falls is a 15 minute drive off the Great Ocean Road at Lorne. Take Erskine Falls Road.
When you're there
There are no toilets at Erskine Falls. The nearest toilet is at Blanket Leaf Picnic Ground.

The Erskine Falls Walk from the carpark is short, but you'll need to descend 230 stone steps. There are places to rest on the way down.

If you would like a longer and beautiful walk away from the crowds, you can take the Erskine River Walk (7.5km one way). Start at the Erskine Falls carpark. After seeing Erskine Falls, walk past Straw Falls, Splitter Falls and huge rock slabs that form cascades. The walk is challenging at times and involves some tricky rock hopping and river crossings. It finishes in Lorne at the Kia Ora Caravan Park.

For an easier and shorter walk, park your car at Blanket Leaf Picnic Area and take the Lemonade Creek Walk to Erskine Falls (4.4km one way).

You can pick up walking guides and brochures from the Visitor Information Centre in Lorne. Download the Great Otway National Park Lorne visitor guide before you go.
Assistance dogs are welcome in Parks Victoria parks and reserves. Entry requirements apply for parks and reserves that are usually dog prohibited, such as national parks.
Need to know
Erskine Falls
Accessibility
Blanket Leaf Picnic Area has accessible picnic tables, and some shelter. There are toilet facilities near the car park, though the designated accessible facility does not meet all access criteria.

Erskine Falls is a short drive (approx 2km) from Blanket Leaf Picnic Area. There is a walk from the car park to the falls, but no facilities at this site. The path up to the falls viewing area is quite steep with uneven steps and a loose gravel surface.
Visiting a park can be more of a challenge for people with disabilities, however in Victoria there are a wide range of facilities to help people of all abilities enjoy our wonderful parks around the state.
Assistance dogs are welcome in Parks Victoria parks and reserves. Entry requirements apply for parks and reserves that are usually dog prohibited, such as national parks.
Change of Conditions
Nature being nature, sometimes conditions can change at short notice. It's a good idea to check this page ahead of your visit for any updates.
Notices Affecting Multiple Parks

Garvey Track Closed until further notice.

Garvey track will remain closed until further notice. Major road works are due to occur when conditions are suitable.

Kalimna Falls Walk (Great Otway National Park)

Upper Kalimna Walking Trail Closed

Walking trail to Upper Kalimna Falls closed until further notice due to storm damage. Lower Falls remain open.

Cora Lynn Campground (Great Otway National Park)

Cora Lynn Campground Closure

This campground is closed until further notice due to hazardous trees.

Kalimna Tramline Link Walk (Great Otway National Park)

Kalimna Tramline Trail Closed

This walking track is closed due to damage to a pedestrian bridge. Walkers can still access the Lower Kalimna Waterfall via the Kalimna Falls Walking Track, which starts at Sheoak Picnic Area.

Great Otway National Park

This park has been impacted by recent significant weather events

This park has been impacted by significant flood and/or storm events and some areas may be closed or restricted. Check the

Storm and Flood Affected Parks page

for the most up to date information on this location.

Lifejackets Required For Rock Fishers from March 1, 2022

A two-year trial of new laws

that require rock fishers to wear a lifejacket at high-risk locations will commence on

1 March 2022

.

For Great Otway National Park this includes:


Artillery Rocks, west of Lorne

The rock platform opposite Sheoak Falls, south of Lorne




Fines apply if you don't wear a lifejacket at these sites.

Maits Rest Rainforest Walk (Great Otway National Park)

Maits Rest Carpark- bus access

Maits Rest Carpark is suitable for small coaster buses only. Large buses or coaches are advised to use Melba Gully walk track near Lavers Hill.

Melba Gully Day Visitor Area (Great Otway National Park)

Melba Gully - Large bus access

Melba Gully Walk Track and picnic area is accessible for large coaches. Toilet facilities are available on site

Wye to Kennett River Walk (Great Otway National Park)

Wye River to Kennett River walking track detour

Wye River - Kennett River walking track is closed between Wye River and Bird Track. Detour is available via Bird track which loops back with the walking track. Please allow additional time to complete this section (approximately 2.5km)

Attachments: Wye to Kennett Walk_Map (1,246KB)

Notices Affecting Multiple Sites

Great Ocean Walk - conditions

Walking Track -

The Great Ocean Walk is experiencing wet and muddy conditions. A wet winter and spring have seen conditions along most areas of the track maintain high levels of moisture, tending to mud in heavily tracked areas. Walkers should not expect a dry walking track which will be slippery in areas. Some sections of track are prone to land slippage and rock fall. Only attempt to cross these areas if safe to do so and report any slips to 13 1963 when within phone signal range.

Camp sites -

All sites are high in dampness. More rainfall will see these conditions maintained. Camp site water tanks are all fall as a positive.

Tree Risk in Windy Conditions -

Given high National Park soil moisture levels tree fall in windy conditions are probable. Walkers and campers should be on heightened alert in windy conditions and avoid prolonged periods under tree canopy. Wind forecasts of 30+kph should trigger a walker and camper alert level. Report tree fall over track and in camp sites to 13 1963 when within phone signal range.

Great Ocean Walk - Helicopter operations

Helicopter operations

Subject to final approvals, some western sections of the Great Ocean Walk will be closed and access restricted on Tuesday 13 December 2022 between 0900hrs -1600hrs (conditions permitting).

This is for sling load helicopter operations to improve camp site and walking track infrastructure. Licenced Tour Operators and walkers should be aware of activity on this day and restrictions that will be in place via authorised Parks Victoria Rangers.

Camp sites impacted – Ryans Den and Devils Kitchen

Walking Track sections – Section 7 and 8

Attachments: Restricted Area Map (105KB)

Jamieson Camping Area (Great Otway National Park)

Great Victoria Bike Ride 2022

Sections of the Great Ocean Rd will be closed on December 2 2022 for the running of The Great Victorian Bike Ride. This may lead to delayed access to Parks Victoria visitor sites along the route including Jamieson Creek camping area. More information may be found here



Similar experiences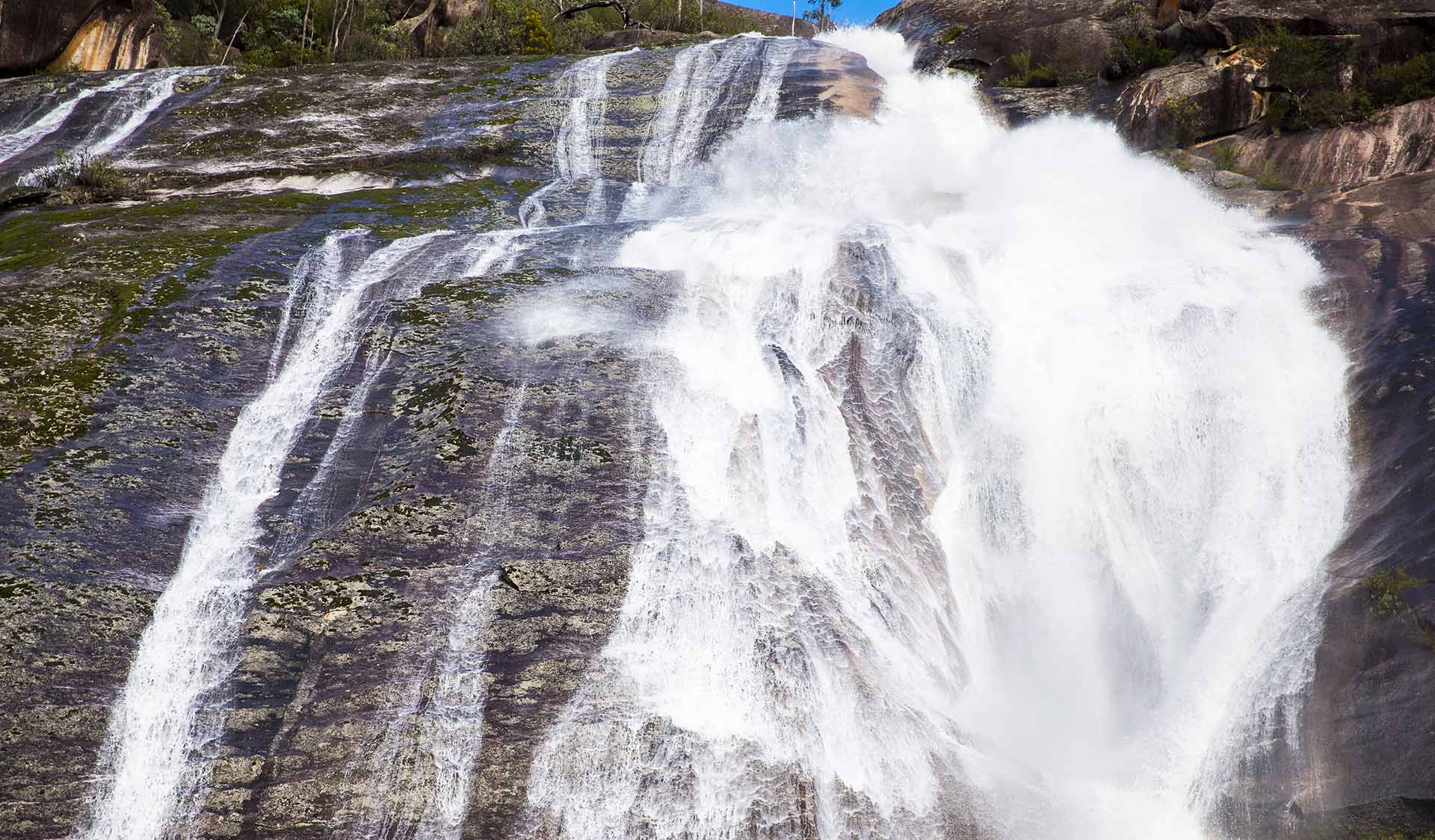 At Ladies Bath Falls, water cascades into a perfectly clear pool of water, while at Upper and Lower Eurobin Falls, Crystal Creek spills spectacularly over a formidable granite escarpment.