From Wenhams, to the peaceful Killawarra Forest Camp, to dispersed bush camping along the Ovens River, Warby-Ovens National Park has is a range of unpowered camping options available for visitors to explore it's distinct landscapes.
There is a range of unpowered camping options available. No fees or bookings are required. Campers must be self-sufficient and bring their own firewood and drinking water.
Wenhams Camp is an excellent base for exploring the walking tracks in the granitic hills, many of which start from the camp. It offers individual camp sites with a separate Day Visitor Area.
The peaceful Killawarra Forest Camp, surrounded by Box-Ironbark woodland, was the site of a Forest Commission camp in the Depression of the 1930s. During World War II it was turned into an internment camp for Italian immigrants.
Both campgrounds are suitable for tents and caravans, and have toilets, picnic tables, and fire places with grills. Forest Camp also has a picnic shelter (rotunda). The maximum length of stay is 3 days. Sites are limited so large groups are asked to contact Parks Victoria on 13 1963 when planning their trip.
Self-sufficient campers will enjoy the dispersed bush camping along the Ovens River, with its sandy beaches, river access and fishing. There are picnic tables at some of the river bends but no other facilities. Permanent structures or camps are not permitted.
In dry weather, it may be possible to access some areas with 2WD vehicles including campervans and caravans, but exercise caution and look out for deep potholes and wheel tracks. Roads may become impassable in wet weather, even to 4WD vehicles. Check the latest conditions and road closures.
Things to do in the area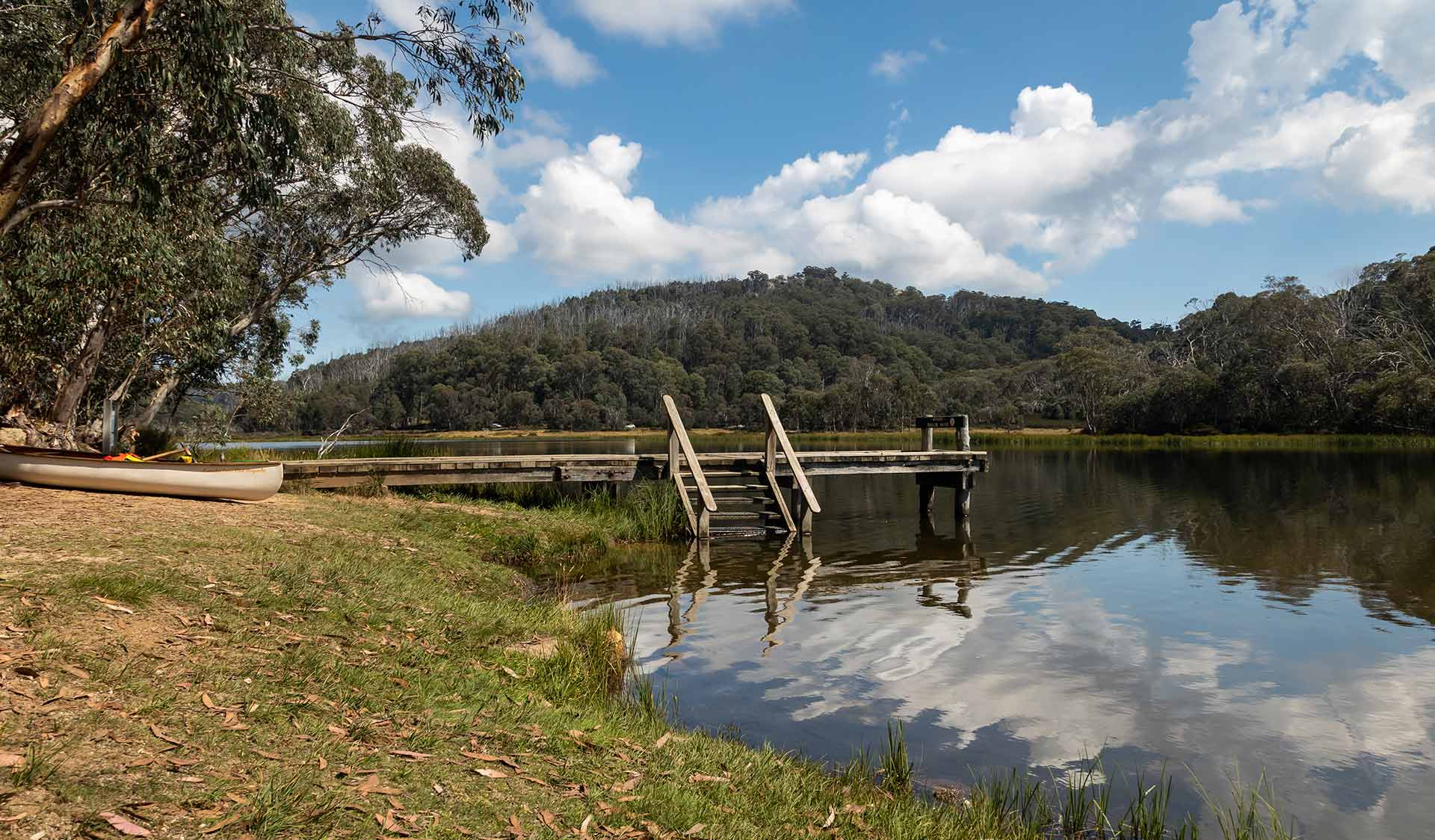 Discover magnificent waterfalls and remote alpine landscapes while camping within beautiful Snow Gum woodlands beside Lake Catani in Mount Buffalo National Park.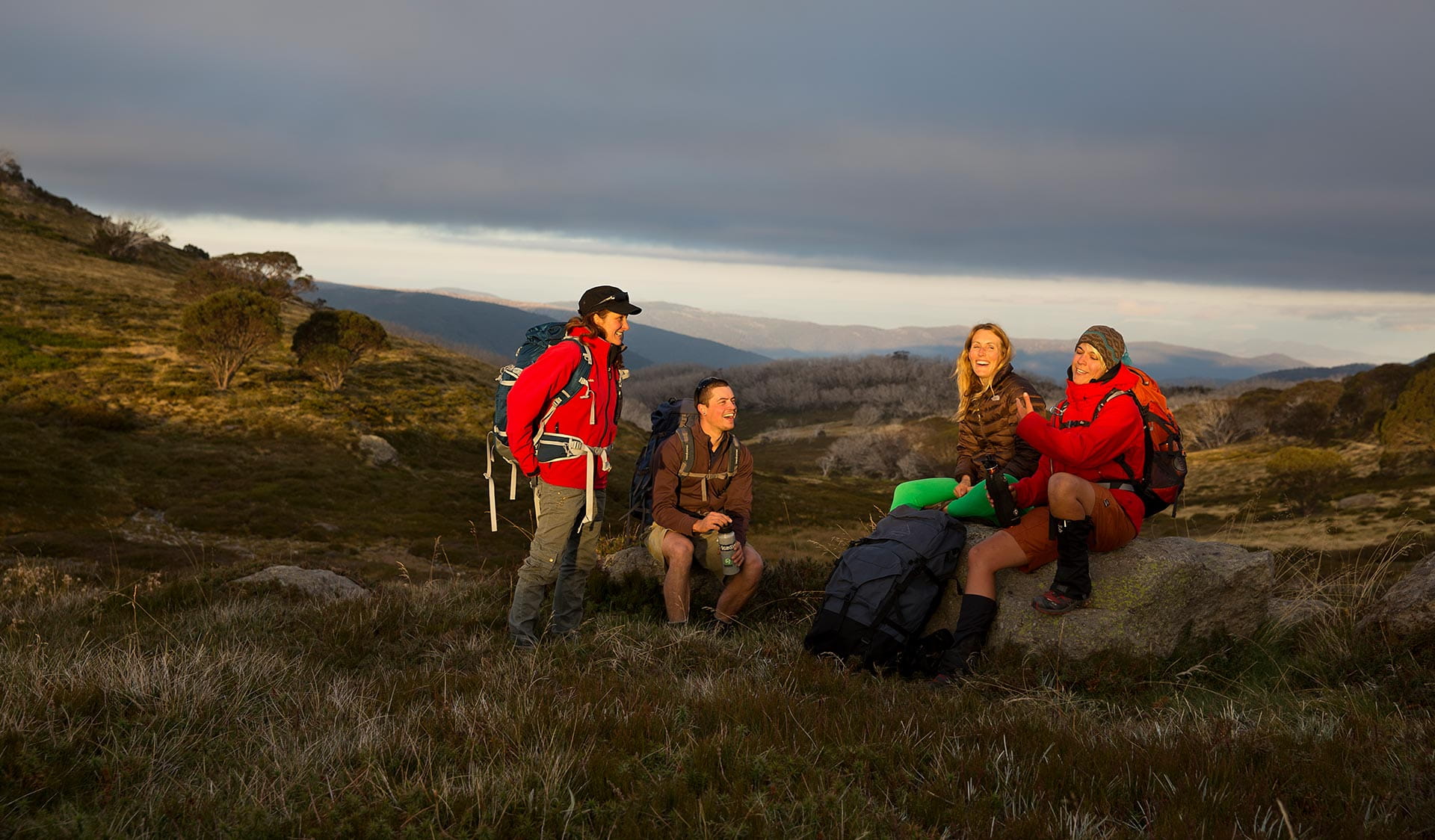 One of Victoria's icon walks, the 37km Falls to Hotham Alpine Crossing (FHAC) is a 3 day/2 night walk through the Alpine National Park, linking the resort villages of Falls Creek and Mt Hotham.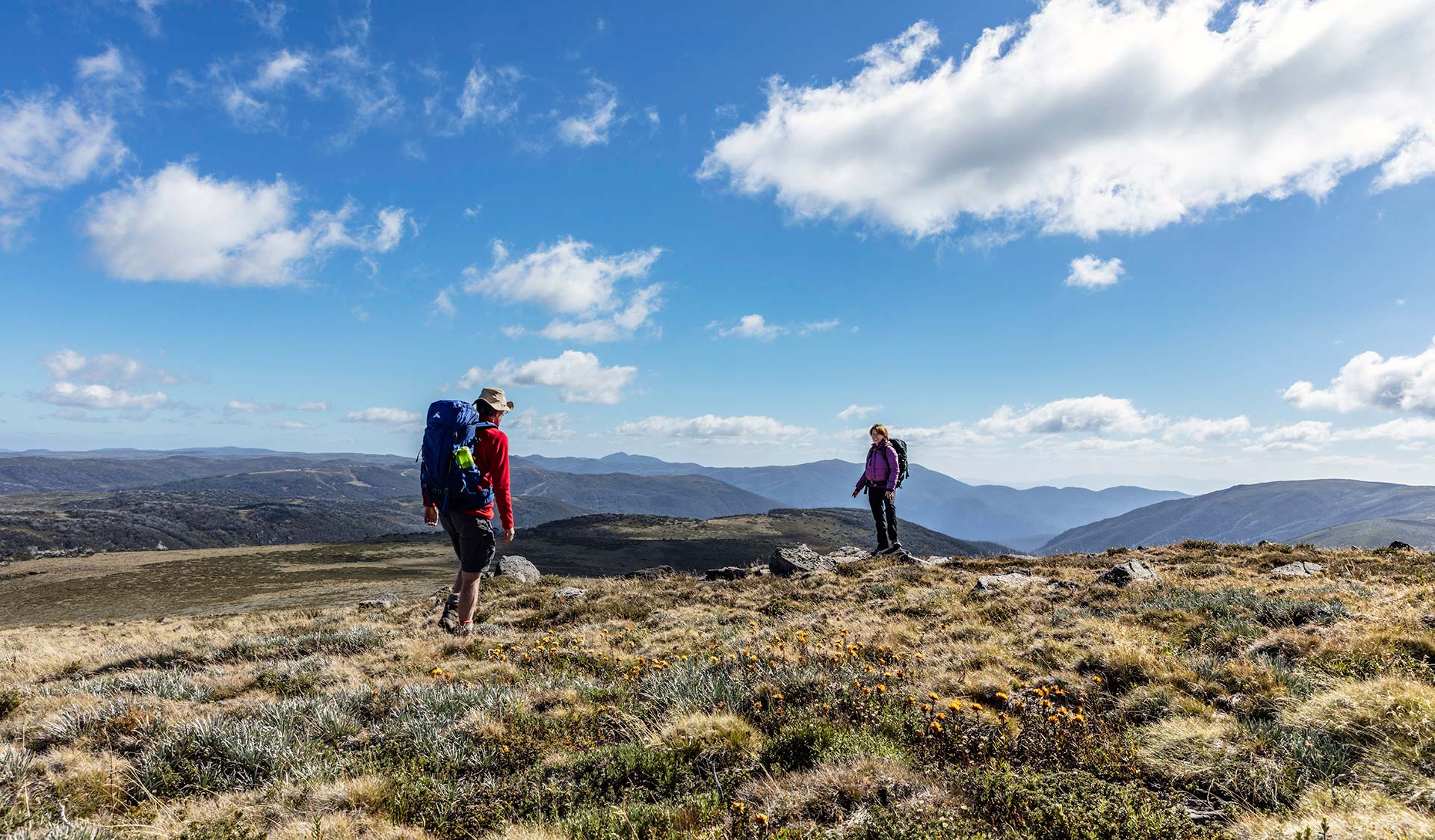 The Alpine National Park is an adventure-lover's dream. Hike Victoria's highest mountain ranges, explore wildflower draped landscapes on horseback or head out on world-class mountain bike trails
Guidelines for sustainable camping
Set up campsites at least 20 metres away from waterways.
Digging steps into river banks is illegal and can cause erosion and landslides.
Camping is not permitted in day visitor areas or on licensed water frontages adjacent to private property.
Do not spray paint or attach signs to trees.
Chemical toilets are recommended. Please do not empty chemical toilets or other rubbish into public toilets or waterways.
Earth pit toilets are acceptable, but must be at least 100m from waterways. Bury toilet waste, including paper at least 15cm deep.
Dogs and other pets are not permitted in the park.
Please take all rubbish with you.
Fires are permitted only: if it is not a day of Total Fire Ban; a 3-metre area around it is cleared of anything flammable; an adult is in attendance at all times; at least 10 litres of water are available for immediate use.
In the Warby Ranges and Killawarra Forest, fires are permitted only in the fireplaces provided at campsites and picnic areas.
Put the fire out with water, not soil. When the campfire is cool to touch, it is safe to leave.
No campfires or solid fuel barbecues may be lit on a day of Total Fire Ban. Portable gas or electric barbecues or camping stoves may be used, provided that the conditions above are met.
A generator may only be used on a day of Total Fire Ban if a 3-metre area around it is cleared of anything flammable.
Be a good neighbour. Please consider the impacts of generators or loud music on other visitors. To reduce the risk of your generator starting a bushfire, ensure your generator is: located in an area clear of fuels, dry grass or other combustibles; the generator is only refuelled when the engine is cold; extension cords do not cross access tracks and are rated for external use.
Camping Safety
Avoid camping or parking under or near large trees, like River Red Gums, as branches may fall and swing away from the tree at any time. Whole trees may fall without warning.
Rope swings are not recommended.
Avoid camping close to waterways if rain or storms are forecast, as waters may rise quickly and trap you.
Mobile phone reception in the park is patchy.
Bushfire safety is a personal responsibility. Check the Fire Danger Rating and for days of Total Fire Ban at www.emergency.vic.gov.au or call the VicEmergency Hotline on 1800 226 226.
Visit Safety in nature to find out more about putting safety first.
Change of Conditions
Nature being nature, sometimes conditions can change at short notice. It's a good idea to check this page ahead of your visit for any updates.
Notices Affecting Multiple Sites

Areas closed due to localised flooding

Due to the high volumes of flow, the Ovens River is currently in flood, the following tracks are closed in the Warby-Ovens National Park:




Hills Track, Wilsons Track, Boundary track, Frosts Crossing Track, Ovens Track, Nicklaus Track, Yellow Creek Track, Cameron's Track, South Track,

McLaughlin's Track,

Robinsons Bend Track and McQuade's Bend Track. Local staff will monitor river heights & track conditions and reopen tracks once it is safe to do so.

Notices Affecting Multiple Parks

Seasonal road closures 2023

Seasonal road closures apply to areas within and tracks bordering this park from 15 June 2023. See

MapshareVic

for locations of the closures. Visit the

seasonal road closures

page for more information