Croajingolong National Park bushfire recovery
Community information session
Parks Victoria hosted a bushfire recovery information session on 23 November, providing updates on recovery works and projects underway in East Gippsland parks.
If you were unable to attend the session, a recording is now available (YouTube) or you can download a copy of the presentation here (PDF).
All questions from the session as well those received subsequently are summarised here: Parks Victoria East Gippsland information session - questions and answers
Project Status
Last updated: December 2023
Mallacoota Inlet jetties and day visitor areas
This project intends to replace or upgrade jetties around Mallacoota Inlet and to upgrade day visitor areas. This will potentially include upgrades to existing picnic tables, fire pits, access tracks, barbeques, and toilets.
Concept designs are complete for these upgrades. We're now seeking approvals and permits for the proposed works, before moving into the final planning phase.
Thurra River Bridge
The rebuild of Thurra River Bridge is being led by the Department of Energy, Environment and Climate Action (DEECA). A procurement process is underway for construction of the bridge, with a tender period having closed last month. These are now being assessed.
Thurra River Campground
The campground is currently closed and inaccessible due to bushfire and flood damage to the Thurra River Bridge. We're currently investigating if we can begin work on the campground rebuild prior to the bridge being rebuilt.
Point Hicks Visitor Precinct
This project aims to upgrade facilities across the Point Hicks Lightstation precinct, which includes the heritage lighthouse and buildings, and visitor accommodation. The upgrades will include work to fire protection and power generation. It will also consider access to the site. As with the Thurra River Campground, the precinct is currently inaccessible due to the closure of the Thurra River Bridge and damage to Point Hicks Road.
While delivery of this project is challenged by the lack of vehicle access, we're completing condition assessments and exploring alternative ways to do works at the precinct.
Toilets at Genoa River Fire Trail, Sandy Point, and Sou West Arm
The contract has been awarded for construction of toilets at Genoa River Fire Trail, Sandy Point, and Sou West Arm. Construction will commence when all planning approvals are finalised.
Completed projects across Far East Gippsland
Everard Walking Track
Wingan Boardwalk (Fly Cove walk)
Lake Elusive Walking Track
Jetties at Genoa River, Gravelly Point, Sou West Arm and Captains Creek
Captains Creek Day Visitor Area toilet, track and fencing
The Narrows Walking Trail and bridges
Genoa Peak Visitor Area assets
Genoa Falls stairs
Shipwreck Creek Campground area assets
Double Creek Nature Trail Tracks and boardwalks
McKenzie River Rainforest Walk tracks and boardwalks
Cann River Bushland Reserve bridges and walking track
Mueller Inlet Campground
Sign replacement throughout Croajingolong National Park and surrounds
Mallacoota Endemic Garden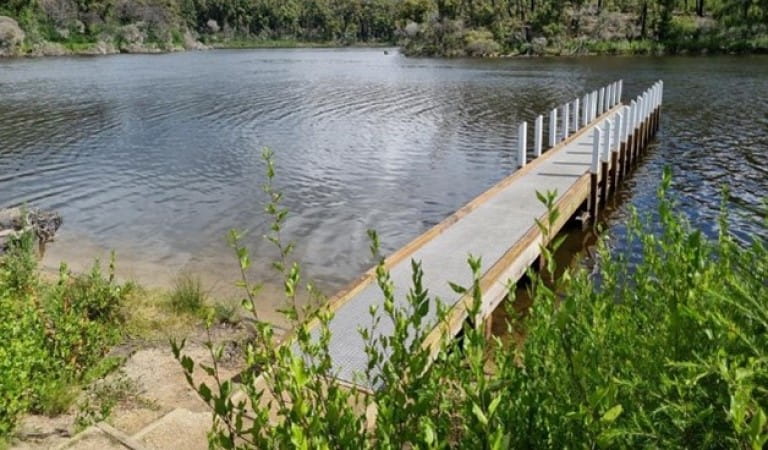 New jetty at Sou West Arm
The project
The Black Summer bushfires in 2019-20 heavily impacted areas throughout Croajingolong National Park. Many campgrounds and park facilities, such as picnic tables, jetties, and toilets, destroyed in the fires have since reopened or been reinstated, while work continues at some sites. Parks Victoria is also upgrading park facilities not impacted by the fires to enhance visitors' experiences.
Project timelines
The following timelines are subject to assessments, permits, and on-ground and construction industry conditions. Timelines will be updated here as projects progress.
Mallacoota Inlet Jetties and day visitor areas: Approvals are expected in early 2024 and following that, procurement of construction works will start.
Thurra River Bridge: DEECA anticipates completion of the bridge by late 2025.
Thurra River Campground: Anticipated to reopen after the bridge rebuild is complete.
Point Hicks Visitor Precinct: The delivery of this project is contingent on the completion of the Thurra River Bridge rebuild. The bridge is currently expected to be completed in late 2025.
Toilets at Genoa River Fire Trail, Sandy Point, and Sou West Arm: Construction will commence when all permits and approvals are received, which is expected to be in early 2024.
Environmental management
Croajingolong National Park has a wide variety of highly significant coastal landforms including tidal inlets, estuaries and lagoons, extensive sand dunes, and prominent rocky cliffs. It is home to 1,000 recorded native plant species, 43 species of threatened native fauna, including the Little Tern, Ground Parrot, Eastern Bristle-bird, Eastern Broad-nosed Bat, and Australian Fur Seal, and one quarter of Australia's bird species.
Ecological assessments are being completed to protect flora and fauna during on-ground works.
Who we're working with
While there is no Registered Aboriginal Party (RAP) for the park, there are a number of Traditional Owner groups that have a connection to the area. Parks Victoria is consulting with the Traditional Owner groups to understand the cultural values of these places.
We're also working with Mallacoota and District Recovery Association (MADRA), East Gippsland Shire Council, Gippsland Port Authority, Department of Energy, Environment and Climate Action (DEECA), and East Gippsland Catchment Management Authority.
Access changes
For information about changes to public access within Croajingolong National Park please visit the park page for the change of conditions section.
During the recovery works there may also be temporary closures to allow construction and ensure public safety. Access changes will be signposted and updated on this website.
Project funding
Victorian Government Gippsland Tourism Recovery Package for improving facilities around Mallacoota Inlet: $2.8 million
Mallacoota and surrounds bushfire recovery insurance: $1.4 million
Thurra River Bridge and Campground insurance: $10 million
Victorian Government Point Hicks Visitor Precinct Funding, for upgrading access to Point Hicks Lightstation and associated facilities: $3.85 million
Other information
For more information visit on what there is to see and do, visit the Croajingolong National Park page. For other bushfire recovery updates visit Cape Conran Coastal Park and Buchan Caves Reserve.