Top 10 pram-friendly walks
Thursday 1 April, 2021
Getting out into nature with young children is great for everyone's wellbeing. With the little one strapped into the pram they can learn about nature and discover many of the beautiful places around Melbourne and across Victoria.
While footpaths and some of Melbourne's parks, like Albert Park, may initially spring to mind for walking with a pram, there are many other pram friendly walks across Melbourne and Victoria. Here is a selection of the very best, some in places you may least expect them.
In Melbourne
Yarra Bend Park, Abbotsford and Kew – Nestled along the Yarra River, surrounded by trees, you'll be forgiven for forgetting you're right in the heart of Melbourne. With a range of walking tracks, both paved and gravel, you can walk for as long or as little as you like. Enjoy views along the river and stop for a bite to eat or drink at Studley Park Boathouse.
Karkarook Park, Moorabbin – Take a walk around the lake or wetlands in this 40-hectare oasis nestled in an industrial area. Over 600,000 indigenous trees, shrubs and grasses have been planted here and more than 150 species of bird can be found in the park. Push the pram around up to 6km of walking trails and enjoy picnic facilities, a playground and the lookout over the lake.
Brimbank Park, Keilor East – Explore many kilometres of tracks and take in views along the Maribyrnong River. Spot a wallaby, enjoy the all abilities children's playground, or learn more about the geology of the area along the river banks.
Jells Park, Wheelers Hill – With paths connecting the playgrounds, the open grass areas, Madeline's Café and Jells Lake with its birdlife, this is perfect park for families. The paved pram friendly walking tracks throughout the park will make it easy to explore. If you feel like a bush style walk, head off on the gravel path for a longer walk through the conservation area around the lake.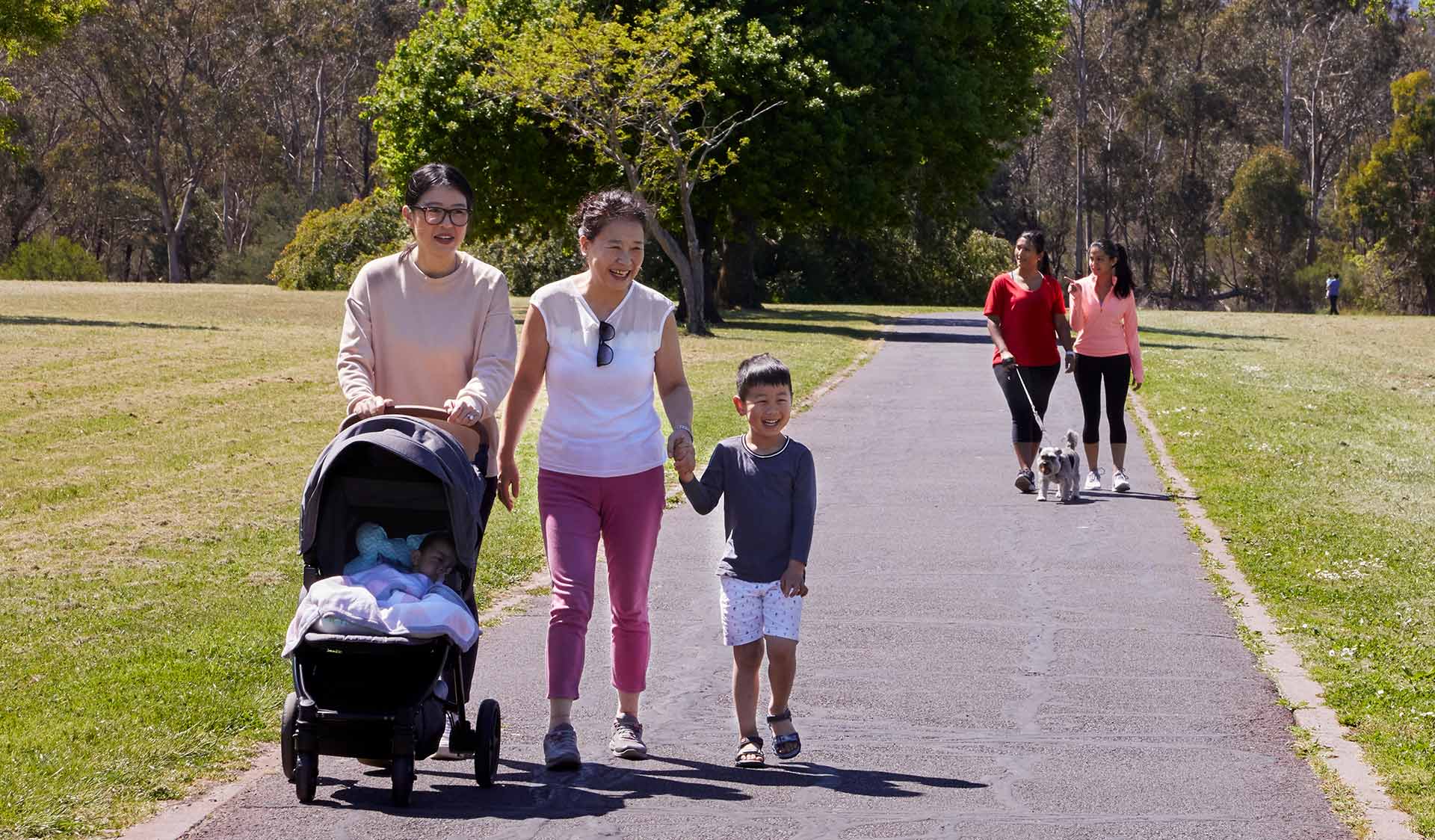 Around Melbourne and Victoria
Maroondah Reservoir Park, Healesville – With autumn colour aplenty, this park, nestled at the foot of the Yarra Ranges on the outskirts of Healesville is a lovely place to take the kids for a walk. Choose a level track or push the pram up and along the dam wall path for a view over the canopy.
Toorourrong Reservoir, Whittlesea – Somewhat of a hidden secret is this vast and welcoming park on the outskirts of Whittlesea. With wide open lawns, a paved walking track to a lookout over the reservoir and park, tracks meandering around the park and extensive picnic and BBQ facilities, this is a must-visit for families and large groups.
Serendip Sanctuary, Lara - A wildlife oasis in the Western Volcanic Plains, this 250-hectare sanctuary is home to a rich and diverse array of birds and mammals. Four gentle interconnecting nature trails allow the kids to see Emus and Eastern Grey Kangaroos and enjoy watching up to 150 species of birds including Brolgas, Yellow‐billed Spoonbills, Tawny Frogmouth and Whistling Kites.
Quinns Island, Cobram Regional Park - Quinns Island near Cobram is a water bird haven formed by a bend in the Murray River that has been cut off by Scotts Creek. Enjoy a gentle 2km walk with the pram around the island – which is accessible to pedestrians only – to see the birdlife and learn about Aboriginal culture. Aboriginal artefacts such as scar trees, flint tools and middens have been found on the island.
Greater Bendigo National Park – Explore central Victoria's box ironbark forests on the paved path through the One Tree Hill section of the park connecting the suburbs of Strathfieldsaye and Junortoun. Popular with locals and visitors alike, the smooth path is a gentle easy walk, and great for kids on bikes as well.
Point Nepean National Park – Point Nepean, at the tip of the Mornington Peninsula, is one of Victoria's most beautiful natural landscapes with outstanding coastal scenery and panoramic views. The many historic buildings at this scenic spot are accessible with a pram, including the military forts, tunnels and the historic Quarantine Station, A hop-on hop-off shuttle bus service operates from 10.30am to 4.00pm daily – you can buy tickets onboard - and you can see all the sights and choose the length you'd like to walk along the bitumen road with a pram.
Looking for more fun ideas for the family? Check out our family outings page!