Hike through open forest and scramble over rocky outcrops on the Mount Stapylton Loop Walk. The adventurous walk will test your endurance as it dips into forested gullies and navigates the steep slope of Flat Rock. Fit walkers can tackle the challenging trek to the summit of Mount Stapylton for sweeping views of the Grampians.
Begin this scenic Grampians walk at Stapylton Campground and meander through bushland as you make a gradual climb toward the rugged landscape of Mt Stapylton.

Tackle a scramble up the steep slope of Flat Rock, where you can take a break on the rocky slab and enjoy views of a spectacular natural ampitheatre. The walk to the top of Flat Rock is great for energetic families.

Continue past the impressive Taipan Wall and see if you can spot any avid rock climbers trying to conquer the sheer rockface. Keep your eyes peeled for the world's fastest bird–the peregrine falcon–in the cliffs. Look out over Mt Arapiles and its tiny neighbour, Mitre Rock.

Experienced and fit hikers will enjoy the strenuous walk to the summit of Mt Stapylton. Not for the faint-hearted, the steep trek involves rock hopping and scrambling. When you reach the isolated rocky masses at the top, you'll be rewarded with breathtaking views of the Grampians National Park and surrounding plains.

Climb down from the summit and continue the loop walk as it passes water-etched rock terraces and descends into dense scrub before returning to the campground.
How to get there
Mount Stapylton Walk
The Mount Stapylton Loop Walk starts at Stapylton Campground. Use Western Highway and turn off at Wonwondah-Dadswells Bridge Road in Dadswells Bridge. Turn onto Winfields Road and then Olive Plantation Road. Follow the road until you reach the campground.
When you're there
The 12.2km walk can involve steep climbs, rock hopping and scrambling, and water crossings. It's best tackled by fit and energetic walkers. Keep an eye out for the triangular trail markers in rocky areas, and don't forget to wear sturdy shoes.
Need to know
Mount Stapylton Walk
Accessibility
Visiting a park can be more of a challenge for people with disabilities, however in Victoria there are a wide range of facilities to help people of all abilities enjoy our wonderful parks around the state.
Assistance dogs are welcome in Parks Victoria parks and reserves. Entry requirements apply for parks and reserves that are usually dog prohibited, such as national parks.
Change of Conditions
Nature being nature, sometimes conditions can change at short notice. It's a good idea to check this page ahead of your visit for any updates.
Notices Affecting Multiple Parks

Seasonal road closures 2023

Seasonal road closures apply to areas within and tracks bordering this park from 15 June 2023. See

MapshareVic

for locations of the closures. Visit the

seasonal road closures

page for more information

Notices Affecting Multiple Sites

Grampians Gariwerd Landscape - Aerial Deer Management Program Temporary Park Closures

Grampians Gariwerd Landscape – Information Update

Parks Victoria will commence aerial and ground-based pest animal control operations across the Grampians (Gariwerd) National Park and Black Range State Park during October 2023.

Informed by scientific research, this program is aimed at controlling/reducing introduced Goat and Deer populations that are threatening the important natural and cultural values of the Greater Gariwerd Landscape. Qualified and experienced contractors will undertake aerial based control operations across the landscape where these animals are impacting vegetation and cultural values.

Parks Victoria staff will continue to support these efforts with staged ground-based operations throughout the year, including at Black Range Scenic reserve.

The first aerial operation is scheduled to commence Tuesday 10th October, and conclude Thursday 12th October 2023. A Fact sheet showing the operation areas is attached showing approximate dates and times of temporary closures, and a list of these closures is shown below.

During operations, some key visitor sites including the Grampians Peaks Trail and other walking tracks may be temporarily closed (up to two hours) for visitor safety. See list below.
Park closures will be clearly signposted and managed by staff
Visitors are asked to refrain from entering closed areas, staying on designated walking tracks or modifying their plans to visit outside of the hours of operation.
Visitors may be able to see helicopters flying at low levels and hear gunshots

All Parks Victoria's conservation programs are thoroughly planned and implemented under strict protocols and oversight, ensuring that operations are safe, effective, humane and meet obligations of all relevant legislation, Codes of Practice and Standard Operating Procedures.

For Further Information about this operation and temporary park closures please refer to the Deer Control Program Fact Sheet attached and

Parks Victoria website

, or call the Parks Victoria Information centre on 13 19 63.

List of visitor sites and roads potentially impacted by temporary closures. Please note, the below times are best estimates and are subject to change. Parks Victoria will update the list of temporary closure times closer to the date.

Day 1: Tuesday 10th October - Temporary closures may occur between 08:00 – 14:30pm

Fortress Walking Track

Mt Thackeray Walking Track

Hut Creek Walking Track

Mt Thackeray and Fortress Overnight hiking camp

Manja Art Shelter walking track

Chimney Pots walking track

Victoria Range Rock climbing sites

Victoria Range Track

Goat Track

"Blind Fireline

Buandik Campground from Red rock road

Billimina shelter

Jadawadjali Falls walking track

Strachans Campground

Ingleton Springs

Red Rock Road

Harrops Track

(Burrunj Black Range) Sector

Mount Byron Walking track

Mudadgadjiin Picnic Area and Art shelter walk

Rock Escarpment Discovery walk

Wildman Cave

Muirfoot track (MVO)

Black Range Road between Rees and Rocklands-Cherrypool Rd

Rockland Cherrypool Road

Rees Rd

Day 1: Tuesday 10th October - Temporary Closures may occur between 15:00 – 17:00pm

Grampians Peaks Trail from Mt Difficult road south Crossing to Halls Gap

Boroka Lookout Walking track

Bullaces Glen walking track

Chatauqua Peak Loop walking track

Clematis Falls Walking Track

Mt Difficult Road - Gravel Section Only

Boroka Lookout – from Mt Victory Road only

Day 2: Wednesday 11th October - Temporary closures may occur between 08:30 – 14:30

Red Gum Walk

Henham Shortcut Track

Channel track

Moora Moora Outlet/Dam Wall

Serra Henham Link Track

Henham Track

Moora Moora Track (Seasonal)

Outlet Track

Paddy's Castle

Boreang Campground

Bundaleer and Mt Rosea Rockclimbing areas

Glenelg River Road

(Wartook Sector) - Temporary Closures may occur between 15:00 -17:00

Grampians Peaks Trail from Mt Difficult Rd Crossing sth – Old Mt Difficult Loop intersection Grid Ref e629933 n5903971

Long Point West Hike-in campground

Long Point East Hike Hike-in campground

Wartook Lookout walking track

Wartook East Fireline (MVO)

Mt Difficult Road – Gravel Section

Old Mill Road

Ricky North track (MVO)

Werdug Hike in Campground – movement to and from may be delayed

Boroka Lookout

Thursday 12th October - Temporary Closures may occur between 08:30 – 10:30am

Beehive Falls Walking Track

Grampians Peaks Trail from Troopers Creek campground intersection to Gar Hike in campground

Briggs Bluff walking track

Mt Difficult Walking track – from Mt Difficult road /Carters track intersection

Gar Waterfalls Track

Long Point West Hike in Campground

Carters-Longpoint track (MVO)

Long Point Fireline (MVO)

Gar Hike in Campground

Heatherlie Quarry

Thursday 12th October - Temporary Closures may occur between 10:30 – 12:30

Tunnel walking track

Boronia Peak walking track

Mt Cassell fireline (Seasonal)

Terraces Fireline (MVO)* Grampians Peaks Trail return to Halls Gap section

Fyans Creek Loop walking track

Delleys Bridge walking track

Tunnel visitor site east

Lake Bellfield Track

Redman Rd – between GPT/Redman road trailhead and East Park Boundary

Seven Dials Track (MVO) *rock climbing areas

All internal seasonal and management vehicle only tracks

Lynches Crossing track

Childs Lane

Park Boundary tracks near gooseneck swamp and Brady Swamp

Attachments: Grampians Deer Management Fact Sheet_final (1,792KB)
Similar experiences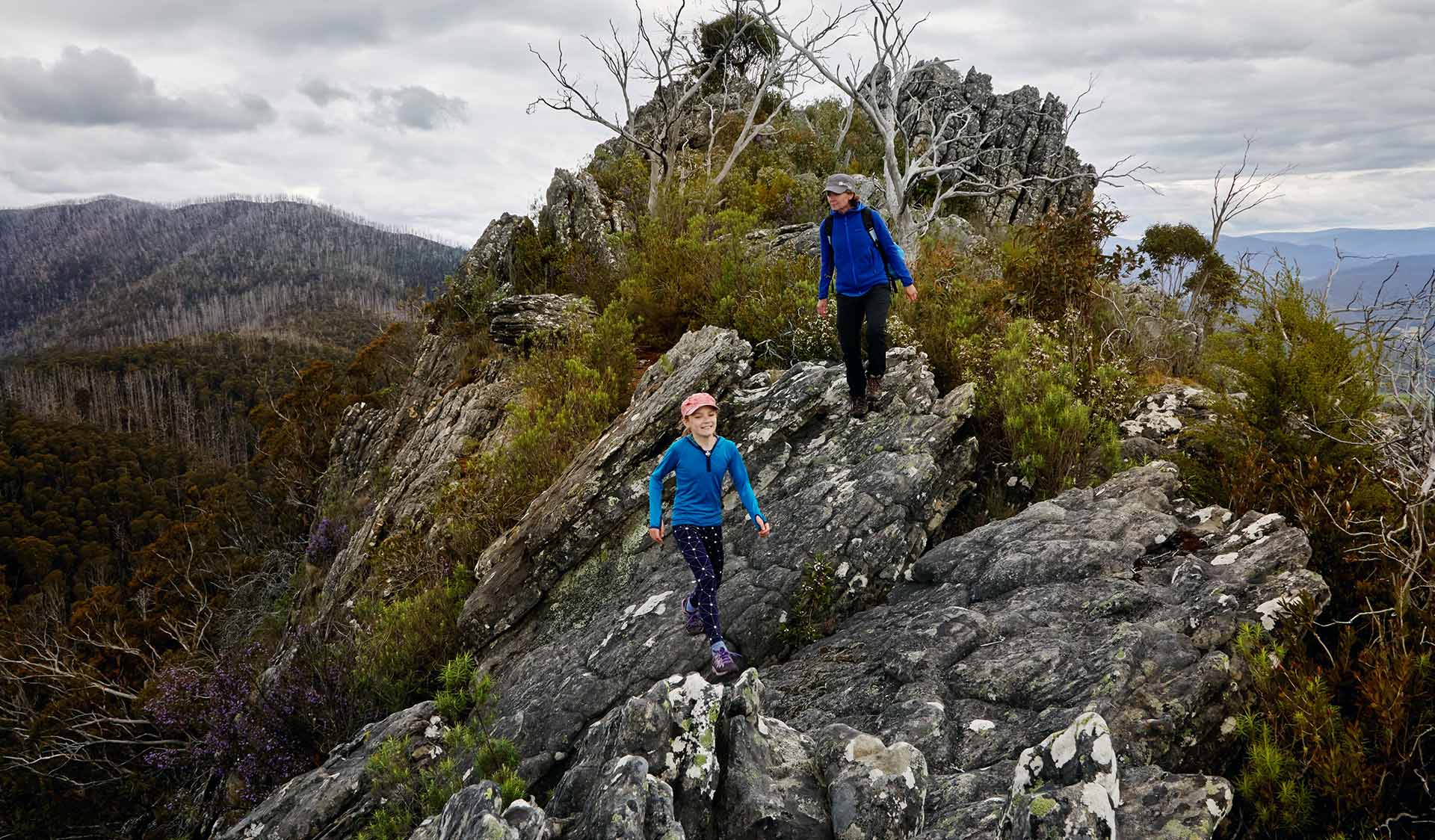 This track links The Farmyard to Sugarloaf Peak. It crosses exposed rocky outcrops. Look for the markers to help you keep to the track This walk is rated hard with an expected duration of two hours.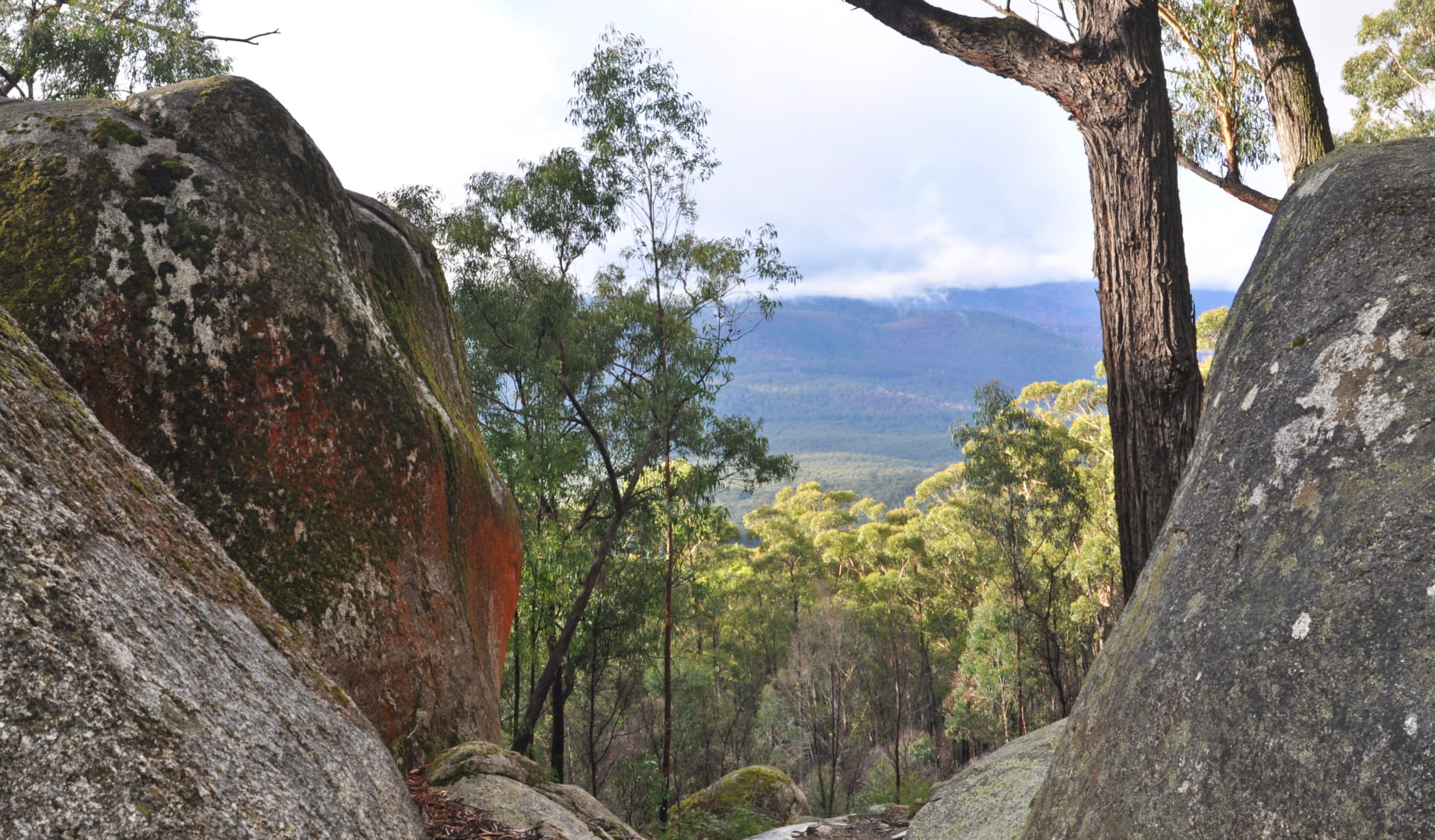 Four Brothers Rocks
Discover a unique group of granitic rocks with sweeping views across the park.