Hike through open forest and scramble over rocky outcrops on the Mount Stapylton Loop Walk. The adventurous walk will test your endurance as it dips into forested gullies and navigates the steep slope of Flat Rock. Fit walkers can tackle the challenging trek to the summit of Mount Stapylton for sweeping views of the Grampians.
Begin this scenic Grampians walk at Stapylton Campground and meander through bushland as you make a gradual climb toward the rugged landscape of Mt Stapylton.

Tackle a scramble up the steep slope of Flat Rock, where you can take a break on the rocky slab and enjoy views of a spectacular natural ampitheatre. The walk to the top of Flat Rock is great for energetic families.

Continue past the impressive Taipan Wall and see if you can spot any avid rock climbers trying to conquer the sheer rockface. Keep your eyes peeled for the world's fastest bird–the peregrine falcon–in the cliffs. Look out over Mt Arapiles and its tiny neighbour, Mitre Rock.

Experienced and fit hikers will enjoy the strenuous walk to the summit of Mt Stapylton. Not for the faint-hearted, the steep trek involves rock hopping and scrambling. When you reach the isolated rocky masses at the top, you'll be rewarded with breathtaking views of the Grampians National Park and surrounding plains.

Climb down from the summit and continue the loop walk as it passes water-etched rock terraces and descends into dense scrub before returning to the campground.
How to get there
Mount Stapylton Walk
The Mount Stapylton Loop Walk starts at Stapylton Campground. Use Western Highway and turn off at Wonwondah-Dadswells Bridge Road in Dadswells Bridge. Turn onto Winfields Road and then Olive Plantation Road. Follow the road until you reach the campground.
When you're there
The 12.2km walk can involve steep climbs, rock hopping and scrambling, and water crossings. It's best tackled by fit and energetic walkers. Keep an eye out for the triangular trail markers in rocky areas, and don't forget to wear sturdy shoes.
Need to know
Mount Stapylton Walk
Accessibility
Visiting a park can be more of a challenge for people with disabilities, however in Victoria there are a wide range of facilities to help people of all abilities enjoy our wonderful parks around the state.
Assistance dogs are welcome in Parks Victoria parks and reserves. Entry requirements apply for parks and reserves that are usually dog prohibited, such as national parks.
Change of Conditions
Nature being nature, sometimes conditions can change at short notice. It's a good idea to check this page ahead of your visit for any updates.
First Wannon Hike-in Camping Area (Grampians National Park)

Major Mitchell Plateau Partial Closure

The Major Mitchell Plateau walking track is closed between First Wannon Hike-in Camping Area and Jimmy Creek Campground due to Grampians Peaks Trail construction works.

First Wannon Hike-in Camping Area remains open and accessible from Mt William Carpark and Kalymna Campground as a return walk.

Notices Affecting Multiple Sites

Grand Canyon Staircase Closed

The steel staircase at the south-eastern exit of the Grand Canyon is closed due to an engineering issue.

The Grand Canyon remains open as a return walk from Wonderland Carpark.

The Pinnacle walk remains open via the canyon bypass walking track.

Mt William and Barbican Rocks Air Operation

On

Friday the 22nd of January 2021

an air operation will be occurring in the Mt William and Barbican Rocks area of Grampians National Park to support Grampians Peaks Trail con

struction.

To ensure the operation is undertaken safely the following closures and access changes will be in place for the day:

Walking tracks closed:

Sheep Hills Carpark to Mt William Carpark

Mt William Carpark to Mt William summit

Mt William Summit to Boundary Gap

Roads closed:

Mt William Road at Grampians Tourist Road

Roads open with traffic management:

Campgrounds closed:

First Wannon Hike-in Camping Area will be closed on both Thursday and Friday nights to ensure walkers are not in the area

Mt Victory Road closure: 8th to 12th February 2021

Mt Victory Road closed between Halls Gap and Reed Lookout: 8th to 12th of February 2021

Due to

roadworks

from the 8th to the 12th of February 2021, Mt Victory Road will be closed to all traffic between Halls Gap and Reed Lookout.

Access to visitor sites in and around the Central Grampians will be impacted during this period. Walking Tracks in the Wonderland Range will only be accessible from Halls Gap or Lake Bellfield Dam Wall.

Visitor sites not accessible to vehicles:




Wonderland Carpark




Sundial Carpark


Rosea Carpark



Walking tracks only accessible by walking from Halls Gap:

Visitor sites only accessible from the western side of the park (not accessible from Halls Gap):

Zumsteins Picnic Area (via Northern Grampians Road)

Mackenzie Falls (via Northern Grampians Road)

Smiths Mill Campground (via Northern Grampians Road)

Boroka Lookout (via Old Mill Road - unsealed, AWD recommended)

Reed Lookout and the Balconies (via Northern Grampians Road)

Boreang Campground (via Rose Creek Road)

Stony Creek Group Camping Area (via Rose Creek Road and Glenelg River Road).

Download the attached PDF map for alternative access routes to open sites in the Central Grampians from Halls Gap.

For further information please contact Brambuk the National Park and Cultural Centre, 2.5km south of Halls Gap, Ph: (03) 8427 2058.

Attachments: Mt Victory Road Closure - Alt accces map (1,686KB)

Mitchell Road Closed

Mitchell Road is closed until further notice due to storm damage to a concrete causeway.

Park Access Update - 6/01/21

Road Report - 07/01/2021

Download the latest Grampians National Park Road Report to find out the condition of the parks roads and four wheel drive tracks.

Attachments: Grampians NP Road Report - 7 Jan 2021 (159KB)

Stony Creek Group Camping Area (Grampians National Park)

Stony Creek Group Camping Area Relocated

Stony Creek Group Camping Area has been relocated 500m west of Rosea Carpark on Stony Creek Road. Walkers should access this site by following Stony Creek Road from Rosea Carpark, rather than the link track from the Mt Rosea Walking Track.
Similar experiences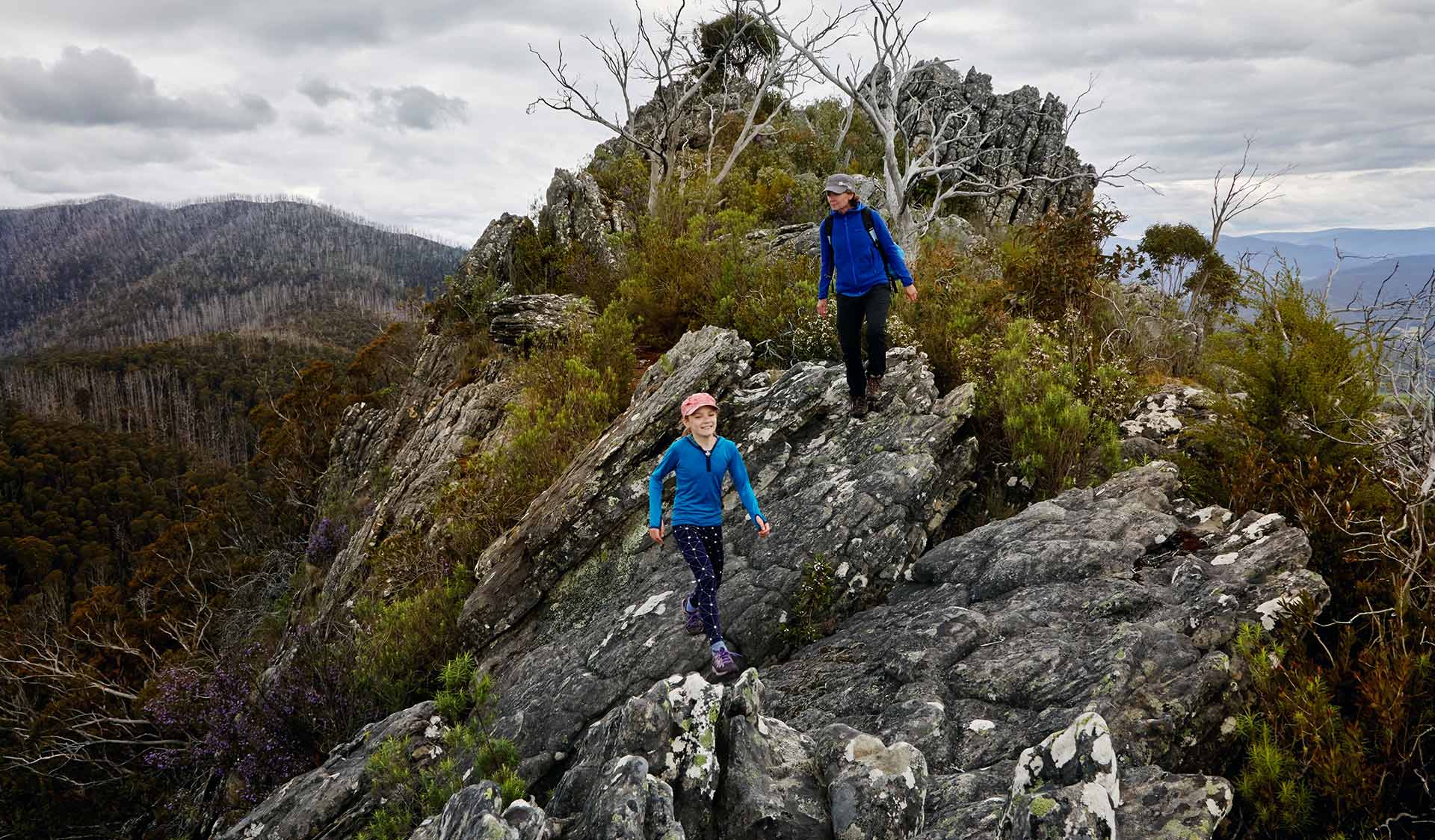 This track links The Farmyard to Sugarloaf Peak. It crosses exposed rocky outcrops. Look for the markers to help you keep to the track This walk is rated hard with an expected duration of two hours.
Discover a unique group of granitic rocks with sweeping views across the park.