Tali Karng is a hidden jewel nestled deep in the mountains of Gippsland, fed by snowmelt waters of the Wellington Plains. Accessible only by walking track, this tranquil lake is sacred to the Gunaikurnai people. Please treat the area with respect, and do not camp at the lake.
The trip to Tali Karng is an adventurer's dream. Three walking tracks lead to the lake, ranging from 13km to 20km one-way. Whichever you take, you'll need to be fit and experienced, and have everything you need for a full day's walk on hand (see the Visitor Guide for more details).
Each of the tracks offers a different landscape to experience. Trek across Wellington Plains or ford the Wellington River. The remoteness of the area makes it a magnificent camping spot.
Make camp at Nyimba Camp near the southern end of the Wellington Plains walking track, or below the lake in the Valley of Destruction. Nyimba Camp has toilets and fireplaces.
Tali Karng is the only natural lake within the Victorian Alps. Held behind a rock barrier created thousands of years ago, the underground stream it feeds emerges at the infant Wellington River 150m below in the Valley of Destruction.
The first people to call this area home were the Gunaikurnai people, most likely members of the Brayakaulung clan. Aboriginal people guided many European explorers and gold miners through the mountains along well-used pathways, which now form some of today's road and track network.
Tali Karng is a sacred place to the Gunaikurnai and in keeping with their law, Aboriginal people are forbidden to go there.
Aboriginal people do not oppose non-indigenous people visiting Tali Karng as long as they treat the area with respect. Camping at the lake is disrespectful, so please treat the area with care as you pass by the lake and camp elsewhere.
Things To Do
This area is well known for its wildlife. Keep an eye out for: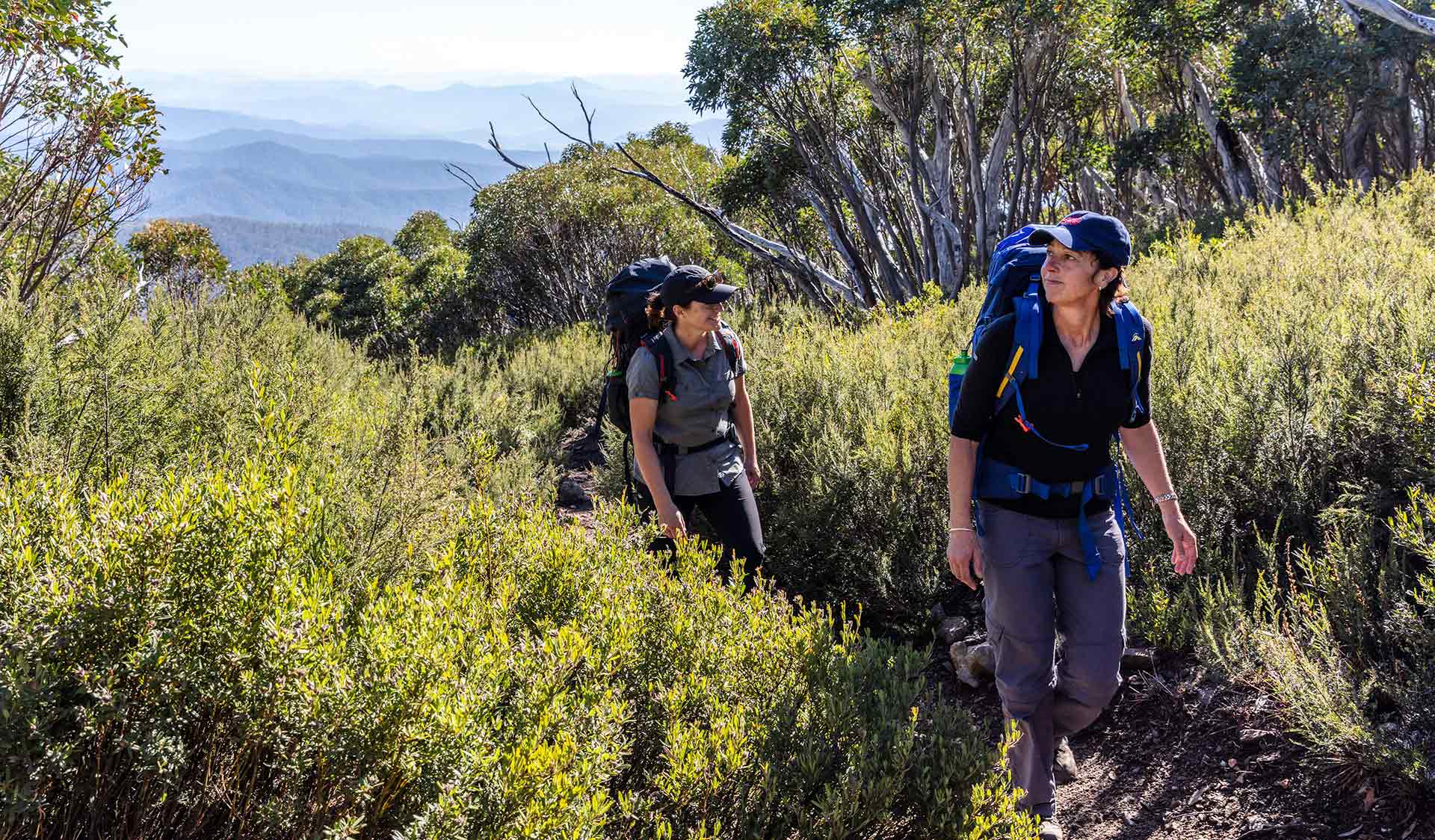 Explore some of Australia's best mountain walking around Mount Bogong, including the Staircase, Eskdale Spur and a variety of other day hikes and family walks.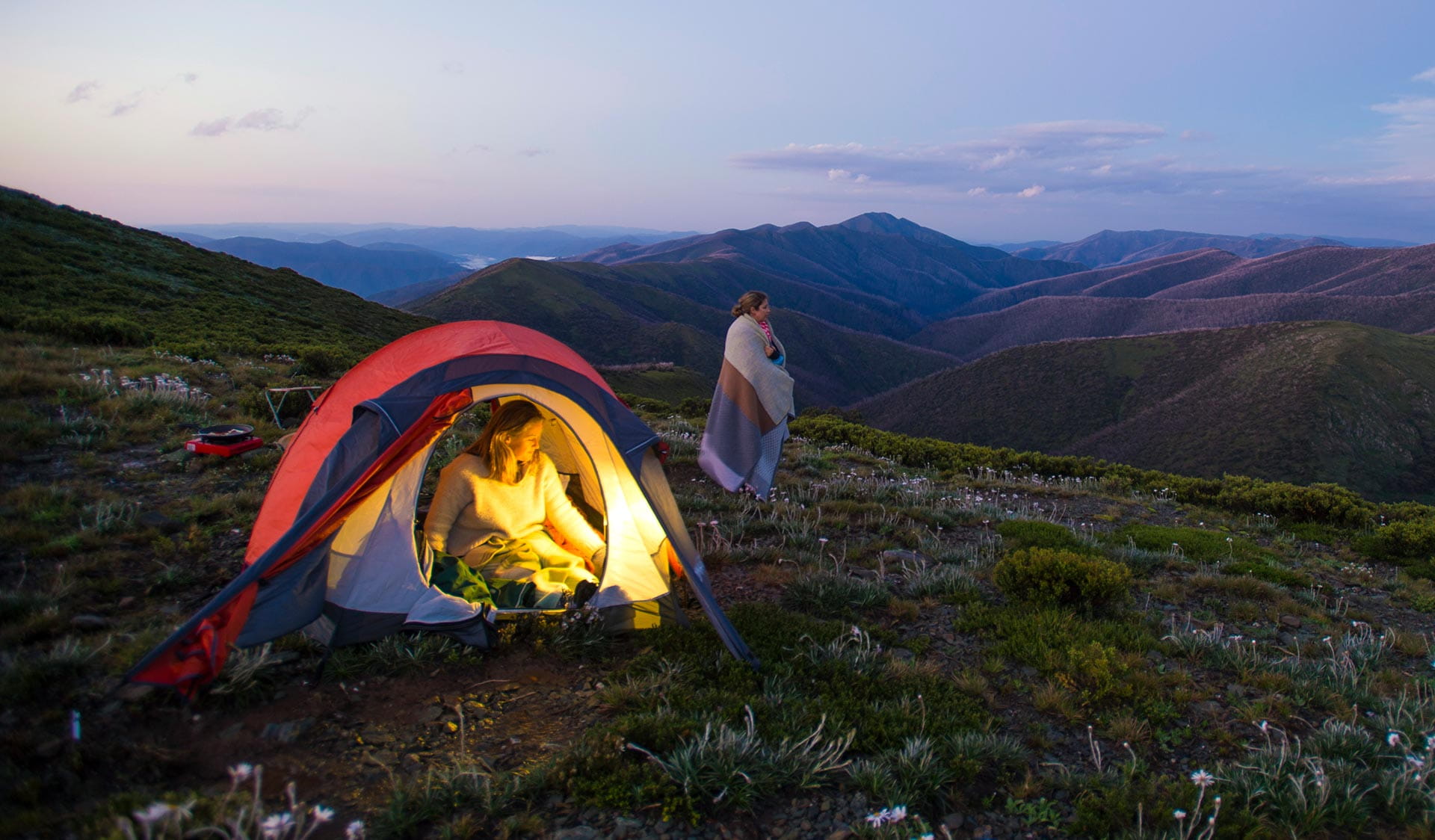 The Alpine National Park offers some of the most authentic and scenic bush camping opportunities in Victoria.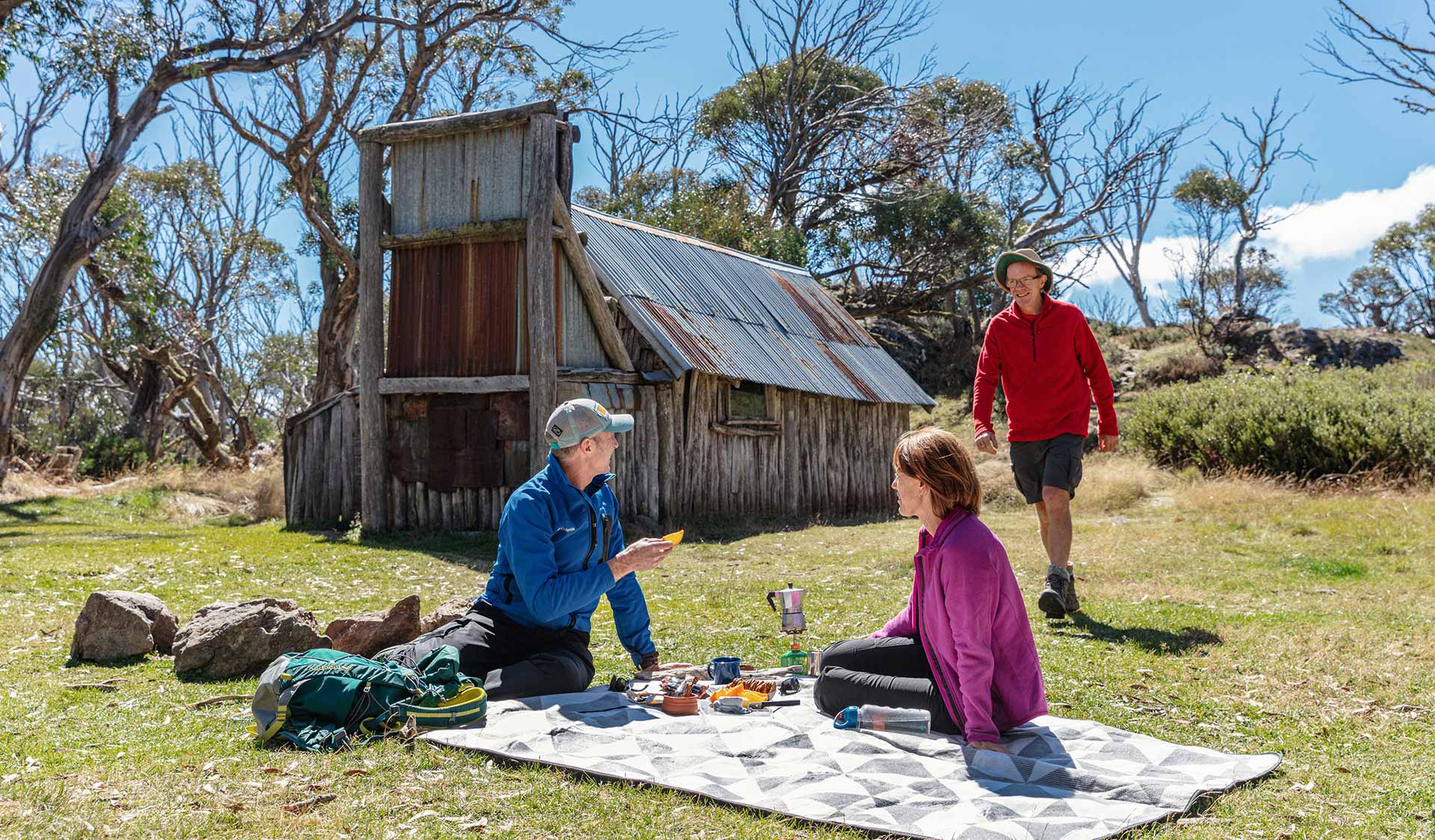 Learn about this beautiful and unique region, the historical significance of the Alpine huts, and the stunning natural ecosystem surrounding them from trained Volunteer Park Guides. Alpine Discovery Dyas run on selected days during the summer school holidays and over the Easter long weekend.
How to get there
Tali Karng
The nearest town is Licola. To get there, take Princes Highway to Traralgon, turn off to Heyfield and on to Licola.
When you're there
Download the Tali Karng visitor guide for more information about the park and a detailed map.
Accessibility
Visiting a park can be more of a challenge for people with disabilities, however in Victoria there are a wide range of facilities to help people of all abilities enjoy our wonderful parks around the state.
Assistance dogs are welcome in Parks Victoria parks and reserves. Entry requirements apply for parks and reserves that are usually dog prohibited, such as national parks.
Safety in nature
To ensure that you and your companions stay safe, always remember that the natural environment can be unpredictable. Before you go, take a look at our safety tips and check our changed conditions and closures information for a great visit.
Change of Conditions
Nature being nature, sometimes conditions can change at short notice. It's a good idea to check this page ahead of your visit for any updates.
Track closures due to flood impact

The following tracks are closed due to impact by storms and flood. Crews will assess and reopen when safe:

The following tracks are closed due to impact by storms and flood. Crews will assess and reopen when safe:

Cobberas Track


Ingeegoodbee Track

Little Cobbler Track

McFarlines Flat Track


Mt Pinnibar Track - deteriorated condition

Mt Pinnibar Track – deteriorated condition




Mt Pinnibar Track between Walkers Road and Tom Groggin Track has deteriorated significantly following recent flood and storm events.




Visitors are advised to consider alternate routes to the summit of Mt Pinnibar until repairs can be carried out.

Bogong High Plains Road

Following the landslide at Bogong Village the Bogong

High

Plains Road is now open however remediation work will continue into the foreseeable future to rectify the damage created by the landslide. Parks Victoria advises that all visitors check the

Regional

Roads Victoria and

Victoria's

big build website for the latest traffic updates on closures or delays before visiting.

https://regionalroads.vic.gov.au/map/north-eastern-improvements/bogong-high-plains-road-landslip

https://bigbuild.vic.gov.au/projects/mrpv/bogong-high-plains-road-landslip




Notices Affecting Multiple Sites

Mt Selwyn Road closure

Mount Selwyn Road is closed between the intersections of Five Ways and Canyo Road between May 2023 till approximately December 2023 due to significant road works being undertaken on this section of road.




Alternate routes are Dingo Creek Tk - Great Diving Range Tk - Mt Selwyn Rd, Selwyn Creek Rd - Great Driving Range Tk - Mt Selwyn Rd or Selwyn Creek Rd - Tea Tree Range Rd - Mt Selwyn Rd or Walshs Tk - East Buffalo Rd - West Humffray Rd - Selwyn Tk. - Please check seasonal road closures prior to departure as these might affect your vogue.




In the interest of visitor safety this road is closed b

etween May 2023 till approximately December 2023.

Notices Affecting Multiple Parks

Seasonal road closures 2023

Seasonal road closures apply to areas within and tracks bordering this park from 15 June 2023. See

MapshareVic

for locations of the closures. Visit the

seasonal road closures

page for more information.

Ground shooting operations targeting deer

Ground control operations targeting deer will be undertaken in these Parks and Reserves from December 2022 to December 2023.

These areas will remain open to visitors during operations.

Alpine National Park (Bogong High Plains, Mount Bogong, Dinner Plain,

Dargo High Plains, Foothills and Southern Alps)

Buchan Caves Reserve

Burrowa-Pine Mountain

Cape Conran Coastal Park

Cape Liptrap Coastal Park

Cabbage Tree Creek Flora Reserve

Errinundra National Park

Lake Tyers State Park

Lakes National Park

Baw Baw National Park

Mount Buffalo National Park

Mount Mittamatite Regional Park

Mount Mitta Mitta Flora Reserve

Mount Lawson State Park

Mount Granya State Park

Mountain Creek Education Area

Pheasant Creek Flora Reserve

Wabba Wilderness Park

Wilsons Promontory National Park




For more information about deer control to protect biodiversity, please visit

this link

.

Davies Plain Hut & Camping Area (Alpine National Park)

Early seasonal closure for Davies Plain Track and Kings Plain Track, Alpine National Park

Kings Plain Track and Davies Plain Track

between Buckwong Creek Camping Area (at Tom Groggin) and Charlies Creek Camping Area are seasonally closed to all vehicles from

1 May to 30 November

inclusive.

Sections of Davies Plain Track north of Buckwong Creek Camping Area (at Tom Groggin) and south of Charlies Creek Camping Area are seasonally closed to vehicles between the 2nd Thursday in June and the Thursday before Melbourne Cup day.

Attachments: Davies Plain Track seasonal closure section_1 May - 30 Nov (258KB)
Explore Alpine National Park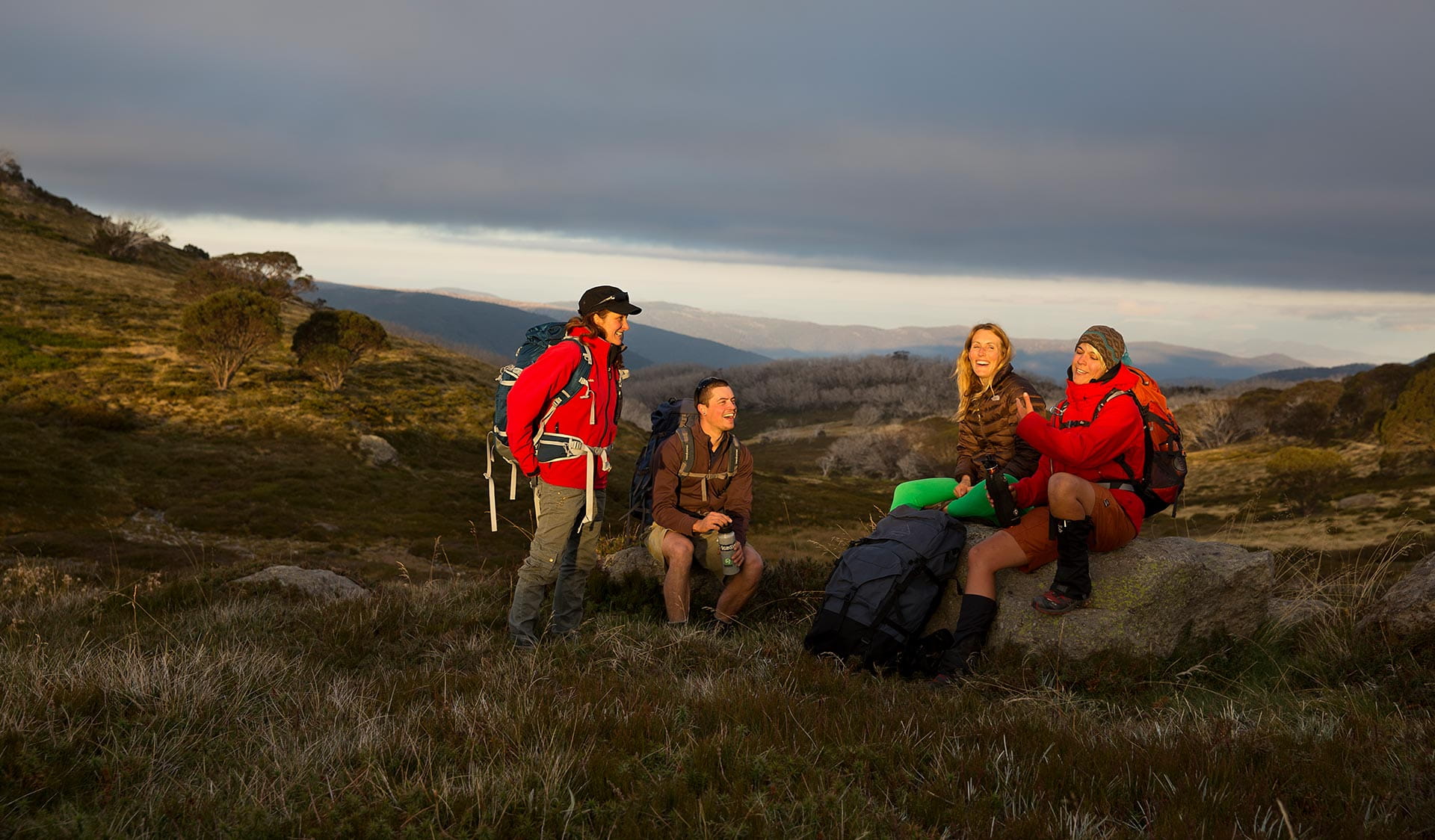 One of Victoria's icon walks, the 37km Falls to Hotham Alpine Crossing (FHAC) is a 3 day/2 night walk through the Alpine National Park, linking the resort villages of Falls Creek and Mt Hotham.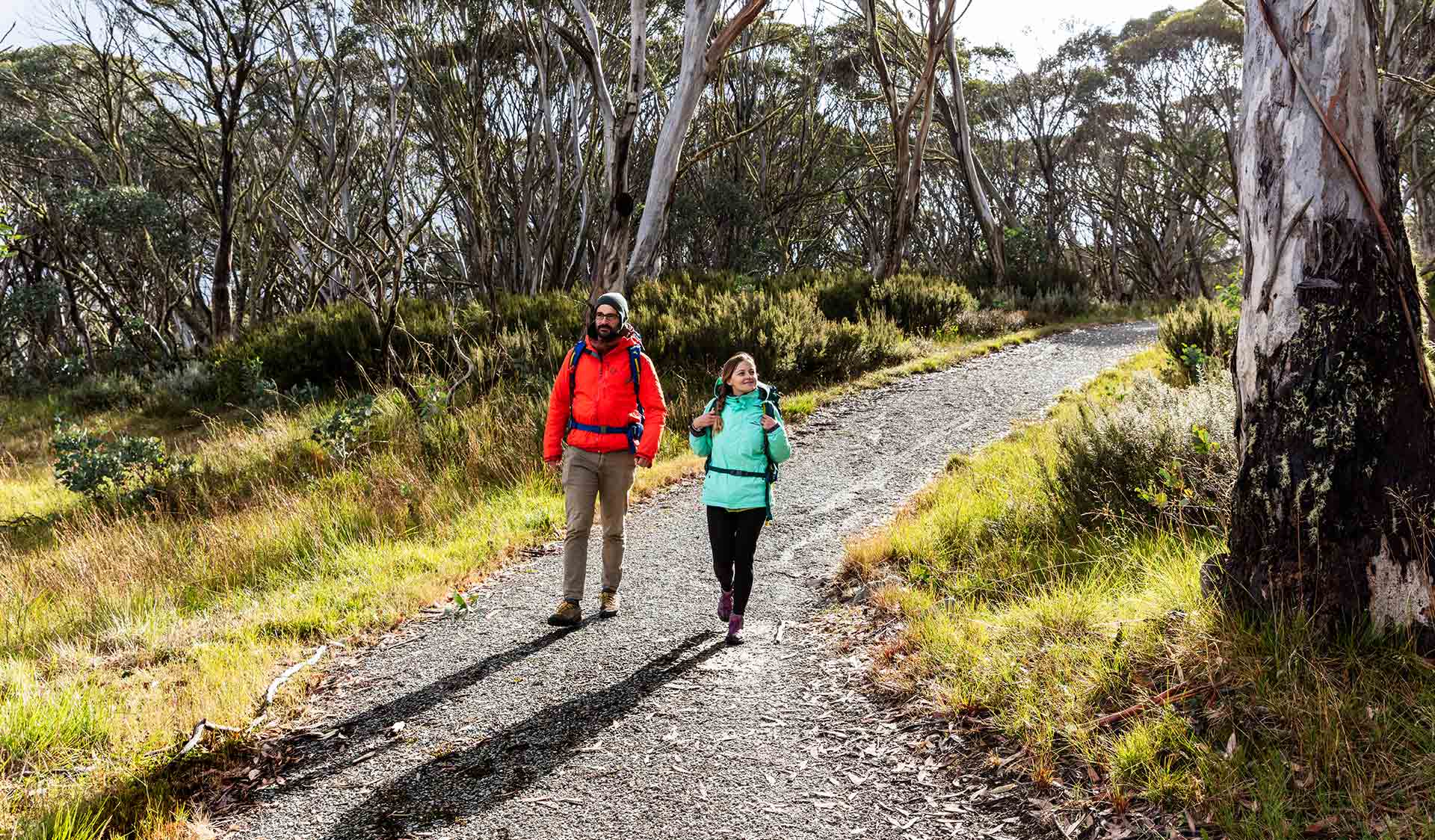 Enjoy a pleasant walk or cycle through Snow Gum woodland and open snow plains. Starting at the Hotham General Store and finishing at Dinner Plain Village, the trail is never far from the Great Alpine Road.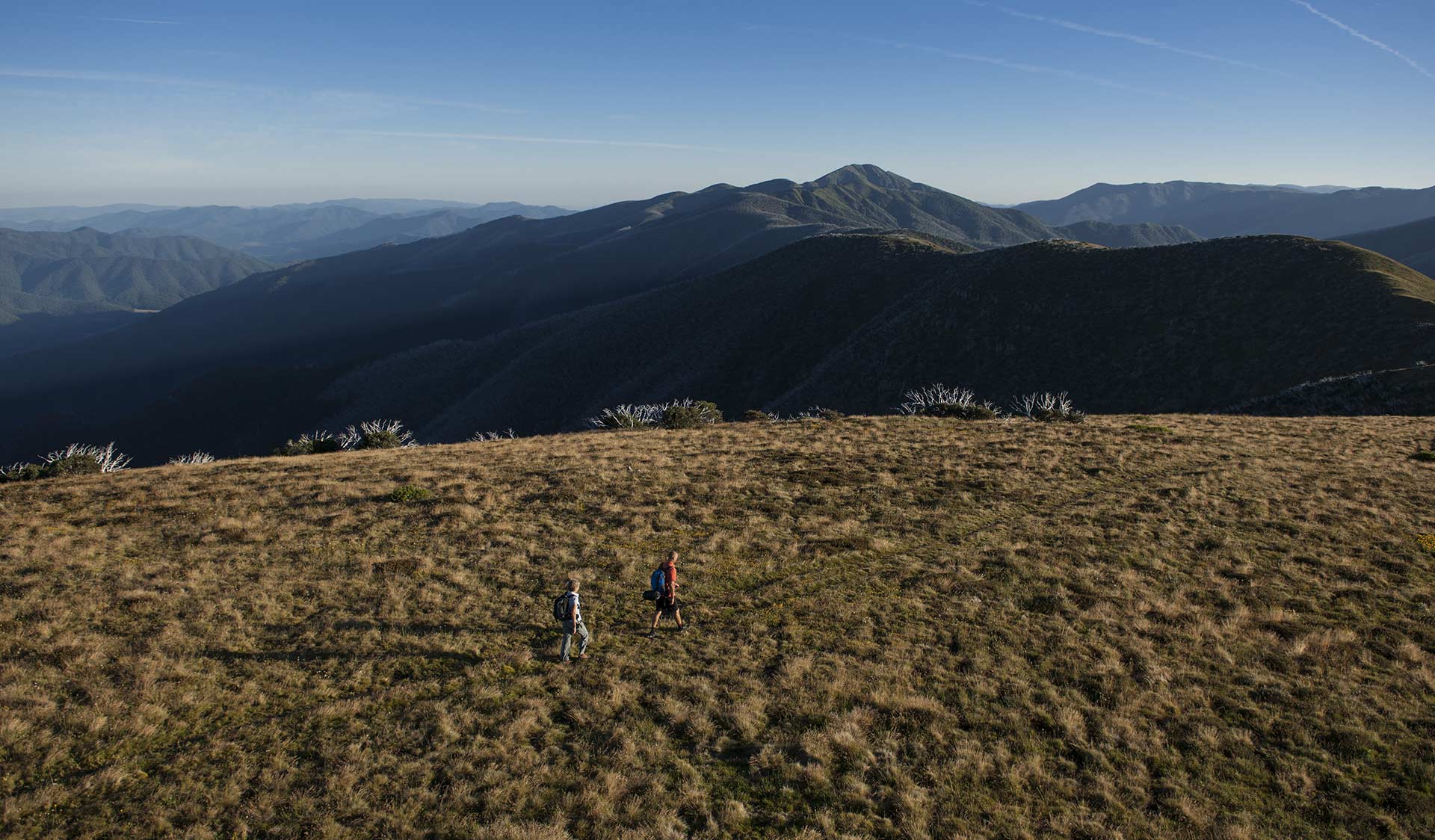 Mount Feathertop
Stunning Alpine landscape with Victoria's second highest peak, Mt Feathertop towering above Harrietville in the Ovens Valley.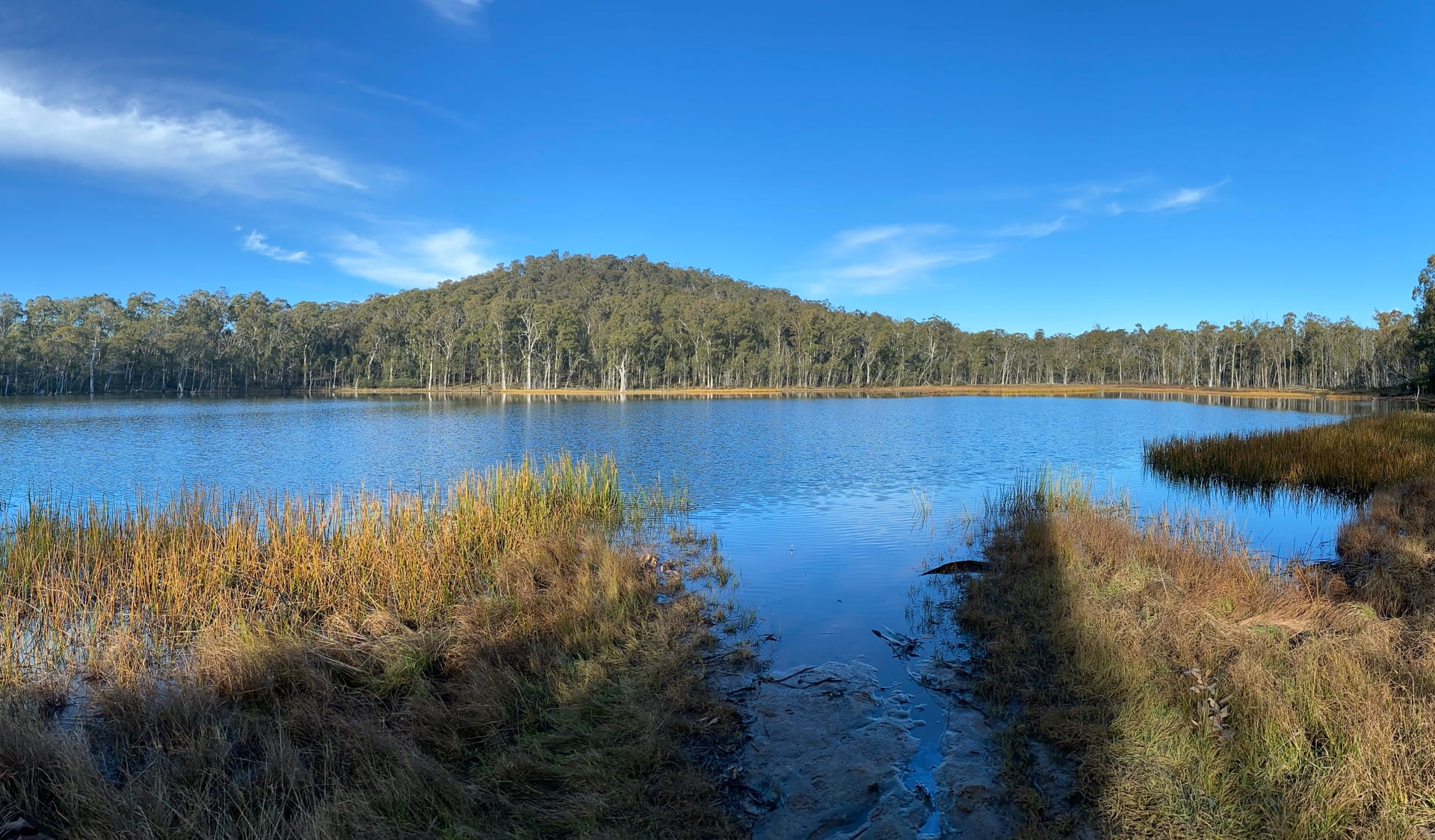 Lake Cobbler
Nestled in Alpine Ash and Gums is Lake Cobbler, where you can find camping and day visitor areas, hut and toilet facilities, and abundant wildlife. The overflow from this lake feeds Dandongadale Falls on the Cobbler Plateau. Adventurous hikers can find the head of the hiking trail to the summit of Mount Cobbler nearby.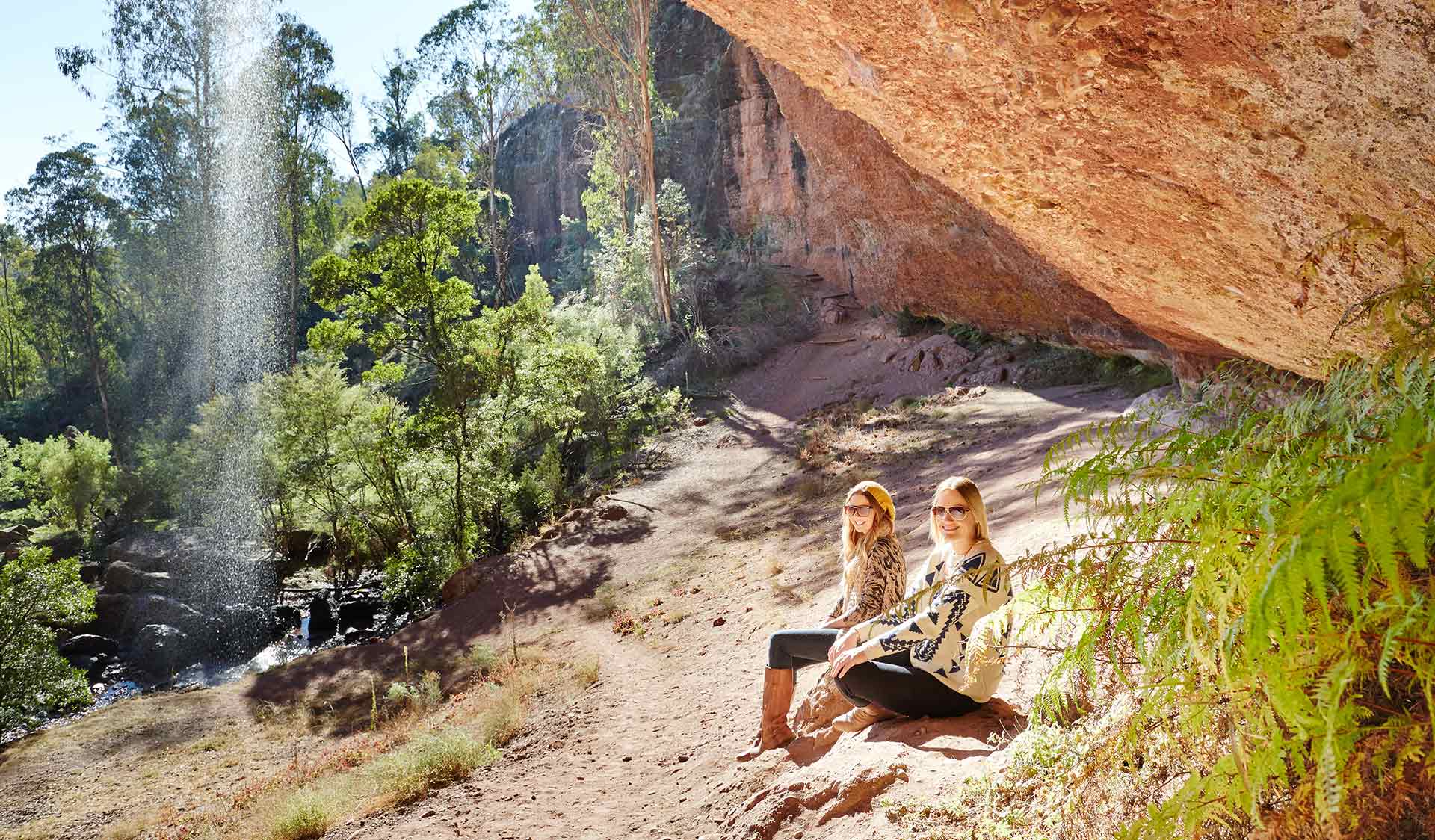 Paradise Falls cascade 31 metres and are most spectacular in spring, early summer or after rain. The walk to the viewing platform is a well‐made stepped track perfect for all ability levels.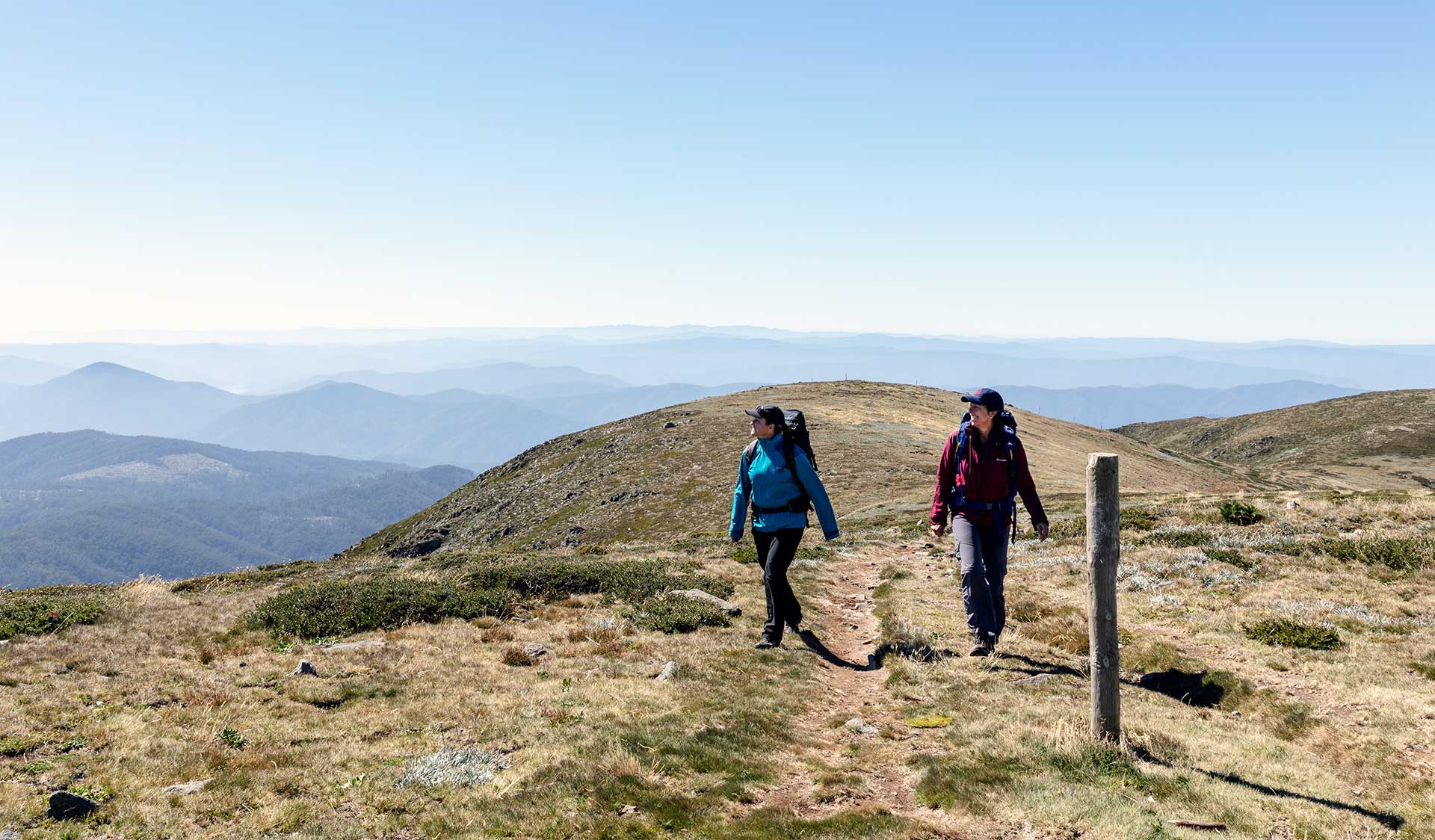 Mount Bogong
At 1986 metres, Mt Bogong is the highest peak in Victoria and attracts hikers and skiers.