The Alpine National Park Discovery Days are located at the historically significant Wallaces and Cope Hut precinct on the magnificent Bogong High Plains.
We have trained and knowledgeable local volunteers ready and waiting to answer your questions and tell you about this beautiful place – no booking required!
Do you know…
How many huts are scattered across the Alpine National Park?
How Wallace's Hut got its name?
Why Cope Hut was called "The Menzies of the High Plains" in the 1920's?
Learn the answer to these questions and much more from our Volunteer Park Guides.
Volunteer Park Guides will be at the site to share with you their knowledge of this beautiful region, the historical significance of the Alpine huts, and the stunning natural ecosystem surrounding them.
Park Guides are at Wallace's Hut between 10:00 am – 2:00 pm on selected days during the Summer school holidays and over the Easter long weekend. Drop by at any point and our volunteers will be available for a chat.
Dates for 2022:
Friday, 15 April
Saturday, 16 April
Sunday, 17 April
How to get there
Alpine Discovery Days
Need to know
Alpine Discovery Days
Change of Conditions
Nature being nature, sometimes conditions can change at short notice. It's a good idea to check this page ahead of your visit for any updates.
Track closures due to flood impact

The following tracks are closed due to impact by storms and flood. Crews will assess and reopen when safe:

The following tracks are closed due to impact by storms and flood. Crews will assess and reopen when safe:

Cobberas Track


Ingeegoodbee Track

Little Cobbler Track

McFarlines Flat Track


Wabonga and McMillan's Track closures for repairs and maintenance

Wabonga 4WD track will be closed from the intersection of Paradise Falls Rd to Basin Track intersection, and McMillan's Track will be closed from Burrowes Rd to Wabonga track for the period 25th September to 15th December inclusive.

The closure is to allow for important track repairs, culvert and bridge installations to support fire fighting access and response.

If the works are completed prior to the 15th December the track will be re-opened.




Alternative access to the Wabonga Plateau area can be via Long Spur, Basin Track, Top Crossing, or Burnt Top

once the Seasonal Road closures have ended on the 2nd November.

Mt Pinnibar Track - deteriorated condition

Mt Pinnibar Track – deteriorated condition




Mt Pinnibar Track between Walkers Road and Tom Groggin Track has deteriorated significantly following recent flood and storm events.




Visitors are advised to consider alternate routes to the summit of Mt Pinnibar until repairs can be carried out.

Bogong High Plains Road

Following the landslide at Bogong Village the Bogong

High

Plains Road is now open however remediation work will continue into the foreseeable future to rectify the damage created by the landslide. Parks Victoria advises that all visitors check the

Regional

Roads Victoria and

Victoria's

big build website for the latest traffic updates on closures or delays before visiting.

https://regionalroads.vic.gov.au/map/north-eastern-improvements/bogong-high-plains-road-landslip

https://bigbuild.vic.gov.au/projects/mrpv/bogong-high-plains-road-landslip




Notices Affecting Multiple Sites

Mt Selwyn Road closure

Mount Selwyn Road is closed between the intersections of Five Ways and Canyo Road between May 2023 till approximately December 2023 due to significant road works being undertaken on this section of road.




Alternate routes are Dingo Creek Tk - Great Diving Range Tk - Mt Selwyn Rd, Selwyn Creek Rd - Great Driving Range Tk - Mt Selwyn Rd or Selwyn Creek Rd - Tea Tree Range Rd - Mt Selwyn Rd or Walshs Tk - East Buffalo Rd - West Humffray Rd - Selwyn Tk. - Please check seasonal road closures prior to departure as these might affect your vogue.




In the interest of visitor safety this road is closed b

etween May 2023 till approximately December 2023.

Notices Affecting Multiple Parks

Seasonal road closures 2023

Seasonal road closures apply to areas within and tracks bordering this park from 15 June 2023. See

MapshareVic

for locations of the closures. Visit the

seasonal road closures

page for more information.

Ground shooting operations targeting deer

Ground control operations targeting deer will be undertaken in these Parks and Reserves from December 2022 to December 2023.

These areas will remain open to visitors during operations.

Alpine National Park (Bogong High Plains, Mount Bogong, Dinner Plain,

Dargo High Plains, Foothills and Southern Alps)

Buchan Caves Reserve

Burrowa-Pine Mountain

Cape Conran Coastal Park

Cape Liptrap Coastal Park

Cabbage Tree Creek Flora Reserve

Errinundra National Park

Lake Tyers State Park

Lakes National Park

Baw Baw National Park

Mount Buffalo National Park

Mount Mittamatite Regional Park

Mount Mitta Mitta Flora Reserve

Mount Lawson State Park

Mount Granya State Park

Mountain Creek Education Area

Pheasant Creek Flora Reserve

Wabba Wilderness Park

Wilsons Promontory National Park




For more information about deer control to protect biodiversity, please visit

this link

.

Davies Plain Hut & Camping Area (Alpine National Park)

Early seasonal closure for Davies Plain Track and Kings Plain Track, Alpine National Park

Kings Plain Track and Davies Plain Track

between Buckwong Creek Camping Area (at Tom Groggin) and Charlies Creek Camping Area are seasonally closed to all vehicles from

1 May to 30 November

inclusive.

Sections of Davies Plain Track north of Buckwong Creek Camping Area (at Tom Groggin) and south of Charlies Creek Camping Area are seasonally closed to vehicles between the 2nd Thursday in June and the Thursday before Melbourne Cup day.

Attachments: Davies Plain Track seasonal closure section_1 May - 30 Nov (258KB)
Similar Trails
Join a fun, free and educational volunteer-led guided walk this summer at Serendip Sanctuary in Lara. You'll meet lots of cute furry and feathered animals, learn about the habitats and wildlife of the Western Volcanic Plains and meet the species that call Serendip Sanctuary home.
Learn all about the fascinating Grey-headed flying foxes that inhabit the beautiful inner-city park at Yarra Bend from our passionate Park Guide volunteers. See the flying foxes up close in their natural habitat and experience a truly unique wildlife encounter.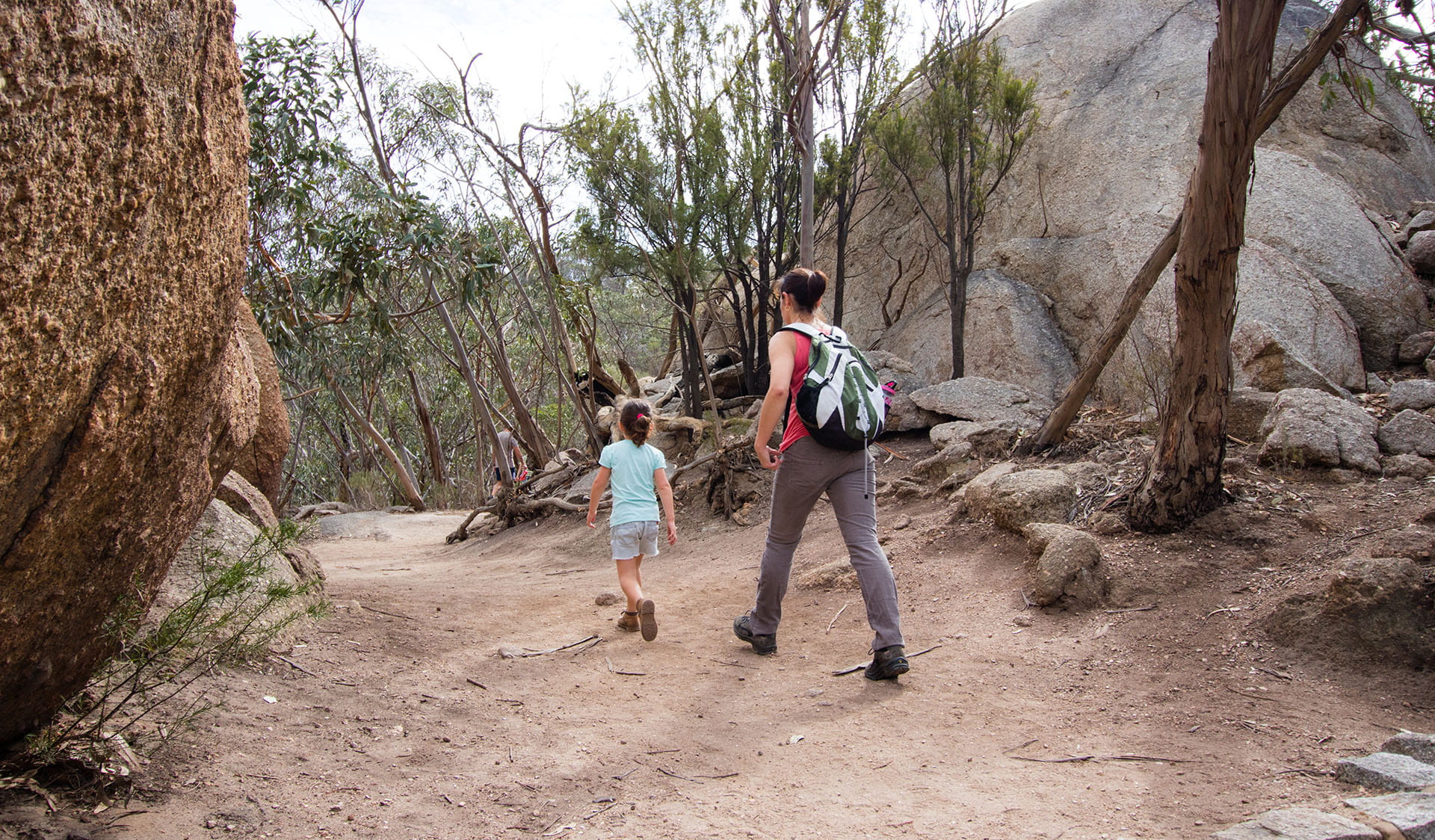 Join a volunteer-led walk through beautiful You Yangs Regional Park. On your walk enjoy, the serenity of the bush and get rewarded with stunning views from Big Rock.