The Alpine National Park Discovery Days are located at the historically significant Wallaces and Cope Hut precinct on the magnificent Bogong High Plains.
We have trained and knowledgeable local volunteers ready and waiting to answer your questions and tell you about this beautiful place – no booking required!
Do you know…
How many huts are scattered across the Alpine National Park?
How Wallace's Hut got its name?
Why Cope Hut was called "The Menzies of the High Plains" in the 1920's?
Learn the answer to these questions and much more from our Volunteer Park Guides.
Volunteer Park Guides will be at the site to share with you their knowledge of this beautiful region, the historical significance of the Alpine huts, and the stunning natural ecosystem surrounding them.
Park Guides are at Wallace's Hut between 10:00 am – 2:00 pm on selected days during the Summer school holidays and over the Easter long weekend. Drop by at any point and our volunteers will be available for a chat.
Dates for 2022:
Friday, 15 April
Saturday, 16 April
Sunday, 17 April
How to get there
Alpine Discovery Days
Need to know
Alpine Discovery Days
Change of Conditions
Nature being nature, sometimes conditions can change at short notice. It's a good idea to check this page ahead of your visit for any updates.
Partial track closure - Besford Track, Alpine NP

A severely water damaged section of Besford Track, within the Alpine National Park north of Benambra, is closed to all vehicles. There is no through access for vehicles on Besford Track between the Benambra-Corryong Road and Deep Creek Track.

Seasonal road closures 2022

Some roads in this park are subject to seasonal road closures. Seasonal road closures generally operate from after the long weekend in June through to the end of October, but may be extended due to seasonal conditions. Visit the

seasonal road closures

page for maps and more information.

Frys Flat Camping Area (Howqua River Heritage River, Howqua Hills Historic Area)

Vehicle access to Frys Flat Horse Yards

The Howqua Hills Track between Sheepyard Flat South and Frys Flat currently

requires 4WD capability and may not be suitable for the use of floats and trailers to transport horses into this area. It is recommended that visitors inspect the track prior to crossing to ensure that they are comfortable with the condition of the track and have the ability to cross safely.




Parks Victoria are currently negotiating various approvals and permits required to undertake the necessary repair and maintenance to restore this section of track.




If you still wish to book and camp at Fry's Flat with your horse, there are alternate methods of accessing the area. You can:



Walk/ride horses in from Howqua Hills track (100-200m)

Walk/ride horse in from Martin/Fern or Spring street (across the river)




Alternative camping areas with vehicle-accessible horse yards available for booking nearby are also found at:

Tunnel Bend, Howqua Hills Historic Area (up to 10 horses, dogs permitted).

7-mile Flat,

Alpine National Park

(up to 20 horses, no dogs permitted)

King River Hut,

Alpine National Park

(up to 20 horses, no dogs permitted)

Lovicks Hut (up to 20 horses, no dogs permitted)




For further information, please contact the Mansfield office on 03 5733 1200 and ask to speak to one of the PV Rangers.

Notices Affecting Multiple Sites

McKillops Bridge Closed for Repairs

VicRoads is undertaking repairs to McKillops Bridge on McKillops Rd (C611) and the bridge will be closed to all traffic from 7:00AM to 5:00PM Monday to Friday until the 30th of August. Please contact VicRoads for more detailed information.




All Parks Victoria visitor sites in the area remain open, however this closure will prevent access between the MacKillops Bridge Camping Area and the MacKillops Bridge Day Use and Canoe Launch Area.




Due to this closure, vehicle access between Wulgulmerang and Bonang during daylight hours will only be possible by detouring through Orbost and this will add several hours of travel time to this journey.



Similar Trails
Join a fun, free and educational volunteer-led guided walk this summer at Serendip Sanctuary in Lara. You'll meet lots of cute furry and feathered animals, learn about the habitats and wildlife of the Western Volcanic Plains and meet the species that call Serendip Sanctuary home.
Learn all about the fascinating Grey-headed flying foxes that inhabit the beautiful inner-city park at Yarra Bend from our passionate Park Guide volunteers. See the flying foxes up close in their natural habitat and experience a truly unique wildlife encounter.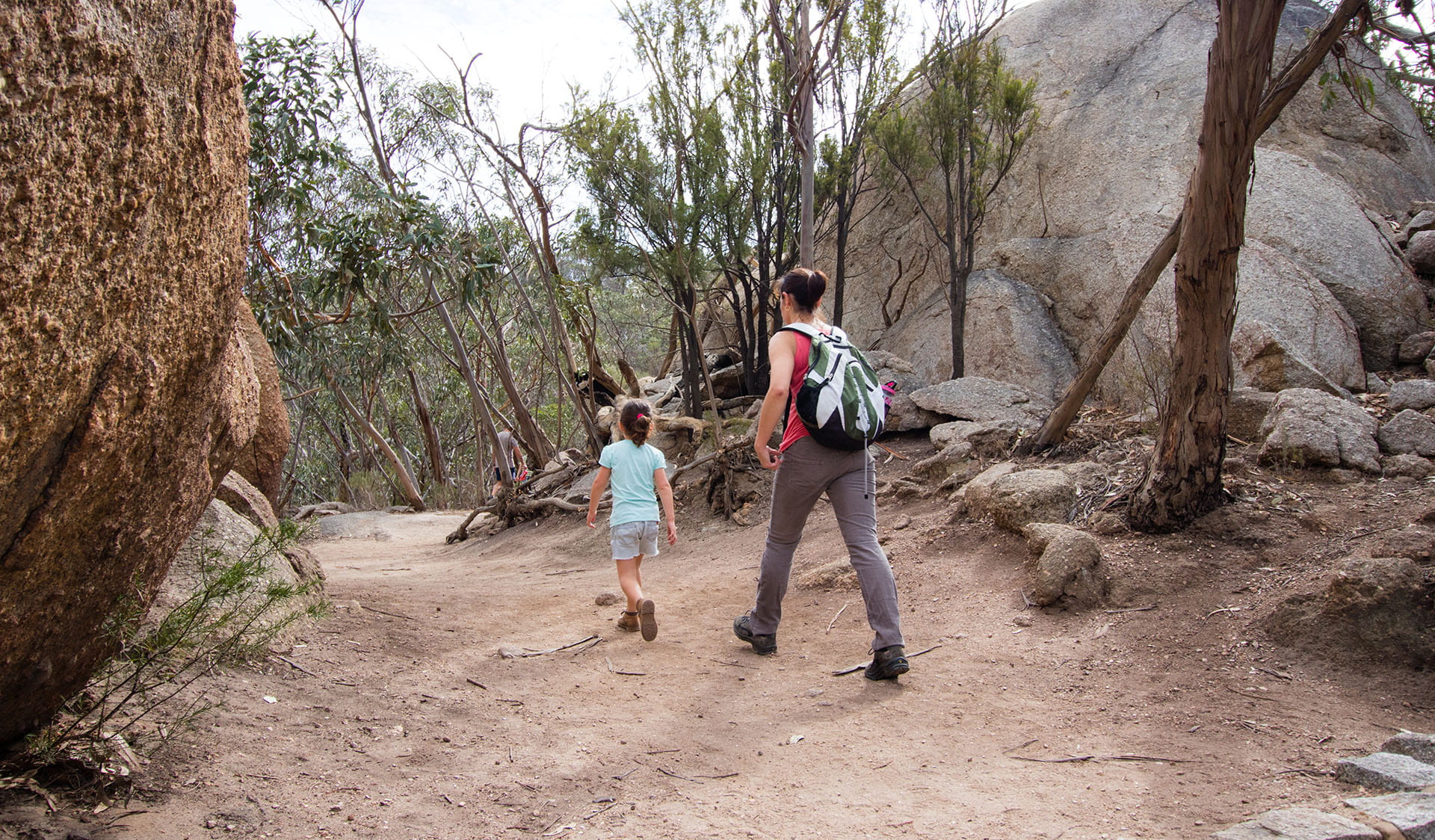 Join a volunteer-led walk through beautiful You Yangs Regional Park. On your walk enjoy, the serenity of the bush and get rewarded with stunning views from Big Rock.