Explore
Tidal River Cabins
Tidal River is the main visitor hub for Wilsons Promontory National Park with a range of accommodation options to choose from.
Book now
Perfect for families and small groups, the ever-popular Tidal River Cabins accommodate up to 6 people with a queen bed in one room and two bunk beds in the second room. These cabins are fully self-contained, including towels and linen, with a full kitchen and bathroom and feature a spacious central living area and outdoor deck.
A spacious living area with gas heating, lounge seating and dining area overlooks a timber deck area for outdoor relaxation. A fully equipped kitchen includes a gas stove, microwave and a full size fridge. The bathroom includes a bath tub with a shower overhead. All linen and towels provided. Cots are available for a fee. Parks Victoria will consider, but cannot guarantee your request for a specific cabin. Check in: 2pm Check out: 10am.
Facilities in two cabins, Sheoak and Wirilda, are suitable for people with disabilities. They provide ramp access and a fully accessible bathroom.
Things To Do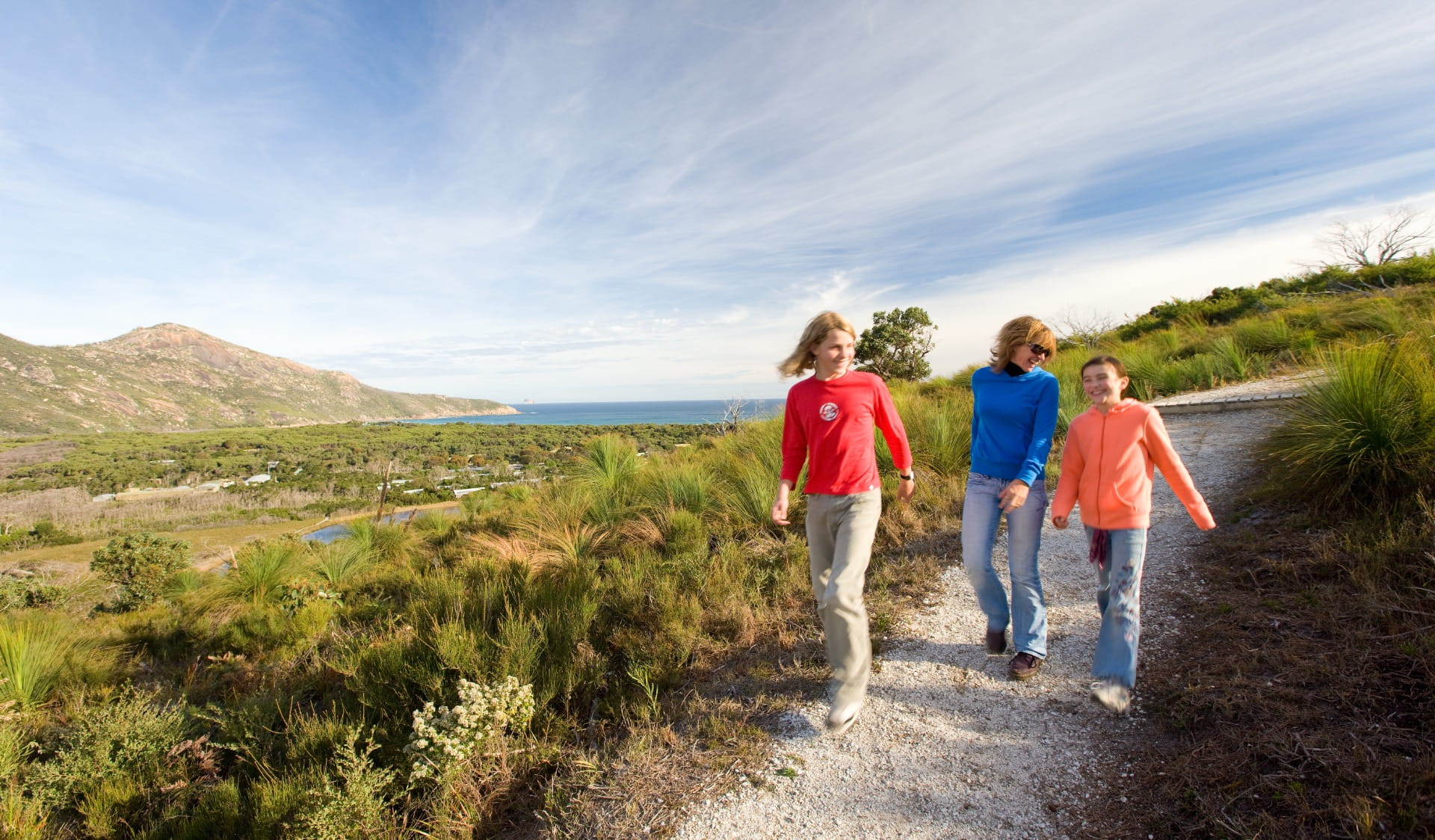 There are many walks around the Prom. The walks provide a perfect opportunities to view native wildlife including kangaroos, wallabies, emus and wombats as well as some spectacular views.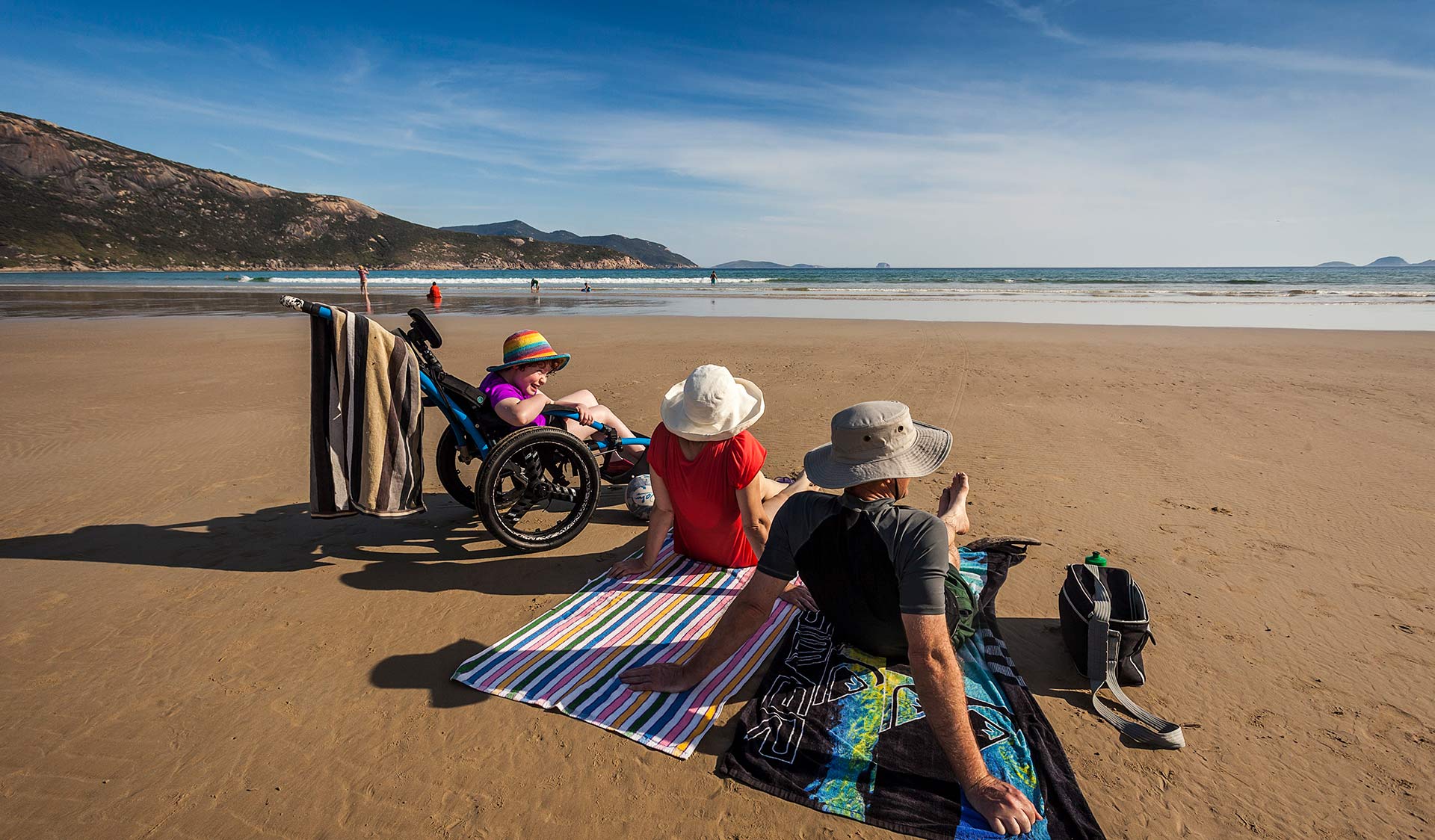 One of the Prom's iconic locations, the rounded grains of quartz sand make a 'squeak' when walked on.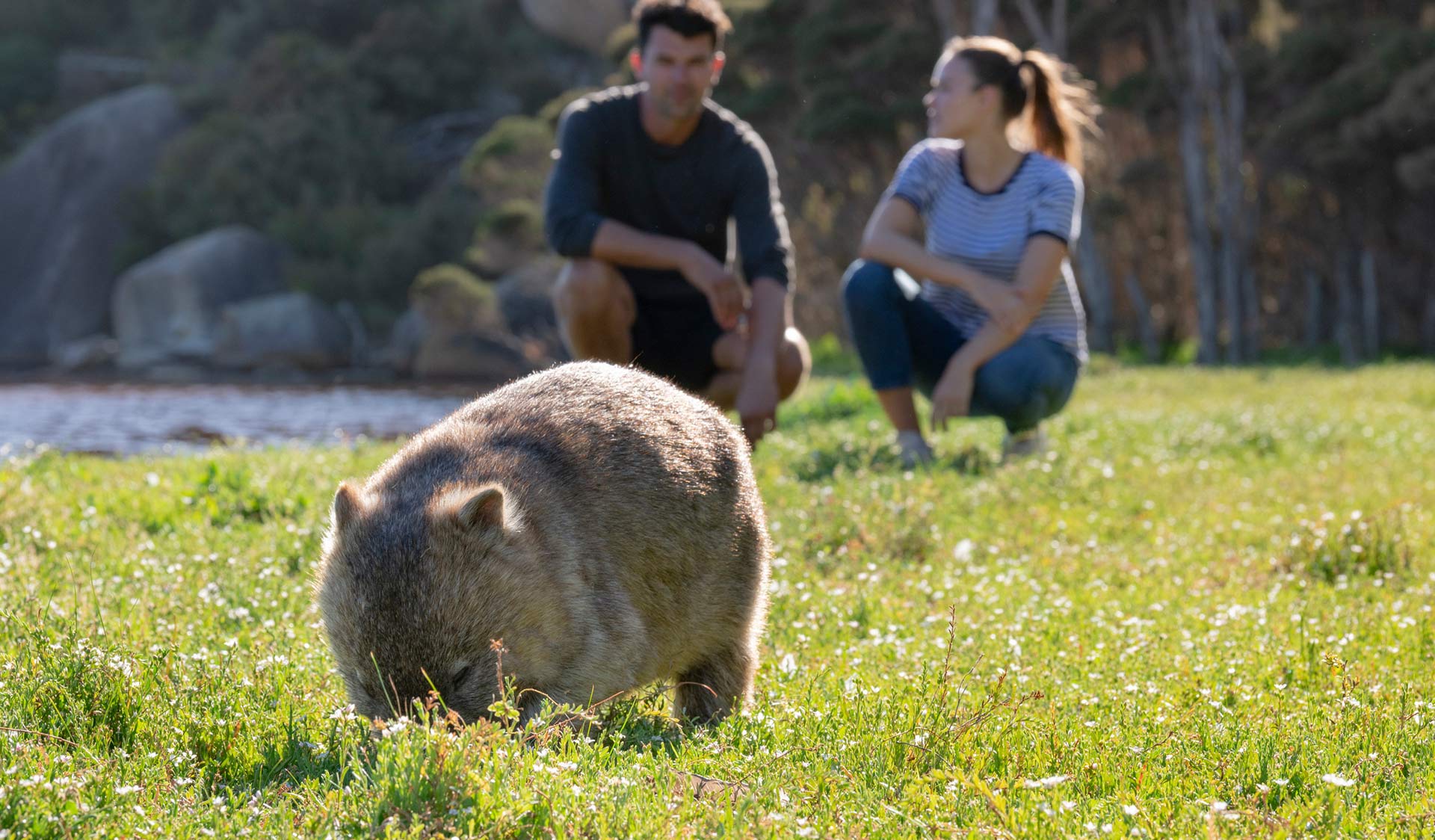 The visitor centre at Tidal River provides information about walking tracks and things to do within the park. The centre is open daily from 9.00am - 4.00pm.
How to get there
Tidal River Cabins
When you're there
The Tidal River General Store stocks basic supermarket items, as well as a range of souvenirs and camping gear. It also offers takeaway food and drinks. Opening hours vary.

A free shuttle bus operates between Tidal River and Telegraph Saddle during the summer and Easter holidays and on weekends from November to April. Departure points include the Tidal River Visitor Centre carpark, the overnight hikers carpark (Tidal River) and Telegraph Saddle carpark. Telegraph Saddle carpark is closed to vehicle access when the shuttle bus is in operation.
Bookings for selected holiday periods
Advance bookings apply for selected holiday periods for Tidal River camping, including Labour Day weekend (minimum three nights), Easter weekend (minimum four nights) and Melbourne Cup weekend (minimum four nights). During these periods you will be allocated a numbered site.
A ballot is held for booking Tidal River camping and accommodation (except Wilderness Retreats) for the five weeks from Christmas until late January. Minimum stays apply.
See further information on ballots and peak season bookings.
Need to know
Tidal River Cabins
Accessibility
Tidal River and Wilsons Prom have many options and resources for people with limited mobility or autism.
A range of special equipment is available for accommodation at Tidal River to make your stay more comfortable.
Facilities in two cabins, Sheoak and Wirilda, are suitable for people with disabilities. They provide ramp access and a fully accessible bathroom.
The Wilsons Promontory Visitor Information Centre hires out an all-terrain wheelchair known as a TrailRider. The TrailRiders are free to hire, but must be booked through the information centre. Call on (03) 8427 2122 for more information.
The TrailRider is motorised and requires a minimum of two people to operate. Four operators are recommended for long trails or walks with significant gradients. The passenger of the TrailRider chair is required to wear a bike helmet when using the chair and visitors are asked to provide their own helmet.
The level of access to park trails and park beaches will largely depend on fitness of chair operators, ground surface, trail gradients and other factors. The All-terrain wheelchairs available easily disassemble and fit in the back of a station wagon.
Change of Conditions
Nature being nature, sometimes conditions can change at short notice. It's a good idea to check this page ahead of your visit for any updates.
Notices Affecting Multiple Sites

Little Oberon Bay Walking Track (Norman Point to Oberon Bay) Closed

Little Oberon Walking Track is closed between Norman Point and Oberon Bay until further notice due to significant erosion to the track.

Oberon Bay Campsite is only accessible via Telegraph Saddle Walking Track until further notice.

Stockyard Campground Closed

Stockyard Campground closed to campers. Bookings for camping at Tidal River can be made online.

Sealers Cove Walking Track closed until further notice

Wilsons Promontory National Park experienced widespread damage due to several flood and storm events in 2021. This significantly damaged many tracks including the Sealers Cove Boardwalk. A detailed engineering assessment found that the entire two kilometres of the Sealers Cove Boardwalk will need to be replaced. Planning is underway for this work, including costing the work to secure funding. Due to the extent of the damage, and complexity of the work required, Sealers Cove Walking Track will be temporarily closed.

Access to Sealers Cove is still achievable via Refuge Cove, which is a 25km hike from Telegraph Saddle.

Notices Affecting Multiple Parks

Ground shooting operations targeting deer

Ground shooting operations targeting deer will be undertaken in these Parks from December 2022 to June 2023.

Some access restrictions may apply. Please observe local signage.




Alpine National Park (Bogong High Plains, Mount Bogong, Dinner Plain, Dargo High Plains, Foothills and Southern Alps)

Buchan Caves Reserve

Burrowa-Pine Mountain

Cape Conran Coastal Park

Cabbage Tree Creek Flora Reserve

Errinundra National Park

Howitt-Wellington Plains

Lake Tyers State Park

Mount Baw Baw National Park

Mount Buffalo National Park

Mount Mittamatite Regional Park

Mount Mitta Mitta Flora Reserve

Mount Lawson State Park

Mount Granya State Park

Mountain Creek Education Area

Pheasant Creek Flora Reserve

Wabba Wilderness Park

Wilsons Promontory National Park