Explore
Tidal River Accommodation
Tidal River is the main visitor hub for Wilsons Promontory National Park. There are many accommodation options within Tidal River, from award-winning Wilderness Retreats for a quiet getaway for one or two, to Group Lodges that can accommodate up to 30.
Book now
There's a range of camping and roofed accommodation options to suit pretty much anyone who wants to spend time in one of Victoria's best-loved national parks surrounded by wallabies and wombats.
As beaches and coasts are natural environments, you may encounter hazards. Follow our water safety advice to make sure your day out at Tidal River is a safe and enjoyable one.
Tidal River Wilderness Retreats
Enjoy a camping experience in a spacious safari-style tent without the stress of setting up. This is a glamping experience, so expect a queen-size bed and your own bathroom. If you feel like you're being watched it's because you are - there are wallabies, wombats and Crimson Rosellas everywhere!

Tidal River Cabins
Located in an idyllic riverside bush setting and can sleep up to six people. A spacious living area with gas heating, lounge seating and dining area overlooks a timber deck area for outdoor relaxation. A fully equipped kitchen includes a gas stove, microwave and a full size fridge. Each cabin has two bedrooms, one at each end. The bathroom includes a bath tub with a shower overhead. All linen and towels provided. Cots are available (fee applies). Parks Victoria will consider, but cannot guarantee your request for a specific cabin. Check in: 2pm Check out: 10am
Facilities in two cabins, Sheoak and Wirilda, are suitable for people with disabilities. They provide ramp access and a fully accessible bathroom.

Tidal River Huts
Providing easy access to the tranquil waters of Tidal River and Norman Beach, the Tidal River Huts are perfectly located to access all that Tidal River has to offer. The single room huts which accommodate either 4 or 6 people are a great alternative to camping. Guests use the nearby campground amenities.

Tidal River Units
Equipped with a spacious living area, sun deck and shared barbecues the Tidal River Units offer a comfortable base to explore the Prom. The one-bedroom units can accommodate two people in either a queen or two single beds. Adjoining units can be linked to accommodate up to four people.
Domain Unit has been specifically designed to meet the latest accessibility standards, and is a perfect option for visitors with limited mobility. The unit provides ramp access and a fully accessible kitchen and bathroom.

Tidal River Group Lodges
Perfect for large families, school groups and tour groups, the Tidal River Group Lodges can accommodate 12, 24 or 30 people in dormitory rooms with bunk beds.
Accessible accommodation
Parks Victoria's award winning accessible nature based tourism can be experienced at Wilsons Promontory National Park.
Watch as accessibility advocate Ryan Smith details the all abilities access and experiences on offer at the park.
Find out more about accessible accommodation, beach wheelchairs, all-terrain wheelchair, the TrailRider, and much more - all are available from the Visitor Information Centre at Tidal River.
Things to do in the area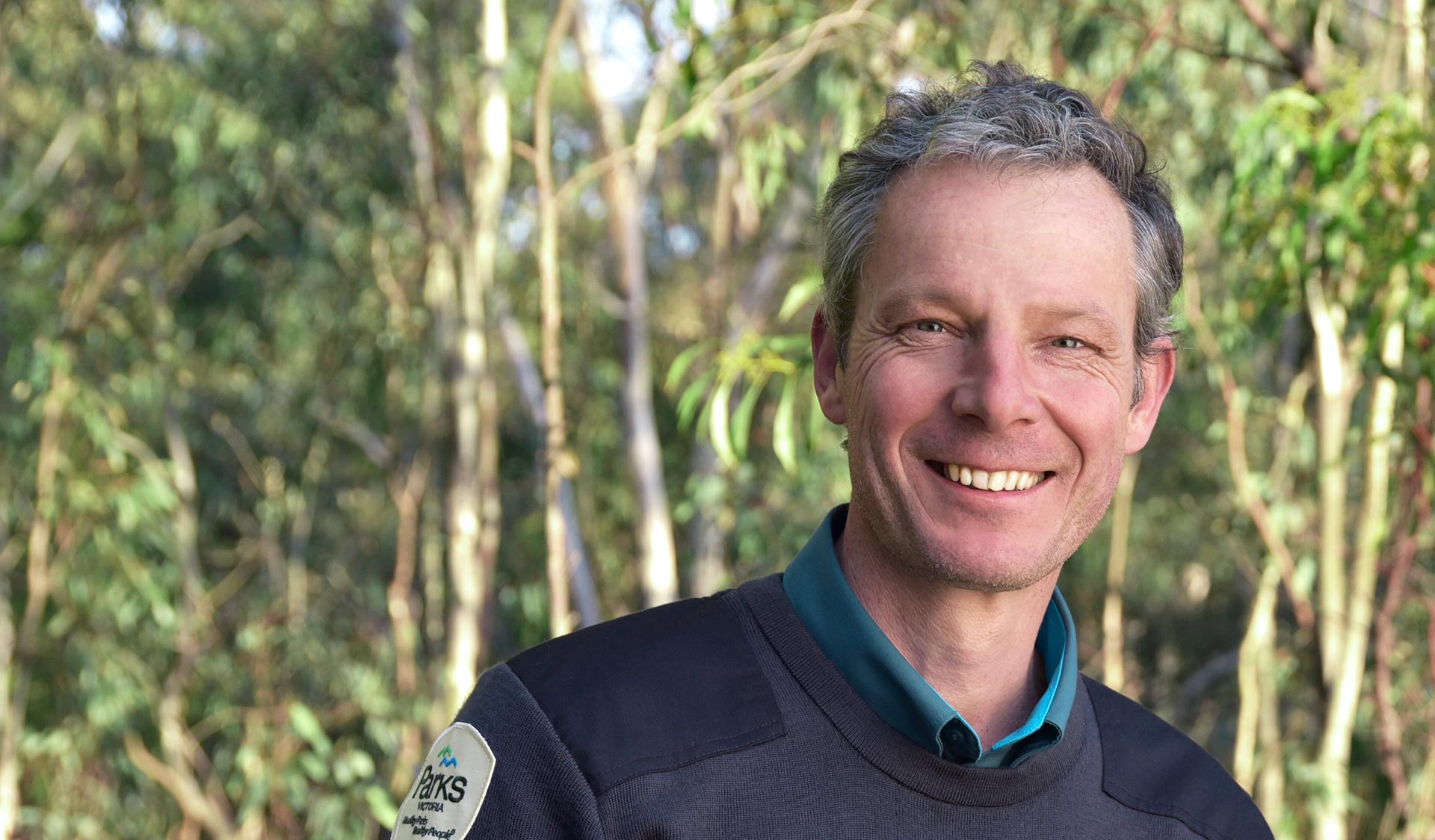 The visitor centre at Tidal River provides information about walking tracks and things to do within the park. The centre is open daily from 9.00am - 4.00pm.
Tidal River is also the main camping location in Wilsons Promontory National Park, offering 484 camping and caravan sites (including 20 powered) situated near the beach and river.
There are many walks around the Prom. The walks provide a perfect opportunities to view native wildlife including kangaroos, wallabies, emus and wombats as well as some spectacular views.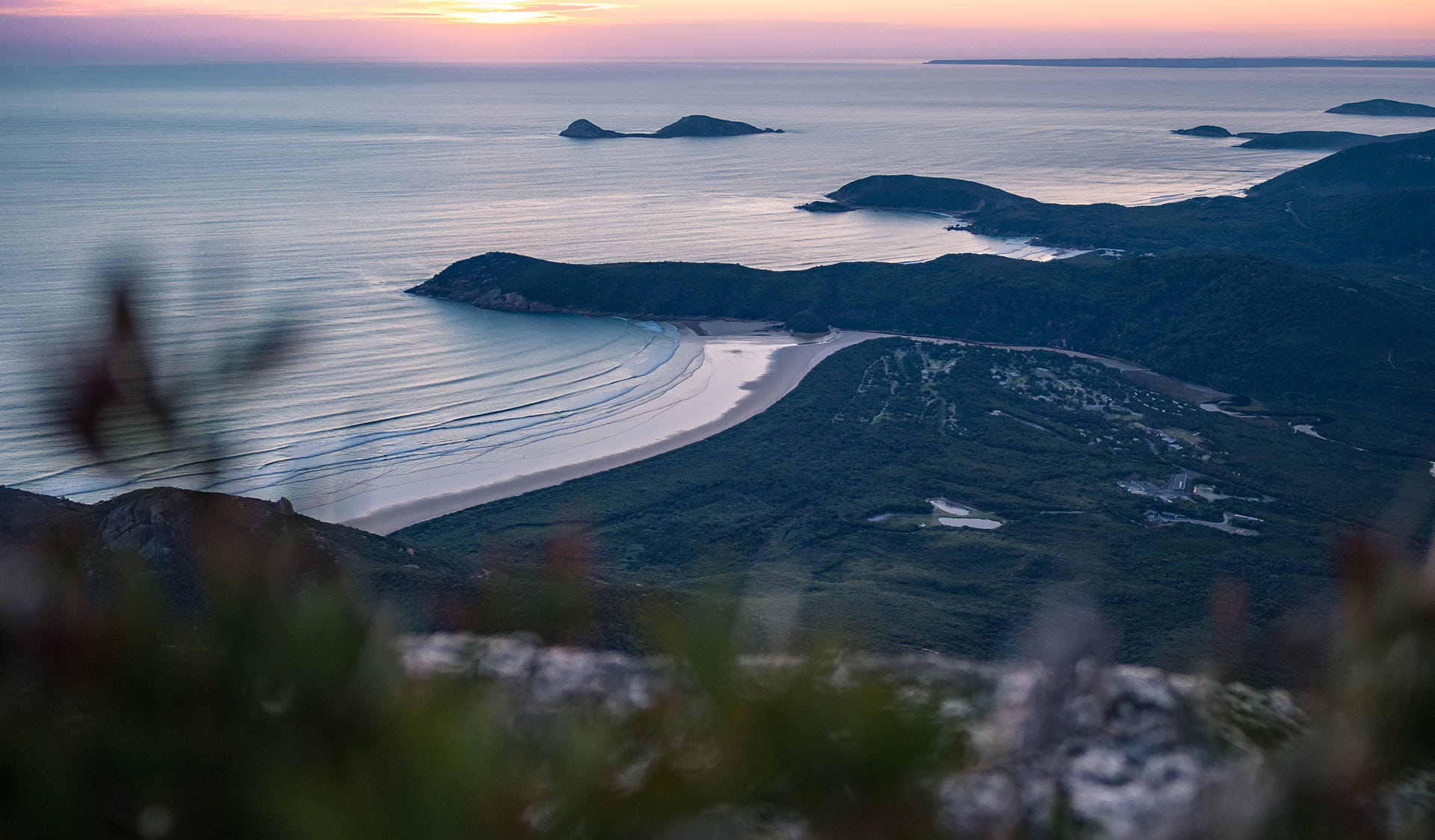 Starting from the Telegraph Saddle car park, this iconic Prom walk follows the management vehicle track to the summit of Mount Oberon.Steps below the rocky summit lead to postcard perfect, panoramic views over Tidal River, the coast and offshore islands.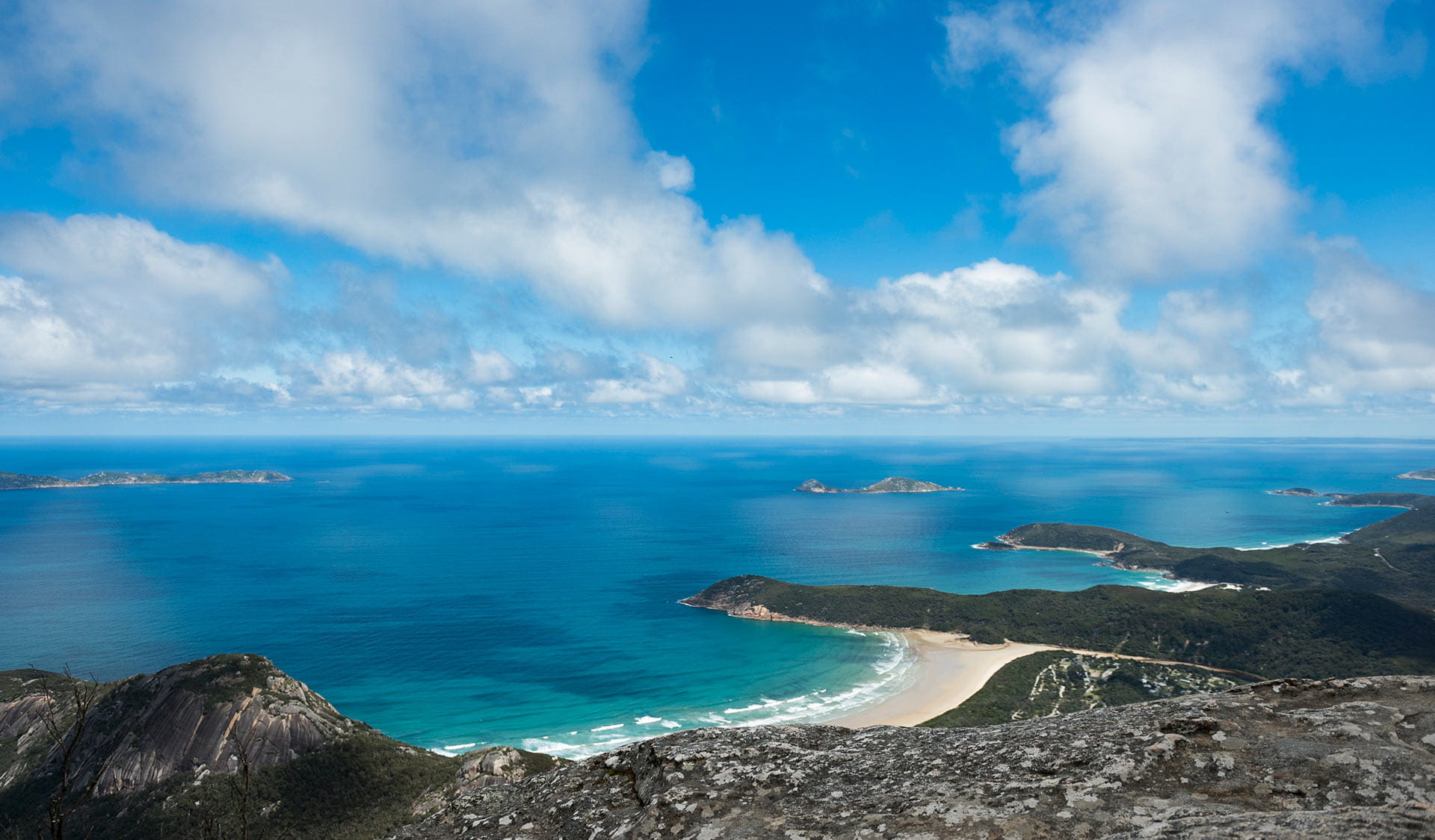 Norman Beach
Close to Tidal River campground, the beautiful Norman Beach is flanked by Pillar Point in the north and Norman Point in the south and offers stunning views of Mount Oberon.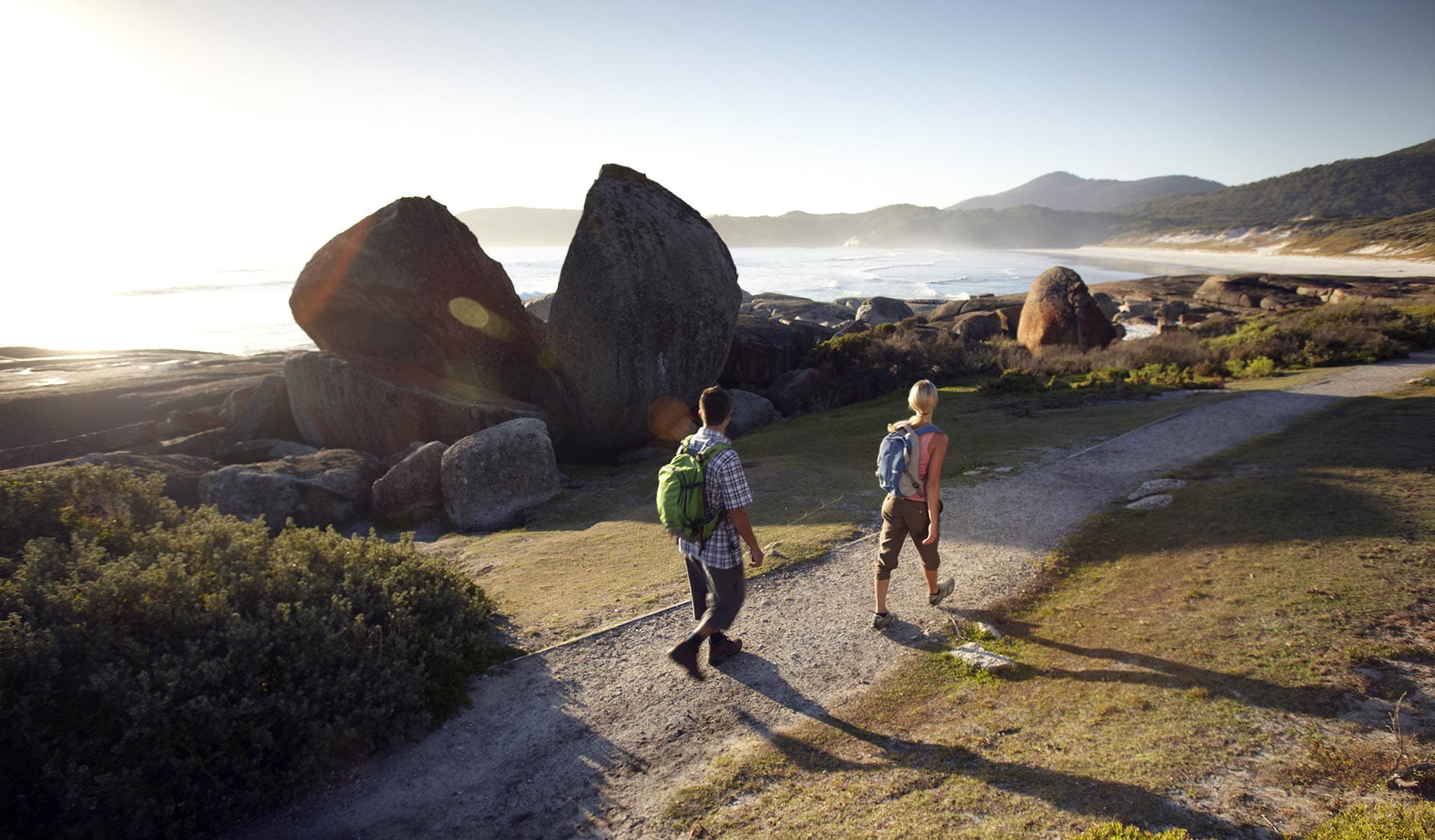 Hike your way to overnight camping sites and sleep in bookable shady campsites with views of glassy torquoise water.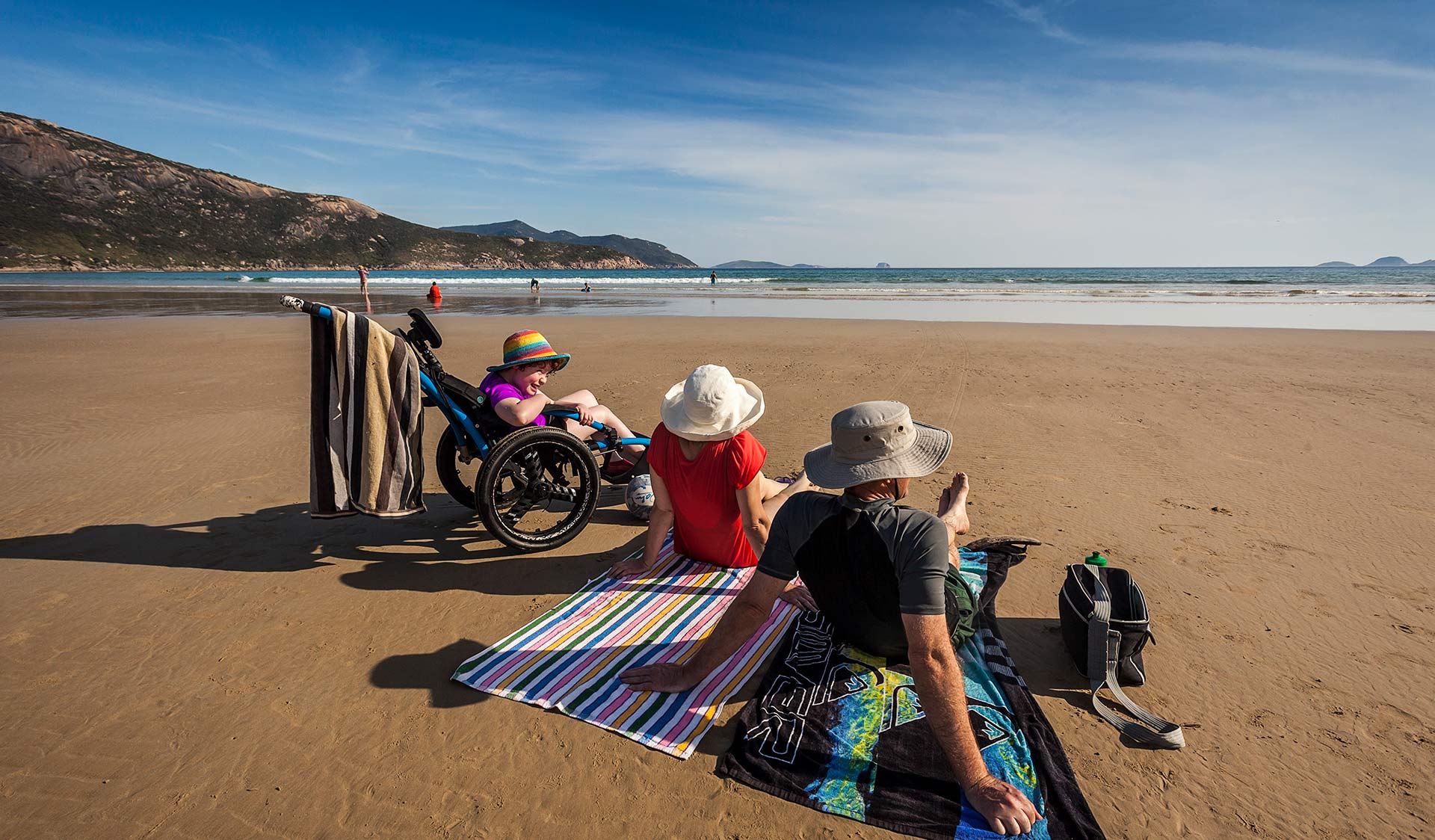 One of the Prom's iconic locations, the rounded grains of quartz sand make a 'squeak' when walked on.
How to get there
Tidal River Accommodation
Tidal River is a three-and-a-half hour drive from Melbourne. Follow Monash Freeway (M1) to join South Gippsland Freeway (M420/A440) to Meeniyan. Take the Meeniyan‐ Promontory Road (C444) to the Wilsons Promontory entrance. Tidal River is a further 30 minutes drive from the entrance. Please drive carefully and look out for wildlife. Avoid driving between dusk and dawn. There is no fuel at Tidal River. The closest fuel supplies are at Yanakie, Fish Creek and Foster.
When you're there
The Tidal River General Store stocks basic supermarket items, as well as a range of souvenirs and camping gear. It also offers takeaway food and drinks. Opening hours vary.

A free shuttle bus operates between Tidal River and Telegraph Saddle during the summer and Easter holidays and on weekends from November to April. Departure points include the Tidal River Visitor Centre carpark, the overnight hikers carpark (Tidal River) and Telegraph Saddle carpark. Telegraph Saddle carpark is closed to vehicle access when the shuttle bus is in operation.
Bookings for selected holiday periods
Advance bookings apply for selected holiday periods for Tidal River camping, including Labour Day weekend (minimum three nights), Easter weekend (minimum four nights) and Melbourne Cup weekend (minimum four nights). During these periods you will be allocated a numbered site. Further information is available on the ballots and peak season bookings page.
Summer ballot
A ballot is held for booking Tidal River camping and accommodation (except Wilderness Retreats) for the five weeks from Christmas until late January. Minimum stays apply.
Details are provided on the
ballot and peak season bookings
page.
Camping & accommodation
Tidal River offers self-contained cabins, units, huts, group lodges and Wilderness Retreats.
Check availability
Need to know
Tidal River Accommodation
Accessibility
Tidal River and Wilsons Prom have many options and resources for people with limited mobility or autism.
A range of special equipment is available for accommodation at Tidal River to make your stay more comfortable.
Facilities in two cabins, Sheoak and Wirilda, are suitable for people with disabilities. They provide ramp access and a fully accessible bathroom.
Domain Unit has been specifically designed to meet the latest accessibility standards, and is a perfect option for visitors with limited mobility. The unit provides ramp access and a fully accessible kitchen and bathroom.
The Wilsons Promontory Visitor Information Centre hires out an all-terrain wheelchair known as a TrailRider. The TrailRiders are free to hire, but must be booked through the information centre. Call on (03) 8427 2122 for more information.

The TrailRider is motorised and requires a minimum of two people to operate. Four operators are recommended for long trails or walks with significant gradients. The passenger of the TrailRider chair is required to wear a bike helmet when using the chair and visitors are asked to provide their own helmet.

The level of access to park trails and park beaches will largely depend on fitness of chair operators, ground surface, trail gradients and other factors. The All-terrain wheelchairs available easily disassemble and fit in the back of a station wagon.
Change of Conditions
Nature being nature, sometimes conditions can change at short notice. It's a good idea to check this page ahead of your visit for any updates.
Notices Affecting Multiple Sites

Sealers Cove Walking Track Closed

Sealers Cove Walking Track and Boardwalk is closed between Telegraph Saddle and Sealers Cove until further notice.

Sealers Cove Campsite is only accessible via Refuge Cove which is a 25km hike from Telegraph Saddle.

Little Oberon Bay Walking Track Closed

Little Oberon Bay Walking Track is closed between Norman Point and Oberon Bay until further notice.





Oberon Bay Campsite is only accessible via Telegraph Track.


4WD Boat Launching Access - Norman Beach, Tidal River

Due to changes in river conditions, a 4WD is required for boat launching at Norman Bay.
Similar Experiences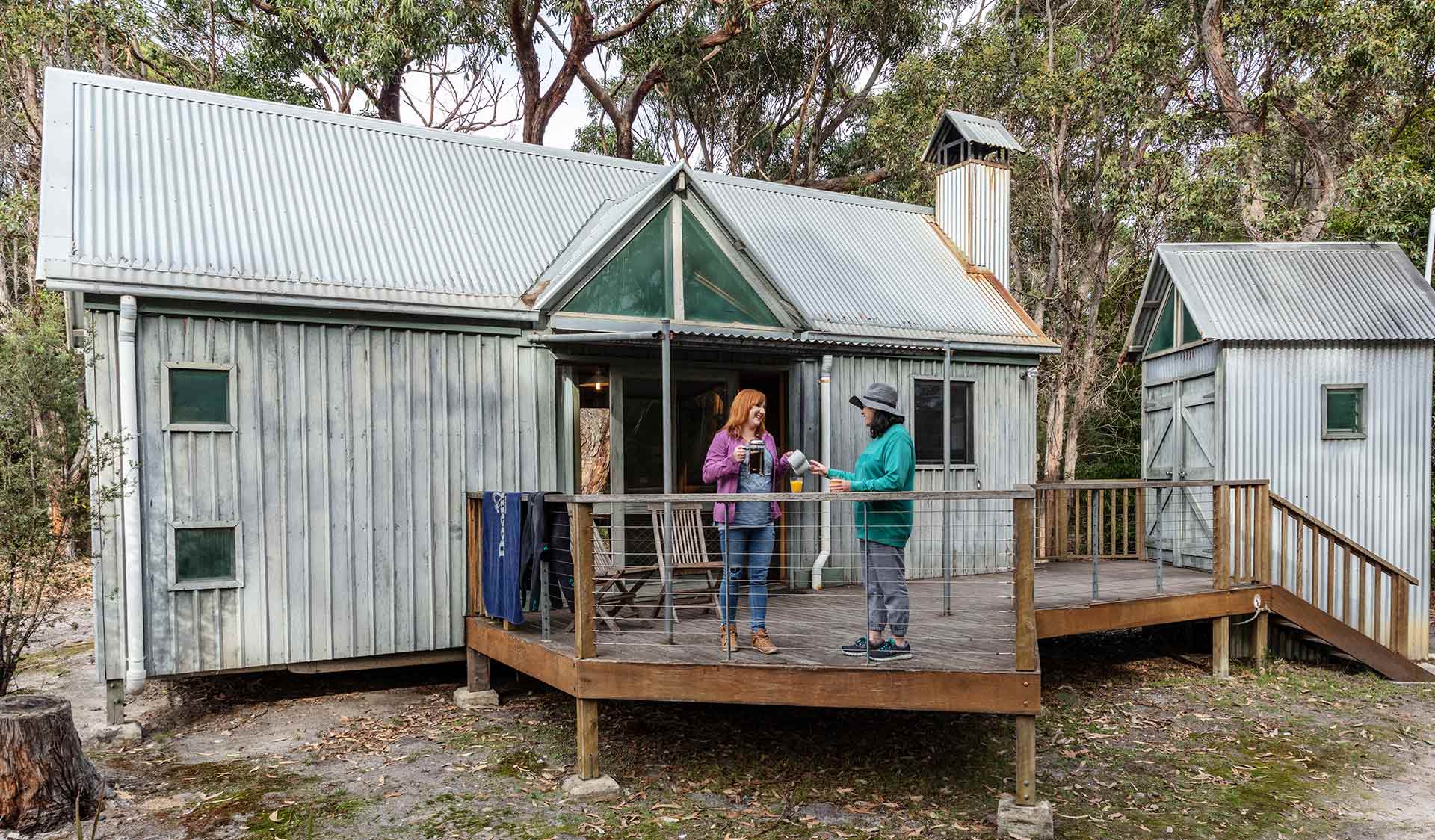 Banksia Bluff Cabins are dotted amongst coastal vegetation, a short walk to the sandy beaches of Cape Conran Coastal Park. Suitable for families and small groups, and designed for a rustic experience, the timber cabins offer open plan living and wood fired heating.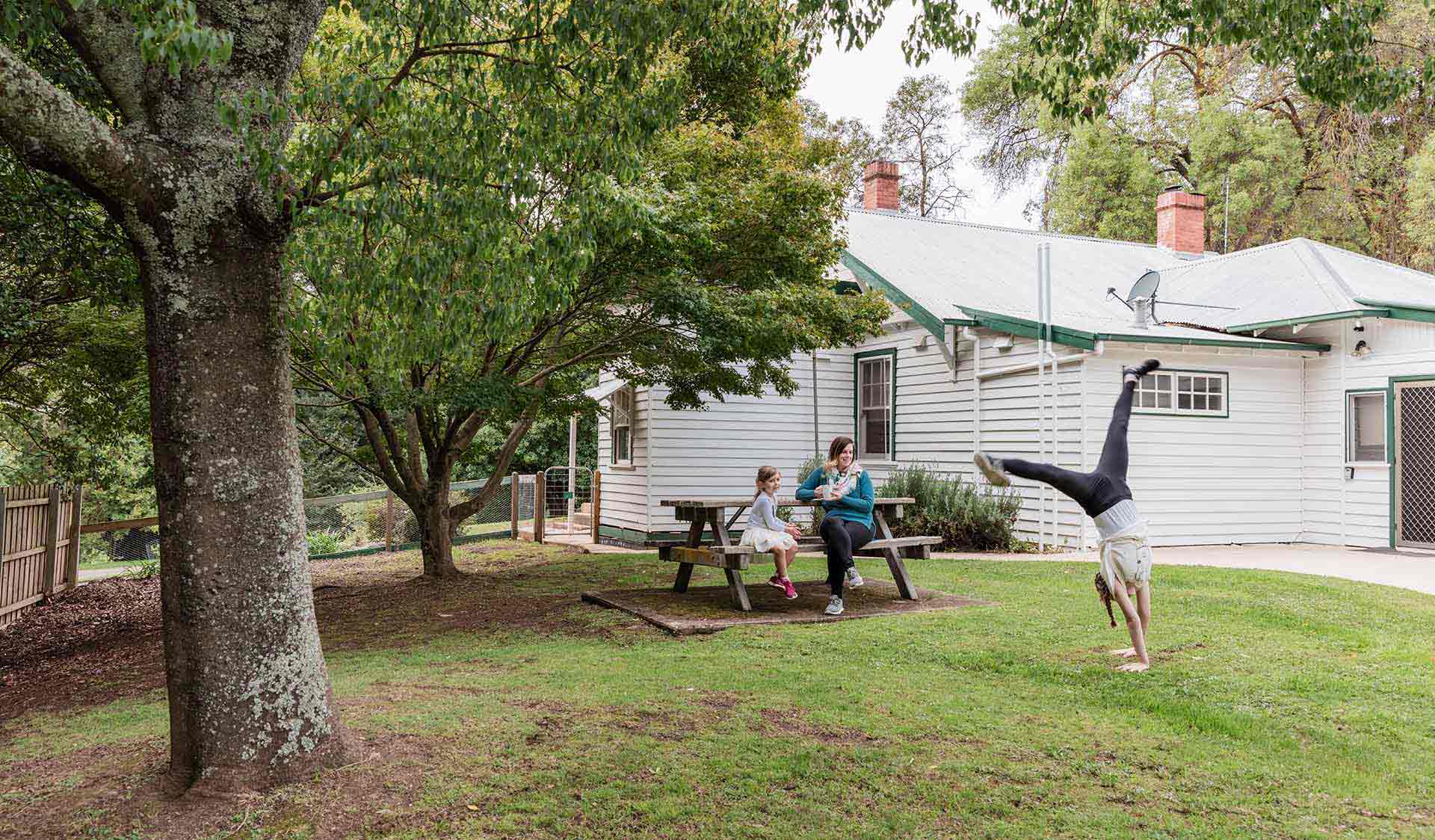 Caves House is a fully self contained house which can sleep up to eight people. There are three bedrooms with a queen bed in each room and an ante room with two single beds. Features include kitchen, dining area, lounge room, toilets, shower, heating and cooling, covered front deck with river views and an outdoor BBQ and fire. All linen is provided.