Explore
Banksia Bluff Campground
Banksia Bluff is a tranquil wooded campground where the peace is only broken by dawn chorus and waves crashing off Bass Strait. Set up camp among mahogany gum and banksia woodland and explore the unique coastal playground.
Please read the below visitor and camping information prior to booking your stay.
Please note: bookings are not available from 8 May to 18 May 2023 to allow essential fire recovery works to be safely completed across the campground.
Book now
Banksia Bluff Campground is perfect for families wanting to escape the big smoke and get a taste for nature. Set among mahogany and banksia woodland, the beautiful campground backs onto the wild Southern Ocean.

Relax at camp or explore on foot. Follow the Estuary view trail and take in the rich diversity of flora and fauna found in the lower reaches of the Yeerung River or the Cape Conran Nature Trail highlights white sandy beaches, rock pools, boardwalks, banksia woodlands and Aboriginal history of the coast.

If you're a keen angler, bring your fishing gear and cast a line off West Cape. Salmon, flathead and gummy sharks are plentiful. For the experienced diver, Beware Reef Marine Sanctuary hides three shipwrecks and a colourful underwater world.
At Banksia Bluff Campground there is a mixture of unpowered dog friendly and non-dog friendly campsites. Refer to the campground map to see which areas are suitable if you wish to bring your furry canine camping, and select a dog friendly campsite when booking. Please note that your dog must be on a lead at all times. Campfires are permitted on selected sites and must be within a fire ring.
Flushing toilets and outdoor cold showers are available.
Things to do in the area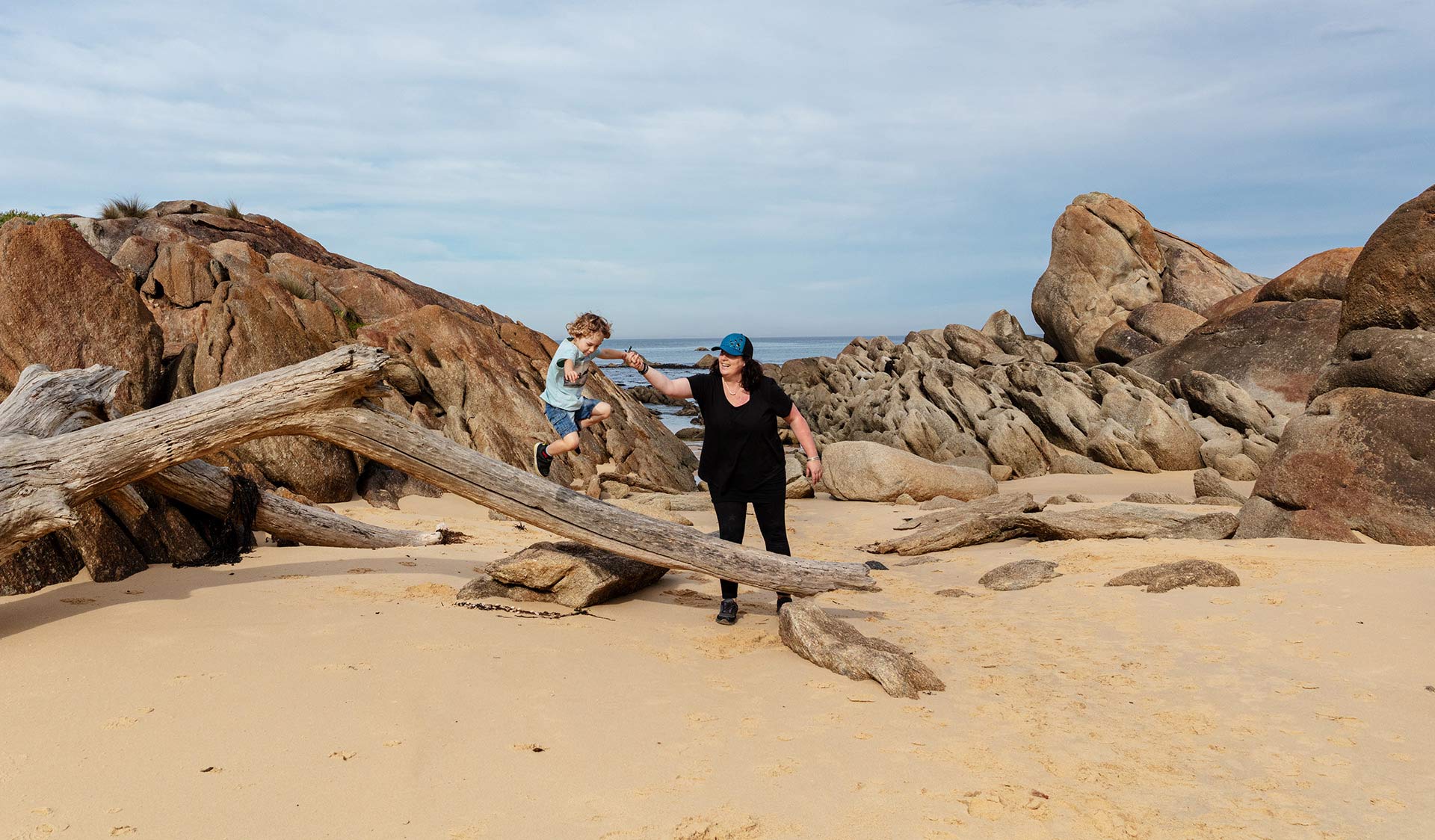 This is a small, remote campground that is best suited to walkers or those hiking the Wilderness Coast Walk. It has easy access via a sandy track over the dunes to the beach.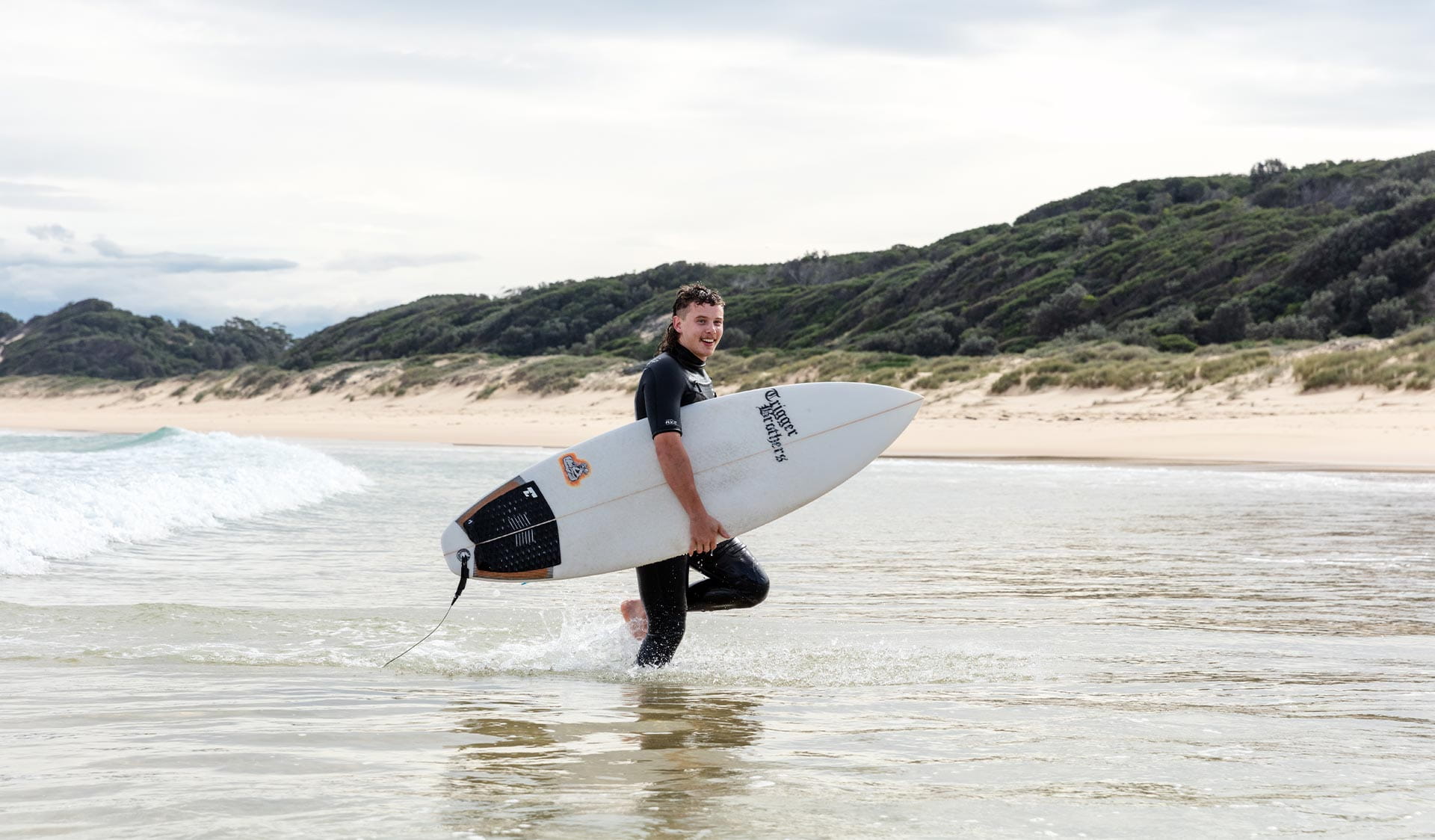 East Cape Beach
East Cape is a good spot for a picnic offering gas barbecues and picnic tables. There are also a number of walks from the visitor area.
How to get there
Banksia Bluff Campground
Cape Conran Coastal Park is in East Gippsland approximately 420km east of Melbourne and 530km south of Sydney. When travelling from the west along the Princess Highway, take the Orbost exit and follow the signs through Marlo and on to the park. From the east, turn off the Princess Highway at Cabbage Tree Creek Road and follow the road on towards Banksia Bluff Campground.
When you're there
Banksia Bluff Campground is the main camping area within Cape Conran Coastal Park.
Download the visitor guide and campground map for further information.
The Banksia Bluff Office is open daily, with a range of retail items including ice, gas and firewood available for purchase. Nearby Marlo (17km) has fuel and basic convenience supplies. Orbost (34kms) has fuel, supermarket, chemist, medical and veterinary services.
Banksia Bluff Campground
The unspoilt beaches of Cape Conran married with the warmer weather of summer makes for perfect beachcombing conditions.

Just off the coast of Cape Conran Coastal Park, Beware Reef Marine Sanctuary hides some over 1000 fish species, three shipwrecks and colourful underwater ecosystems. Experienced divers, head to Beware Reef to see this unique underwater world for yourself.
Need to know
Banksia Bluff Campground
Drinking water and firewood
Bring your own drinking and cooking. The bore water on tap at Banksia Bluff campground is not suitable for consumption.
Bring your own firewood as firewood collection and the use of chainsaws within Cape Conran Coastal Park is not permitted, alternatively you can purchase firewood from the Banksia Bluff Office. All campfires must be contained in designated firepits and not left unattended.
All sites are un-powered, and the use of generators is not permitted.
Dogs
Dog friendly campsites are within loops C,D,E,F (sites 68 - 135). Dogs must always be on a leash and not left unattended. Paralysis ticks that are found in coastal areas of East Gippsland and you should search your dog daily for ticks. Ticks range in size from a few millimetres to the size of a small fingernail. If you find a tick, remove it using a pair of tweezers or your fingers.
Accessibility
The majority of campsites at Banksia Bluff Campground are on compacted sand and grassed areas, with natural undulation, uneven ground and some slope in areas.
Amenities are basic with a cold outdoor beach shower and flushing toilets. Accessible toilets are in Loops C and F.
Pathways around the campground, to amenities and the beach are generally unformed, and not graded for accessibility. Access to the beach is down sloped paths including stairs. Loop F does not have stairs.
Beach access
Many beaches at Cape Conran Coastal Park have strong undertows, rips and a steep ocean floor. Ocean waves can crash along rocky shorelines catching people unawares. Always keep an eye to the sea. Beaches are not supervised by Surf Life Saving patrols.
Be prepared and stay safe
Cape Conran Coastal Park is in the East Gippsland fire district. Bushfire safety is a personal responsibility. Anyone entering the park during the bushfire season needs to stay aware of forecast weather conditions. Check the Fire Danger Rating and for days of Total Fire Ban at emergency.vic.gov.au, on the Vic Emergency App or call the Vic Emergency Hotline 1800 226 226.
No fires may be lit on Total Fire Ban days. On Catastrophic Fire Danger Rating days this park will be closed for public safety. Closure signs will be erected but do not expect an official warning.
Change of Conditions
Nature being nature, sometimes conditions can change at short notice. It's a good idea to check this page ahead of your visit for any updates.
Flood and storm related impacts to tracks and campgrounds

Pearl Point Rd between Pearl Point and Bemm River - open but only 4WD access to the following locations

Binn Beach campground

Pearl Point campground

Gunnai Beach campground

Py Yoot visitor area

Yeerung Lookout - closed

East Yeerung Track - closed at Yeerung Bridge and is suitable for 4WD only

Yeerung Bridge - open to pedestrians only

Swampy Ridges Track - closed

Hekarwe Track - closed west of Swampy Ridges Track

East Cape Boardwalk - closed for fire recovery rebuild

Notices Affecting Multiple Sites

Banksia Bluff Accommodation

The new Banksia Bluff Accommodation is currently under planning and works. During this time Banksia Bluff Accommodation and Olive-Berry Lodge remain closed to bookings. An announcement of a release date for future bookings will be posted on the website.




Dog Friendly Parks

The wet and warmer weather has brought paralysis ticks out in record numbers. Paralysis ticks are known in Coastal and near by Coastal areas and rainforest gullies.




Keep your dog on lead in permitted parks


Dogs are permitted in many parks and reserves provided they are under control and on leads at all times. Visitors should keep their dog on-lead except in designated off-lead areas. Keeping your dog on a lead ensures you both have a safe park visit.

Poison baits may be laid to control foxes or other feral animals. Baits can be fatal to dogs.
Even if your dog is friendly, other dogs may not be.
Your dog can catch parasites (such as fleas and ticks) from wildlife.
Snake bites are a real risk in natural areas such as parks.
Wildlife such as kangaroos and koalas will defend themselves if threatened by a dog and can cause significant injury to or the death of your dog.

Dog-friendly code of conduct

Consider other park users and ensure that dogs are always kept under effective control.
Always carry a lead, even when in off-lead areas.
Bring a friend if you wish to walk with more than two dogs.
Ensure children are supervised whilst near dogs, as they are vulnerable to attack.
Ensure your dog's identification, registration and vaccinations are up to date.
Minimise any disturbance to native fauna, including birdlife in the park.
Clean up after your dog and take all rubbish home.

Banksia Bluff Campground (Cape Conran Coastal Park)

Banksia Bluff Campground - bookings 8 May to 18 May 2023

Bookings at Banksia Bluff Campground will not be available from 8 May to 18 May 2023 to allow essential fire recovery works to be safely completed across the campground.

Notices Affecting Multiple Parks

Ground shooting operations targeting deer

Ground shooting operations targeting deer will be undertaken in this Park from December 2022 to June 2023.

The park will remain open for visitors during ground shooting operations.

For more information about deer control to protect biodiversity, please visit this link.


Ground shooting operations targeting deer

Ground shooting operations targeting deer will be undertaken in these Parks from December 2022 to June 2023.

Some access restrictions may apply. Please observe local signage.




Alpine National Park (Bogong High Plains, Mount Bogong, Dinner Plain, Dargo High Plains, Foothills and Southern Alps)

Buchan Caves Reserve

Burrowa-Pine Mountain

Cape Conran Coastal Park

Cabbage Tree Creek Flora Reserve

Errinundra National Park

Howitt-Wellington Plains

Lake Tyers State Park

Mount Baw Baw National Park

Mount Buffalo National Park

Mount Mittamatite Regional Park

Mount Mitta Mitta Flora Reserve

Mount Lawson State Park

Mount Granya State Park

Mountain Creek Education Area

Pheasant Creek Flora Reserve

Wabba Wilderness Park

Wilsons Promontory National Park