Explore
Banksia Bluff Campground
Banksia Bluff is a tranquil wooded campground where the peace is only broken by dawn chorus and waves crashing off Bass Strait. Set up camp among mahogany gum and banksia woodland and explore the unique coastal playground.
Book now
Banksia Bluff Campground is perfect for families wanting to escape the big smoke and get a taste for nature. Set among mahogany and banksia woodland, the beautiful campground backs onto the wild Southern Ocean.

Relax at camp or explore on foot. Follow the Estuary view trail and take in the rich diversity of flora and fauna found in the lower reaches of the Yeerung River or the Cape Conran Nature Trail highlights white sandy beaches, rock pools, boardwalks, banksia woodlands and Aboriginal history of the coast.

If you're a keen angler, bring your fishing gear and cast a line off West Cape. Salmon, flathead and gummy sharks are plentiful. Or if you are an experienced diver, Beware Reef Marine Sanctuary hides three shipwrecks and a colourful underwater world.
At Banksia Bluff Campground there is a mixture of unpowered dog friendly and non-dog friendly campsites. Refer to the campground map below to see which areas are suitable if you wish to bring your furry canine camping, please note that your dog must be on a leash at all times. Campfires are permitted on selected sites and must be within a fire ring.
Flushing toilets and an outdoor cold shower is available.
Banksia Bluff Campground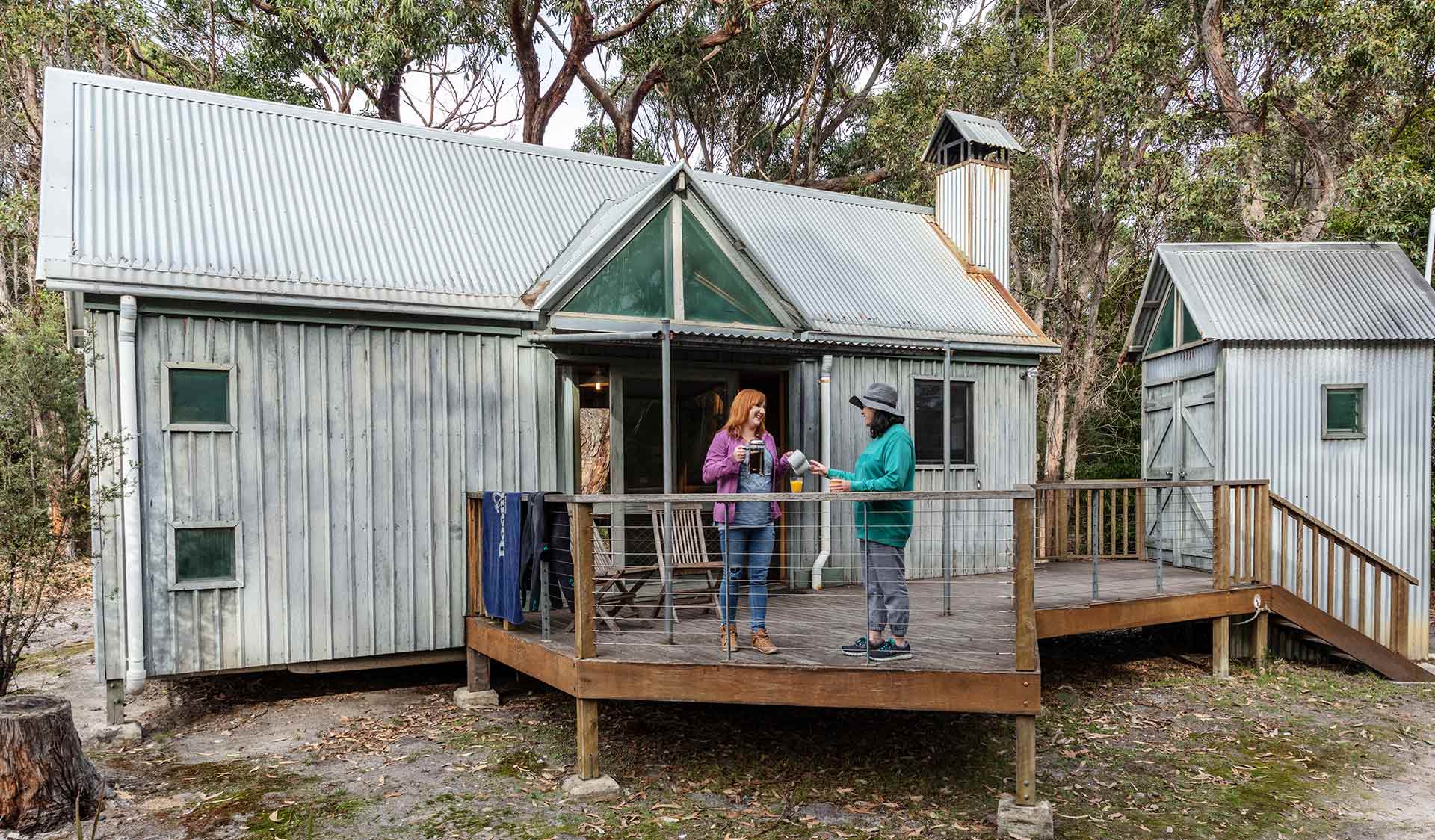 Cape Conran has timber cabins overlooking sandy beaches that offer family and group accommodation, designed for comfortable but basic living. Local timbers have been used to give each cabin a character of its own. One is specially designed to accommodate people with disabilities. Each cabin sleeps up to eight people. All have pot bellied stoves for heating.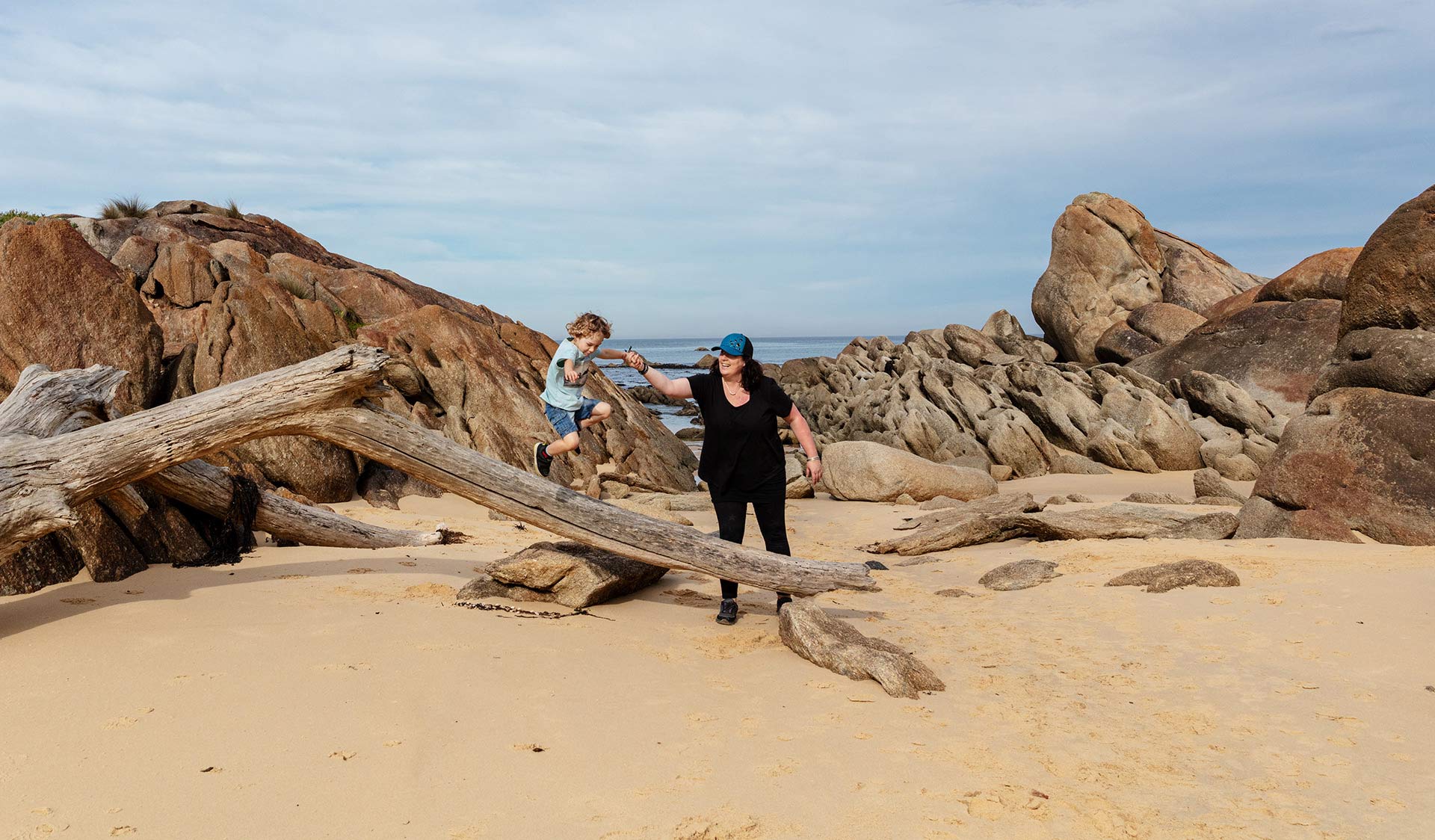 This is a small, remote campground that is best suited to walkers or those hiking the Wilderness Coast Walk. It has easy access via a sandy track over the dunes to the beach.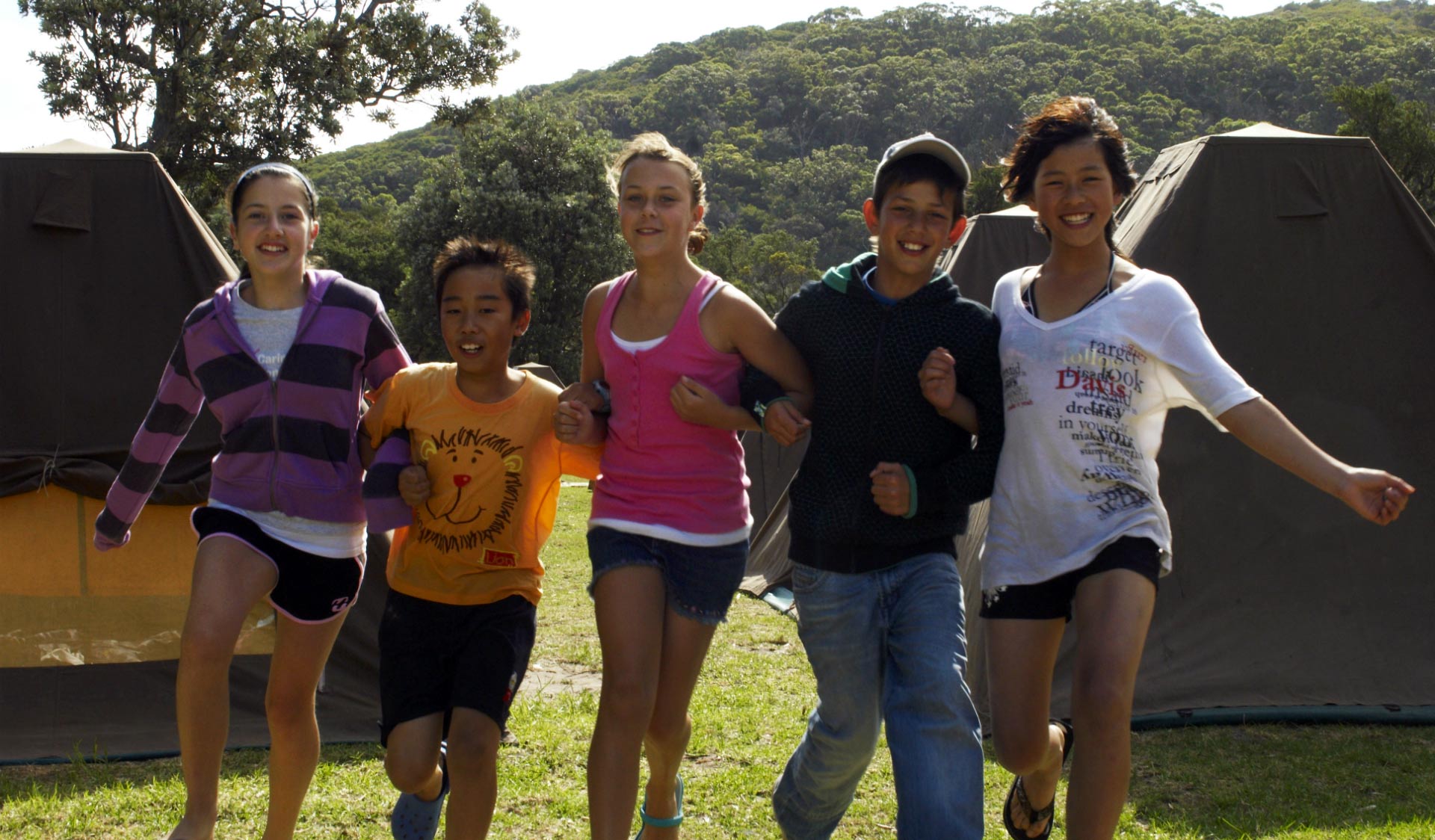 East Cape Beach
East Cape is a good spot for a picnic offering gas barbecues and picnic tables. There are also a number of walks from the visitor area.
How to get there
Banksia Bluff Campground
Cape Conran Coastal Park is approximately 5-hours drive east of Melbourne. To access Banksia Bluff Campground, follow the Princes Highway East before turning onto Marlo Road at Orbost. At Marlo, turn onto Marlo-Conran Road which leads directly to Banksia Bluff Campground.
When you're there
Banksia Bluff Campground is the main camping area within Cape Conran Coastal Park.
Download the visitor guide for further information
Banksia Bluff Campground
The unspoilt beaches of Cape Conran married with the warmer weather of summer makes for perfect beachcombing conditions.

Just off the coast of Cape Conran Coastal Park, Beware Reef Marine Sanctuary hides some over 1000 fish species, three shipwrecks and colourful underwater ecosystems. Experienced divers, head to Beware Reef to see this unique underwater world for yourself.
Camping & accommodation
Set up camp among mahogany gum and banksia woodland and explore the unique coastal playground.
Check availability
Need to know
Banksia Bluff Campground
Accessibility
The campsites at Banksia Bluff Campground are made up of compacted sand and are relatively flat in most areas. The facilities that service the campsites are quite basic and consist of flushing toilets and outdoor showers with cold water. Most sites have a designated fireplace with a hotplate to cook on.

The most accessible toilet shower facilities service campsite numbers 65 to 72. These campsites are located approximately 35-metres from the toilets and outside shower facilities. The block consists of separate male and female toilets on a concrete slab. The entrance to the toilets is approximately 74 centimetres wide with an inward swinging door that has an internal horizontal, bolt-style lock. Measuring 155-cm in width and 195-cm in length, the toilet cubicle area has a reasonable amount of space to manoeuvre around. It however does not contain a support rail and the flush is quite high off the ground.

The outdoor shower is located a few metres from the toilet block. It is open with no partitioning. Access is located off the main campground road, along a short sandy pathway. The tap can be reaches from a seated position.
Change of Conditions
Nature being nature, sometimes conditions can change at short notice. It's a good idea to check this page ahead of your visit for any updates.
Partial closure due to fires in the area

Cape Conran Coastal Park west is open, including East Cape and West Cape (Salmon Rocks and boat ramp). Cape Conran Coastal Park east is closed due to fires in East Gippsland. Access to the surrounding area may be restricted due to fire-fighting activity. For the latest information on fires, visit www.emergency.vic.gov.au

Webcam not working

The webcam at the Cape Conran Boat Ramp is currently not working.