28 ways to reconnect with nature in 28 days
Monday 31 January, 2022
Make 2022 the year you get back into nature. Why you ask? Because spending time in nature is good for you!
The Healthy Parks, Healthy People movement aims to help people understand the benefits of spending time in nature. Don't just take our word for it — this movement is supported by generations of traditional knowledge and growing scientific evidence. You too can unlock the incredible power of nature for your health and wellbeing.
Just head outside and you can expect lower blood pressure, reduced stress and boosted sleep quality. So, whether you're looking to camp under a blanket of stars or simply explore your neighbourhood, parks, coastlines, forests and community gardens are here to help you relax, restore and recharge.
Start improving your health and wellbeing this February with our #28Waysin28Days.
1. Connect to nature with a mindfulness walk
Beyond the benefits of exercise, mindfulness walks help you slow down and focus on the present, leaving you feeling calm, refreshed, and relaxed.
2. Visit an unknown park
With thousands of parks across the state, there's pristine gems and nooks waiting to be discovered. Grab a map and make a point of visiting a part of Victoria you've never been to. Before visiting a new park, find out what Country you will be with this welcome to Country and acknowledgement map.
3. Try stargazing or moon bathing
Just look up! Australia offers some of the best stargazing locations in the world, so escape the city lights and venture to a remote area where the night sky shines with clear unobstructed views of the milky way.
4. Test your photography skills
Searching for that perfect landscape, wildlife or macro shot is a great way to focus your attention on nature. Browse the #parksvic hashtag for inspiration.
5. Have fun on the water
Go stand-up paddleboarding, kayaking, surfing, boating, or canoeing — Victoria has incredible options for exploring from a different perspective. Check out the state's stellar beaches and stunning bays, lakes and rivers.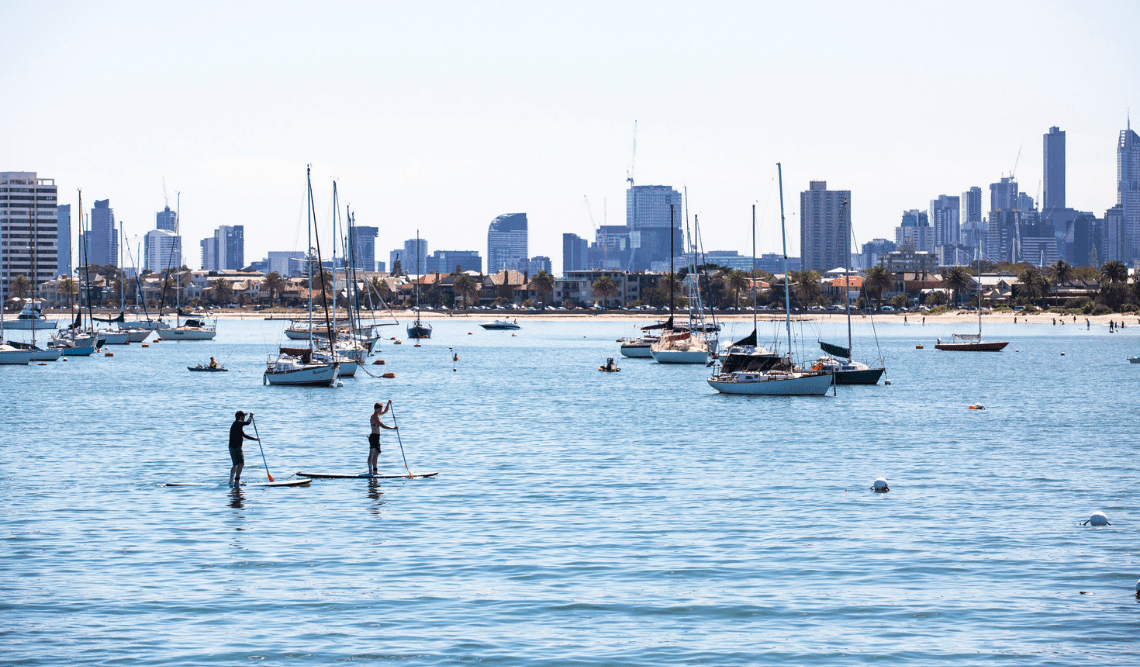 6. Walk your four-legged friend
Walk your dog in a park to send tails wagging. Dogs are allowed on-lead in many metropolitan, regional and reservoir parks, so you can enjoy walking and sightseeing with your furry friend.
7. Take the family nature spotting
Spending time in nature is a wonderful way for the whole family to have fun together. It boosts wellbeing, helps you to connect, reduces stress and can help everyone be more physically active. Nature spotting is a great way for kids to get outdoors and learn something new. Why not try one of our citizen science programs? They are a fun way to spend time in nature as a family while also contributing to important scientific research and supporting our amazing biodiversity! 
8. Adventure with a tour operator
Whether it's a high ropes challenge, a zipline across the treetops or cycling the rail trails – grab a group of friends and try a new adventure led by experts.
9. Participate in a Parkrun
With hundreds of free 5km runs all over Australia, Parkrun is a positive, no-stress way to get into nature, build an exercise routine and connect with other likeminded people.
10. Plan a camping trip
Whether it's remote, family-friendly, or somewhere in between, camping is a great way to immerse yourself in nature. Never been? With lots of upgraded sites and walking trails, there is no better time to try.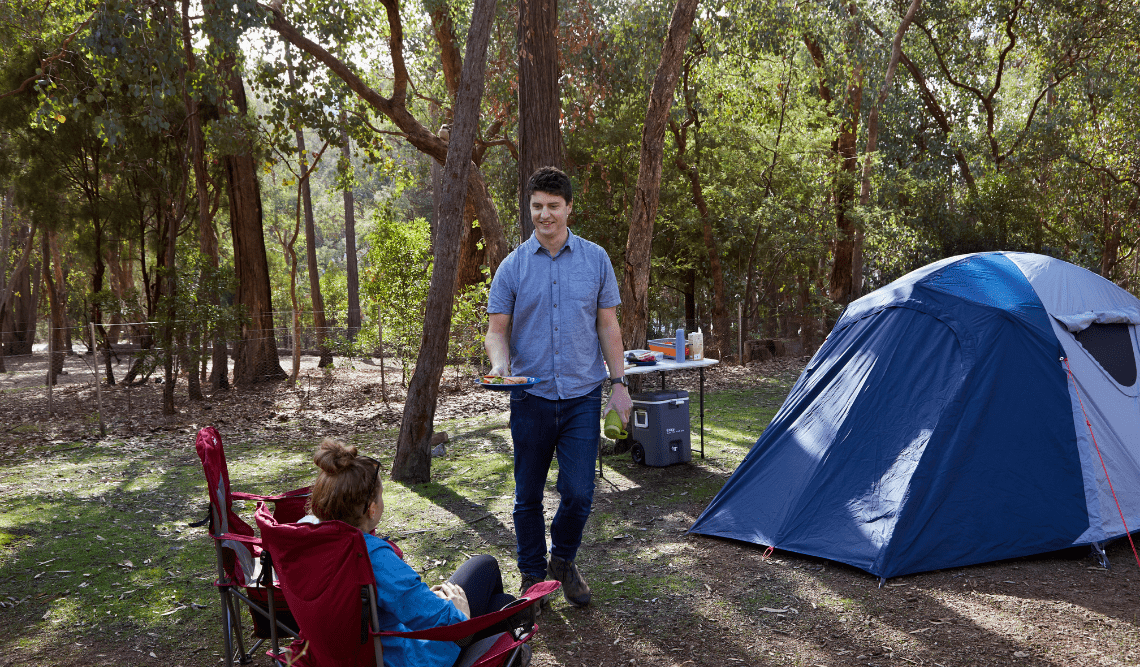 11. Go hiking or bushwalking
Challenge yourself or seek out that perfect view on one of Victoria's 1000s of hiking and bushwalking trails. There are trails perfect for of all levels of experience, including accessible options (reduced mobility, autism and dementia-friendly and more). Getting outdoors and exercising is an obvious benefit of hiking, but the benefits extend beyond just the physical. Hiking is also great for improving memory, brain function, mood and concentration, and reducing stress and anxiety.
12. Participate in an Aboriginal cultural experience
There are many available across the state and you'll benefit from the extensive knowledge and insights an Aboriginal guide can provide. Learn more about the local culture and more about Country.
13. Have a picnic
Turn any day into a picnic day. Just pack a basket or support a local bakery and pick a picturesque spot to unroll the rug. Remember to take your rubbish home with you and do not feed the wildlife.
14. Take the time to reflect
Pull out your journal and note what you are experiencing in the present. Breathe, let go of finding perfection and let nature guide you in this perfect mindfulness activity. If writing is not your style, find your calm by building a meditation routine.
15. Go rockpooling
The perfect activity year-round, clamber over the rocks to discover micro-ecosystems and secret marine life. Look, observe, awaken your curiosity, but remember to leave these pristine worlds untouched.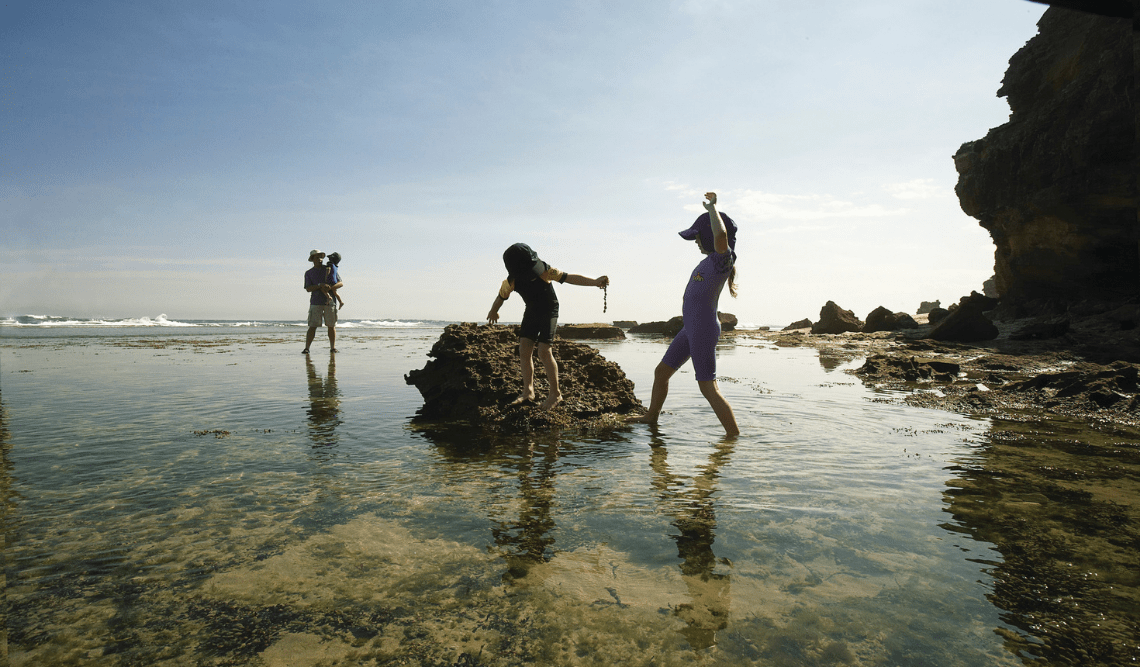 16. Try out fossicking
Prospecting can be an exciting experience. Many of the world's largest gold nuggets have been found in the Golden Triangle of central Victoria. Elsewhere, gemstone fossickers have found sapphires, zeolites and agate.
17. Participate in a Forest Bathing Park Walk
Originating from Japan, Forest Bathing is the practice of slowing down and immersing yourself in nature using your senses in the restorative environment. Just one of our incredible guided walks, check out our other free Park Walk experiences.
18. Walk near water
Being near water is naturally calming. Take in the sights and sounds of Victoria's stunning natural waterways – the gentle water of the bay, rhythmic crash of waves, rush of a waterfall, or babble of a meandering creek.
19. Go for a swim
Freshwater or salt, revitalise with a swim in nature. As long as you know your limits and swim with others, getting into the water is a great way to relax.
20. Get on your bike
Whether you're a mountain biker or cyclist, Victoria has an incredible range of trails from peaceful and meandering to steep and rocky.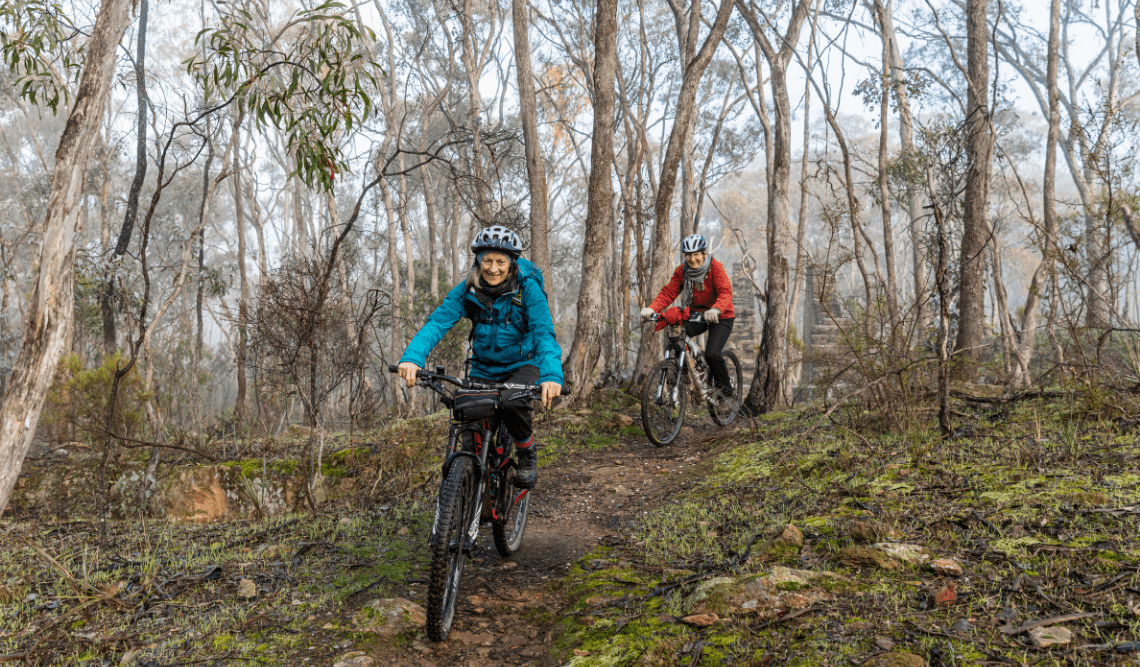 21. Hug a tree
Simply spend some time sitting under a tree. And if you're so inclined, have a chat with your tree and maybe even give it a little hug.
22. Get creative
Sketch pads at the ready, head into nature for some mindful drawing, colouring, painting, nature craft, or mud kitchens, draw a 'sound map' of the sounds you are hearing while sitting quietly paying attention.
23. Enjoy a spot of birdwatching
Wherever you go in nature, you will see birds. From city streets, forests and wetlands, to out in the open ocean. This makes birdwatching a great way to get into nature and learn more about our incredible native wildlife. Bring a pair of binoculars if you want to watch them up close!
24. Volunteer in nature
There's an abundance of benefits, you can: learn about plants and wildlife, develop new skills, improve your health and wellbeing, and make new friends. You'll also contribute to conservation, all while enjoying being outdoors!
25. Enjoy a sunrise or sunset
Early birds can witness one of the most rejuvenating ways to start a day in nature — watching the sunrise. Sunsets are the perfect backdrop for a walk or to listen to the local birdlife settling in for the night.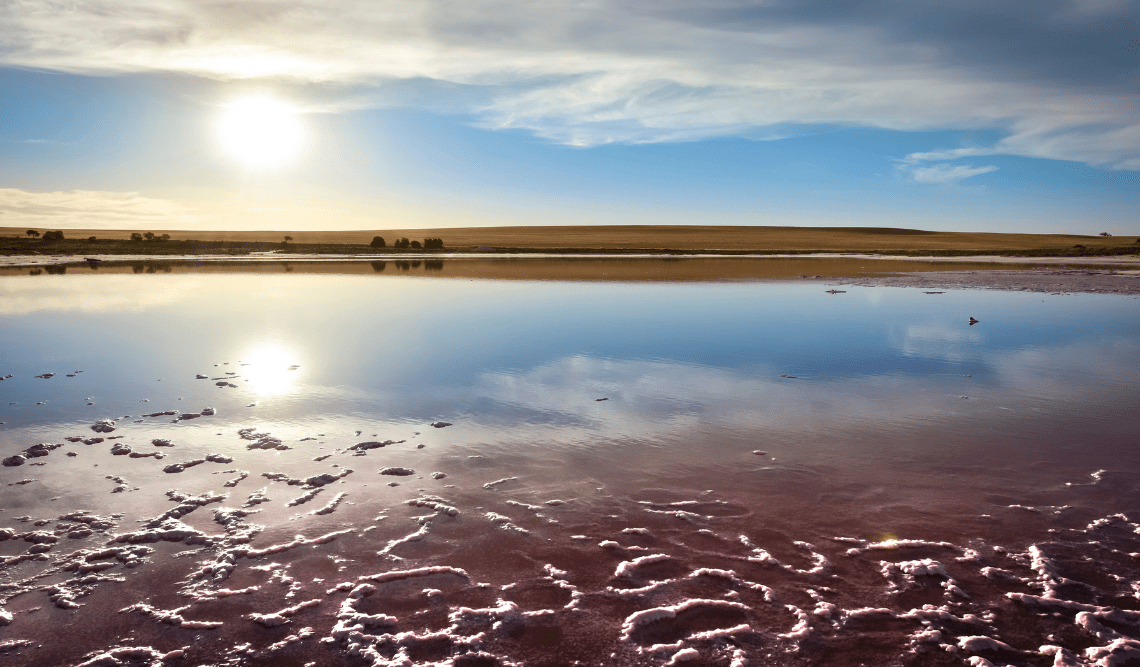 26. Research accessible nature
Do you or someone you know live with a disability? Do a little research and find a new way to get into nature, no matter the limitations.
27. Take your workout outdoors
Yoga, Pilates, HIIT or endurance training, stretch your practice into the outdoors. No mat, no app, just you and the sound of mother nature. If you prefer the company of others, there are Licensed Tour Operators who run classes in parks too.
28. Visit a pier
Take a relaxing sunset stroll, stare out at the horizon and ponder the meaning of life! Victoria's many piers and jetties are a great way to get close to nature. Take the fishing rods and cast a line.
Whatever you choose to do in February, remember to leave no trace and to Pack your Summer Smarts.
Share your adventure with #parksvic