Grampians National Park is part of the Gariwerd Aboriginal cultural landscape. Parks Victoria respects the deep and continuing connection that Traditional Owners have to these lands and waters, and we recognise their ongoing role in caring for Country.
Hike during the day and camp 1-night under the stars to experience a little bit more of what the Grampians Peaks Trail has to offer. Choose from two 2-day hike options and explore the ancient, rugged landscape of Gariwerd. Both itineraries require a car shuffle from start to finish. If you only have one vehicle, contact a Grampians Peaks Trail Licensed Tour Operator for transport services or visit Brambuk the National Park and Cultural Centre for other pick-up or hiking options.
Water safety
For your safety, having enough water along the Grampians Peaks Trail for hydration and cooking is so important. Our water information and availability page includes the locations (with latitude and longitude references) of serviced water tanks. All water tanks along the trail are untreated. So you need a safe way to treat water for drinking.
When planning this incredible hike, read the important Grampians Peaks Trail Plan and Prepare Guide.
Barigar
This overnight hike takes in the dramatic Stapylton Amphitheatre with the magnificent orange wave of Taipan Wall, Bird Rock, Mt Stapylton, panoramic ridgeline walking, wildflowers, seasonal creeks and a hidden waterfall located not far from Barigar Hike-in Campground.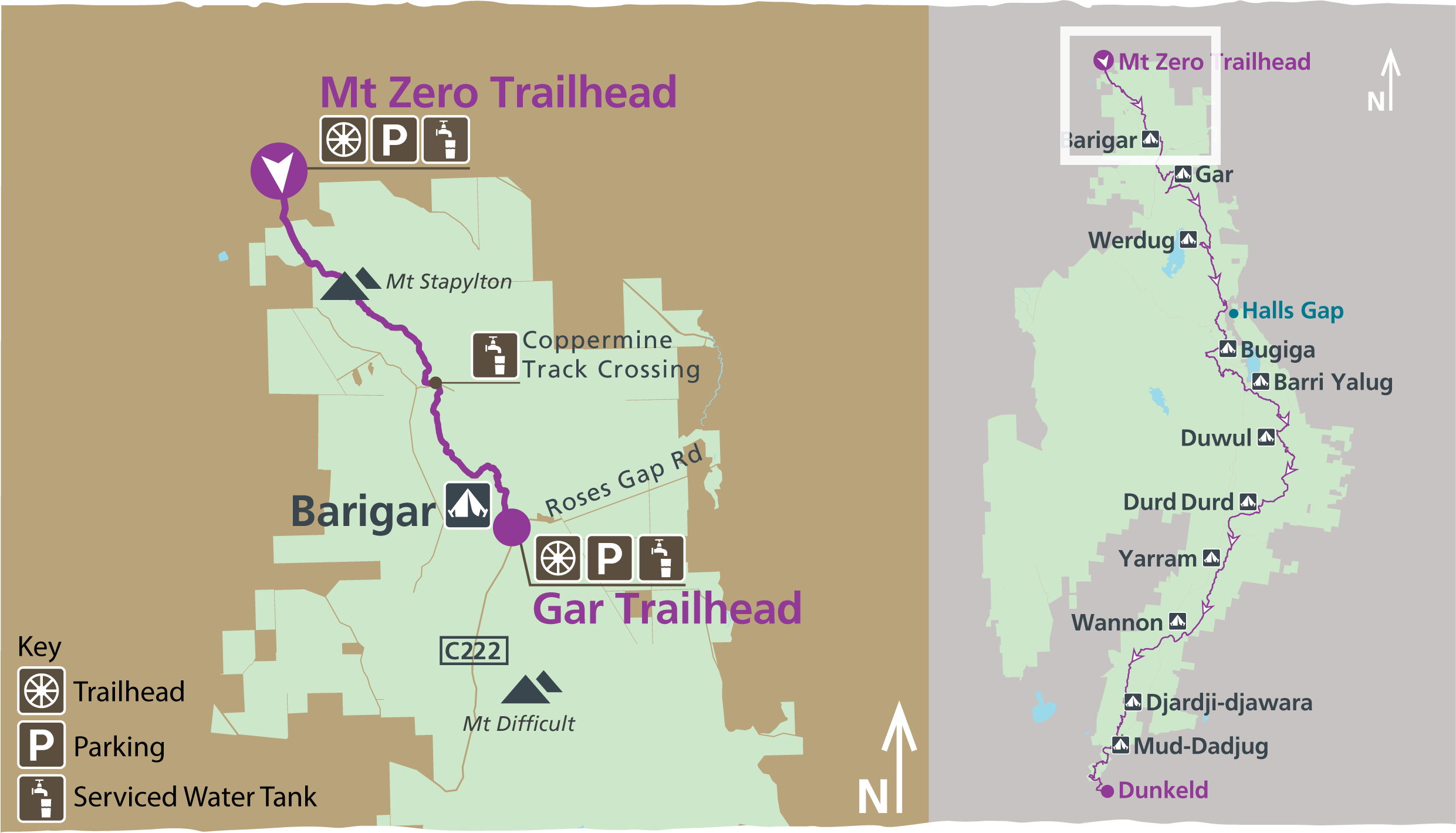 Grade: 4
Length: 16.0km Day 1: 12.1km Day 2:3.9km
Start: Mt Zero Picnic Area (N1 on GPT Topographic map)
Finish: Gar Trailhead (Roses Gap Road)
Pick up and drop off: Short vehicle shuffle between Mt Zero Picnic Area and Gar Trailhead or arrange a bus transfer with Licensed Tour Operator. 45min round trip.
How to get there: From Melbourne (290km, 3hrs and 15mins), drive west on the Western Highway (A8) through Ararat, Stawell and Dadswells Bridge to Wonwondah-Dadswells Bridge Road. Turn left and follow for 6.4km to Winfields Road (unsealed), turn left and follow for 1.2km to Mt Zero Road (unsealed), turn left and follow for 2.2km to Mt Zero Picnic Area.
Book Now
Bugiga
Start the morning in Halls Gap before traversing the Wonderland and northern section of the Serra Ranges on this overnight hike. Follow the cascading Stony Creek upstream through the Grand Canyon, climb to the Pinnacle and continue along the trail to camp below Mt Rosea at Bugiga Hike-in Campground. Wander through tall forest to rocky outcrops and incredible views on Mt Rosea, then take the long descent to the finishing point at Borough Huts Campground.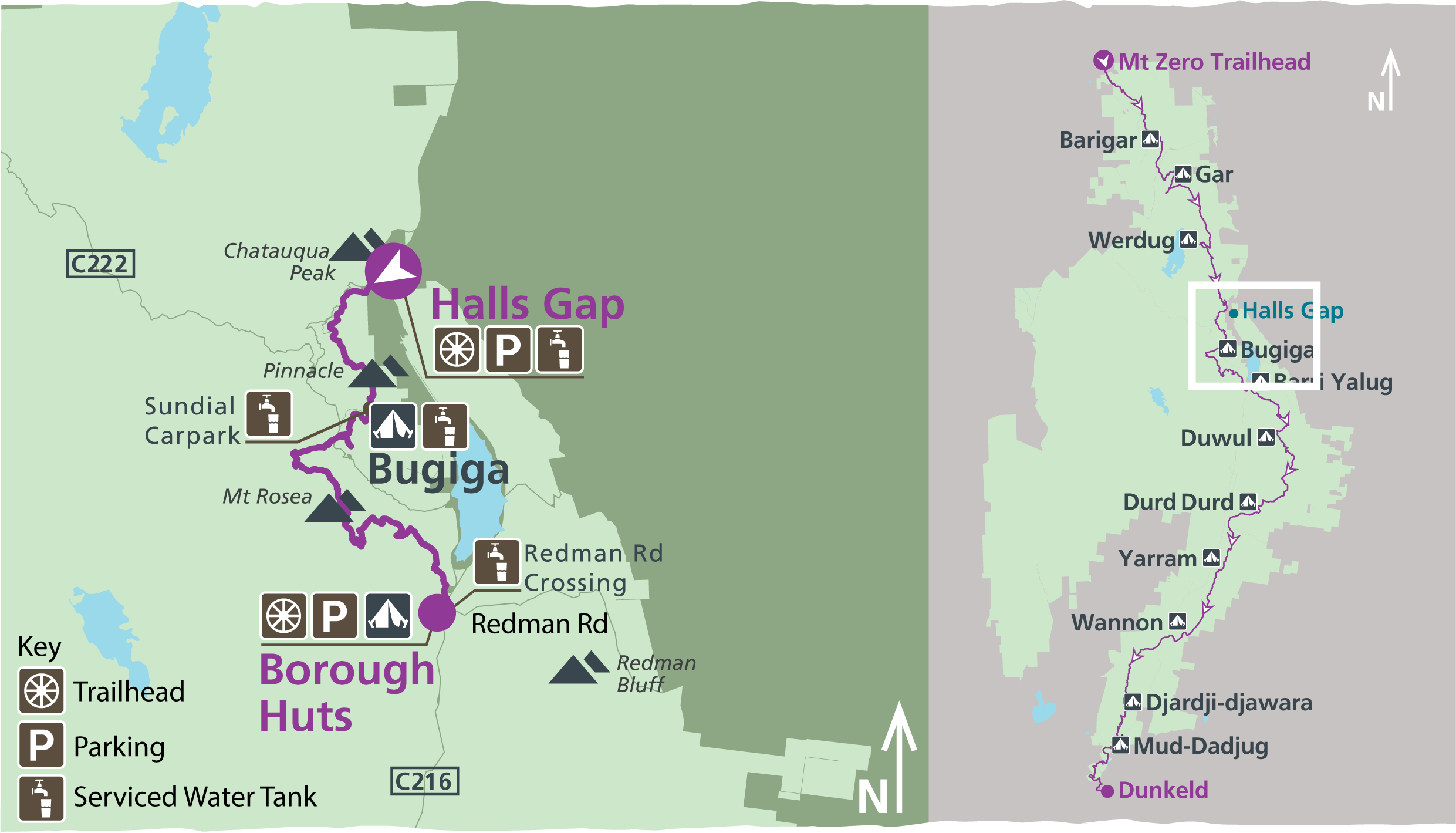 Grade: 4
Length: 22.3km Day 1: 9km Day 2: 13.3km
Start: Halls Gap (C1 on GPT Topographic map)
Finish: Borough Huts Campground (C2)
Pick up and drop off: Short vehicle shuffle from Borough Huts Campground back to Halls Gap or arrange a bus transfer with Licensed Tour Operator.
How to get there: From Melbourne (253km, 3hrs), drive west on the Western Highway (A8) to Ararat. From Ararat take the Ararat-Halls Gap Road (C222) for 48km through Moyston, Pomonal and onto Halls Gap.
Book Now
Grampians Peaks Trail Experiences
Find out more about other options for hiking experiences along the Grampians Peaks Trail.
When you're there
Make Brambuk - The National Park and Cultural Centre in Halls Gap your first stop. Here you can explore what Gariwerd means to Aboriginal people and find information about visiting Grampians National Park.
Safety is your responsibility
At lookouts, never climb over barriers. Your safety is more important than a social media post.
There are steep cliffs in the park. Keep to the track, mind your footing and supervise children.
Many walking tracks involve rock steps, uneven and slippery track surfaces, water crossings and rock hopping.
Mobile phone service is unavailable in many areas of the park. Seek higher elevations for service.
Plan your timing, return from walking well before dusk.
Emergency markers
In the event of an emergency, call Triple Zero 000 or 112 to access police and emergency services. Be aware that you may travel out of mobile phone range. Many of our parks feature emergency markers, which are special green signs with a unique code on them so emergency responders can pinpoint your exact location.
Need to know
Overnight Hikes
Walking track grades
Hikes along the Grampians Peaks Trail have been graded using the Australian walking track grading system, which is a primary means of informing people about the features of walking tracks, so they can gauge their suitability for a particular track. Under the system, walking trails are graded on a difficulty scale from grades one to five.
Grade 1: No bushwalking experience required. Flat even surface with no steps or steep sections. Suitable for assisted wheelchair users.
Grade 2: No bushwalking experience required. A hardened or compacted surface which may have gentle hill sections or occasional steps.
Grade 3: Suitable for most ages and fitness levels. Tracks may have short steep sections, a rough surface and many steps.
Grade 4: Bushwalking experience recommended. Tracks may be long, rough and very steep. Directional signage may be limited.
Grade 5: Very experienced bushwalkers with specialised skills, including navigation and emergency first aid. Tracks likely to be very rough, very steep and unmarked.
Be bushfire aware
The warmer months are the perfect time to experience regional Victoria. However, Victoria is one of the most fire-prone areas in the world. During summer in Victoria, the weather can be very hot and dry and the risk of summer lightning storms can increase the chance of bushfires.
Follow these bushfire safety tips to ensure that your experience is safe and enjoyable.
Change of Conditions
Nature being nature, sometimes conditions can change at short notice. It's a good idea to check this page ahead of your visit for any updates.
Notices Affecting Multiple Parks

Seasonal road closures 2022

Some roads in this park are subject to seasonal road closures. Seasonal road closures generally operate from after the long weekend in June through to the end of October, but may be extended due to seasonal conditions. Visit the

seasonal road closures

page for maps and more information.

Brambuk the National Park and Cultural Centre (Brambuk - The National Park and Cultural Centre Park, Grampians National Park)

Grampians National Park (Gariwerd) Park Access Updates
Similar experiences at other parks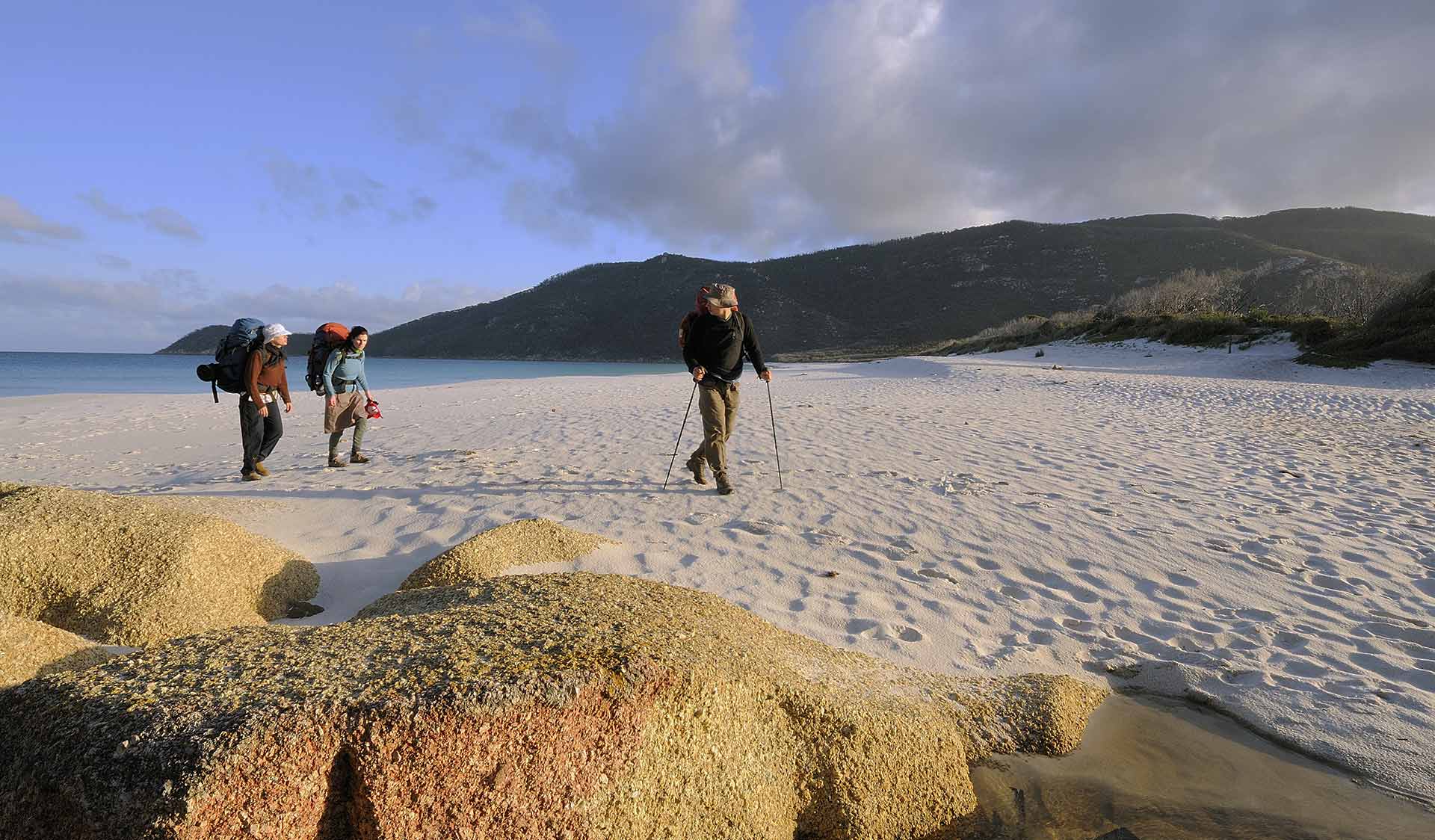 Up for more of a challenge? Try the Northern Circuit hiking and camping through the park.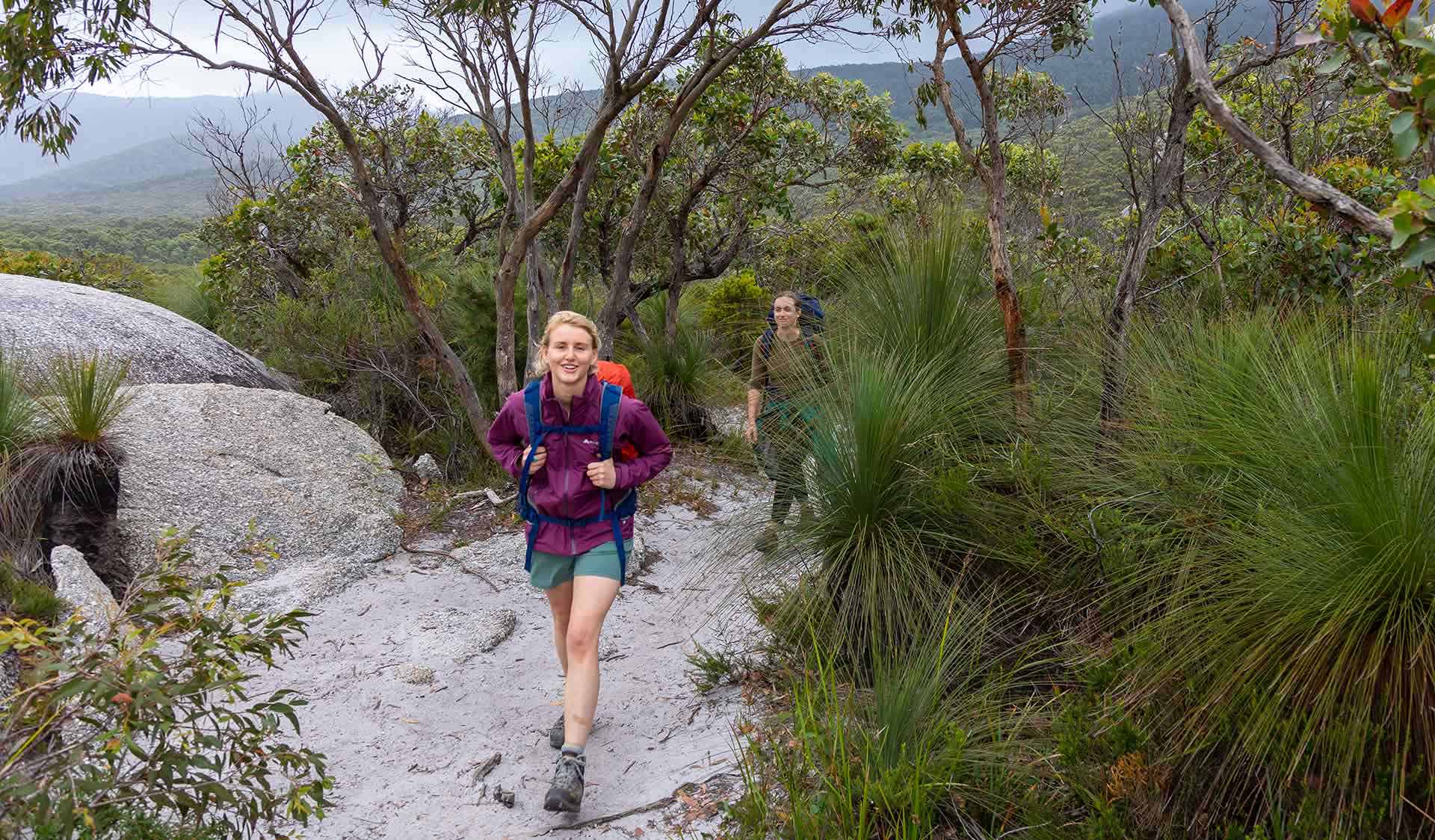 Hike your way to overnight camping sites and sleep in bookable shady campsites with views of glassy torquoise water.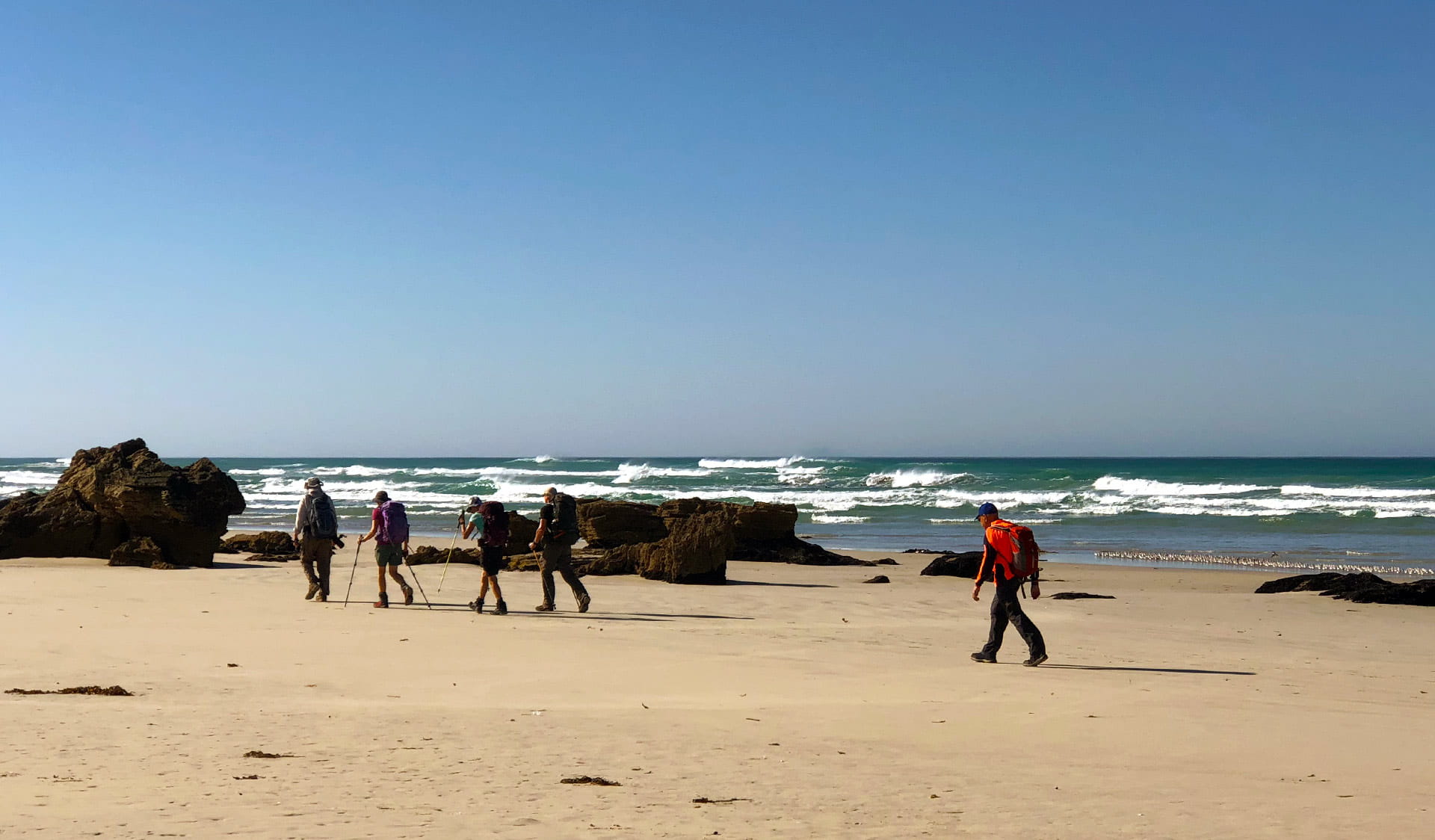 The Great South West Walk winds through the diverse landscapes of Lower Glenelg National Park, Discovery Bay Coastal Park, Cobboboonee National Park and Cape Nelson State Park. Starting from the township of Portland in south west Victoria, the walk takes you on an unforgettable journey across rugged cliffs carved by the Southern Ocean, over remote beaches, past ancient, pristine lakes and through majestic, tall forest.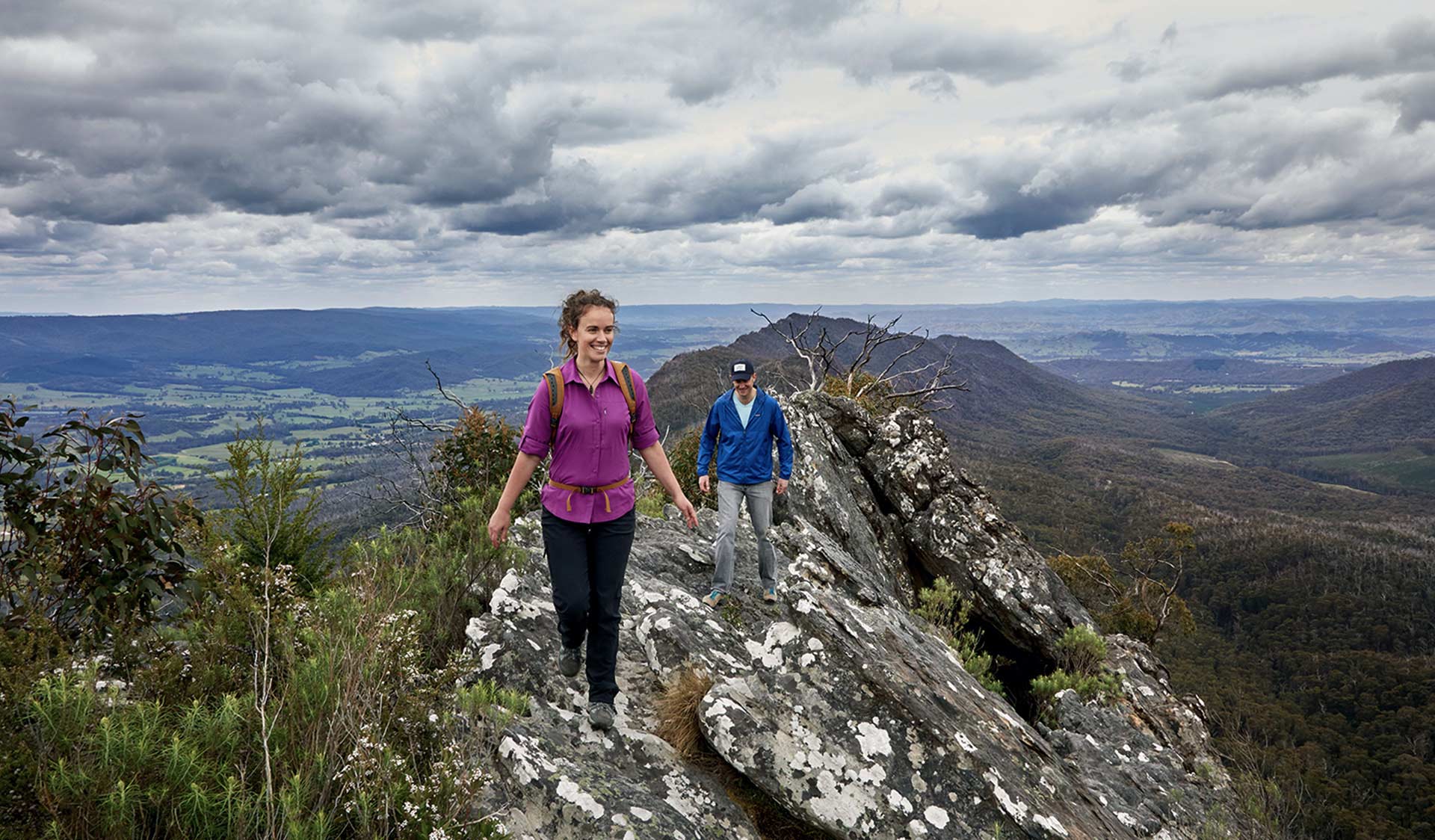 The Farmyard
This campground is accessible to hikers only. It is located off the unsealed Razorback Ridge Track at the base of South Jawbone Peak.