Mitchell River National Park is one of the jointly managed parks within Gippsland. The Joint Management agreement recognises the fact that the Gunaikurnai people hold Aboriginal Title and maintain a strong connection to Country. As custodians of the land, they are the rightful people who speak for their Country. These parks and reserves are cultural landscapes that continue to be part of Gunaikurnai living culture. For more information on Joint Management, please visit the Gunaikurnai Traditional Owner Land Management Board and the Gunaikurnai Land and Waters Aboriginal Corporation.
Billy Goat Bend is a popular camping and picnic spot with basic facilities and panoramic views of the Mitchell River Gorge and rapids. Vehicle access is available and there are toilets, fireplaces and picnic tables.
Angusvale camping area has easy car and river access, with toilets, fireplaces and picnic tables.
Rock Creek and Adam Track camping areas are 4WD access only. There are toilets at Rock Creek and fireplaces at Adam Track.
There is basic camping along the Mitchell River Walking Track at Rock Creek, Mitchell Road, Cobbannah Creek, Billy Goat Bend and Woolshed Creek. Please camp at least 20m away from the water and take all rubbish with you when you leave.
Things To Do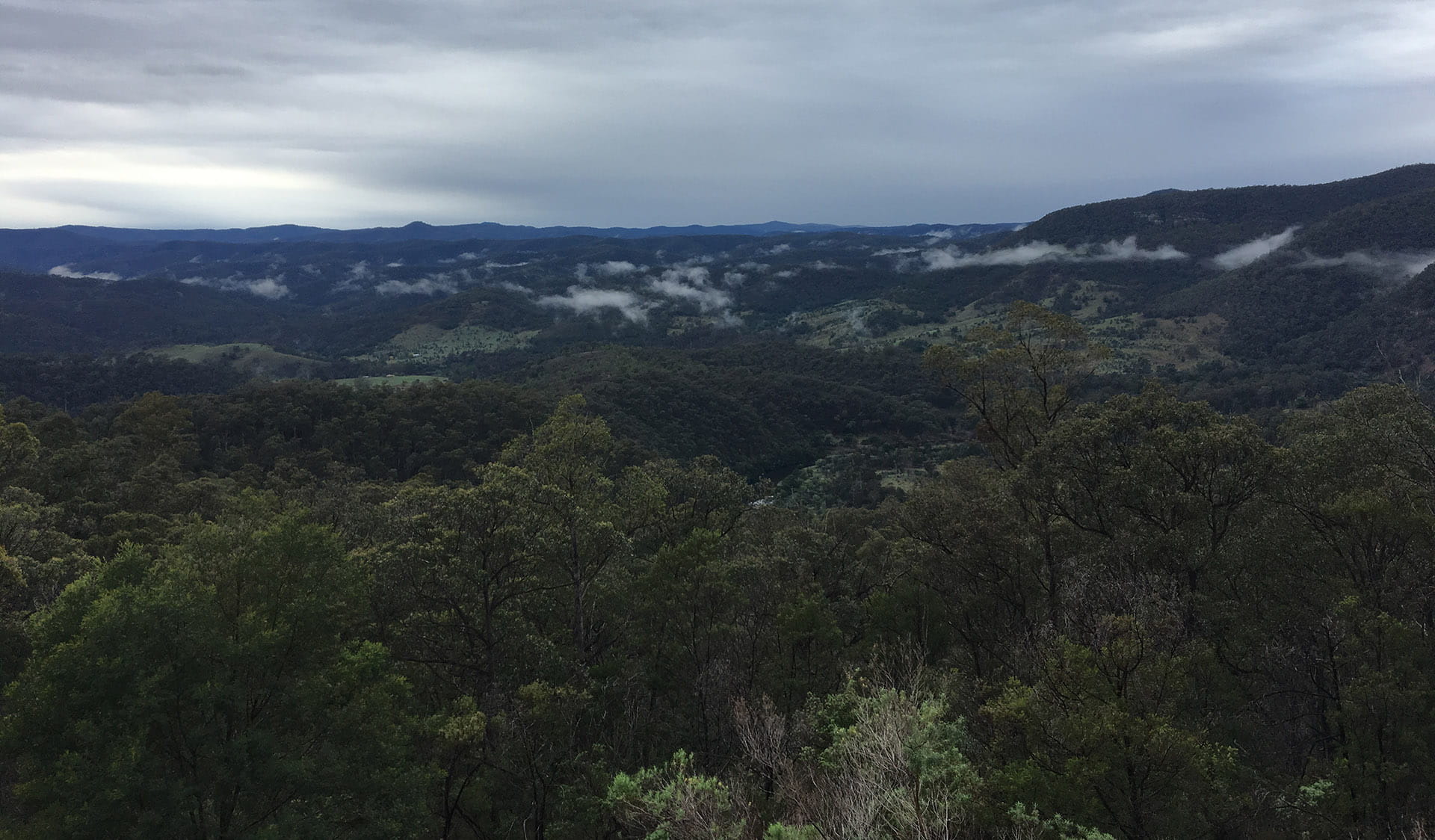 Mitchell River Walking Track is a perfect way to discover the Impressive river scenery, serene rainforest gullies and rugged landscapes of the park, and some shorter walks connect you to the parks Aboriginal culture and heritage.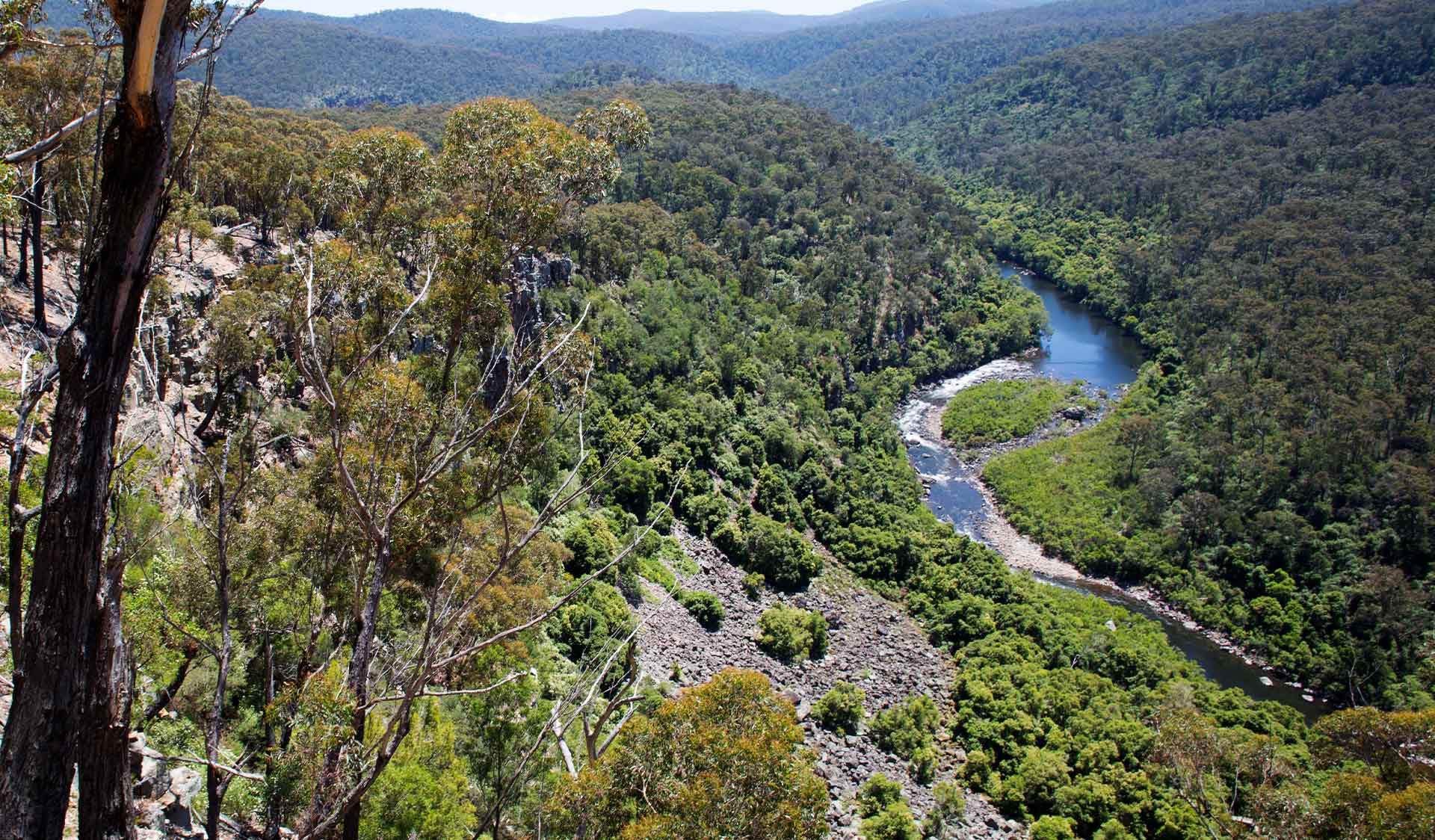 Mitchell River National Park, on Brabralung Country, has a rich cultural history that tells of tribal conflict, ceremonies, food gathering, community life and local spirits.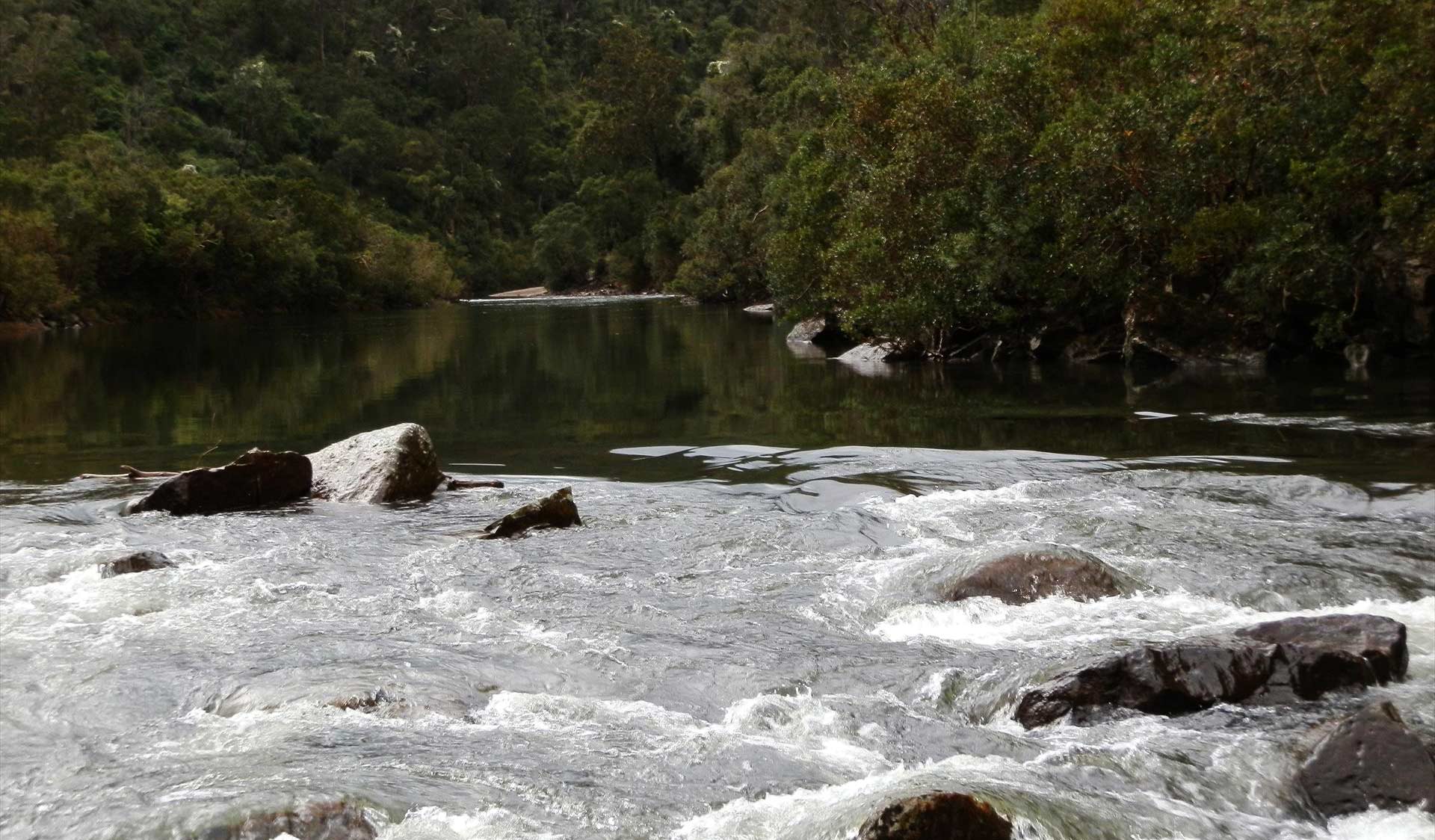 Canoeing and rafting at Mitchell River
The Mitchell River offers short day trips or extended touring through the tranquil pools and turbulent rapids down to the Gippsland Lakes, with challenging Whitewater Grades III and IV rapids. July to December usually have the best flow, but please check river levels before you visit.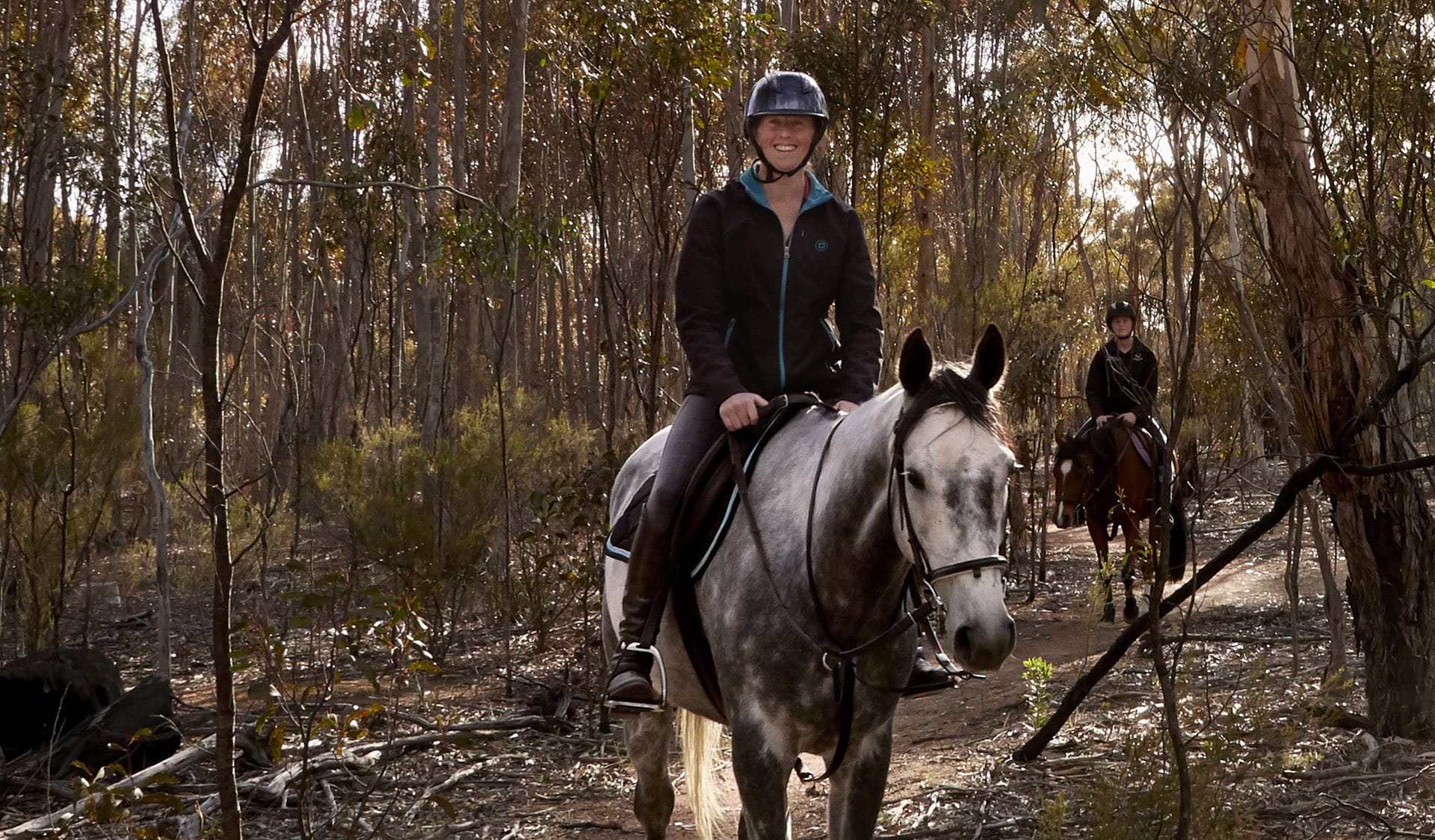 Horse riding is a great way to see the park and is permitted on roads and vehicle tracks open to the public. Horses are not permitted to remain overnight in the park unless prior approval has been obtained. Horse riders are asked to apply the horse rider's code to ensure minimal impact, and to feed clean weed free food prior to arrival.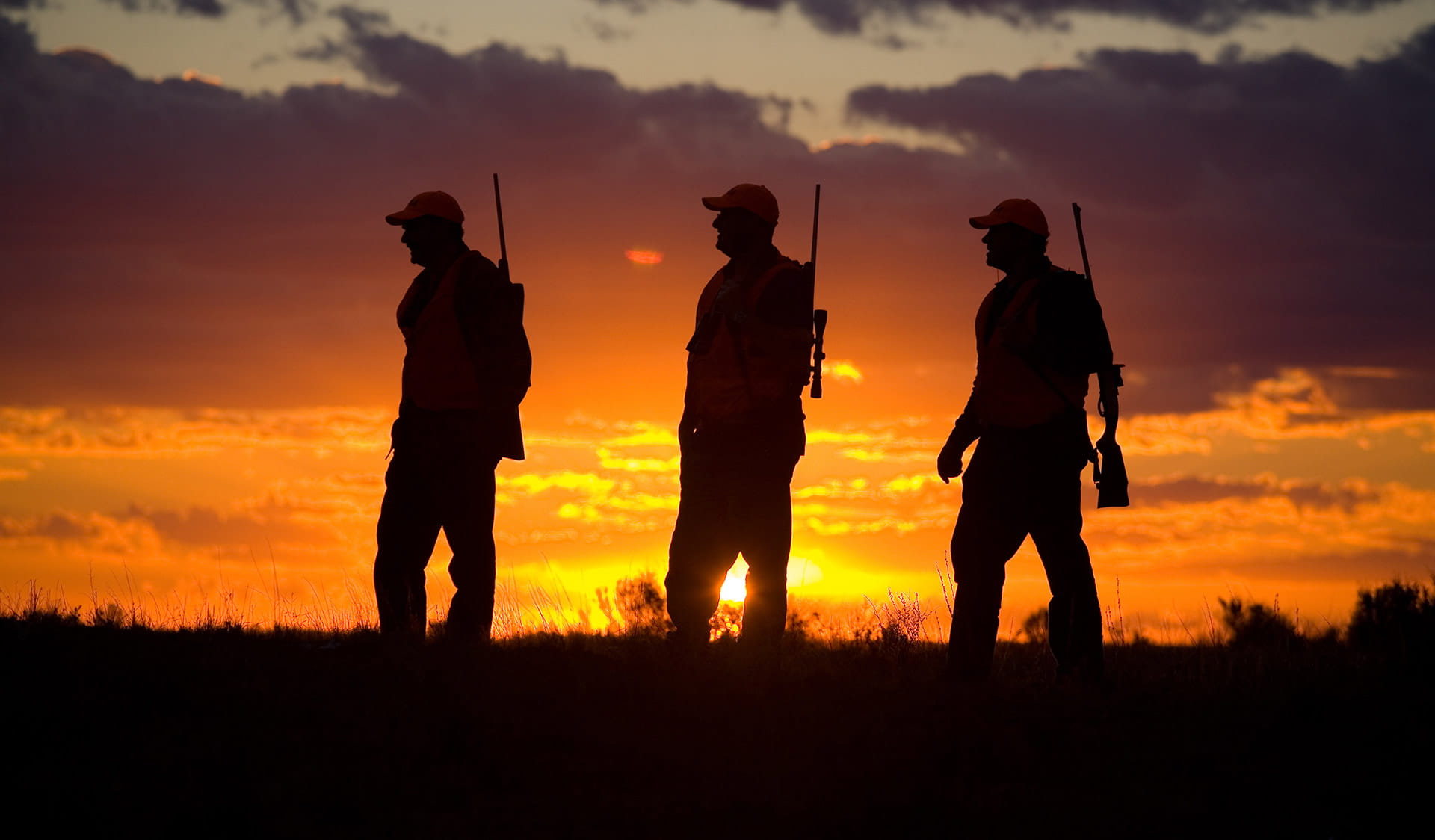 Deer stalking is permitted in accordance with hunting regulations in the eastern section of the park from 15 February to 15 December. Hunting is also permitted south of Hortons Track on the eastern side of the National Park. Firearms are not permitted on the Western side of the Mitchell River.
Heading west out of Bairnsdale on Main Street/Princes Highway/A1, turn right onto Bairnsdale-Dargo Road/C601 and follow for about 42 kilometres. You can turn right at Wallers Road and follow that to the end to reach the Den of Nargun picnic area. Forr access to Billy Goat Bend camping area, either turn left off Wallers Road and head north along Park Road, or turn right off the Bairnsdale-Dargo Road/C601 onto Billy Goat Bend Road, and follow the signs to the camping area.
Angusvale campground is located at the end of Mitchell River Road, further north along the Bairnsdale-Dargo Road/C601. Turn right off the C601 and follow the track for 16 kilometres.
To access the eastern side of the park, turn right off the C601 onto Lindenow-Glenaladale Road. Cross the bridge over the Mitchell River and turn left to stay on Lindenow-Glenaladale Road. Turn right at Weir Road and stay on it until you are continuing along Wattle Creek Road and see entry signs to the park.
To visit the Old Weir day visitor site, turn left off Weir Road onto Milton Park Road. Please be aware that the end of this road down into the day visitor site is rated as a Double-Black Diamond 4WD track, and is suitable for experienced four-wheel-drivers only. Visitors can access the site on foot - park your vehicle at the top of the hill and walk approximately one kilometre to the site. Please take plenty of water.
When you're there
Guidelines for sustainable camping
Set up campsites at least 20 metres away from waterways.
Digging steps into river banks is illegal and can cause erosion and landslides.
Camping is not permitted in day visitor areas or on licensed water frontages adjacent to private property.
Do not spray paint or attach signs to trees.
Chemical toilets are recommended. Please do not empty chemical toilets or other rubbish into public toilets or waterways.
Dogs and other pets are not permitted in the park.
Fires are permitted only:
if it is not a day of Total Fire Ban;
a three-metre area around it is cleared of anything flammable;
an adult is in attendance at all times;
at least 10 litres of water are available for immediate use,
and if it is in a pit that must be maintained to 30cm deep.
Fires can also be no larger than 1m x 1m.
Put the fire out with water, not soil. When the campfire is cool to touch, it is safe to leave.
No campfires or solid fuel barbecues may be lit on a day of Total Fire Ban.
Portable gas or electric barbecues or camping stoves may be used, provided that the conditions above are met.
Help look after our parks
Please take all rubbish with you when you leave and do not dump rubbish or other waste items into toilets. Please consider the impacts of generators or loud music on other visitors.
To reduce the risk of your generator starting a bush fire, ensure your generator is: located in an area clear of fuels, dry grass or other combustibles; the generator is only refueled when the engine is cold; extension cords do not cross access tracks and are rated for outdoor use.
Camping Safety
Avoid camping or parking under or near large trees where possible as branches may fall and swing away from the tree at any time. Whole trees may fall without warning.
Please do not use rope swings as they damage trees and are difficult to safely remove.
Avoid camping close to waterways if rain or storms are forecast, as waters may rise quickly and trap you.
Mobile phone reception in the park is unreliable.
Bushfire safety is a personal responsibility. Check the Fire Danger Rating and for days of Total Fire Ban at www.emergency.vic.gov.au or call the VicEmergency Hotline on 1800 226 226.
Accessibility
Visiting a park can be more of a challenge for people with disabilities, however in Victoria there are a wide range of facilities to help people of all abilities enjoy our wonderful parks around the state.
Assistance dogs are welcome in Parks Victoria parks and reserves. Entry requirements apply for parks and reserves that are usually dog prohibited, such as national parks.
Driving in the park
All roads and tracks within the park are gravel, with the Mitchell River Road and Wallers Road being readily accessible for most vehicles. All other tracks would require a 4WD to navigate, with varying levels of experience required. Find more safety tips on our Safety in nature page.
Mitchell River National Park Joint Management Plan
Mitchell River National Park is on the Country of the Brabralung clan. The park has a rich cultural history that tells of tribal conflict, ceremonies, food gathering, community life and local spirits. The Gunaikurnai and Victorian Government Joint Management Plan provides a description of joint management strategies and actions that are specific to Mitchell River National Park.
Change of Conditions
Nature being nature, sometimes conditions can change at short notice. It's a good idea to check this page ahead of your visit for any updates.
Angusvale camping area (Mitchell and Wonnangatta Rivers Heritage River, Mitchell River National Park)

Angusvale CLOSED for campground infrastructure upgrade (November - December)

Angusvale

Camping Area is being upgraded to improve access and provide a better visitor experience.

These construction works will see upgrades to the road within the site, which will enable easier access for campers, hikers and paddlers to experience this special place.


This project is being delivered by

GLaWAC

with an investment of $612,600 by the Department of Jobs, Skills, Industry and Regions.



The construction works will start in October and will be complete by mid-December 2023.


Angusvale will be closed for general park users for the duration of the construction works. The area of the works will be safely zoned off and signposted.

Mitchell River National Park

Track closures due to severe weather damage.

Track closures due to severe weather damage:

Hortons Track

Mitchell Views Track

Notices Affecting Multiple Sites

CHANGE OF CONDITIONS - 4WD only Billy Goat Bend Road, Mitchell River National Park

Billy Goat Bend Road

between Bairnsdale-Dargo road and Bull Creek Divide track in the Mitchell River National Park is currently being advised as 4WD access only. Parts of the road surface are deeply rutted and can become slippery when wet.