The Murray River between Swan Hill and Echuca offer ample opportunities for both recreation and relaxation. Explore wetlands rich in wildlife. Enjoy camping, fishing, boating, canoeing and watersports. Take the kids for a swim and a picnic on a sandy beach or a walk through the River Red Gum forests.
The Torrumbarry Day Visitor Area in the River Murray Reserve is an ideal spot for a family day out, with a boat ramp, picnic tables and toilets. You can learn about the natural and cultural history of the river and weir at the nearby information centre.
Self-sufficient campers with 4WD vehicles have plenty of basic bush camp sites to choose from. There is always high demand for sites close to boat ramps and toilets, such as Masters Landing on Gunbower Island or Wills Bend near Echuca.
Between Torrumbarry and Echuca the river is very popular for fishing, boating and watersports, and can be busy over warm weekends and holidays. Deep pools and snags make this a rewarding reach of the river to fish for Murray Cod and other species. Fish from the shore or launch a boat from one of the boat ramps on either side of the river.
Downstream of Torrumbarry to Swan Hill the river becomes shallower and is less suitable for high speed watersports.
Canoers and kayakers may prefer the quieter waters of Gunbower National Park and adjacent state forest (around Australia's largest inland island), an internationally significant wetland with abundant birdlife. The nearby Kerang Lakes are also a rewarding destination for birdwatchers and nature lovers.
All riverside campsites are free, no bookings required. For more information about the different sites along this reach of the river, including what regulations apply (for example whether dogs and campfires are allowed), click on the links below the map. Check out additional advice on campfire regulations and safety.
When you've decided where to visit, please check the change of condition notices in the need to know section. Visitor sites along the Murray are sometimes closed for your safety due to floods or damaged roads and amenities.
Things to do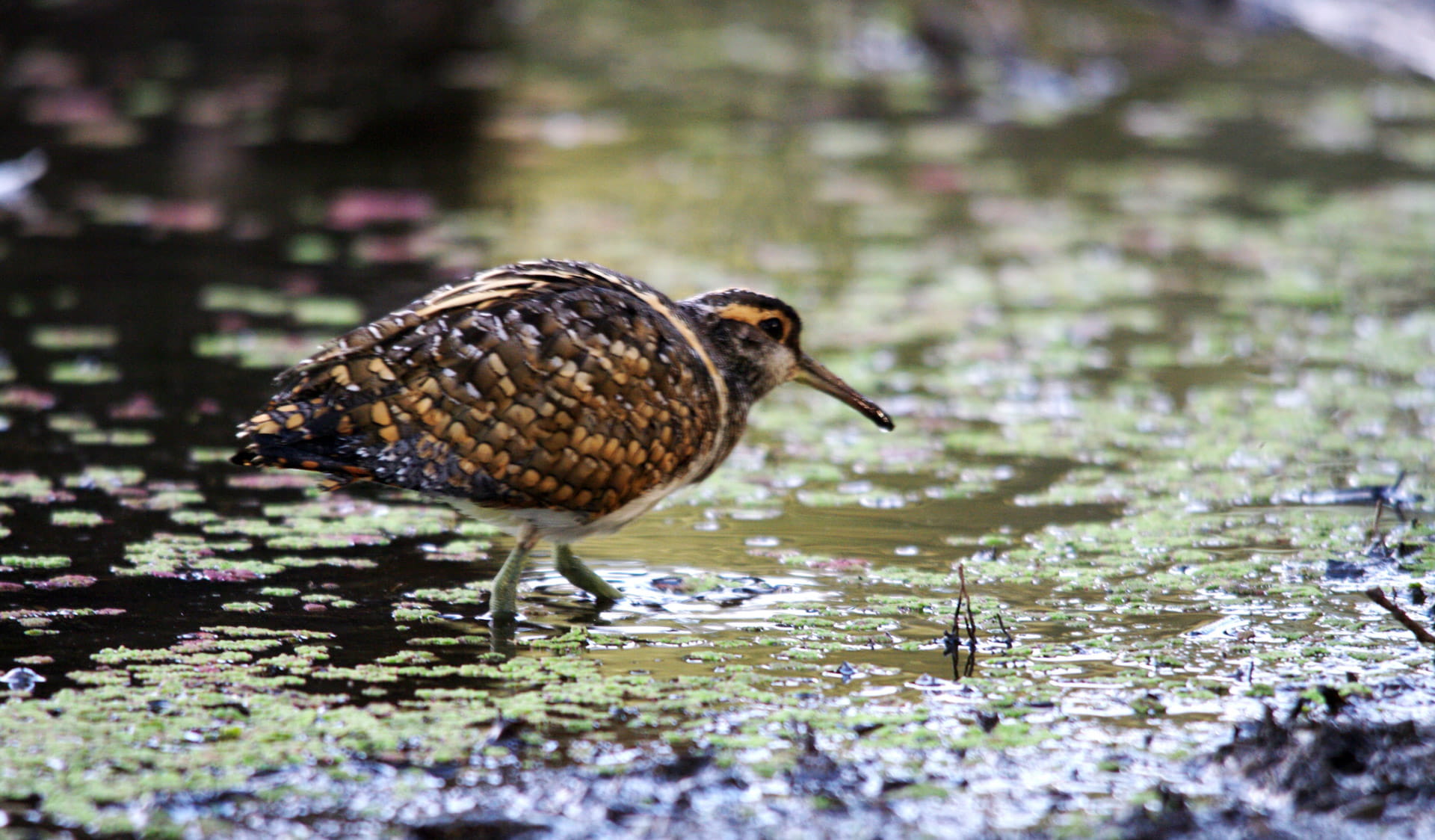 A RAMSAR site with abundant waterbirds, Gunbower offers opportunities for dispersed bush camping, fishing, canoeing and birdwatching. When Little Gunbower Creek is flowing, the birdlife is at its best.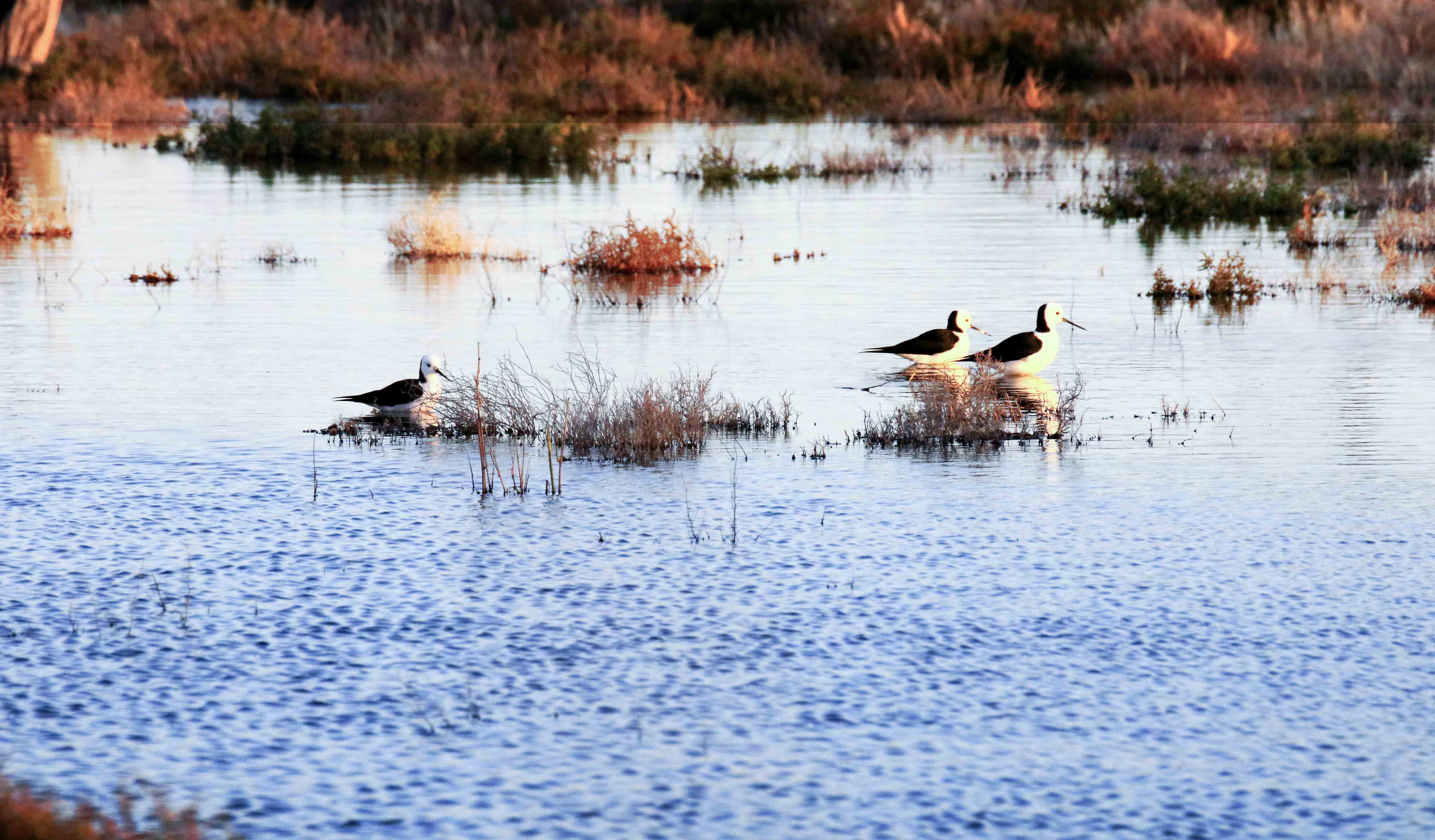 The Kerang Lakes are a RAMSAR site with abundant birdlife. Camping is not permitted in the Regional Park, but nature lovers will enjoy a walk, drive or bike ride around the lakes. Fishing and canoeing is also permitted.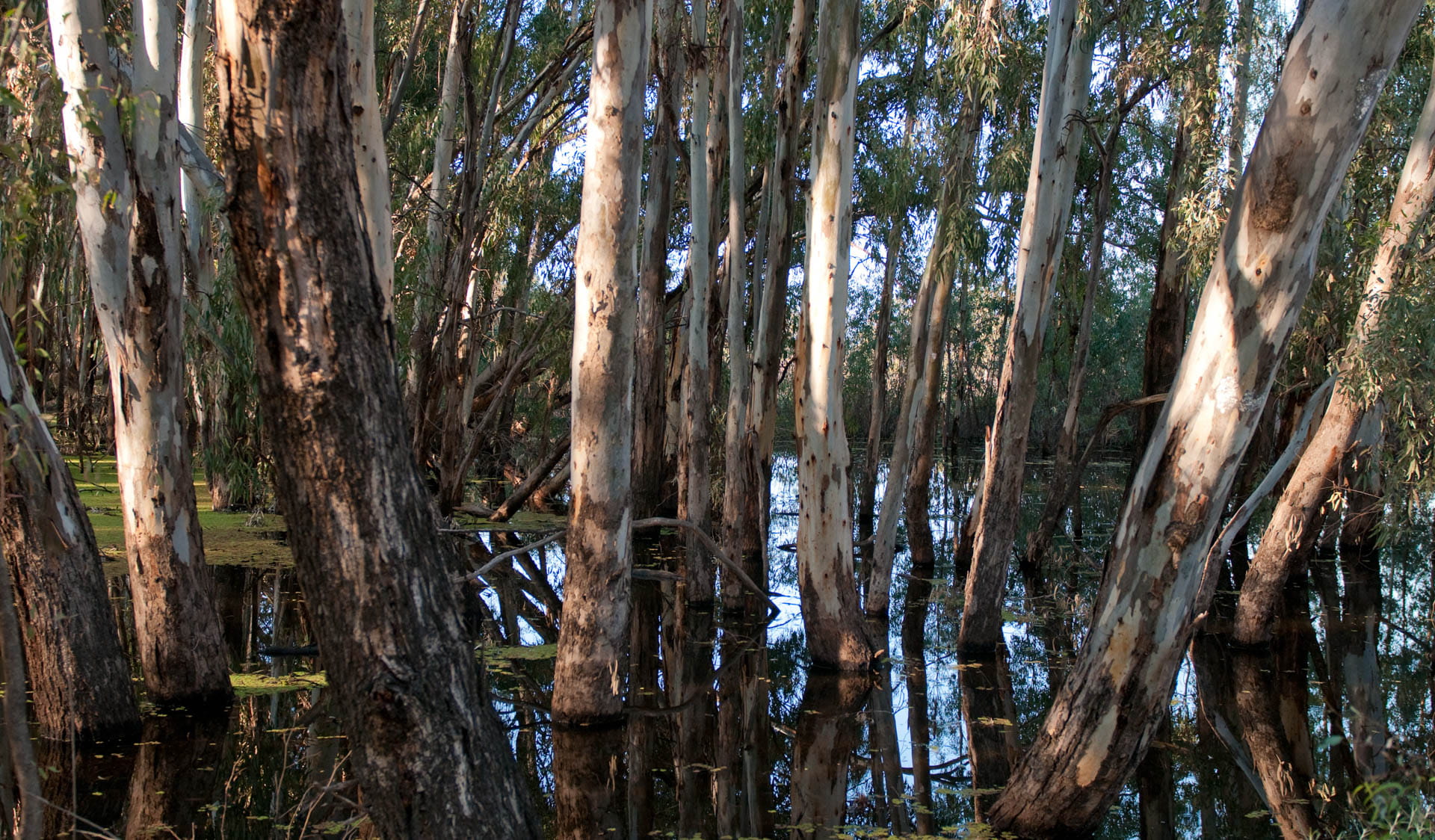 Enjoy basic bush camping, fishing, canoeing and wildlife-watching in this small reserve (sometimes known as Richardsons Lagoon) near Torrumbarry. This State Game Reserve is a popular location for recreational hunting during duck season.
How to get there
Nyah to Echuca East
Swan Hill is 350km north west of Melbourne via the M79 then the Calder, Loddon Valley and Murray Valley Highways. Echuca is 230km north of Melbourne via the M79 Calder Freeway and Midland Highway.
When to go
Camping and water sports are very popular along this reach of the river in summer, and demand is high for the most picturesque spots. The Southern 80 water ski race attracts large crowds to camping spots between Torrumbarry and Echuca. As seasonal wetlands dry out, wildlife concentrates around the river.
Need to know
Nyah to Echuca East
Accessibility
Visiting a park can be more of a challenge for people with disabilities, however in Victoria there are a wide range of facilities to help people of all abilities enjoy our wonderful parks around the state.
Assistance dogs are welcome in Parks Victoria parks and reserves. Entry requirements apply for parks and reserves that are usually dog prohibited, such as national parks.
Bushfire safety
The parks and reserves along the Victorian side of the Murray River between Nyah and Leitchville are in the Mallee fire district. The parks between Leitchville and Echuca are in the Northern Country fire district.
Bushfire safety is a personal responsibility. Anyone entering parks and forests during the bushfire season needs to stay aware of forecast weather conditions. Check the Fire Danger Rating and for days of Total Fire Ban at www.emergency.vic.gov.au, on the VicEmergency smartphone app or call the VicEmergency Hotline on 1800 226 226. There is limited or no mobile reception away from towns along the river, so check the forecast before you set out and tune into local radio stations for updates.
No fires may be lit on Total Fire Ban days. On Catastrophic Fire Danger Rating days many parks close for public safety. Do not enter parks. If you are already in a park, leave the night before or as early as possible in the morning. Check below for park closures or call 13 1963.
Tree safety
Do not park, camp or rest under or near large trees, like River Red Gums. Branches may fall at any time and swing away from the tree. Whole trees can also fall without warning. Rope swings are not recommended.
Water safety
Rivers may have fast currents, cold water, low visibility, underwater objects, slippery rocks, shallow areas, unstable banks, drop offs and deep holes. Always enter the water slowly, feet first. Do not dive or jump in. Submerged objects can cause neck or spinal injuries. Never swim alone or in flood waters. Drinking alcohol significantly increases the risk of drowning. Always actively supervise children in or near water: children under ten should always be within sight; children under five should always be within reach. Lifejackets and flotation devices are recommended.
When the river is in flood, some areas of the River Murray Reserve may be closed for public safety. Check below for the latest conditions and respect closures and signage. Do not walk, ride, or drive through flooded areas.
Mosquitoes
Mosquito-borne diseases, including Ross River Fever and Barmah Forest Virus occur in the area. Avoid being bitten by using repellent and wearing long sleeves and pants, particularly around dawn and dusk.
Change of Conditions
Nature being nature, sometimes conditions can change at short notice. It's a good idea to check this page ahead of your visit for any updates.
Notices Affecting Multiple Parks

Murray River closures

The Murray stretches across the state and there are many different parks, reserves and other areas along it. These areas have also been heavily impacted by the 2022 floods and some places are still closed.

We have split the Murray into four reaches to explain these closures, starting from the far east to the South Australian border.

Upstream of Lake Hume (see map)

All River Murray Reserve visitor sites upstream of Lake Hume are open.

Barnawartha to Echuca East

East of Barmah National Park (see map), the following areas are closed:

See closures on the Barmah National Park page.

Barmah Island (west of Barmah National Park) to Echuca (see map), the following areas are closed:

Barmah Island South Camping Area (near Barmah)
Barmah Island Central Camping Area (near Barmah)
Barmah Island North Camping Area (near Barmah)
Barmah Willows (near Barmah)

Echuca to Swan Hill (see map)

The following areas are closed:

All camping areas between Torrumbarry Weir Road and Young Road are closed (Farley Bend is open) - see maps of closures for this area
Will's Bend east of O'Dwyer's Road between Will's Sandbar and the O'Dwyer's Road Entrance is closed - see maps of closures for this area
Benwell and Guttrum State Forest camping areas are closed
Nyah Central Camping Area is closed
Loddon Floodway Eastern Bend camping area is closed

While areas are open, access tracks may still be in poorer condition than normal. 4WD vehicles are recommended and please take care and avoid further damage by staying out of any wet areas.

Swan Hill to South Australia border

Flood waters took longer to get to and recede from this part of the river, therefore the team have had less time to get into areas, assess and re-open them.

See more information and maps about which river bends are open and closed (PDF).

See closures on the Hattah-Kulkyne National Park page.

Murray River Adventure Trail

Stage One of the long-distance nature-based Murray River Adventure Trail will encompass a series of new and upgraded trails and other facilities from Barmah National Park (near Picnic Point) to Koondrook. The trail will pass through Lower Goulburn National Park, Gunbower National Park, Murray River Reserve and Echuca.

Find out more about the project

.