Enjoy Western Victoria this spring
Tuesday 12 October, 2021
With the start of daylight savings, it really feels like spring has arrived. Waterfalls are flowing and wildflowers are on spectacular display across Victoria's west. So, for those in regional Victoria who can travel, it's the perfect time to dust off the tent and explore a little bit deeper into nature. Remember to be COVIDSafe and check the latest travel advice before you leave home.

Spring brings dramatic weather changes and new life with nesting birds, young koalas are leaving the pouch and as the orchids and lilies open, more butterflies emerge.

Our Parks Victoria rangers care for so many amazing places, plants, and animals. We've asked them to share a few of their favourite campgrounds and top walking trails in western Victoria.
Mount Buangor State Park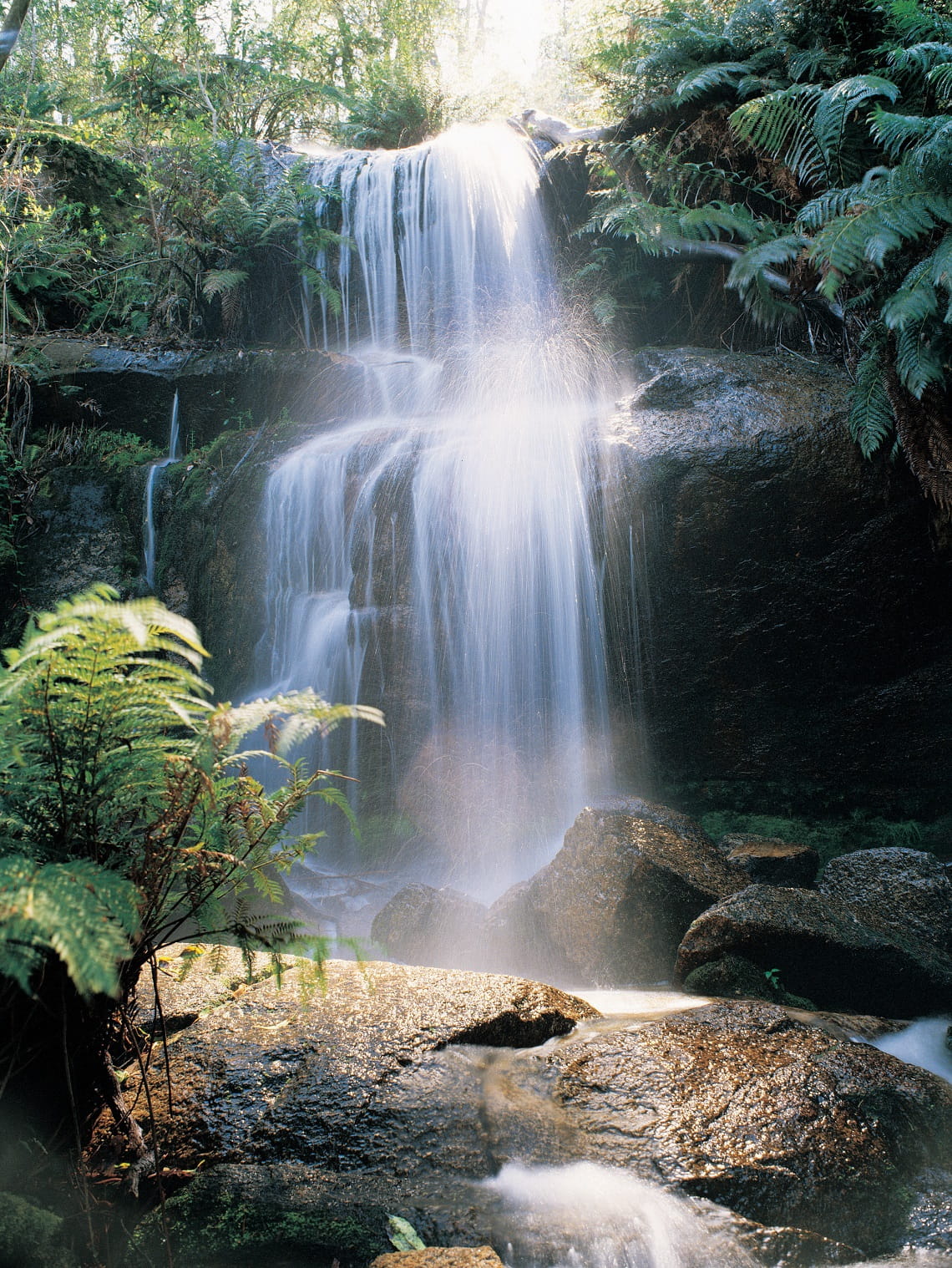 Ferntree Falls, Mount Buangor State Park
Ranger Thomas shares his top camping spots and walking trails for Mount Buangor State Park."Spring is a great time to enjoy a panoramic view over Mount Buangor State Park from Mount Buangor summit or Sugarloaf lookout. If you are lucky, you may be rewarded with the magnificent sight of wedge tail eagles soaring over the landscape."

Top Campgrounds – Bailes Camping Areas and Ferntree Camping Areas

Relax and immerse yourself in nature or explore one of the many walking trails in the area. Bailes Camping Area is set in a grassy clearing dotted with gum trees. This family friendly camping area has five unpowered campsites suitable for tents, camper trailers, campervans and caravans. Facilities include non-flush toilets, communal fireplaces and picnic tables.

Ferntree Camping Area has five unpowered campsites, each with its own fireplace and picnic table. Facilities include non-flush toilets, communal fireplaces, and picnic tables. Advanced bookings and fees apply year-round.

Top Walks

Waterfalls Nature Walk 1-kilometre, 45 minute return
This easy to moderate walk begins at the Ferntree Visitor Area and will take you through a tall forest of blue gums and messmates to reach the Ferntree Waterfall. The walk passes three waterfalls, including the Cascade Falls, and offers great views over the fern-lined upper reaches of the Middle Creek below.

Two Mile Circuit Walk 2.9-kilometre 1 hour return

This easy circuit walk can be started from either Bailes Visitor Area, a 2.9-kilometre 1 hour return, or from Ferntree Visitor Area, a 2.2-kilometre 45 minute return. The walk crosses Middle Creek twice with its tree fern-lined banks. The remainder of the walk consists of Blue Gum, Manna Gum and Messmate forests.
Budj Bim National Park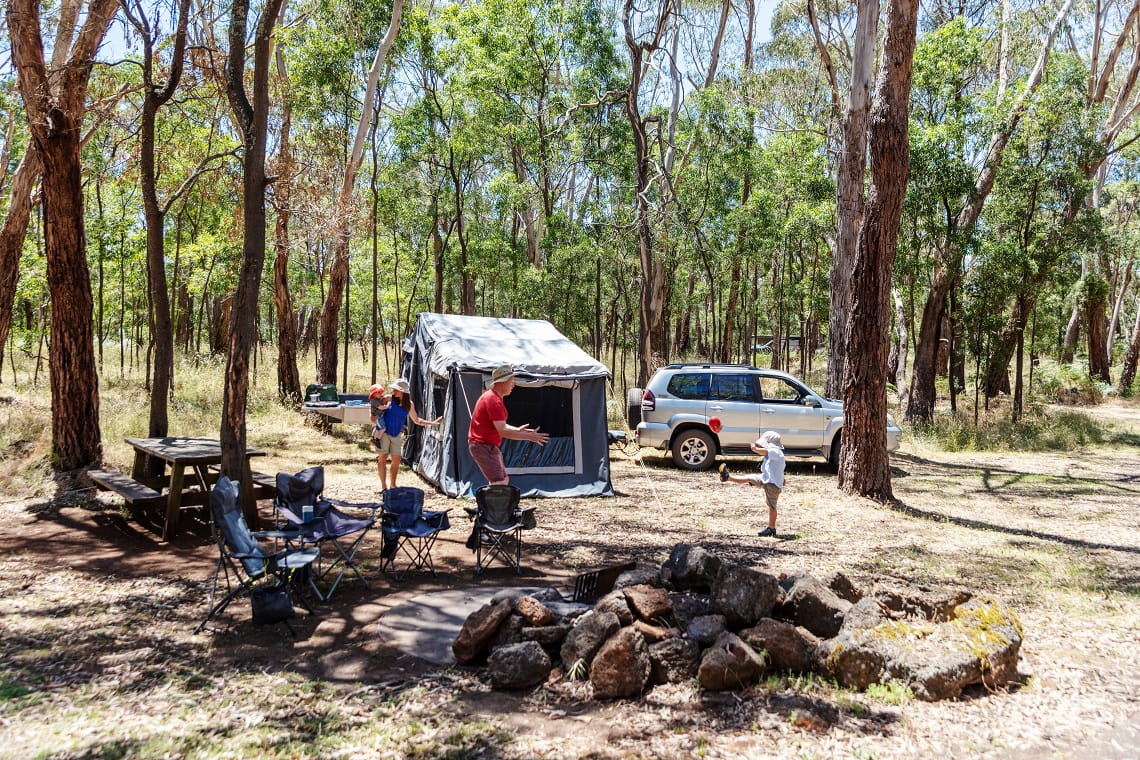 Budj Bim Campground

Discover the rich cultural heritage of Budj Bim and the ancient, volcanic landscape of this UNESCO World Heritage listed site. Budj Bim National Park is Victoria's first co-managed national park with a partnership between Gunditjmara Traditional Owners and Parks Victoria.

Ranger Brad says there are many wonderful ways to experience Budj Bim National Park. "Whether it's overnight camping, lunch under the Manna Gum trees, wildlife spotting or walks of varying grades."

Top campground – Budj Bim Campground

Budj Bim National Park visitor area is home to a tranquil crater lake, lava canals and caves in a lush bushland setting. Budj Bim Campground is set among lava rock and tall, twisted Manna Gum trees. These are a favourite food source for koalas, so look up!

Budj Bim Campground is suitable for tents and caravans. Sites are between rocky ridges formed by ancient lava flows. Bookings are required and fees apply.

Top Walks

Lake Surprise Walk – a 2.6-kilometre loop around Lake Surprise. It follows a picturesque and serene track around the crater lake's edge, descending from the lookout.

The Lava Canal circuit Walk is a 6.1-kilometre loop trail that reveals some amazing features including lava blisters, Tunnel Cave, Natural Bridge and a dry crater as it returns to the start offering views out into the park and down into the crater. This flat walk starts at the tranquil crater Lake Surprise and follows the lava flows from the basalt Budj Bim volcanic eruption 30,000 years ago.
Little Desert National Park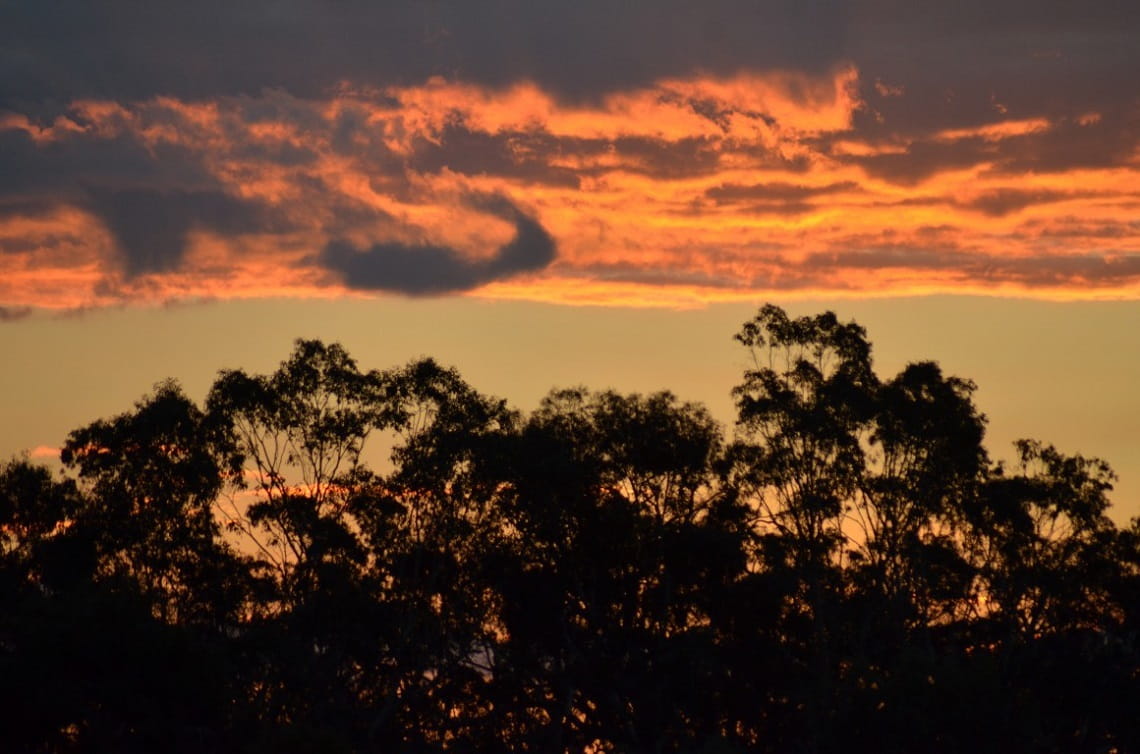 Sunset in Little Desert National Park
In the Wimmera Mallee Region on Wotjobaluk Country, Little Desert National Park is more than a desert, it's a natural treasure. Camp beside the Wimmera River fringed with River Red Gums, or hike the rolling dunes of the desert. Open spaces and peaceful campgrounds, it's the perfect place to catch a big sunset.
Top Campagrounds Ackle Bend and Horseshoe Bend Camping Areas
Ackle Bend and Horseshoe Bend Camping Areas both have toilets, fireplaces and tables. No drinking water is supplied – bring your own. Bookings must be made in advance and fees apply.

Top Walks

Campground Walks - both campgrounds have a short walk leading to the river. The walk provides great views of the desert, particularly at sunset. Continue past Ackle Bend and follow the track a further 1km to the river before returning to the campgrounds.Bookings are required and fees apply.

Pomponderoo Hill Nature Walk - 1-kilometre, 30 minutes return

This short, easy self-guided loop-track is sandy underfoot and takes you around an area of typical Little Desert country. Enjoy 360-degree views of the Little Desert from the Pomponderoo Hill lookout.

Follow these safety tips to stay safe when enjoying these parks.

Want to have a campfire? It's important to check the park regulations before collecting firewood as it's different at various parks and campgrounds. We always recommend you bring your own firewood.'